Rudy′s Rant
By: Rudy Rodriguez-Chomat
| | |
| --- | --- |
| 154 | Seriously, Less than 20,000 in attendance |
Sat Nov 27, 2010
Ok, so I am at the game now. It was the smoothest, easiest drive into a 'Canes game that I've ever had in my life. No traffic, the outside lots at Sun Life were completely empty and this doesn't equate to problems with this program?

More people went to the Central-Northwestern high school game than there are here today watching Miami and South Florida. There are no students in the student section. There are no recruits here.

It's probably the saddest thing I've ever seen. This is senior day and there's simply no one here.

The rabid crazies that sit in the end zone are not even here. Seriously, this is bad. I am posting pictures of this on the message board cause if you aren't here, you won't believe me. Who would want to come to this?

And this is what is referred to as GETTING BETTER? In what world does the head man live? He should look in the stands and see what people think of the job he and his coaches have done.

Go to top

| | |
| --- | --- |
| 153 | Yes, It's a QB Controversy, Harris' Dad Pissed |
Thu Nov 25, 2010
The Jacory Harris/Stephen Morris situation has officially turned controversy. Miami head coach Randy Shannon said it wasnít. Shannon didnít tell the truth, but whatís new?

Clearly it is as there are reports that Morris will start the regular season finale against South Florida on Saturday even though Harris has been available to play since last week. So Harris is now healthy, but still not playing?

Remember what Shannon said about Harris is the starter once heís cleared by the ďmedical staff.Ē Well, heís healthy. Why isnít he starting?

Letís be honest about this situation. Neither quarterback is that good. Morris has a better arm. Thatís a given. Harris has way more experience. For all that people may say about Harrisí Jell-o arm, heís a better quarterback than Morris right now. I said last week Morris should start, but it wasnít because I felt he was better. Itís because he was playing well and the offense Miami ran was conducive to success, but itís the same offense Miami should have been running all season. But I knew what would happen. Harris stepping back on the field would change the offense right back into pass happy mode as it did the second the ĎCanes were in a fight against Virginia Tech with Morris under center.

Just as soon as there was some adversity, offensive coordinator Mark Whipple panicked again and started chucking the ball all over the field again which is why Morris finished with three interceptions in the fourth quarter and called more passing plays than running plays even though the ĎCanes gashed Va. Techís defense on the ground throughout the game.

The problem isnít the quarterback. The problems start with the coaches Ė they start with a head coach who misleads the public with clearly erroneous statements, borderline lying and they continue with an offensive coordinator who is part of the reason this team has no offensive identity. Whipple panics over and over again. Shannonís been asked the question over and over and over and over again. The answer was the same every time for nearly a month, until now. Jacory is the starter when heís cleared by the medical staff. Now, itís something different. The tune has changed. Typical Shannon.

This is no different than the Kylan Robinson/Colin McCarthy situation at middle linebacker in Fall practice. Everyone on this planet knew that McCarthy would eventually be the starting middle linebacker, but Shannon kept insisting how great Robinson was playing, until poof, one day, McCarthy is the starter at middle linebacker a week before the season opener even though he has supposedly not played any middle linebacker in practice. Explain that one. Robinsonís barely played this season.

Now, Harrisí dad is reportedly pissed. Who can blame him? His kid has some of the best numbers in UM history. Had he not gotten injured, he likely would have broken Ken Dorseyís touchdown record next season and been either No. 1 or No. 2 in virtually every quarterback stat in school history. People get mad at the interceptions Harris throws. They are nothing more than the product of the offense Miami runs, a group of receivers who drop and bobble passes, tipped balls that end up in the other teamís hands and a team that lives and dies in the air.

Letís be honest though. Dorsey had Jell-o arm too, but Dorsey also had a phenomenal running game making every throw he made easy. Guys were always running open because teams had to play the run. Play action worked the way play action was supposed to work. It got guys open.

This team has that same kind of talent at running back. A stable of running backs that can pound the ball all game long and produce the kind of rushing stats that can allow a quarterback to throw it 25-30 times and complete 65 percent of his passes simply because guys are always running open. Even with Harrisí weak arm, he could throw for 280-350 yards a game by simply having the running game that has shown up the last three weeks because passing plays in an offense that produces the rushing numbers Miami has had the last few weeks usually go for big plays. His interception numbers would automatically drop because he wouldnít be chucking it ď60Ē times a game as his dad said.

Think about it. This team has rushed for 218, 277 and 262 the last three games. That kind of rushing attack would have the ĎCanes ranked in the top ten nationally rushing the ball if theyíd been doing that all year. Instead, Whipple had Harris throwing the ball all over the place putting his massive offensive linemen in permanent retreat mode, giving defensive linemen a head of steam to bulrush over and over again and put Harris in the position to get concussed as he did against Virginia.

I personally feel bad for Jacory. Heís in a tough situation. He has a coach who is simply in way over his head. His coach knows that heís going to lose his job and will never get offered another head coaching job after this debacle, and heís trying anything to keep it including screwing over the player that heís hung his hat on for the past two seasons, the same player he chose over Robert Marve a couple of years ago when many thought that Marve was the better quarterback.

Between Shannon and Whipple, I donít know who is worse, but this situation with Harris is truly unfortunate. I almost wish for Jacoryís sake that he was only a sophomore because then he could redshirt, get out of this train wreck and go to a school that would help make him successful, not put him in bad situations constantly.

Doesnít he wish heíd gone to Oregon now? Heíd be on a team playing for a National Championship this year, something he expected to be doing by this point at Miami, but never thinking that Shannon is the kind of coach that smashes his face into a wall, knows it hurts like hell, knows that he canít knock it down, but continues to smash his face into the wall because heís so damn stubborn that heís convinced that at some point his face will knock the wall down. But it will never budge. Thatís Shannon in a nutshell. Thatís why his teams have been failures. Thatís why heís now had THREE quarterback controversies in four seasons, something borderline unheard of, let alone at a program thatís supposed to be among the elite in the nation.

And thatís why this team is what it is Ė a product of Shannon and itís how players who came from winning high school programs have essentially become accepting of constant losing and this level of mediocrity and itís why this staff needs to be gone, itís why we have another quarterback controversy and why I have been vomiting in my own mouth for the past four years under Shannon. Hey, itís nothing personal. This is business and the ĎCanes business is winning football games, something they donít do anymore.

Go to top

| | |
| --- | --- |
| 152 | All is Lost |
Mon Nov 22, 2010
Where did the people go who said this team would be winning the ACC Championship this year? Just curious.

I know I wasn't one of them, and quite frankly, what I am watching simply doesn't surprise me. Miami is 7-4 right now. What did you really expect? Sure, they beat North Carolina. Sure, they beat Georgia Tech and Clemson. But then hey, they also got roasted by Florida State, got embarrassed by Virginia, got smashed by Ohio State and got drop kicked in the fourth quarter by Virginia Tech.

Really, what made you think this team would be any better than they were last year? This is the same soft marshmallow team that stepped on the field last year. There's zero leadership. When your leader is a senior who has essentially barely played in three years in Damien Berry, that's a problem. The so-called other leaders are the one's that make the most glaring mistakes, Orlando Franklin, Colin McCarthy, Matt Bosher, Jacory Harris. But those guys are barely leaders. They certainly don't lead by example. Even Brandon Harris had a foolish personal foul called on him on Saturday night, but he's also the only player that truly hustled to try to keep Ryan Williams out of the end zone the 84-yard touchdown run.

But it's a funny thing when a team that has this much supposed talent can lose four games, three in arguably the second worst BCS conference in the country and the President of the university not see anything truly wrong with it. The Big East is worse because Miami beat Pittsburgh 31-3, the team that will likely be the Big East representative in the BCS. But even in that game, Miami led only 17-3 in the fourth. Not very impressive against a pretty pitiful excuse for a team.

But even after this team won its last two and had a chance at having a semi-successful season, no one showed up at Sun Life Stadium because fans have given up on this team and knew what would happen Saturday night, so why spend the money to watch the inevitable? I can't blame them when I see a half empty stadium against the nation's 14th ranked team in what has become a one-sided rivalry.

Does that not speak volumes to the people in charge of this university? Board of Trustees - Miami was still playing with a chance at an ACC Championship and only 40,000 people showed up. President - your women's soccer coach was just fired following her best season in the past five, yet Shannon remains with a team that simply doesn't get any better even though the team is filled with juniors and seniors.

How much money is this program losing at this point? I can only wonder. 40,000 people a game. Can you imagine what it will be next Saturday against South Florida at noon? Heck, half the fans in the place will probably be cheering for South Florida. If there's more than 30,000 there, I will be shocked, let alone if there is inclement weather who really knows how many will show up.

And you'll know how much of a hold Shannon has on this team if it doesn't show up and comes out flat as most expect. Quitting certainly doesn't bode well, but why should you expect more from these players, from this team, from this staff, from the head guy who seemingly puts the blame on everyone else, but himself? He preaches accountability, but to the public he's only held himself accountable once -- after the FSU waxing.

It's the turnovers, it's the penalties, it's now the schedule he's talked about. The schedule is now too tough. We need more patsies. Newsflash, we don't blow anyone out. No one is a patsy against this team. Good grief, what next? It's too sunny. It's too hot. It rains too much. It's too cold. We already know that's why this team had practiced in the morning so to avoid the hot sun and the rain. And when you do that, all you have is a soft team that when everything is on the line, they wilt, they fold and you have a 7-4 mediocre team at best, can only match last year's 9-4 record. Just face it, all is lost. And it will be no different next season if Shannon is still here.

Go to top

| | |
| --- | --- |
| 151 | Empty Stadium, Can the Canes Win Them Back? |
Sat Oct 23, 2010
The stadium is empty. Quite simply, Sun Life Stadium might have 30,000 people in it just five minutes before kickoff against North Carolina.

This is what a loss like the one to Florida State does to a team where fans expect perfection. Just two weeks ago, Sun Life Stadium was a nightmare to get into and out of. The place was packed at kickoff, 75,000 strong.

Not the case against North Carolina when the performance has hit rock bottom and the expectations for this program are simply in the toilet.

It simply didnít help that Miami played as poorly as it did against Duke last week. Tonight is the night the ĎCanes need to turn around this season, one that has bleak expectations by so many. Another loss and this season could turn out to be worse than last year, and quite frankly will already be considered worse because this team will not be better than last yearís squad.

Tonight is the test. Tonight is where the ĎCanes can potentially win back the fan support, bring back some confidence and finally get over the Butch Davis hurdle.

Will it happen? By 11:30 p.m. tonight weíll know what to make of the 2010 season and where it will or will not go.


Go to top

| | |
| --- | --- |
| 150 | Poor tackling continues in 1st Half |
Sat Oct 9, 2010
Tackling is what playing defense is about and the tackle continues to be mediocre at best for the University of Miami. For some players, itís flat out bad and itís costing Miami at halftime.

If the ĎCanes want to have any chance of winning this game, the tackling and swarming of the ball has to improve a great deal.

Swarming the ball at Clemson allowed the ĎCanes to force six turnovers and control the game. That hasnít happened in the first half as the defensive line has failed to pressure Christian Ponder much in the first half.

Trailing 24-7 at the half, the ĎCanes tackling or lack thereof is largely responsible for the fact Florida State has amassed nearly 200 yards of offense before the break.

The main culprit is middle linebacker Colin McCarthy who has missed at least five tackles and also committed a late hit personal foul penalty late in the first half that turned a 3rd and 18 into a first down which set up a 38-yard field goal by Florida State that pushed the lead to 24-7 at the break.

McCarthyís issues are beyond the missed tackles, but the inability to get off of blocks when heís lined up in the middle of the field a running back goes right past him. He has been smashed off the ball ten yards multiple times and he's seemingly out of nearly every play except when making a tackling 15 yards down field.

But there are others who have missed tackles that have led to big gains. Safety Vaughn Telemaque continues to miss tackles and missed at least two that cost the ĎCanes yardage in the first half.

Ray Ray Armstrong has missed a couple of tackles. Ramon Buchanan has missed tackles and so has Sean Spence. But Spence has also made a number of them as well which outweighs the missed ones.

Go to top

| | |
| --- | --- |
| 149 | Nice to Win, But... |
Sun Oct 3, 2010
To view this blog, you must be a subscriber. So if you aren't a subscriber and want to read this, please subscribe today.

Premium Blog - Nice to Win, But...

Note to Subscribers -- Please do not post this blog anywhere. Thank you.

Go to top

| | |
| --- | --- |
| 148 | Canes Need Confidence; Win Over Pitt |
Thu Sep 23, 2010
To call it a season on the brink might be a bit of a stretch, but the ĎCanes game tonight at Pittsburgh is huge. Itís beyond huge. Itís so important that if the ĎCanes donít win tonight, there is a chance this team could implode at its very core.

All the talk of learning something and working on tackling and taking away positives from the Ohio State would be up in smoke. The ĎCanes would be sitting at 1-2 heading into their ACC opener at Clemson, and letís not kid ourselves, Clemson, even in a loss, looked good at Auburn. The Tigers game at Auburn was probably one of the most physical college football games Iíve seen in a long. Clemson hits and it hits hard.

And the game is in Death Valley so traveling there with confidence is beyond important. Itís monumental. Come off a loss, Death Valley will suffocate you. Come off a win and you have a chance. Yes, they lost C.J. Spiller, but the Tigers are a darn good team and they are at home.

So beating Pittsburgh is huge. Itís huge because it should spark the ĎCanes, it should give them confidence, it should make them feel good about themselves and it will keep them from having to answer another ten days worth of questions as to how can they possibly recover after losing two games in a row heading into the ACC opener.

Everyone knows that confidence is one of the biggest keys to victory. True belief that you can win, not just lip service that you can win is the key and winning at Pitt would mean a lot for that true belief.

Go to top

| | |
| --- | --- |
| 147 | Eliminate Twitter |
Sun Sep 12, 2010
I am sick of it. We all play around on Twitter, but there are some folks that don't need to be on Twitter. And that includes football players on the University of Miami football team.

For us in the media, we use Twitter as a way of following what some athletes are doing and keep abreast of some of the inner workings. We use it to post links to some of our stories as an easier means for you to learn about our new posts. For those of us who cover UM, we also use it so we can find out what's going in practice since we are locked out from practice only to read about it because the UM Sports Information Department is literally tweeting just about everything that happens during practice. Now, we are locked out, but the SIDs tweet the entire practice. Does that make sense to you? Not me either, but whatever. No biggie. I don't care so much about that as I don't have to wake up as early on the weekends to be at practice since we can't watch it anyway.

But here is what drives me crazy and should make you as a fan go insane as well. Two hours prior to the game against Ohio State on Saturday, the tweeting was wild by Hurricane players. I don't need to name them, but if you follow any of the important players on this team you know who they are because you got their Tweets as well. We follow just about all of them who are on Twitter and at least six of them were tweeting either en route to the game on the team bus or possibly when they were already in the locker room. As a fan, does that make you happy? As a media member and a fan at the same time, it irritates the heck out of me. All that nonsense about focus, focus, focus from these players in interviews is laughable when you see this.

So let me get this straight, biggest game of the year just an hour or two away and you are thinking about TWEETING! Are you freaking kidding me? TWEETING! Do I need to know that you are getting ready to play Ohio State? Do I need to know how jacked up you are? No. And on top of that, should I feel good about the fact that Twitter is what you are thinking about right before stepping onto the field against the Buckeyes? What about the focus you guys spoke of all week? My goodness, every day this week, I saw Tweet after Tweet after Tweet from this FOCUSED group. I got to read tweets about their pre-game haircuts. I got to read tweets about their outfits. I got to read tweets about who was eating where. And this team is FOCUSED?

I have a solution to this entire mess. Ban Twitter from this team. Heck, I'd also ban Facebook and MySpace from these guys as well while they are at it. Some of these players are turning too Hollywood. I don't need to see what ridiculous outfits they are wearing. I don't need to know what clubs they are at or going to. I don't need or want to know what restaurants they are eating in because quite frankly, they can't afford these restaurants and it's simply asking for the NCAA to come investigate. Just ask UNC DT Marvin Austin about that. His dumb tweets have put him on the sideline probably for the entire season. And I definitely don't need to see this nonsense right before a game. And I am sure, neither do any of you.

Go to top

| | |
| --- | --- |
| 146 | I Can't Rant, Defense Eats Rattler |
Fri Sep 3, 2010
I can't rant...really...I know...I know...The 'Canes didn't score 55 points. Yes, I know. But that was only the case because Jacory Harris didn't sniff the field after halftime. 35-0 could have easily been 56-0 by the end of third if Harris had played the third quarter.

The defense gave up eight first downs and 110 total yards. That speaks volumes. That's domination. That's the type of domination I spoke about in my rant yesterday. That's what Miami had to do on defense. The 'Canes had to dominate. Outside of one drive that saw the 'Canes miss a few tackles that led to a missed FAMU field goal, the defense was stout. Flat out.

Eight sacks and an interception returned for at touchdown. We'll take that any day. Heck, give me four sacks and we'll take that, but the key remains creating turnovers and when Ray Ray Armstrong came up with the interception and returned it for a touchdown the stadium exploded. That's what turnovers do. That's the atmosphere they create and that's how Miami will be great again. Create turnovers, you will win a lot of games.

They felt that euphoria when Armstrong found the end zone. Brandon Harris raved about that after the game and the feeling that came over the defense after that. They swallowed FAMU after that play. It changed the tone of the game. Sure, it was already 21-0 before that, but when he did that, he changed everything.

Those are the plays the 'Canes will need to beat Ohio State in Columbus. It's that kind of aggression the 'Canes will need in Columbus. It's that kind of attitude they will need to walk into the house of the No. 2 team in the country and come away with a win.

Sure, FAMU is no Ohio State, but eight first downs and 110 yards, 8 sacks and a pick six speaks volumes. It's the type of confidence the defense needed going into Columbus and it's exactly what they have now, loads of confidence. And having confidence is 90 percent of the battle. A confident group plays loose. A confident group plays with swagger. A confident group is what brings home wins and if they can play defensively with that type of confidence, it doesn't matter what the offense does, because everyone knows that defense wins championships.

On another note, the 'Canes walked away from the FAMU game completely healthy which is great because to beat the Buckeyes the 'Canes need their horses at 100 percent and ready to go. And from what the defense showed Thursday, they will be ready to go.

Go to top

| | |
| --- | --- |
| 145 | With OSU Looming, FAMU is Key |
Thu Sep 2, 2010
Let's be real here. It's not if Miami will smash FAMU, it's by how many. By how many is the key. By how many is how Miami players will leave tonight's game with big time confidence of questioning themselves following the game. Win 38-10 and everyone will be wondering aloud why Miami didn't obliterate FAMU. The radio shows will be buzzing Friday morning. People will be calling for Shannon's head on day one. That's just how people roll in South Florida. It's just something that has to be accepted.

However, not smashing FAMU will make all these questions acceptable. If you don't want the questions, you go out there tonight and you beat the pulp out of FAMU. You go out there and you drop four touchdowns in the first quarter, lead 45-0 at the break and never look back.

There are no excuses here. None can be made. These players know what's at stake. There's no playing down to an opponent, any opponent, not FAMU, not anyone. Playing down to opponents is why the 'Canes lost four games last year. Let's face it - talent wise, no team was better than them last year on their schedule, but they lost games for a plethora of reasons, including the main one, playing down to an opponent. This is the season opener. This is the game where you come out and push the pedal to the floor and never lift your foot up. That's how Miami has to approach this game, on offense and defense.

What's enough in this game? Put it this way, if the 'Canes don't drop 55 points on FAMU tonight, something is wrong. Heck, I've already told one staff member, if the 'Canes don't score 55 in this game, I'd be ranting. Well, here's the warning. Put 55 or more and I won't say a word -- MAYBE! But don't put up 55 and I'll hit the Rudy button that I have kept my hand off for the better part of the past nine months.

Even more than dropping 55 points on FAMU, the 'Canes defense has to make FAMU disappear offensively because that's how Miami will win the game in Columbus next weekend - defense, defense, defense.

I don't care who is on the field, first team, second team, third team - Miami has to gut FAMU. It has to cut the rattle off the Rattlers. It has to show why so many analysts believe the 'Canes will win the ACC. The expectations are there. Time to put up or shut up and slaughtering FAMU will go a long way towards the confidence as a team before heading to Columbus for the toughest game of the season.

Go to top

| | |
| --- | --- |
| 144 | Heat Signings Help Canes Recruiting |
Fri Jul 9, 2010
Miami Heat President Pat Riley has an ear-to-ear smile on his face right now. He's feeling euphoric, on top of the world. But there are a couple of other South Florida coaches who should be feeling pretty darn good too because of what Riley just pulled.

University of Miami football coach Randy Shannon and basketball coach Frank Haith should be getting their pens to the paper tonight and sending Riley a thank you letter because Riley just made their jobs a lot easier.

You may ask how that can be.

Well, itís quite simple. Miami is a not a college town. It is bright lights, big city and if you take a look around the country, what makes Miami special is the environment that surrounds it, not Coral Gables itself. Itís the glitz and glamour. Itís South Beach. Itís the Grove. Itís the Hard Rock. And winners make that glitz and glamour look even better.

Watch how hard it will be to get a ticket to a Heat game now. It will be likely going to the Super Bowl 41 times a year. The Heat will sell out every game, home and away.

And if you look across the country, the best teams in the nation do not come out of big cities like Miami outside of USC this past decade. Every winner is from a college town in both basketball and football Ė Florida, LSU, Ohio State, Duke, North Carolina, Alabama, Texas, Oklahoma, Maryland, Syracuse, UConn, Michigan State and the list goes on. None of those are large cities, mostly smaller college towns. But take a look at USC. They were the exception this past decade. The Trojans seemingly made their resurgence earlier this decade at the same time the Los Angeles Lakers became the best team in the NBA.

Call it a coincidence. Call it Pete Carrollís recruiting. But I look at that situation and see the Lakers resurgence helping spur the Trojans back to the top. I see Shaq and Kobe. Who wouldnít want to be around that? When the Lakers stunk, USC stunk. When you have a professional winner in the same city, itís attractive to recruits whether folks truly want to believe it or not, especially in a place like Los Angeles and Miami where college crowds are not exactly great when the team isnít winning.

And as weíve seen over the past half decade, the ĎCanes attendance has been abysmal with them not being among the top five teams in the country.

But how does the trio of Dwyane Wade, Lebron James and Chris Bosh help the ĎCanes particularly in football and basketball? Quite frankly, itís star power and the expectation of not just greatness, but an absolute dynasty. And thatís attractive to an 18-year old recruit. Find me a South Florida prospect that wouldnít want to stick around now. Find me an out-of-state recruit that wouldnít want to come to be in this environment, not just to be a player at the University of Miami, but to experience what a true big city has to offer, and that includes its professional teams like the Miami Heat, and what comes with that.

Letís not delude ourselvesÖwhen the ĎCanes were on top of the world in the 80s and 90s, everyone knew them, pro athletes, celebrities. Heck, they were the celebrities. They bred the winning. The Dolphins were good at the same time. They were trying to be like the ĎCanes, but that was a different era, the era before recruiting websites and the technological age and scholarship restrictions.

And when it was Ed Reedís team, it was the same deal. They were on top of the world and the Dolphins were striving to be the ĎCanes and the Heat was trying to be the ĎCanes as well.

Now, itís the ĎCanes trying to get back to the mountain top. There is no doubt that having the chance to hang around D-Wade, King James and Bosh will be appealing to ĎCanes recruits.

Winning is what Miami is about. The city itself doesnít support losers. Look in the stands. When the Heat was 15-67, who went to games? Nobody. I was a season ticket holder that year and I think I went to three games total because it was depressing to watch that team. When the Florida Marlins won the World Series twice, they sold 67,000 seats to baseball games in the playoffs. Now, they can't put 15,000 people in the seats for a Saturday night game against the New York Mets with a free concert following the game.

What I would do to have season tickets again to the Heat.

Now, the city of Miami has not one, but three teams with major expectations. First it was Bill Parcels luring Brandon Marshall and Karlos Dansby to Miami. Now, itís Riley pulling off the coup of the century. Whether it was orchestrated by the trio or not before the free agency period began or not, the Heat is on top of the world and should win the next five NBA titles as long as these three are playing together barring injury. I could be their point guard and Iíd average 12 points and 15 assists a game and the Heat would still win 70 games a year. Mario Chalmers or Carlos Arroyo will probably have career seasons over the next five with these three.

Winners feed off each other and the ĎCanes will finally be able to do that on both, the gridiron and the hardwood. Think about it. D-Wade and Dorrell Wright already hit UM basketball games. How do you think it will look when D-Wade is sitting there with Lebron and Bosh courtside at UM basketball games? To a recruit? It will be unbelievable. Think about being an 18-year old and saying, Wade, Lebron and Bosh are coming to see me play.

Football is no different. UM should immediately reach out to these guys and get them down on the sideline for games because what college player wouldnít want to be around these guys? Winning is simply contagious and this will have the UM football team this year even more motivated to be great because greatness will be watching them.

This should now become part of the ĎCanes coaches pitch to recruits. Play in the same city with the magnificent trio, the Dream Team. How is that not appealing? How do you not want to be a part of a city that wins big? Thatís what the Heat is bringing. Thatís what the Dolphins are bringing. Thatís what the ĎCanes are striving for and the resurgence of the Heat can only help the ĎCanes. Itís time for UM coaches to take advantage of it.

Start doing that today!

Go to top

| | |
| --- | --- |
| 143 | Basketball Transfers Flowing in South Florida |
Sun Jun 6, 2010
This weekend InsideTheU.com was at the AAU Super Regional in Coral Springs.

As is the territory with travel basketball, transfers happen a lot.

Check out the most recent list of hoops transfers.

Hoops Transfers

I will be updating the list as I learn of more while touring travel basketball this Summer.

Go to top

| | |
| --- | --- |
| 142 | Live from Port St. Lucie - Class 4A and 6A baseball state championships |
Sat May 22, 2010
10:30 p.m.

Flanagan wins it finally, 12-3 in a full 7 innings. Class 6A state champs.

9:35 p.m.

Hot damn, American just came up with a two-out double scoring a run to make it 12-3 in the 5th so the game is still alive for the Patriots. The mercy rule has been avoided for at least a half inning.

9:25 p.m.

So American put up a couple of runs in the top of the fourth to cut the lead to 12-2 on a pair of bases loaded walks. If they want to keep it going past the top of the fifth they need to cut the deficit to nine. The Patriots final at bat is coming. If they score, they keep the game going. If they don't, the game is over.

8:19 p.m.

I lost track of time as Flanagan put up a 10-spot in the first inning and leads 10-0 already. American has already made a pitching change. Now, we have American going 3-up, 3-down and Flanagan back to the plate in the second.

8:00 p.m.

I just got out of the presser with McCarthy and Flanagan is already smoking American 5-0 and we aren't even out of the first inning yet. This could be an ugly one.

6:35 p.m.

Class 4A state championship is a wrap. McCarthy wins 6-1. The Mavericks are the 2010 Class 4A State Champions! Jose Brizuela gets the win and he's definitely the game MVP as well.

6:22 p.m.

Another pass ball scores another run for McCarthy. It's now 6-1.

6:15 p.m.

We are going into the top of the seventh. Jesuit had one reach on a walk in the bottom of the sixth, but that bases loaded failure and not scoring clearly took the wind right out of them. Mavericks lead 5-1.

6:00 p.m.

This is an absolute implosion. Wild pitch to Nick Castellanos. Brizuela scores for a 5-1 lead. The Mavericks have ONE RBI this inning and scored three runs on pass balls and a wild pitch.

5:56 p.m.

Another pass ball scores another run, 3-1 McCarthy and now a sacrifice fly by Alexander Fernandez scoring Santos from the third and the Mavericks lead 4-1 with Brizuela at third and one out.

5:53 p.m.

Pass ball...run scores from third for McCarthy. The Mavericks lead 2-1. Followed with a sac bunt that turned into a single down the third base line. We have runners at the corners still with no outs. Ivan Santos steals second base so make that second and third with no out and Brizuela at the dish.

5:50 p.m.

So...the excitement doesn't stop. McCarthy gets a lead off double from Cole. Then a sac bunt turns into a single when the second baseman misses the bag. So we have first and third with no out in the top of the sixth. Pitching change by Jesuit. McCullers comes in to pitch for Jesuit.

5:44 p.m.

Holy schnikes as Chris Farley would say. Brizuela just struck out Pagliarulo. You are talking about three hitters in the middle of the line up who were hitting .427, .413 and .393. Inning over, bases left loaded. Going to the top of the sixth. This is why I love baseball.

5:41 p.m.

George Hornik and Nick Iacovella can't take Brizuela's heat. Back-to-back K's. McCarthy might get out of this jam. Two outs with the bases loaded and Chris Pagliarulo.

5:39 p.m.

Brizuela gets the strike out and then McCarthy goes with an intentional pass to Lance McCullers who is hitting .467 on the season. Bases loaded with one out.

5:33 p.m.

Bottom of the 5th. Jesuit has runners at the corners with no outs. After a leadoff walk, Jesuit attempted a sac bunt. The ball appeared to be rolling foul and hit a bump on the first base line and curved back fair. Everyone safe and the runner from first got to third. Pitching change. Jose Brizuela taking over for Johnny Cole.

5:20 p.m.

Jesuit just tied the game on a RBI ground out after with the help of an error by McCarthy. The game is tied at 1 through four complete.

5:05 p.m.

Currently, we are in the top of the fourth and McCarthy is leading 1-0 over Jesuit on a pair of infield hits. It is one heck of a pitching duel.

4:30 p.m.

I am here live from Port St. Lucie checking out the Class 4A and 6A state championship games.

In the first game, which started at 4pm, Archbishop McCarthy is taking on Tampa Jesuit in the Class 4A final. McCarthy features UM commitment Nick Castellanos and a host of other excellent players.

They won their semifinal game 4-1 while Jesuit won their semifinal game by a ridiculous 19-0 margin.

In Class 6A tonight, it's American facing off against Flanagan. American upset a number of teams to get here including Columbus and defending state champ Tampa Alonso.

UM commitment Nick Basto will be leading American tonight. UM commitment Corey Janson is leading Flanagan.

Go to top

| | |
| --- | --- |
| 141 | Excitement for 2010-2011 |
Tue May 11, 2010
2010-2011 will be a big athletic year at the University of Miami. Sure, the 2010 baseball season hasn't ended yet and there is a good chance the 'Canes will host a Regional and Super Regional in June.

Starting with the football team, the expectations are high. This team has the talent to win ten games easily and with a couple of bounces here and there, they could find themselves potentially playing for a National Championship.

But the expectations are not just with the football team. The men's basketball team has expectations after winning 20 games with a young squad and a majority of the team returning next season.

And the women's program has major expectations as well after making it to the championship game of the women's NIT this past spring. The women welcome a nice recruiting class and return most of their roster as well.

Of course, the baseball team will be good once again and the track and field program continues to produce winners, especially on the women's team.

But what you can clearly see is that 2010-2011 will be a special year for team sports and one to start getting excited about and surely a year to go out and support the teams.

Go to top

| | |
| --- | --- |
| 140 | Lady 'Canes Advance to the WNIT CHAMPIONSHIP! |
Wed Mar 31, 2010
The University of Miami women's basketball team moments ago finished off a pounding of Michigan 76-59 on the road to advance to the WNIT CHAMPIONSHIP GAME!

Congratulations to the Lady 'Canes.

The Lady 'Canes will travel no matter who wins the Illinois State-California game Thursday night. What these women are doing is unprecedented in UM basketball history period.

The regular season was filled with so much disappointment because of a number of close losses, but clearly, these women have figured out how to finish the games off and they are doing just that and doing it with style.

Congratulations again and let's get one more so we can raise a banner.

Go to top

| | |
| --- | --- |
| 139 | Thoughts on Spring Game, Women's Hoops and Recruiting |
Mon Mar 29, 2010
Just a few thoughts I have about the Spring Game, Women's Hoops and recruiting.

It's for premium subscribers only, so please click below:

NEW - Rudy's Rant

Go to top

| | |
| --- | --- |
| 138 | Katie Meier - Truly Authentic, Truly Special - Returning the 'Canes to Greatness |
Fri Mar 19, 2010
All you need to do is be in a room with University of Miami womenís basketball coach Katie Meier and you know you are dealing with a special woman.

Positivity, love, authenticity Ė those are just a few of the qualities that Meier possesses and you can feel that when you talk to her. Heck, interview her once and you are hooked.

And thatís why there is no doubt Meier will bring this program back to greatness. In just five years she has managed to sign not one, but two McDonaldís All-Americans. Now think about that. The menís program has signed three in its history, Tito Horford, Steven Edwards and Tito Horford. Rice came to Miami after the 'Canes went to the Sweet 16, a decade ago. Horford was 25 years ago. Edwards was in 1992 and was a local star. Meier has pulled it off in back-to-back years with a team that has been below .500 the last two seasons with two girls who are from different states. If that's not recruiting genius, I don't know what is.

Now, letís consider the fact, the UM women play in front of about 300 people a game. I mean, the place is literally empty. Thursday night in the WNIT, the black curtains were dropped on the east side of the Court after the tenth row and on both ends of the court. On the west side, the curtain was up only because of a cameraman filming up high. Otherwise, that curtain would have been dropped as well.

Yet, even with that, she has two McDonaldís All-Americans on her team right now, and got them in back-to-back years.

Earlier this season I spoke to Shenise Johnson, one of the two All-Americans and she told me flat out that she came to Miami because of Katie Meier because she is authentic. There canít be a better compliment in a business where lying to 17-18 year old kids is probably the norm.

Right now, the ĎCanes are 18-13. They are going to host the Florida Gators in the second round of the WNIT. A win and they will be in the Sweet 16 of the WNIT, but even if they donít beat Florida, you can taste the greatness. You smell it. You know itís there. You know itís going to happen. And you know this because Meier is who she is. Just look at her next class. A top 20 player overall who should be a McDonaldís All-American, another player who is among the best in Florida and more.

This team has two seniors and ten freshmen and sophomores. And its three best players, Johnson, All-American Morgan Stroman and Riquna Williams will return next year.

And why will Miami return to greatness? Look no further to who Meier is recruiting. Johnson won three straight New York state championships. Stroman won four straight state titles in South Carolina. Pahokee, where Williams played, is always a great team. And then look to next year. Krystal Saunders and Suriya McGuire Ė those are winners. When you recruit winners, they bring that attitude of winning and nothing else is important, but winning and you can see it in the way they play.

But it takes a special person to be able to recruit these kinds of players when they see curtains surrounding their court because there is no one there to actually see them play.

Hopefully, people will start to appreciate Meier and what she is doing and bringing back to Miami. I surely appreciate her and will make a point to cover womenís games next year because they deserve the attention. They deserve the support. As for Meier, she made a point to thank the former UM players who were at the game Thursday supporting the program to the point that it brought her to tears.

That authentic. Thatís Meier, and thatís why the ĎCanes will be great again.


Go to top

| | |
| --- | --- |
| 137 | UM Women's Hoops: NIT BOUND! |
Tue Mar 16, 2010
The men are surely disappointed today, but the women got some great news as they were invited to the NIT and will actually host a game Thursday night against Florida Gulf Coast (24-6), a game that will likely result in a win.

With a win over Florida Gulf Coast, the 'Canes will play the Florida/South Florida winner.

The women are led by Shenise Johnson and Riquna Williams who are two of the top three scorers in the ACC.

It's Miami's first post season berth since 2006 when they beat FIU 95-83 in the first round.

Congratulations to the Lady 'Canes!

Go to top

| | |
| --- | --- |
| 136 | 'Canes Screwed out of NIT Bid |
Sun Mar 14, 2010
Two wins apparently wasn't enough for the University of Miami men's basketball team to get in the NIT.

Somehow, beating the No. 4 and No. 5 seeds and losing by just three points to the ACC Tournament Champion, Duke, wasn't enough. And it makes no sense.

I've been as critical as anyone of the Hurricanes basketball team and how they've blown chances plenty of times this season, but what happened tonight was simply ridiculous and unfair. To not make the NIT is almost as unfair as Virginia Tech being passed over for Wake Forest in the NCAA Tournament which makes even less sense.

But looking at the NIT field, it's absolutely absurd. Miami actually has a win over three NCAA Tournament teams in Minnesota, Georgia Tech and Wake Forest and two wins over Virginia Tech, which made the NIT.

This is how ridiculous the NIT is -- Jacksonville (Fla.) University made the NIT, Miami didn't. How does that make any sense? I would put Miami on the floor with Jacksonville ten times and the 'Canes would beat Jacksonville by double digits every time. I'd gladly put Miami against Stony Brook any day as well, ten out of ten. Heck, put Miami out there against USF. I'd take the 'Canes also. How about Jackson State? Come on now.

There's a host of teams in the NIT that Miami is better than, yet the 'Canes have been royally screwed. Heck, there are some teams in the NCAA Tournament that Miami is better than to be honest, but reality, they didn't deserve an NCAA Tournament bid, even though I don't think Florida or Wake Forest deserved one either.

Now, the 'Canes can still get a post season berth to either the CIT or the CBI tournaments, but those tournaments are filled with teams that would really present no challenge to Miami, and certainly not make the 'Canes any better.

This is just an extreme disappointment because while they didn't deserve an NCAA bid, they definitely deserved an NIT bid and there's no logical reason that Miami didn't get one.

Go to top

| | |
| --- | --- |
| 135 | Miami v. Duke - In Game Blog |
Sat Mar 13, 2010
So what a first half it was. 'Canes open up with a 7-5 lead, then watch Duke run off seven straight for a 12-7 lead. The 'Canes fell behind 18-10, then got to 23-18 before watching Duke go on another 7-0 run to make it 30-18. It appeared that Duke might start to pull away, but the 'Canes got it back together.

Durand Scott with a lay up followed by a three by Adrian Thomas and it was back to seven. Malcolm Grant hit a 17-footer to cut it to five. After Kyle Singler hit a layup, Grant hit a pair of free throws. Then Nolan Smith was called for traveling -- coach K went nuts drawing a technical foul. Reggie Johnson hit one of two free throws and Scott hit a runner cutting it to 32-20.

Then Smith was called for carrying and coach K flung his jacket. Frank Haith then did the same thing. Johnson hit a pair of free throws to tie the game at 32. After stripping Jon Scheyer, Haith called time out. Scott ran the clock down and dished to Grant coming off the curl and nailed a 27-footer in the final seconds for a 35-32 lead for the 'Canes going into the break. The 'Canes finished the second half with a 17-2 run.

They limited Duke to 2 of 12 from three-point range in the first half, similar to the first time these two teams met. The key is to match Duke's intensity coming out of the break because that's where Duke took it to Miami last time.

The 'Canes are 20 minutes from a berth in the ACC Championship Game, something no one could have imagined on Thursday.

To see what happened the rest of the way, read the game story.

Duke Ends 'Canes Run, 77-74

Go to top

| | |
| --- | --- |
| 134 | Big Win over Wake -- A Special Run in Store? |
Fri Mar 12, 2010
So the University of Miami menís basketball team just finished a 4-12 ACC schedule and needing at least one win to get in the NIT, maybe even two.

No chance, right? Wrong.

Following a rough year that saw them lose close games and blowouts and not win one game outside of Coral Gables in the conference play, the ĎCanes played their best game of the season by far Thursday afternoon in Greensboro, North Carolina, in the ACC Tournament destroying Wake Forest 83-62 to advance to the quarterfinals and a game against No. 4 seed Virginia Tech.

And of course that included winning away from Coral Gables.

To say the bracket didnít work out in the ĎCanes favor would clearly be false. The team had to have confidence coming into the tournament because even as a No. 12 seed, they were pitted against a team theyíd beaten this season, Wake Forest.

And in the second round, Virginia Tech is another team the ĎCanes have a win over.

But Thursday was special. Reggie Johnson showed once again why he should get 20-25 minutes a game. He was perfect. Literally Ė 8 for 8 from the field and 6 for 6 from the free throw line. Johnson is a monster and he made the Wake Forest front line look like children. He finished with 22 points and looked the part of a dominating post presence as he did earlier this year when the ĎCanes lost to Boston College at home.

Hopefully, he can follow that with another big time performance against Virginia Tech because the ĎCanes will need it to win.

And how about Dequan Jones? Welcome to the party my friend. Jones had 14 points and started the game off against Wake smoking. His performance was also big.

Surprisingly enough, it was Durand Scott who struggled, but if the ĎCanes can play today the way they did yesterday, a rematch with Duke is quite likely in the semifinals and who knows what could happen then.

Remember, for a half, the ĎCanes dominated Duke in Coral Gables. And the Blue Devils are far from being dominant. And why shouldnít the ĎCanes have some confidence? Theyíve been able to compete with everyone except for Maryland this year.

Could a special run be in store? Weíll see.


Go to top

| | |
| --- | --- |
| 133 | Another Game, Same Result |
Wed Feb 17, 2010
In front of a near capacity crowd, the University of Miami lost to Duke 81-74 in a game it led by double digits going into the break. Sound familiar? Itís the story of the ĎCanes season Ė close, but no cigar.

That should be the motto of the team that seemingly plays well in the first half of every home game only to watch the lead slip away to the point of defeat or near defeat. Wednesday night, it meant defeat.

Weíve established that this is a young team whose best player is a freshman in Durand Scott. But this team could be better if some things were done a bit differently. This team went 14-0 in non-conference play and teased fans, but the reality was, the schedule was weak. An 8-8 conference record would have been enough to get this team into the NCAA Tournament following that 14-0 start. In a weak ACC that wasn't something that was impossible. Thatís impossible now as the ĎCanes fell to 3-9 in the ACC and 17-9 overall.

In those losses, the ĎCanes have blown decent to large leads in three of them Ė Boston College at home, at Florida State and tonight against Duke. A James Dews buzzer beater saved them against Georgia Tech and they avoided another blown lead at home against Virginia Tech, but even in those games, they nearly blew huge leads. Flip three and this team is 6-6 in the ACC with a legit chance at the NCAA Tournament.

Instead, itís staring at 3-9 and truthfully, not even deserving of an NIT bid.

So whatís the problem?

1. Rotation Issues Ė This has seemingly been an issue since Frank Haith became head coach. He has never been able to settle in with a rotation, not with Robert Hite and Guillermo Diazís teams, not with Jack McClintonís teams and not now. The starting lineup seemingly changes all the time. Now, Garrius Adams and Julian Gamble are starters along with Scott, James Dews and Dwayne Collins. Against Duke, Adams and Gamble combined for six points and three rebounds. Adams had one good game a couple of weeks ago. That shouldnít make him a starter. Against Duke, Cyrus McGowan who started earlier this year played a couple of minutes in garbage time. This is the second straight year McGowan has gone from being a starter to bench warmer. How does that happen?

2. Malcolm Grant should start. Thatís obvious. Against Duke, he didnít score. Maybe thatís because he was shuffled in and out the entire game and played only 23 minutes when he should have played more than 30. He never had a chance to get a groove. Grant should be the teamís starting point guard, not Scott. Scott should play off the ball as he never was a point guard in high school. Grant was. Grant was also a point guard at Villanova. Scott and Grant are the two best guards on this team. They should be on the floor together. When Duke magically made a 12-point deficit disappear in less than four minutes, Grant was sitting on the bench.

3. Reggie Johnson needs to play more. Itís as simple as that. Heís the teamís best post man. Collins is not a post player. Heís an athlete who plays in the post. Johnson is a post player. He has an array of moves around the hoop, but he doesnít get a chance to use them sitting on the bench. Heís also a player who when he makes one or two mistakes, he goes right back to the bench. Collins committed five turnovers against Duke. He played 34 minutes. While your team is getting thumped on the offensive glass as Duke grabbed 17 offensive rebounds, Johnson would probably help curb that.

4. Zone defense Ė You donít play zone against a team like Duke that can shoot. It might work for a couple of minutes, but eventually Duke will hit some shots. They scored 25 points in the first half hitting 4 of 14 threes. In the second half, they scored a ridiculous 56 points and hit 9 of 15 threes, many of them wide open shots because the ĎCanes were in a zone and Duke players were spotting up for threes. Against a bricklaying squad, sure, it will work. Not Duke.

While the reality of this team is that it simply isnít good enough as evidenced by its record, this team with a few things being done differently could be in a different position today. Itís like a broken record watching this group. At home, play well early, build a good lead and blow the lead late. Some games have resulted in wins, some losses, but in every home game in the ACC, the ĎCanes have blown a big lead. On the road, itís that they play terrible early, fall behind huge, and try to make a little run to get it close, but generally get stomped out. Only recently have they managed to not get throttled on the road with recent losses at Wake Forest, Florida State and Clemson.

But the story remains the same Ė they are good enough to win these games, but they lose them practically the same way every night. So who do you blame for that? At some point, it has to change, but how does that change happen? You make the call.


Go to top

| | |
| --- | --- |
| 132 | My Evaluation of the 2010 Class |
Thu Feb 4, 2010
Here are my thoughts on the 2010 recruiting class, which ESPN ranked 13th.

Click here to read evaluation (Note: this is for premium subscribers)

Go to top

| | |
| --- | --- |
| 131 | Take Notice of UM Women's Basketball |
Fri Jan 29, 2010
If you think it is tough for the menís basketball team to draw any fans when it struggles, try being the womenís basketball team at Miami. They canít even give tickets away and even when they do, there might be 500 fans in attendance on a GREAT night. The average paid crowd canít be more than 250 people a game.

But still, while people give menís basketball coach Frank Haith so much credit for his recruitment of what are supposed to be top tier players, people arenít noticing the magnificent job that Katie Meier has done with the womenís program.

Miamiís menís program has been good for a while. At the same time, the womenís program has been in the toilet, but Meier has found a way to recruit some of the premier talent in the nation. How she pulled the coup of landing New York star Shenise Johnson who could have gone anywhere is beyond me. Johnson could have gone just about anywhere.

Then she landed Pahokeeís Riquina Williams in that same class. Williams is second in the ACC in scoring at 20.8 points per game and Johnson is third at 18.1 points per game. The ĎCanes as a team are the second leading scoring team behind North Carolina in the ACC.

For those that werenít paying attention, the womenís basketball team pulled off a major upset last week beating Maryland at Maryland 80-77. The Terps had a 48-game home winning streak going into that game and the ĎCanes broke that streak.

Two close losses followed, but the ĎCanes women are doing something that hasnít been done in Coral Gable since Tamara James graduated. They are competing at the highest level. While the men are getting blown out of the arena night after night, the womenís largest margin of loss was 11 points to 17th ranked Texas at the time, 76-65. Other than that, the ĎCanes lost by five to Nebraska, seven to Duke, three to Wake Forest, four to Virginia Tech and five in overtime to Georgia Tech. They also have a win over a ranked Florida State team.

Currently, they are 14-6 and 2-4 in the ACC, but they are competing. They are bringing it every night and you can see the progression this team is making under Meier. More importantly they are young, I mean REAL young. There are two seniors on this team and eight freshman and sophomores. So the future is very bright.

They are proving that even in youth, you can compete and bring it every night and for that they should be very proud of what they are doing. They are on the cusp of doing something great in Coral Gables and people should start to take notice.

More importantly, Meier added another big time recruit this past year in 6-1 freshman Morgan Stroman who is expected to be great. And for the Class of 2010, Meier may have landed the most talented players to date in Minneapolis guard Suriya McGuire who is rated the No. 7 player in the nation overall and South Broward guard Krystal Sauders who is everything you want in a point guard.

I saw Saunders play as a junior and I thought she was real good then. Last night I saw her play for the first time this year and when I tell you, Saunders is flat out filthy, I am telling you she is flat out filthy. She plays basketball like a guy. Her jumper is sweet and silky. Everything seems to fall through the net with a swish. She drained 30 points last night, hitting six threes and played less than 20 minutes. It was effortless. Whether it was off a screen or pulling up, Saunders made it rain last night in the BCAA Big 8 Tournament.

She also happens to be the top player on the nationís 7th ranked team which also happens to be sitting pretty at 18-0.

I have to give Meier a ton of credit. I donít know how she is doing it, but she is making it happen in Coral Gables. She is bringing in top level talent to a place where no one watches games. This isnít UConn or Tennessee where they sell out every game.

Sheís convincing high school girls who see nothing but the bright lights of these top level programs and saying, donít join them, they are already at the top. Rather she is convincing these girls to come to Miami to bring the ĎCanes to the top and they are very close to being something truly special.

Go to top

| | |
| --- | --- |
| 130 | Cupcake Schedule Doesn't Add Up to Winning Basketball in the ACC |
Thu Jan 21, 2010
Cupcake schedules do two things. They create false hope which is exactly what has happened with the University of Miami menís basketball team. And they donít prepare you for real basketball.

A 14-0 record in their non-conference has been followed by a 1-4 in the ACC schedule, including two smack downs in Virginia last week when they traveled to Va. Tech and Virginia. Hereís the bad part. Those first five games came against arguably the four worst teams in the conference, including two to Boston College.

And then after showing up for 25 minutes against Boston College, probably the best 25 minutes theyíve played all year, it was another meltdown costing them a 17-point lead and what should have been a win against the Eagles.

2-3 would look a whole lot better than 1-4, but all it would have done is mask the stench, the stench of that non-conference schedule that is probably the worst theyíve ever played since the rebirth of the program.

Through January 17th, prior to the ĎCanes loss to Boston College, the ĎCanes had a No. 82 RPI rating. Thereís a good explanation for why it took the ĎCanes getting to 15-1 before they finally cracked the top 25. They played nobodies and thatís the problem.

What stands in front of the ĎCanes are Duke, Ga. Tech, FSU, Clemson, North Carolina, Maryland and more, i.e. the tougher teams on the schedule which doesnít bode well for the future success of this team in 2010.

Frank Haith would deny that itís a soft schedule and has done so in the past when questioned about it by media members earlier this season. Instead, heís called this team a young team, which in part is true, but at the same time had three senior starters, a redshirt sophomore and a true sophomore, when the season began. He blamed missed shots for the loss against Boston College. Of course, itís his job to make excuses for his team to the media while privately ripping into them, so thatís fine. But when youíre team is 15-1 and falls behind 48-13 in the first half at Virginia Tech, itís not about being young, itís not about missing shots. The reality is, the team isnít that good and the cupcake schedule to start the season didnít prepare this team for real basketball.

How bad was the schedule the ĎCanes played to start the season? How about No. 277 in the nation in terms of strength of schedule as of January 17th, and that includes three ACC games. Those are the stats and the stats donít lie. The schedule was terrible and when this team was faced with some adversity they didnít stand a chance. They folded like a tent and that is what has happened the past three games.

Do teams need cupcakes on the schedule? Of course. The problem isnít cupcakes, the problem is how many cupcakes. North Carolina has played some cupcakes, but the Tar Heels are forced to get major minutes from a number of freshmen and sophomores.

At the same time, UNC has also played Ohio State, Michigan State, Syracuse, Texas, College of Charleston, Kentucky, Rutgers and Nevada. The Tar Heels went 4-4 in those eight games. The combined record of those teams is 116-32. Take Rutgers off the list and itís 107-23. The record of the cupcakes Miami has played is 77-123.

When 12 of the 14 teams on the non-conference schedule stink, it doesnít build confidence, it builds false hope. These players started to believe that they were better than they really were to begin with. The ĎCanes also played Minnesota minus two starters and South Carolina minus their second leading scorer for most of the game. So even those two wins are donít have the same feeling had both teams been healthy.

In many of the wins, the ĎCanes didnít play that well either. They didnít hammer a cupcake the way they are supposed to. So when they played the same way against Virginia and Virginia Tech, guess what happened? They got run out of the arena.

Hereís the reality, would you rather be North Carolina at 12-7 or Miami at 15-4? Forget about history. Forget about the fact UNC is the defending national champion. Who do you think would be in the NCAA Tournament if the tournament selection committee had to pick at-large teams? It would be North Carolina without a second though, and not because the Tar Heels are the defending national champs. Itís because the Tar Heels have played real teams. Miami simply hasnít. Ask yourself, would the ĎCanes be 15-4 today if they had played the gauntlet the Tar Heels have seen. Odds are, the ĎCanes might have gone 1-7 against those eight teams, 2-6 at best which would make Miami 9-10 right now. Would it be the prettiest record? No, but at least it would be real and it would give this team a true indication of where itís at and not the fake hype the cupcake schedule attempted to create.

Go to top

| | |
| --- | --- |
| 129 | Dade/Broward Top Performers |
Sun Jan 17, 2010
Finally, an exciting, intense Dade/Broward All-Star Game. I've been going to this game since the beginning of the decade and I know I am not the first person to say that generally, this game is INCREDIBLY BORING.

Not Friday night. Finally, an exciting game. The only thing that was missing from this game was the lead changing hands over and over again, but it was a fun game to watch.

It was exciting to see a guy like Ely QB Michael German once again show how good he really is and the absolute lunacy that doesn't have him with a D-I offer yet. He was named Broward Player of the Year and won the game MVP award going 6 for 9 for 155 yards and a pair of touchdowns. German can play. But he is just the tip of the iceberg.

There were a number of players that were flat out impressive, none of which are actually going to UM and that's where my disappointment comes.

I look at the list of Miami commitments right now and then I see what was on that field Friday night and the fact that only one player (Keion Payne) is committed to Miami is flat out perplexing.

What also disappointed me was that quite frankly, the worst performance on the night was that of Payne. He can shrug it off all he wants as he did following the game, but his performance was certainly not a thing of beauty. Burned by J.J. Worton on a 45-yard touchdown pass when he simply got lost in coverage. Burned by Michaelee Harris in the end zone drawing a pass interference call. Burned by Joshua Reese for a 50-yard bomb when there is no logical reason anyone should have gotten behind him late in the game. No other DB got beat like that all night long.

But there were a number of players who impressed me. Here is a list of some of them.

QB Michael German, Ely - He was impressive. Flat out. He has a gun for an arm and hits receivers right on the chest usually. Two of his three incomplete passes were drops. How he is not being chased down by D-I schools is beyond me. FIU should be all over him. And there is no way in this world that UM commitment Stephen Morris is better than him. Not a chance.

QB/ATH Willie Tindal, Stranahan - Watching him play is so exciting. He is such a smart football player. He knows how to play. He reads defenses very well. I watch him and I see Western Michigan's Antonio Brown all over him. Funny thing is, Antonio Brown's offensive coordinator was Joe Redmond. Tindal's head coach - Joe Redmond. He was 9 for 12 for 104 yards and simply played very well.

ATH Donte Dotson, Deerfield Beach - I don't care where you give him the ball, Dotson has the chance to take it the distance. His 48-yard touchdown grab was flat out sick. It was a short dump off that he turned into a dazzling play. Miami doesn't have a player on its team anything like this kid. Flat out blazing speed, and an ability to break tackles and simply make plays.

ATH Jermaine Kelson, Southridge - He is similar to Dotson. He just makes plays and why he didn't play more at QB for Dade made no sense. Dade probably would have won the game had he played QB in the first half, but he's simply a great athlete, fast and makes play after play.

WR Shawn Corker, Cardinal Gibbons - He's a great physical athlete and made a great catch on a fade in the end zone. Corker catches just about everything thrown his way. He's also a tremendous blocker as he had some key blocks in the game.

RB James White, St. Thomas Aquinas - His 55-yard touchdown run in the first half was a thing of beauty. He showed power, speed, cut back ability, just everything you want in a back. He doesn't have the quick swivel hips and to me, has more of a Damien Berry style in running, but there's no doubt to me, he's better than Eduardo Clements.

CB Cliff Coleman, Boyd Anderson - Coleman was lock down in the game, had an interception and had the best quote of the day, probably the best I've heard in a long time. He said, "Two-thirds of the world is covered by water. The other third is covered by Cliff Coleman." Now, if that's not confidence, I don't know what is. By the way, he's better than Payne.

DB Steven Clarke, Boyd Anderson - Clark is another vibrant personality. He was trying to win the game MVP award on the first two possessions. Had he taken either of his turnovers back for a touchdown, he may have walked away with the award. He said he wanted Michaelee Harris and would lock him down and the first pass thrown to Harris, Clarke was locked on him, and guess what, interception. Another one who is better than Payne.

DE LeBranden Richardson, Central - Holy smokes is what I said when I saw this kid hit. He hits like he's angry at the world. People talk about other players, but watching him, he's simply a football player. He puts fear in you and you don't want to get hit by him. I'd swear he was trying to take the ball carrier's head off when he touched him. Seriously, physical and attempting to inflict bodily harm. Miami should be on him.

CB Richard Leonard, Killian - There is one way to describe Leonard and that's electrifying. I don't care what his height is, he doesn't let guys get open. That's what you want in a corner and he's blazing fast. I simply loved watching him play and this was against premier wide receivers. It doesn't get better than watching a corner lock down top tier receivers. By the way, he's dangerous on punt and kick return.

RB Jeff Scott, Archbishop Carroll - Another blazing fast dude like former Carroll player, George Baker. When he got the ball it was like a rocket coming out of a tunnel, just boom. He's a dangerous return man also.

Go to top

| | |
| --- | --- |
| 128 | Saturday High School Hoops |
Sat Jan 9, 2010
Today, I am at Northeast High School and Pine Crest to check some of the top basketball players in South Florida.

So far, four games are in the books here at Northeast.

American Heritage 58 Miramar 54

Pace 61 Palm Beach Lakes 36

Jupiter 69 St. Thomas Aquinas 56

Dillard 63 LaSalle 60

After I leave here, I'll be heading to Pine Crest to watch Brandon Knight in action. (Watch LIVE on USTREAM at 7 p.m.) There's still a possibility he could end up a Hurricane. We'll definitely catch up with him following his game against rival Cardinal Gibbons.

Then it will be back here to watch Norland v. Northeast featuring Jelani Hewitt, Daniel Sapp, Demetrius Henry, AJ Roberts, Cleon Roberts and Marvyn Baynham.

Tomorrow, there will be a full report on the event. We also caught up with football commitment Jermaine Barton. Stay tuned for another article on him.

Go to top

| | |
| --- | --- |
| 127 | Players and Coaches Share Blame in Wisconsin Debacle |
Wed Dec 30, 2009
Unprepared. Thatís what Miami looked like Tuesday night in its 20-14 loss to Wisconsin in the Champs Sports Bowl. And thatís a problem. Itís a problem thatís plagued this team all season. The team seemingly looks unprepared for virtually every game. Itís one thing when itís the exception to the rule. Itís another when itís become a common theme and that was the story of Tuesday night and essentially the story of the second half of the season.

I guess my first question would by why the team didnít start watching film on Wisconsin until ten days before the bowl game? Thatís part of being unprepared, especially for a bowl game. I am sure the ĎCanes watched way more than ten days of film in preparation for the Georgia Tech and Florida State games.

I wonder why the team didnít start practicing until December 19, why it needed three weeks off rather than practicing at least a few days during the three-week stretch leading into the week heading into the game. No one likes to go out on a losing note, but this is now the third straight year thatís seen Randy Shannonís team end the season with a loss leaving a bitter taste in everyoneís mouth heading into the Spring.

Following a 3-1 start in what people thought would be the toughest four-game stretch in UM history, even tougher than anything the teams in the 80s, 90s and earlier this decade face, the team fell flat on its face. Rather than getting better after that great start, the team regressed in every way. And it starts with an offensive line that gave up 35 sacks in 13 games, numbers that can probably help explain some of those 17 interceptions Jacory Harris threw this year. Think that was tough. 2010 actually looks tougher with Ohio State, USF and Pittsburgh following the season opener against FAMU.

Sure the 9-4 finish doesnít indicate that we regressed in the second half of the season, but one can look at the game at Wake Forest and say, UM did not deserve to win that game. One can also look at Duke and say, the ĎCanes trailed in the fourth quarter before the Dukies wilted. Thatís two games, two games between being 9-3 and 7-5. And if you go back to Week 1, if FSUís Jamar Fortson catches what was truly an easy touchdown pass on the final play of the game, the ĎCanes lose at Florida State instead of coming away with a dramatic 38-34 win in Tallahassee. You simply canít play one or two quarters of good football and win against quality opponents, let alone three minutes as was the case against Wisconsin. Against bad teams like Wake Forest and Duke, sure you can rebound, not against good and great teams.

But those are things that separate teams from being great, good, mediocre and bad. Itís the little things, so right now, Iíd qualify Miami as a good team, definitely not great. And only good because the record says so, not because their play says that. Based on their play on the field, this team looks bad more often than it looks good, but because of the talent that Shannon has recruited which is a credit to him, this team has been able to overcome its own abysmal play in large part because of Harris and win games that maybe it didnít deserve to win, but it doesnít matter how you win as long as you win, right? To me, thatís wrong because that catches up with you. Maybe people should start paying attention to how you win as well because how you win indicates how good you really are.

A defense that couldnít stop the run, the same one that couldnít stop the tight end once again and zero pass rush, not to mention an offensive line that failed to give Harris even a second to throw coupled with a running game that was nonexistent in large part because Damien Berry barely played (another thing Iíll never understand). Not to mention, not even truly attempting to run the ball as running backs carried the ball 13 times for 59 yards. Again, the 4.5 yards per carry is not bad, but you need to try to run the ball right. And this wasnít some four touchdown game that forces you into permanent no-huddle or pass on every down. This was a ten point game for much of the way and we stopped running the ball. We didnít run the ball five times in the second half with running backs. Why not?

Here was the play calling in the second half in a 17-7 game, one that is far from over with 30 minutes of football to be played Ė Series #1: pass, pass, pass, punt - :28 seconds. Series #2 Ė pass, run, run, pass, pass, turnover on downs at the Wisconsin 35, so rather than attempt a 52-yard field goal with an All-American level place kicker in a ten point game, we chose to go for it not something I would agree with when Matt Bosher has made field goals from that distance before. 2:13 possession so for the third quarter, we had the ball for 2:38. Series #3: run, pass, pass (sacked), punt Ė 1:35. Series #4, run (for 23 yards), pass (sacked and fumble) - :31 seconds. Series #5 (at this point we had to pass): pass, pass, pass, pass, pass, pass, pass, pass, pass, pass (touchdowns) Ė 2:39. Series #6 Ė pass (sacked), pass, pass, pass (game over) - :40 seconds.

So in the second half, in a ten-point game throughout, we threw it 20 times and ran it four times and had the ball for a total of 8:28 in the second half.

Not exactly what I nor anyone who watches football call good play calling or even play calling that made any kind of sense. What game Mark Whipple was watching I truly have no idea.

Am I happy we went 9-4? Of course, but not as happy as Iíd be if weíd gone 10-3 and beaten a team that hadnít beaten a ranked opponent all season.

The difference between Wisconsin though and teams like Wake Forest and Duke is that the Badgers will make you pay for your terrible play, and even they nearly threw it away the way Wake Forest and Duke did earlier this season. If the ĎCanes score following the onside kick and win 21-20, people are going crazy and so excited, but it would have simply masked the stench of the way they played which is something that happened too many times this year. The win masked the stench and when you mask the stench you act like it isnít there and you continue to have that stench week in and week out as we did the from the UCF game through the Wisconsin game with sprinkles of good football in between.

That game was only close because Wisconsin didnít have a large enough sack to go for it on fourth down and one rather than kicking a chip shot field goal late in the game and because one of its tight ends fumbled at the five yard line going in for what would likely have ended up in a touchdown scoring drive. Not to mention a tipped ball that turned into an interception at the Miami 33 that prevented at least another attempted field goal. For 57 minutes or so, Miami simply stunk, plain and simple on both sides of the ball.

Only Peyton Manning can rescue a team from stinking for that long of a period of time and Harris, as good as he may be, is not Manning.

So while you try to get excited for next year, itís hard because the mistakes this team made were the same ones over and over and over again. They didnít change. They came out flat and uninspired in basically every game in the second half of the season, even Virginia. Remember that game Miami trailed 10-3 before it finally pushed the pedal. Only against South Florida did this team come out with some fire and passion.

Between now and Spring practice, something has to give, something has to change. What it is, I donít know. Is it attitude? Is it approach? Clearly, this team looks unprepared in too many games and too uninspired to play. They look like they are not ready for whatís being thrown at them and have no concept of how to react to it. Will Shannonís coaching staff remain intact for the first time in his tenure? Will it remain intact for the first time in at least five years? Those are questions that there is no answer to yet, but something has to happen for this team to show up ready to play and inspired to play. Somehow a fire has to be lit under these talented players by someone.

I wonít put it on the coaches this time. Play calling I donít agree with, yes, but playing uninspired football and with a lack of effort and passion, thatís players. Sometimes that fire comes from within and unfortunately maybe these guys know they are so talented they donít feel like they have to play hard all the time. Maybe they are the problem because a coach can only do so much.

But in this particular situation, both are the problem. Both, the coaches and players failed and it was an embarrassing site to see.


Go to top

| | |
| --- | --- |
| 126 | Was the Meyer Show Just That -- A Show? |
Sun Dec 27, 2009
Not often will I speak on anything that doesn't involve the University of Miami, but the events at the University of Florida of this weekend have me a bit perplexed.

Florida coach Urban Meyer resigned on Saturday night only to un-resign on Sunday afternoon. Saturday night, he was resigning due to health problems. Maybe it's not a popular thing to say, but I am sure every 'Canes fan was thinking, this is great because Meyer not being the head coach at Florida is a good thing for the University of Miami. It gives the 'Canes coaches a legitimate chance to swoop in and steal some of the Florida recruits who might be swayed by the fact that not only is Tim Tebow saying goodbye to Gainesville, but so is the head man in charge, Meyer. Meyer not being the head coach at Florida flat out helps every school in Florida, especially the 'Canes who have lost out on a number of recruits from the Tri-County area courtesy of the Florida Gators, including the likes of Deonte Thompson a couple of years ago and this year, Matt Elam and Gerald Christian, not to mention others who still have yet to announce commitments.

So Saturday night, Meyer apparently had heart muscle problems as reported by ESPN and the stress was too much to take at the present time as has been reported. Doctors said the best decision was to step away from the game and clearly, they didn't mean until August when Fall practice is set to begin.

The reason being, he loves his family and doesn't want to put himself in jeopardy for the sake of his family. That's sweet and it's beautiful if it's the truth. Today it seems like complete bunk.

Then comes Sunday and because of a "spirited practice" and the fact his players talked him into staying, he decides he's only taking a leave of absence with the expectation of returning in time for the 2010 season.

So on Saturday his health was a serious problem and he loved his family and didn't want to put himself at risk for their sake. Sunday, his health is really not that much of a problem apparently, or is it that his players actually mean more to him than his blood family? I would hope not. I would assume not, but I don't know, because just yesterday his health was a serious enough problem that he had to quit. It is just rather odd that on Saturday night his health was a problem. Then Sunday, maybe it wasn't that bad.

Everyone was writing these beautiful stories about Meyer Saturday night, praying for him, wishing him the best, etc., etc. Could that have been the entire point? We all know that Meyer is one smart football coach. There's no denying that. There's a good reason why he is 56-10 since taking over at Florida. There's a good reason why he's won the National Championship twice in five years, but the Gators are not the team this year. That title belongs to Alabama and Texas as those are the two teams playing in the game that matters. Could it be that this was an elaborate plan so that everyone pays attention to Florida? Could it be that Meyer figured this was a way to attract recruits, a sick one albeit, that he is willing to put his life on the line for his players? I don't know, but it just has my stomach turning that Meyer would put his life on the line for the sake of a football team.

But then I am thinking, bunk. Meyer wanted attention. He got it. He got praised. He was spoken about in the highest regard. And now he's not really resigning, he's just taking a vacation. As if the Gator Nation doesn't already kiss his tail enough, now they are bowing down to him because he'll put his health on the line for the football team.

Which makes me think that while his health might not be perfect, this was an elaborate ploy he created to bring the attention back to Gainesville, back to him, back to his team, to the attention of his recruits so that they see just how much his players mean to him. I mean really, what recruit wouldn't be touched to believe that his coach would die for him and for the success of the team?

Maybe I am a cold hearted person for believing that, believing that there is an ulterior motive to all of this, but the timing is amazing as it happens before the bowl game, one day after Christmas, done to inspire his team against a Cincinnati team that had plenty of inspiration after its coached bailed on them for Notre Dame a couple of weeks ago. But Meyer is the coach of a team that has had more than 25 players arrested in five years. This just seems like something he would orchestrate, something that while sick, is probably genius as well.

I don't know. What do you think? Post about my blog on the board because I wonder what my fellow 'Canes fans are thinking about this now. I just hope he's still there in 2013 so we can kick the snot out of him and his Gators down here in Miami, that is, if they don't try to get out of the game as they always do.


Go to top

| | |
| --- | --- |
| 125 | Merry Christmas, Happy Hanukkah, Happy Kwanza and More! |
Thu Dec 24, 2009
Greetings Folks,

From me to all the loyal subscribers and readers of InsideTheU.com, let me say thank you for supporting the site. Without your support of this site and your profound love for the University of Miami, InsideTheU.com would not exist.

So once again I say thank you for your support of this site. I also want to wish you and your families a Merry Christmas, Happy Hanukkah, Happy Kwanza or whatever holiday it is that you celebrate and a Happy New Year.

I hope you all have a wonderful time during this time of year and in between we can all celebrate a UM victory over Wisconsin in the Champs Sports Bowl on December 29th. As you see, we are running a $50 special over the next eight days. Be sure to take advantage of the opportunity to get the latest and most up-to-date coverage of the University of Miami and its recruiting for less than $4.20 a month. Thatís more than 50% off the monthly subscription rate. No one can beat this deal anywhere.

So once have a great week and thank you for being a part of the InsideTheU.com family.

Go to top

| | |
| --- | --- |
| 124 | The U Documentary Depressed Me |
Mon Dec 14, 2009
I canít lie, The U Documentary depressed me. It made me relive my youth (from age 6 to 15), but then it depressed because as we may have improved, nothing was like the 80s and early 90s.

The only thing disappointing to me about that time period is learning about some of the inner workings and what a turd Tad Foote really was. I wanted to sock him in the mouth through my television as I watched it. I was too young at the time to know that or even pay attention to that, but that guy wasnít exactly easy to deal with as was portrayed by the documentary.

And neither was Sam Jankovich. He was a turd also.

Itís comical that every no fun rule was created because of one team, but I remember when all those rules were put into play taking the fun away from the game to the point where the game is literally boring.

At the same time, wouldnít it be nice to rack up 202 yards in penalties and still beat the snot out of a top ten team in essentially what is a home game, 46-3?

Personally, thatís what swagger is. People say the swagger is back now. Not a chance. It's not even close. People who say the swagger is back have no concept of it, they didn't grow up watching UM back then like I and so many others did. If you watched that documentary, thatís what swagger is. Swagger isnít making a play and walking back to the huddle. True swag is when you tell the opponent you are going to make the play, tell him how you are going to do, then do it and then tell him again that you told him you were going to do that. Thatís swag. That was Miami from 1983 to 1992.

True swag is Robert Bailey telling his teammates, I am going to knock someone out on the opening kickoff and then do exactly that.

Swag was Melvin Bratton and Alonzo Highsmith calling Brian Bosworth at his hotel room at 5am and telling him weíre going to kick you a** at noon. And having the rest of the players calling Jamel Holloway and doing the same thing. And then at midfield where the television microphones catch Jerome Brown telling Oklahoma players at the coin toss the same thing. Thatís beautiful. Thatís swag. That was Miami football. We had teams scared before the opening kickoff. We had you beaten before we actually whupped you on the field.

Then I see the highlights of that Fiesta Bowl against Penn State again. I tell you what, Vinny Testaverde was the Heisman Trophy winner that year and I donít think he made five throws all year that looked as bad as those interceptions he threw directly to Penn State defenders. And then you see the ridiculous fumble at Notre Dame that clearly wasnít a fumble that essentially cost us a National Championship in 1988. So instead of 4 in 9 years, you are looking at 6 in 9 years. Thatís how good Miami was. Even when they lost, they really should have won or got jobbed by officials. Thatís swag.

Swagger isnít going 9-3 and losing at home to Clemson or losing at North Carolina and being happy to go to the Champs Sports Bowl. Sure, I am happy we went 9-3 and I am happy we are improving, but truth be told, that documentary freaking depressed me.

And then it bothered me when you see video of Randy Shannon pointing his fingers into the air after scoring a touchdown on an interception return, which would be a 15-yard penalty today. And then it bothered me more when it came out that Randy Shannon was reportedly the player who gave out all the payments to the players from Luther Campbell for big plays.

Why do you think UM refused to sanction this documentary or be a part of it? Why do you think Shannon was never on camera? UM knows itís all true. If it wasnít, Billy Corben and ESPN would be getting sued by Shannon because that would be a serious case of defamation of character, God forbid people really know the truth, that Shannon was just like everyone else on those teams -- a bad boy, which is a beautiful thing.

Instead we have to portray him as holier than thou and keep his image crystal clean.

Now, heís our head coach and yet, we run a boring brand of football that has very little excitement to it. Yet, for some reason, he wants to blanket this team from the public, keep them protected, keep them out of the spotlight. Everything around Coral Gables now has been completely limited which is not how it was back in the day. The players wanted the spotlight. That was Howard Schnellenbergerís goal when he got here. Get us known nationally. J.J. kept it up. Dennis Erickson didnít stop it either.

You know why the brawl with FIU caused such a ruckus? Really? Itís because UM wasnít on top of the world. If the ĎCanes were 11-0, 12-0, no one would have cared. The national media would have castrated us from their podiums of perfection, sure, just like they always have, as you know Miami is nothing but thugs according to them. But with the FIU brawl, even the local media slammed the ĎCanes, but only because we were average, not great. There was nothing else to talk about with this team, except that brawl. We had become boring. We had become irrelevant.

Lord knows, you saw the highlights of the Colorado brawl, the Cal skirmishes, the Texas trash talking, and more and more and more that wasnít in the documentary. But guess what, they werenít as a big of a deal because we were winning. Maybe Tad Foote didnít like it, but Tad Foote got paid in part because the UM football team brought in millions upon millions of dollars to this school. This school would look no different than it did in 1979 if it wasnít for the football program becoming something, bringing in gobs of money.

Do you think for one second there is a player like Jerome Brown who would have the balls to do what he did at the Fiesta Bowl? And do you think that Shannon would defend those actions the way Jimmy Johnson did? If we did and he did, I would venture to say, we are back.

To get back to being Miami, Shannon has to go back to being Miami. Shannon has to go back to his roots and find what made him the player he was, the same kind of player that showboated just like the rest of them. Itís on him to bring that brand of football back to Miami and not give a darn what anyone thinks because when you are 11-1 and 12-0 and bringing in millions to the school every year you can do just about whatever the heck you want. In a sense, he doesn't give a damn what anyone thinks, the problem is, we aren't 11-1, 12-0.

I want that feeling again, donít you? I want that TRUE swagger back, the kind of attitude that didnít believe in being politically correct, the kind of attitude that didnít hold its tongue, the kind of attitude that told you, I am going kick your butt, this is how I am going to do it, then did it and then be the one to tell you again, I told you I was going to do it that way. That's TRUE swag. Thatís Miami football.

Go to top

| | |
| --- | --- |
| 123 | The Gator Bowl Sham |
Sun Dec 6, 2009
The Gator Bowl Sham. Thatís what the Gator Bowl will forever be known to me as. Bowl games are about teams earning it. That is, until this year.

Being sentimental clouded logical selection and probably cost the University of Miami a bid in the Gator Bowl on January 1st in Jacksonville, Florida. Instead the ĎCanes are heading to the Champs Sports Bowl to face No. 24 Wisconsin in Orlando on December 29, 2009.

Sure, there are advantages to playing in Orlando. Itís a closer drive from Miami than Jacksonville. The opponent in Wisconsin might actually be better than the opponent in Jacksonville Ė West Virginia.

But the reality is, there is nothing like playing on a January 1st bowl game. Yes, there are a lot more bowl games that are played on January 1st or later now, but greatness always was determined by playing on January 1st or later when I was growing up so there is some disappointment with seeing the ĎCanes playing on December 29th rather than January 1st.

Now, it would be one thing if say Clemson or North Carolina had been selected to the Gator Bowl instead of Miami as they both posted wins over the ĎCanes and finished with even or better records in the ACC.

But when a 6-6 Florida State gets picked over all three, not to mention Boston College, it totally discredits the integrity of the bowl game. Sure, you have the good oleí boy network which definitely had everything to do with FSU getting the nod to the Gator Bowl, but itís flat out an absolute disgrace.

So Bobby Bowden is retiring? Who cares! His team stunk this year. You donít reward mediocrity over success because an old coach is retiring. Itís a joke. Why not just throw FSU into the BCS National Championship because Bowden is retiring? Thereís no difference. Whatís happened here is an undeserving team is getting a nod over four deserving teams because of a retiring head coach.

Whether a coach has coached for one year or 34 years, it makes no difference. Coaching longevity doesnít earn bowl bids. Win do.

And from here on out, the Gator Bowl, as far as I am concerned is the Sham Bowl and I hope that Miami never accepts a bowl invitation to that bowl game as long as the ACC is associated with that sham of a bowl.

I only hope the rest of the nation sees what a fraud this is, and looks past the sentimental part of it and looks at it for what is it Ė a disgrace.


Go to top

| | |
| --- | --- |
| 122 | Basketball Teams Need Support |
Wed Dec 2, 2009
Impressive is all you can about the start of the UM basketball teams, both men and women. They are a combined 14-0, something that probably hasnít ever happened in school history.

I am as big of a football fan as it gets, but nothing makes me happier than watching the ĎCanes basketball teams have success because without success they canít draw a sole into the BankUnited Center to actually watch them play.

Tonight, the menís basketball team hosts Minnesota in the ACC/Big Ten Challenge. Finally, a home game in that challenge and hopefully a win will come along with it for the first time since the ĎCanes joined the ACC. Right now, the Big Ten is leading 3-2 and a ĎCanes win will go a long way to having the ACC win the battle for the 11th time in 11 years.

Folks, go out and support this team. Give these teams the home court advantage necessary to be successful, not just in these early season games, but when ACC play begins.

Putting 5,000 in the seats for a game against a Big Ten opponent is easy in most locations. Not Coral Gables though so winning should make it more appealing to watch these guys play and thatís what they are doing Ė winning.

The same goes for the womenís basketball team. Thereís nothing more lonely than watching the womenís basketball team in an empty arena pretty much every time they take the floor at home.

Give them support. They need it. Katie Meier has brought in some big time players who are going to make this team matter. Watch them play, support them. Cheer for them. You will be happy you did.

But start it off by getting to the BUC tonight to watch the ĎCanes men beat up Minnesota with young stars on the horizon like Durand Scott who may end up being one of the best players to ever lace up sneakers in Coral Gables.



Go to top

| | |
| --- | --- |
| 121 | ACC - The Conference of Mediocrity |
Sat Oct 31, 2009
A conference of mediocrity. How else can you describe the ACC? Itís a conference that no one seems good enough to dominate, but then again, is that mediocrity or is that parity?

It would be parity if the teams played well. What makes it mediocrity is that the teams donít play well.

While we hope for our Miami Hurricanes to capture its first ACC Championship since joining the conference, and itís something is still within its grasp if it wins out and Georgia Tech loses one more ACC game, unlike every other BCS conference that has a team or two that simply dominates everyone else, in the ACC thatís not the case.

Itís not that everyone is good. Itís that everyone seems to be not so good. Each team has major flaws. Each team has found a way to lose huge games against teams it should have beaten. Go down the list of supposed contenders for the ACC crown and you can find it in every team.

Two weeks ago, Miami, Virginia Tech and Georgia Tech had their destiny in their hands. Miami choked against a subpar Clemson team on its home field, not just losing, but losing in winning time, the time when great teams find a way to get the job done, and when teams that are not great, find a way to lose as the ĎCanes did.

Clemson is no better. This is squad that supposedly has talent albeit, Iíd argue the Tigers are as good as one player, C.J. Spiller, but each year, people rave about this team only to have it choke over and over again. Heck, the Tigers were 3-3 entering last weekís Miami game.

Now look at Virginia Tech. They lose at home on the final play to North Carolina, a UNC team that was coming off three losses in fourth games and blow a fourth quarter lead at that.

Georgia Tech is the only team not to lay a complete egg unless you call the beat down the ĎCanes put on them in week three, an egg. But still, there is time for the Yellow Jackets to find a way to screw it up.

You have to wonder, can any team in the ACC beat a top tier team in another conference. Sure, we look at Miami beating Oklahoma at home. While that was a great win for the ĎCanes, letís be real. That win came against a crippled Oklahoma, a team without itís starting quarterback, starting tight end (a position Miami still hasnít figured out how to cover), and losing its top receiver early in the game.

Florida State is a microcosm of what this conference is about Ė the ability to go to Provo, Utah, and destroy No. 7 BYU, then lose at home to a USF team was had a freshman starting his first game, not to mention barely beating D-IAA Jacksonville State at home.

But really, Virginia Tech lost to Alabama and thatís about the only game an ACC team has played against a top tier team from another conference and Virginia Tech lost that game in winning time, the fourth quarter. Can they compete? Sure. Can they win though? Probably not.

And thatís what makes this conference mediocre and makes it even more depressing when we watch a team as talented as Miami find a way to lose to a team like Clemson. But thereís a bright side to every sad story. Just as Miami lost to Clemson, Virginia Tech handed it right back losing to North Carolina. Georgia Tech has two ACC games left against Wake Forest and Duke. One would expect Tech to beat Duke, but Wake Forest is the exact kind of team that Tech could find a way to lose to.

Would it really be that surprising if it happened? Not to me. Not in this conference of mediocrity. And if whatís take place holds true and Georgia Tech loses again to an ACC team, Miami once again has a chance, if only it can win the rest of its games.

But again, itís the ACC, so who really knows.

Go to top

| | |
| --- | --- |
| 120 | Maturity Shown; Victory Over OU Speaks Volumes |
Sun Oct 4, 2009
Tremendous win, just absolutely tremendous. Saturday night showed maturity. That was the question I had posed last week, had this team matured? Their chance to show that was Saturday night against Oklahoma and boy did they show that they had matured.

The last three years, this team loses this game and probably gets blown out. Not this yearís version. And on a night when truthfully, they didnít play all that well. That alone, speaks volumes.

For a half, the ĎCanes looked pretty bad, yet they only trailed 10-7 because the defense slowly got itself into the game, started making stops and started being a force in large part because of the excitement a freshman brought to the table. Ray Ray Armstrong showed he is a player and showed he belongs on the field and his hits in the first half seemed to wake the entire team up.

Jimmy Graham showed that he could overcome a nightmare game by grabbing a big touchdown pass which cut the lead to 10-7.

Jacory Harris showed that two interceptions in the first quarter donít affect him. He was 2 for 4 at that point with two picks. He rebounded to complete 17 of his next 25 passes and three touchdowns and finished 19 of 28 passes for 202 yards and three touchdowns overall. He completed 68 percent of his passes. Can you ask for much more from your quarterback?

Sean Spence showed he could recover from a pretty average start to the season to have a big game when the ĎCanes needed a big game from him.

The defensive line as a whole showed it could win the battle against a massive offensive line. The offensive line showed it could create holes against a fantastic defense for Javarris James to have a career game.

Plain and simple, the ĎCanes found a way to win on a night when they essentially played a good half of football, not a full game, and against the 8th ranked team in the country. Thatís maturity. That shows something big time. Thatís progress.

Letís not forget the penalties to the tune of 12 penalties, including a roughing the punter that got the Sooners back in the game when it looked like Miami might actually blow the game totally open in the second half leading 21-10.

The ĎCanes overcame a lot. They overcame their own turnovers, they overcame silly penalties, and they overcame the 8th ranked team in the country. Randy Shannon doesnít want to call them back yet as he would prefer to wait until the 12th or 13th game of the season, but they are definitely moving in the right direction. And I would agree with him on that one. Let the season play out and then make the determination, but this team is certainly making progress and Saturday night, it showed tremendous maturity in all facets and thereís not much more you can ask for.

Iíve said plenty about this team over the past couple of years and I truly thought this team was heading to an 0-4 start based on the past two seasons, but the biggest thing that happened between last year and this year Ė not only have the players matured, but the coaches have matured, namely the top dog, Shannon, who has developed, himself, as a head coach realizing that he needs to let his coaches coach in order to be successful.

And itís spoken volumes about him and the difference is evident on the field as the ĎCanes finished a gauntlet four-game stretch with a 3-1 record. Again, you couldnít ask for much more.

I was wrong about what I expected from this team, and I hope that continues.

Go to top

| | |
| --- | --- |
| 119 | Now is the Time Show They've Matured |
Mon Sep 28, 2009
Three times, people started to show some serious belief in the University of Miami over the past two seasons, plus three games.

Three times, the ĎCanes left fans heartbroken.

Last year, following Miamiís blowout win over Texas A&M, people started to believe the ĎCanes could be good again, could make themselves a big time program again. What followed was a game against Butch Davis again. What followed was another loss to Davis and his North Carolina Tar Heels, this one in a painful fourth quarter collapse.

Then, Miami ran off five straight wins and was 7-3 with a chance to win the ACC Coastal Division and win itself into the ACC Championship Game following a win over Virginia Tech. The belief was starting to come back. People thought an ACC Championship was really in sight and a possible BCS bowl game.

Heartbreak again as the ĎCanes got trounced by Georgia Tech and North Carolina State before losing the Emerald Bowl to Cal.

Now, we get a couple of wins to start the 2009 season and people, including myself, started thinking, this team is legit. Then Virginia Tech beat the ĎCanes into the ground, once again breaking hearts.

What the ĎCanes have proven three times over the past two years is that when they are starting to make themselves relevant again, they canít handle the success, when the spotlight is on this team, it folds under the pressure. The success is either getting to their heads or maybe they just arenít good enough.

Hopefully, itís the first one and the success is simply getting to their heads or weíll be watching another .500 season because thatís what weíve had the past three seasons.

Unlike the previous two disappointing losses, this time, the ĎCanes have a real chance to make up for it quickly and will have another chance against a big time program with No. 8 Oklahoma coming to town this Saturday night in prime time for the nation to see. Just as Virginia Tech, the spotlight will be on the ĎCanes again this Saturday.

The 31-7 loss to Va. Tech will quickly be forgotten with a win over Oklahoma. A win over Oklahoma and the ĎCanes will be right back in the top ten or real close to it, with eight games to, at least five of which they should definitely win, with the toss up games being at home against Clemson, which should be a win, but the road games at North Carolina and South Florida will definitely be tough road contests.

The ĎCanes have still not won a game at North Carolina, even in 2004 when the ĎCanes were a huge favorite, still loaded with talent, and looking at another possible National Championship.

And for anyone that thinks the USF game will be some cake walk, let me break this down. USF just beat the pants off of Florida State in Tallahassee. The ĎNoles scored SEVEN points on their home field against USF. They rushed for only 20 yards against USF. The same FSU team scored 34 points on the ĎCanes and had over 400 yards of offense against the ĎCanes and were a dropped pass from having a win over the ĎCanes.

And a FIRST TIME redshirt freshman starter from Tallahassee beat the ĎNoles in his hometown. If thatís not pressure, what is? FSU found out the hard way that USF is a good team even without Matt Grothe, and the ĎNoles were at home. The ĎCanes will be traveling to USF in November to a stadium that will have 60,000 people cheering against them and the place will be rabid, so they better be ready to play from the opening kickoff or they could end up just like Florida State.

But the chance is now for the ĎCanes to make it happen and get back on the right track. The chance is now with to bounce back against one of the premier programs in the country over the past decade in Oklahoma so itís on the players right now to make that choice. Will they commit themselves to victory? Will they do everything in their power to win? Will they put their body on the line to make it happen? Will they bleed for victory? Doing that and more is what it will take for the ĎCanes to beat Oklahoma with or without Sam Bradford.

It will take another Georgia Tech performance and more because unlike Georgia Tech, the Sooners with throw the ball all game and attempt to expose a secondary that might be without Randy Phillips and was pretty much gutted by Florida State in the opener and got burned for a deep touchdown in both the Ga. Tech game and the Va. Tech game.

Now is the time. Now is the time to show that one loss wonít lead to another and another after that as has happened over the past couple of seasons. Now is the time for this team to show itís truly matured, to truly show that itís legit, to show that the Ga. Tech win wasnít a fluke. The chance is Saturday. Beat Oklahoma and weíll know this team is for real. Lose to the Sooners and truly we wonít have a clue as to what to expect in the final eight games.


Go to top

| | |
| --- | --- |
| 118 | See What Trust Gets You |
Fri Sep 18, 2009
They trust each other. If you were at Land Shark Stadium or watching live on ESPN, you saw it first hand, the rebirth of the Miami Hurricanes, the rebirth of the ďU.Ē Iíve said so many things about this team over the past two years, but this is a new team. I saw it tonight. They made me believe again.

It wasnít that the ĎCanes won the game. Winning the game isnít something that was completely surprising. After beating FSU, many people truly believed the ĎCanes would win tonight. The ĎCanes didnít just win tonight. The ĎCanes dominated tonight. The ĎCanes handed Georgia Tech a beating it hadnít experienced in quite some time.

The defense didnít force turnovers, but 95 yards rushing tells the story. Georgia Tech couldnít run the ball. The Yellow Jackets couldnít run the ball because Miamiís defensive line flat out owned the Georgia Tech offensive line. Stopping the run was the key and that came with playing disciplined football. Playing disciplined football comes with sticking to assignments and sticking to assignments comes with trust, trusting your teammates.

Miami trusts itself. The players trust each other and that was never more evident than tonight against Georgia Tech. Realistically, this was Miamiís biggest win since beating Virginia Tech 56-45 in 2002 at the Orange Bowl. That win saw the ĎCanes earn a berth in the Fiesta Bowl and a second straight National Championship game.

Beyond the defensive line dominating, the linebackers tackled, the defensive backs stepped up. It was a complete performance. Tech only had 228 yards of offense. Even in losses last season, Tech did more offensively.

And that was just on defense.

On offense, holy smokes. Forget Jacory Harris. We know heís the real deal. Iíve known he was the real deal since he was 15 years old and playing QB at Northwestern. He showed the nation though tonight that the Florida State performance wasnít a fluke. Tonight was even better. 20 for 25 for 270 yards and three touchdowns with no interceptions. Basically, everything he threw, he completed. And he didnít make a mistake and the offense didnít turn the ball over. They ĎCanes never put the ball on the ground.

But again, forget Jacory Harris. Tonight, on offense the story of the game was the offensive line. I felt like I was watching 2001 and 2002. While some people thought the offensive line did a good job against Florida State, I didnít. I saw Harris scrambling constantly. I thought Harris made the line look good because of his poise and his ability to escape pressure. Tonight, different story. The offensive line was freaking awesome. They were awesome, awesome, awesome. They dominated the line of scrimmage. The ĎCanes rushed for nearly 200 yards also.

Graig Cooper and Javarris James had great games, they can say thank you to the offensive line for that. The receivers caught pretty much everything thrown their way. They were also open pretty much the entire night. It was just an awesome offensive performance until the fourth quarter when Mark Whipple decided not to really stick it down Georgia Techís throat.

My personality is one of always seeing the negative first, then trying to find the positive. Tonight, thatís out the window. I just listed a boatload of positives and the game was pretty much awesome to see. I felt like I was watching the ĎCanes in 2000, 2001, 2002 and 2003 and the dominating teams of the 80s and 90s.

The only negative on tonightís performance and most would agree Ė the Special Teams kickoff team needs work. It needs to tackle better and the kicker canít kick the ball out of bounds multiple times. We cannot keep giving up position at the 40-yard line and giving up a short field. Georgia Techís first five possessions they took the ball at the 40. Miamiís defense held them to THREE POINTS. And on field goals, Matt Bosher canít miss 26 and 31 yard field goals even though the misses were irrelevant when they occurred.

But wow, what a game. You saw the trust on the field, on offense and on defense. You saw the joy following the game, but not over joy. This was something these players expected. The ĎCanes are 2-0, halfway through the most wicked four-game stretch to start off the season in school history. Virginia Tech is next week and Oklahoma the week after. Win those games and we are looking at a National Championship contender and a team that will be ranked in the Top 5.

And after watching what I saw tonight, I believe.


Go to top

| | |
| --- | --- |
| 117 | Key to Victory over Georgia Tech: TRUST YOUR TEAMMATES |
Thu Sep 17, 2009
Beating Georgia Tech sounds easy. Really, it is easy. So why canít teams do it? Why do teams struggle to stop the Yellow Jackets when all they do is run the ball over and over and over again. Thereís no trickery involved in their offense. Thereís no question as to what they are going to run 95 percent of time. Stopping Georgia Tech is easy. So why canít teams do it? Why do the Yellow Jackets continue to rush for over 300 yards a game practically every week?

Are they good? Definitely. Can they be beaten? Without question. But being good doesn't beat Ga. Tech.

Itís simple, right? Yes, itís real simple. Play assignment football and you stop Georgia Tech. Itís as simple as that. Itís not that you donít know whatís coming. Itís playing your assignment. If you stick to your assignment, you can destroy Tech the way LSU did last year in the Peach Bowl.

If you donít, you can look like our ĎCanes did in Atlanta getting gouged for 473 yards on the ground. So what do we need to do to win? Simply play assignment football. Do what youíve practiced all week.

Defensive tackles do their job Ė gash the middle, stop the dive along with whoever is at middle linebacker. Defensive ends blast the quarterback. Sounds easy right? It is, that is until the defensive ends decide they want to try to stop the dive and not stick to the quarterback. That was a major problem last year, that and missed tackles.

Then once the DTís and the DEís have done their jobs, then itís on the outside linebackers to finish play and square up on the running back looking for the pitch. Sounds easy, right? Well, if the DE tries to stop the dive, the OLB tries to stop the QB, then the corners and safeties are forced to fill on the back taking the pitch. And if there is one missed tackle, the result is a big play.

So itís simple, play assignment football and the ĎCanes win tonight. Donít and it could be for a long night. How do they play assignment football? Itís simple, right? Not really. Itís called TRUST. Building trust generally takes time. I am sure it is something this team didn't have last year defensively with so many young players on the team. Trust that your teammate is going to do his job. If you trust that your teammate is going to do his job and he trusts that you are going to do yours, thatís how assignment football is played. When you donít trust, you leave your assignments, you try to be the savior, you try to be the hero and make the play. And when you do that, what you get is a blown assignment and a 70-yard touchdown run. But if the ĎCanes defensive players trust each other, there is nothing they canít accomplish tonight, including stuffing the triple option attack that thoroughly embarrassed them last year.


Go to top

| | |
| --- | --- |
| 116 | Jacory Harris = Ice Cold |
Tue Sep 8, 2009
Ice cold = Jacory Harris.

How else can you describe a quarterback that started his first game in Tallahassee against Florida State in a hostile environment and simply had the greatest performance any quarterback has ever hard in the history of the University of Miami in a game against Florida State, let alone at Florida State.

The numbers speak for themselves, 21 for 34 for 386 yards and two touchdowns. Even better, every point that was scored was scored by the offense. Nothing was created by the defense. Harris showed that Miamiís offense is now relevant again. Thereís a sense of confidence he brings to the field that his teammates feed off of.

After he was hit by Greg Reid forcing and interception and the ball went the other way for a touchdown, most people thought, oh boy, ball game is over when they saw Harris leaving the field holding his arm.

He later said it was numb and he couldnít feel his ring finger and pinkie the rest of the way. It seemed like the ĎCanes worst nightmare was coming true, A.J. Highsmith was going to have to enter the game, but not just enter the game, he would have to enter the game with less than a quarter of football left in a 31-24 ball game.

Didnít happen. Harris had enough feeling in his arm and hand to lead the ĎCanes for two touchdown drives giving Miami a 38-34 win over Florida State. Two touchdown drives in the final eight minutes of the game. The ĎCanes scored 21 points in the final quarter.

The ĎCanes had five touchdown drives Ė 6 plays, 66 yards, 7 plays, 75 yards, 5 plays, 61 yards, 10 plays 73 yards, 6 plays, 59 yards. There was also a field goal drive of 5 plays, 28 yards.

The ĎCanes havenít had that kind of offensive performance in four years where the offense was essentially above the move the ball and score at will like it did against as fast a defense as that of the Seminoles.

His performance was a thing of beauty, a dream to many Hurricanes fans to see the kind of performance that Ken Dorsey used to have. This was Ken Dorsey relived.

But at the same this was even better because Ken Dorsey had way more talent around him. Yes, Harris has some talented skill guys around him like Travis Benjamin who made a ton of plays and showed that if he can stay healthy, he can make plays all year, and Leonard Hankerson who had his best game ever as a ĎCane. But he doesnít have the line that Dorsey had and his defense did little to help outside of Marcus Robinsonís forced fumble and the final few plays. And Dorseyís guys werenít this young. This crew is still real young.

Even more impressive, while ESPN cameras showed players celebrating in the field following the final play of the game, Harris, as he was the entire game, acted like nothing happened, like what happened is what he expected to happen so there was no reason to really get all excited about something he expected, which is how a leader is supposed to react. The leaderís been found, we just have to make sure we protect him.

*****Other Tidbits*****

Was it me or did Graig Cooper look awesome on kick returns? Randy Phillips said he looked like Devin Hester in practice. Goodness, that one kick return he looked pretty close. The straight ahead speed, he looked fast. As long as he doesn't dance, he can be so dangerou on kick returns.

Travis Benjamin is a playmaker. We knew that last year, but he proved it again. As long as he is healthy, he should be on the field as much as possible. He simply blows by defenders.

Aldarius Johnson appeared to have pulled his groin on his one deep ball that he caught. I don't recall him playing the rest of the way following that play. Let's hope it's not a serious situation and he can be back on the field for Ga. Tech.

The offensive line really still needs work. Did they give Jacory enough time to throw the ball? Technically, yes, he managed to throw for almost 400 yards. Realistically, no. Jacory made them look good because defensive linemen were in the backfield constantly putting pressure forcing rollouts on uncalled rollouts. They struggled against the Florida State speed rush and the FSU blitz. Matt Pipho's missed block on Greg Reid nearly cost Miami the season if Jacory's arm problem had been worse. How he didn't get a hand on Reid was unreal. That can't happen. He needs to plant Reid into the ground. Jason Fox committing a false start on the first play of the game, unacceptable. Fox and Orlando Franklin struggled to protect Jacory's backside. The most impressive of the linemen was truthfully Harland Gunn. You never heard his name called. He didn't miss blocks and he didn't get called for a penalty. A.J. Trump was also pretty solid, but Fox was called for a false start, Franklin called for two and Pipho was called for a holding penalty.

The defensive line has to figure out a way to get consistent pressure on the quarterback or it will risk its secondary getting torched the way it did most of the game. Whether it's by blitzing or not, John Lovett has to find a way to get those defensive linemen into the backfield quicker, especially the ends. Maybe the 'Canes simply need to blitz more, but something has to get figured out there.

Go to top

| | |
| --- | --- |
| 115 | The QB Drama Continues |
Tue Aug 25, 2009
In less than three years, the University of Miami has had more quarterback controversy than any program on the planet, at any level.

First, it was the Kirby/Kyle debate. Kirby won the initial argument as the new head coach at the time, Randy Shannon, decided that after watching the two in action for eight months as head coach after having seen the both of them throughout their collegiate careers as the defensive coordinator that Kirby was his guy. Kirby lasted as his guy for all of a week before finding the bench by the second quarter of Miamiís loss at Oklahoma. So Kyle became the guy. That is, until he got hurt and Kirby found a way to lead the ĎCanes to Shannonís biggest win as head coach at Florida State in 2007.

Fast forward to 2008, it was the Robert Marve/Jacory Harris argument, but before that argument began, Kirby Freeman packed his bags for Texas as he didnít want to be a backup to a pair of freshmen. So the Marve/Harris argument came up. Rather than picking one, Shannon played the quarterback carousel because neither had experience. Marve was named the starter, but only after being suspended for the opener against Charleston Southern. Harris performed well and should have realistically been the starter at Florida. Rather, Shannon sent Marve out there, completely green.

Then it became the back-and-forth, Harris/Marve, Harris/Marve, Marve/Harris, Marve/Harris. One thing is certain Ė neither quarterback benefited from that nonsense. After being suspended for the Emerald Bowl, Marve packed his bags and decided heíd had enough. Harris was now the starter by default. So the experiment was up in smoke. Now, it was Harris with backups Taylor Cook and Cannon Smith who had no experience along with freshman A.J. Highsmith who had even less.

Cook showed enough to be the No. 2 guy in the Spring. Apparently, he wasnít the No. 2 guy in the Fall as Shannon called the back up spot wide-open, and whether or not Highsmith actually passed him on the non-existent depth chart, Cook decided, it was time to go as was reported in The Miami Herald today.

Along with Cook, Smith decided the same thing, time to go. So in three years under Shannon, four quarterbacks have transferred, three in the last eight months. Does this happen anywhere, but here? While people may love Shannon, love his disciplinarian ways, one can only wonder why quarterbacks keep leaving. Sure, Marve may have been a problem child, and maybe Cook and Smith didn't want to wait to play, but Tim Tebow is firmly entrenched at Florida as the starter and there have been no quarterback defections. Why is that?

Now, the ĎCanes have an even bigger dilemma Ė Jacory Harris is not exactly a tank and Miamiís offensive line isnít exactly that of the 2001 Hurricanes. So what looked like a promising season is one bone jarring hit on Harrisí backside from turning catastrophic. Thatís not a knock on Highsmith, but the reality that there wasnít a soul that expected him to ever take a snap this year. This was a year to learn, to redshirt, to watch. Now, he might be forced into action.

I wonít even begin to speculate why Cook decided to transfer. Smith, not as surprising as he was likely never going to ever play a meaningful down at Miami, but Cook leaving hurts big time. People can call him soft now and say he didnít want to compete after loving him so much before. But who knows what actually happened to cause this.

Either way, the ĎCanes are now minus two more quarterbacks. Sure, Highsmith has talent, but heís not ready to sniff the field. Heís not the quarterback that Marve and/or Harris were coming out of high school, not even close. So what happens if Jacory gets hurt? It has to be Highsmith right? Maybe, maybe not.

Now, I will speculate and mention a name that everyone thought would play safety at some point this season, but Ray Ray Armstrong was the quarterback of the Class 6A state championship team last year. Could this mean that he starts getting snaps as an emergency third string quarterback or could he now become a part of the quarterback equation and compete with Highsmith for the back up position?

I really donít know, but for a Division I-A team to have only one NON-TRUE FRESHMAN quarterback is unheard of and thatís the situation Miami is in right now. Itís a scary one, a situation that can turn a promising year into a catastrophe with one bone jarring blindside hit.

And with FSU just two weeks away, this is drama and distraction this program certainly did not need, definitely not two weeks from Florida State.

Go to top

| | |
| --- | --- |
| 114 | Media Day - A Confident Group |
Sun Aug 9, 2009
There is something to be said of confidence and focus. Saturday afternoon at Media Day, there was something to be said of the confidence that the players on this team have this year.

At least, so it seems.

In the past two years, the talk was nice. The players spoke of confidence, but it was clear the team wasn't really all that confident. They were hopeful. They knew they had some talent, but there were many holes. The teams lacked depth. They were young. Their only leaders were on the sideline injured.

Now, the team is a year older. The leaders of the team are healthy. They are ready to be on the field. The young guys have experienced a lot, taken bumps and bruises, had a chance to play against the 2008 National Champion Florida Gators, faced a Heisman Trophy winner in Tim Tebow and saw a possible ACC Championship slip through their fingers.

Talking to Randy Phillips, it was like he was in some zone just ready to get on he field and smash someone. He looked somewhat possessed, ready, confident, truly confident, not just in himself, but everyone around him.

Marcus Forston, same thing. A year under his belt he feels like he knows how to be better. He loves the idea of who Miami plays the first four games. He said how could you not love it. You'll know who you are immediately.

Brandon Harris, just as confident, loves his new cornerback teammate in Brandon McGee, raved about him in fact. Harris believes, he's confident.

There seemed to be something that was in the air in the room. In the past, it sounded like lip service. Sure, the players spoke of being confident and believing in themselves. Maybe it's still lip service. Who really knows? Only they do.

But for first time since 2005, it seems like this team really has confidence, really believes in itself and really believes something special is going to happen this year. And true confidence, true belief -- it's really half the battle.

Go to top

| | |
| --- | --- |
| 113 | Miami Heat Blew it on McClinton, but Spurs a Perfect fit |
Thu Jun 25, 2009
When the Miami Heat passed on Jack McClinton and drafted LSU guard Marcus Thornton with the No. 43 pick in the NBA Draft, my stomach turned. Why would the Heat pass up on a gunner like McClinton who played college ball right down the road from the Triple A?

It still makes no sense to me, even more so now that the Heat traded Thornton to the New Orleans Hornets for two FUTURE second round picks. Okay, not letís look at that again. The Heat needs help now, not in the future, so they trade their only draft pick.

But letís look at this situation again. The biggest problem the Miami Heat had was that when Dwyane Wade was being harassed by three or four defenders in the fourth quarters of most games he really had no one to pass the ball to that could make a shot.

Daequan Cook shot the ball pretty well in the first half of the season, fell apart in the second half of the season after winning the Three-Point Shootout at the All-Star Game.

Other than that, while the Heat did hit three-pointers there was no consistency. Mario Chalmers could hit a shot once in a while. Wade could threes now and again, but the idea is to put someone next to Wade that can bury jumpers consistently.

McClinton was definitely a guy that could do that. Heís the best three-point shooter in ACC history, led the conference in three-point shooting two of three years (the other year he finished second) and is money from the free throw line.

Instead, the Heat drafted a player that they traded for nothing.

But for McClintonís sake, he was blessed when the Heat passed on him. There arenít too many places that could be better for him than being picked by the San Antonio Spurs.

McClinton joins Tim Duncan, Tony Parker, Manu Ginobli and newly acquired Richard Jefferson. While thereís no way that McClinton will start with the Spurs, McClinton will get a ton of open looks with the Spurs. Heíll provide them a gunner from the perimeter without question.

Parker will be able to dish the ball to him on a drive and dish. Duncan will have a great shooter to pass the ball out to from the post and McClinton will thrive with the Spurs. People compare him to Eddie House, but I think McClinton is levels better than Eddie House.

I am quite happy for McClinton and the opportunity heís been given and I know heíll work his tail off because thatís just the way he is. I only wish that the Miami Heat had been smart enough to make that pick. It was a logical choice.


Go to top

| | |
| --- | --- |
| 112 | Catch Me on Twitter, I Need Friends |
Thu Jun 18, 2009
Hey folks...I am little behind in the times. I don't get this Twitter thing for anything, but hey, since it's out there, I might as well use it right?

So who wants to follow my every movement in Twitterland? If you want to know every meal I eat, when I take a bath, brush my teeth and go to the bathroom, definitely follow me.

You can find me using my email address zone305954@aol.com or my name Rudy Rodriguez-Chomat.

On another note, I want to congratulate my partner, Chris Stock, on putting together an awesome video on Jeremy Davis. If you haven't checked it out by now, you better do so because it truly takes you inside the life of a Miami recruit.

I already shot him an idea about a future video diary. If he does it, I can promise you it will be in the South Florida Film Festival and end up on HBO or Showtime. Watch out!

Go to top

| | |
| --- | --- |
| 111 | Team Chemistry |
Wed Jun 3, 2009
I've now heard the coach say it and I've heard players say it, but let's be real here. What is team chemistry when it comes to baseball? What do the guys sitting on the bench warming the pine have to do with what's going on in the field? One answer - nothing.

I've played competitive baseball, not at the college level, but in leagues throughout my life and in high school and chemistry is not what keeps you from winning. Give me C.C. Sabathia, Johan Santana, Zach Greinke, Josh Beckett and Tim Lincecum and I'll give you the most perfect team chemistry in the world and I'd bet you every penny to my name that my five starting pitchers would beat team chemistry nine of ten every time.

Miami's season did not end because of the lack of team chemistry. It ended because they simply weren't good enough. That is just the reality. They lost to Florida twice in blow out fashion because the Gators were simply better. Miami may have been better early in the season, but when it counted, the Gators were better.

And they were better at the main position, starting pitching.

The 'Canes had major holes in their pitching staff all season. Look at FSU's starting pitching and compare it to Miami's and there's your answer. Chris Hernandez was a shell of himself. His freshman year, 11-0. His sophomore year, 7-5. You do the math. That's not chemistry. That's him not pitching that well. His ERA in 2008 was 2.72. His ERA was 4.76. Two runs a game difference in ERA is definitely worth at least three wins. That's not a good ERA for a staff ace. In fact, it's a real bad ERA for a staff ace. If my best pitcher's ERA is hovering five, that means we are in trouble.

Then you have Eric Erickson being out for the year with an injury. That's got nothing to do with team chemistry. That has to do with losing a starting pitcher who has won 19 games in two years and was 9-1 as a sophomore. Chemistry didn't win him 19 games. His ability to pitch won him 19 games. Add 9 wins to Miami's record, subtract 8 losses and you have a team that is 47-14. That's HUGE!

Add three more for Hernandez had he pitched the way he and everyone else expected him to pitch and subtract three losses. Surely, he wasn't going to go 11-0 again, but 10-2 was certainly reasonable to expect. Now, Miami is 50-11, hosting a regional and probably a No. 1 or No. 2 seed in the ACC Tournament and top eight seed nationally. That's the difference between 2008 and 2009. It's not team chemistry. It's pitching. Instead in 2009 you have pitchers who have no business starting games in the rotation because there simply wasn't anyone else for Jim Morris to throw out there. Injuries plagued what was already a young team.

2008 had all the chemistry in the world, a group of guys who had all the talent and skill in the world, had thunderous bats, had the belief they'd never lose, had the 'Canes off to the programs best start ever, won the ACC Championship and guess what, was sent packing three games into the CWS. The team that was supposed to win the National Championship in 2008 didn't even make the championship series. Was that chemistry? No. It was the teams that beat them, Georgia and Stanford, just played better. That's it. But they also didn't win because they had chemistry, they won because they were simply awesome. That's it. Hanging out with my teammate at the bowling alley never won me a game, ever, when I played sports.

There is no need to name them, but Sunday's loss at Florida was the story of the second half of the season in particular watching Iden Nazario not challenge the Florida hitters in the first inning. He couldn't even throw a strike. Nazario got bombed in three of his last four starts. He pitched a total of 4 1/3 innings in those three starts. That's not generally a guy you want starting an elimination game on the road. But when you have no one else to throw out there, what else could Morris have done. And the guys that came after Nazario did no better. They got bombed too. I turned the game off at 7-1, turned it back on 20 minutes later and it was 14-1 and Nazario had been long gone.

Were the bats better than last year? Obviously not, but they weren't awful. Jason Hagerty had a great year. Yasmani Grandal stepped up big time and had a great year. Then again, Ryan Jackson hit .263 this season in comparison to hitting .360 last year. You couldn't ask Harold Martinez for much more than what he gave as a freshman.

But it comes down to one thing and that's pitching. It's not chemistry which is absolutely inconsequential in baseball. It's pitching. The 'Canes had three pitchers with ERAs under four this year. They were all relievers. Your starting rotation ERA cannot be five-plus and still expect to win. It's a testament to the hitters that their starters can have a five-plus ERA and your team still go 38-22 and 18-12 in the ACC and be the four seed in the ACC Tournament.

But really now, who in the world expected this team to go 53-11 like last year's team? If you did, you were deluding yourself and putting completely unfair expectations on a team that lost six starters from it's ridiculously potent lineup. Personally, I am quite proud of this team and the season it had.

Fact is, this team had as good of a year as it could have with the limitations it had. It wasn't chemistry. They just weren't good enough this year. That's all. And if Chris Hernandez can go back to being Chris Hernandez and Eric Erickson returns with a nine-win season in 2010, the 'Canes will once again be a top 10 team with 48 to 50 wins. And chemistry will have absolutely nothing to do with it. It would simply be good pitching.

Go to top

| | |
| --- | --- |
| 110 | John Wall to Kentucky -- Ho Hum |
Wed May 20, 2009
Would it be nice to have arguably the nation's best high school player playing at Miami? Sure.

But at what cost? Does one sacrifice the future of the program for one season, one season that will definitely not result in a National Championship?

John Wall made it official Tuesday committing to John Calipari and Kentucky over Miami. Is that really a shock to people? Not me. But in reality, how much would Wall have helped the Miami Hurricanes as a basketball program?

Heck, would he have even started as a freshman? Maybe, maybe not. The 'Canes have a point guard in Malcolm Grant who they expect to start, who has been given the type of wonderful reviews that Jack McClinton was giving during the year he sat out as a redshirt at Miami.

There is no doubt Wall's plan is to be a one and done guy so would having him for one year really make much of a difference? He's not Carmello Anthony and the 'Canes don't have the kind of talent that Anthony joined when he went to Syracuse. He's not Derrick Rose who is now already a star in the NBA, not to mention Rose also joined a crew of talent that was absolutely sick.

The 'Canes are trying to get there, but they need players to stick around for more than a season to become a solid quality program. From this past year's team alone, the 'Canes are losing arguably the best player in school history in McClinton. There isn't a high school senior in the country that can replace McClinton and do what he did for the 'Canes.

So how much would Wall really bring? He'd be good, but how good? The questions are major, but at the same time, to build, you need consistency. You need the type of guys that Frank Haith and company have recruited, players who will stick around for a few years, develop and help make Miami the program it strives to be. And a one-and-done doesn't bring that.

Go to top

| | |
| --- | --- |
| 109 | Wishing Jimmy Graham Success |
Thu Apr 30, 2009
Ever since the first time I met Jimmy Graham I always thought he was good and genuine guy. There are few that are like him.

While fans and even I would get upset when he'd miss a lay up or a free throw in a basketball game, you couldn't help but always want him to succeed more than anyone else if just for the reason that Graham was such a nice guy and so genuine.

He's always been respectful as can be, speaks eloquently and his announcement Wednesday was no surprise in that it's always been clear that he loves the University of Miami.

At the same time, Graham's decision might not be the wisest to many because he's passing up a lot of money in Europe to play professional basketball to try to live his dream in playing football.

But Graham has thought long and hard about this, in fact stating that he's thought about playing football for two years, and it's something he's willing to sacrifice in order to give his dream a shot.

The reality though is Graham remains a 6-foot-8, 255-pound bruiser who runs a 4.6 and can really get off the ground. If he can block as well as people expect him to catch the ball, Graham could be the next Tony Gonzalez or Antonio Gates.

Here's to Graham being successful in this because if there is one guy that deserves to be successful it's Jimmy Graham.

Go to top

| | |
| --- | --- |
| 108 | Basketball Banquet Tonight, Questions to be Answered |
Wed Apr 29, 2009
The University of Miami menís basketball banquet is tonight at the BankUnited Center.

While the season didnít end the way we would have all hoped, there will be some questions that do need answers and we will have them here.

Whatís the status on Dwayne Collins? Does he plan on staying the NBA Draft or will he return to the University of Miami for his senior season?

My guess is that Collins will eventually decide to return to school and play his senior year as his skill set still needs work and his work ethic needs improvement. The athleticism is there. That would be the one thing that would keep him in the draft and give him the chance at getting drafted, but it doesnít mean heíd make an NBA franchise.

But the real question that everyone wants to know the deal on is Jimmy Graham. Will he or wonít he? Play football that is.

Is he really the next UM tight end? Heíd only have one year of eligibility, but at 6-foot-8, 260 pounds and built like a tank, Graham might be reasonable for a season considering the ĎCanes have a glaring need at tight end. It doesnít mean heíd play a lot, but one thing Graham never shied away from on the hardwood was contact.

On running plays, he could definitely find himself on the field a lot.

But the question for Graham is if he thinks he has a chance to play pro basketball somewhere. The NBA is not in his future, but there is always the possibility Graham could make it overseas and make a healthy living there playing basketball.

One season on the football field will not make him any money professionally so that is the decision he has to make.

Stay tuned for updates on these two big questions.



Go to top

| | |
| --- | --- |
| 107 | South Florida is Football |
Sat Apr 11, 2009
Does football ever really end in South Florida? The answer is simple Ė no.

Just when the high school football season ends in December, less than a month later, football players are already working out getting read to try out for 7-on-7 all-star teams and hit the national tour for travel team football.

While thatís going on, the camps and combines get started. From UnderArmour to Nike to the National Underclassman Combine to any local no name event, there are camps virtually every single weekend locally from February to April.

Then just when youíve blinked an eye, Spring football is back in effect for South Florida over a four week period in May.

So here we are about to kick off Spring football. Does it ever end? Is there ever a break?

Quite frankly Ė no.

Sports as a whole have become year round things for athletes. To be great in a sport, itís hard for an athlete to play football, basketball and baseball as some did in the past. Now, football players double up as track athletes simply to keep up their conditioning and speed.

Basketball players pretty much just play basketball 24-7-365 and baseball players are the same, 24-7-365 baseball.

But while basketball and baseball are year round now as well, at least there is a break at some point during the year, time to recoup, time to relax for a second. Travel ball ends in late July/early August there is usually a break until late September/early October for team workouts.

There is no break in football. A football player can literally be going at it every single week for the entire year. From games, to camps, to air attacks, it never stops. Not to mention making a living in the weight room.

After Spring football, then there is weight training following by 7-on-7 team camps throughout the summer and then itís Fall practice.

And it goes on and on and on. South Florida is football and football is South Florida.


Go to top

| | |
| --- | --- |
| 106 | Berry's Progress Brings Me Personal Joy; And Brandon Washington |
Sat Mar 28, 2009
It was a beautiful thing watching Damien Berry hit the holes and explode through them. It was even prettier watching him get the chance to do a front flip into the end zone completing his 54-yard touchdown run in Saturdayís Spring Game at Lockhart Stadium.

Itís a personal joy for me as Iíve know Berry since he was at Glades Central High School and know the kind of kid he is and the battles heís gone through to finally earn some playing time.

Coming out of Glades Central, the Hurricanes were always in his blood, as his dad Kenny Berry played for Miami in the 80s. Damien has a passion for the University of Miami and on the field is where he needs to be, in some capacity.

However, he came in behind because he played the final ten games of his high school career with a torn ACL. Find me a player who will do that, sacrifice himself so his team can win. Still he managed to rush for nearly 1,100 yards as Glades Central won the Class 3A state championship.

He needed to have knee surgery in the Spring following his senior season at Glades Central and coaches at UM were hesitant to put him in pads as he was not 100 percent when he arrived on campus. He did, however, shine in a Special Teams role. Coaches also recognized that heíd be better at running back, the position he should have always been recruited to play.

Last year, he suffered an early ankle injury and it was tougher on him to pick up the playbook than expected. Now, he says he knows the playbook and as a result you see what you got today in the Spring Game, almost ten yards a carry and the ability to break plays like he did with his 54-yard touchdown run.

The reality is, Damien Berry is a big time football player, but people have yet to really get a chance to see it because of the position change and his original ACL injury that held him back when he arrived on campus.

He may not be the starter in 2009, but heís earned his time on the field. He got the opportunity and took advantage of it, and if we are to be the real Hurricanes, when you get an opportunity and you take advantage of it, perform and explode the way Berry did today, injured players lose their spots. That was the Jimmy Johnson way. That should be the way Randy Shannon looks at it.

My Man Crush

I have to admit it. I have a man crush on Brandon Washington. That dude is absolutely mauling the defensive linemen in front of him. Watching him totally excites me because he brings something Miami hasnít had on its offensive line since 2002, a lineman who will destroy whatever is in front him.

Itís almost a comedy watching defensive linemen try to break away from him once heís locked on them. He drives them back five-ten yards, then he gets the linebackers behind them.

When Washington left Miami Northwestern, he weighed about 300-310 pounds. Then he headed up to Milford Prep. He returned at 350. When I say he does not look 350, I mean he does not look it. He moves just like he did at Northwestern, in fact better. Heís clearly stronger and heís playing the position he is supposed to play, guard, not offensive tackle like he did at Northwestern.

Flat out, Washington is Miamiís BEST OFENSIVE LINEMAN right now. He will be a starter on Labor Day night in Tallahassee. If heís not, Iíll be stunned.


Go to top

| | |
| --- | --- |
| 105 | Baby J Hurt Again; Time to Move On |
Wed Mar 25, 2009
Javarris James is hurt again. Whatís new? Is that really news?

I guess the question is, how did he get hurt between the scrimmage Traz Powell and Tuesday when Spring practice resumed? Who knows, and at this point, does it really matter?

Maybe it was in the scrimmage when Baby J got hurt although youíd never know it because he was never helped from the field, but itís simply time the ĎCanes move on and pretend heís not on this team anymore, at least when it comes to putting together an offense and game planning.

Accept the fact that Graig Cooper is entrenched as the starter and that as of right now Mike James is the backup until he shows he should be the starter, something that isnít too far away. Itís obvious that Miami coaches are starting to view it that way as Mike James has received a lot of reps in practice and a lot of carries in scrimmages.

Fact is, Baby J came to Miami with immense pressure on him and heís folded under it. You can blame it on injuries, but folding is folding. When you come in with the hype of the world and you don't produce for whatever reason, you are labeled a bust and that's unfortunately the label that Baby J will more than likely leave Miami with.

He came in with the God of all UM running backs, Edgerrin James, saying on record that Baby J would be better than him. That was the worst thing Edge could have said because it put the weight of the world on Baby J. You have to know how badly Baby J wanted to prove his cousin right, but it simply hasnít happened. You feel for him as do I and want him to succeed, but at the same time, the University of Miami football program canít wait on him forever.

As of right now, Baby J probably wonít play a down of football in the NFL, if anywhere, after he graduates from UM because of three reasons (1) he is injury prone and no professional football team will risk money on a player who has shown over a three-year period that he spends more time on the sideline than on the field, (2) he hasnít shown any ability to actually do anything special on the field since his freshman year and (3) if heís always hurt in college, imagine what would happen when a 245 pound smashing linebacker drops him with a big blow.

Surely, itís disappointing because there was so much promise and so many expectations when Baby J arrived on campus as a freshman three years ago, but there comes a time where a staff has to recognize that Baby J simply should be forgotten as part of the solution to the problem. Heís been given more than enough time to prove himself, but heís always injured. To be a football player, a real football player, you have to play through injuries. If you canít, then you need to look for another profession.

When heís been healthy, heís looked great, i.e. his freshman season, but even the slightest ding has turned him from a 5-yard per carry back to barely a 3-yard per carry back.

I know itís only the Spring and Randy Shannon is obviously being cautious with him and his apparent shoulder injury, but the writing is on the wall. He was injured his sophomore year, then he was limited in the Spring last year to protect him from injury, and once again was injured his junior year. Now, heís injured again.

Itís time to move on and look towards the future.

Go to top

| | |
| --- | --- |
| 104 | Offense a Disappointment; Defense Dominates |
Thu Mar 12, 2009
I wanted to see the offense dominate. That was what I was hoping for Thursday night in Miamiís scrimmage at Traz Powell Stadium.

Why did I want to see the offense dominate you may ask? Itís because the offense is usually behind the defense and the defense generally dominates in the Spring. And if the offense was able to dominate, it would speak volumes about the progression of this offense.

Unfortunately, what I saw was a dismal offensive performance. In fact, it was borderline bad. What I didnít want to see was Miami run the ball nearly 40 times in an 80-play scrimmage. Now is the time to excite your fans, get them out of the seats, get them wanting to see Miami play this Fall.

If that means, Jacory Harris has to throw the ball 30 times, then let Harris throw the ball 30 times. Instead, he threw a total of 12 passes. He threw one touchdown pass to Leonard Hankerson on a 25-yard post corner. He also would have hit Hankerson on at least a 50-yard gain on a bomb down the right sideline, but Hankerson dropped the ball.

Three yards and a cloud of dust is boring, especially when you are trying to excite the fans in the Spring.

I was happy with the way Graig Cooper, Mike James, Javarris James and Damien Berry ran the ball, but that was far too many carries for a Spring scrimmage, at least for my blood.

I was told by one coach we were just being vanilla. Now is not the time to be vanilla, give me some chocolate, some strawberry, some rocky road. Give me something that excites me and Thursday night did not excite me.

Definitely not when the team didnít do anything for the first eight drives. The defense wasnít just dominating the offense. It was embarrassing the offense. Three turnovers in eight possessions, three-and-out three times, four-and-out once and a four-play drive in the other. Thatís domination.

And that leaves me thinking, our offense is WAY behind and really no different at this point than it was when Miami lost to Cal in the Emerald Bowl.

Jacory Harris is clearly still getting used to taking a majority of his snaps under center. The offensive line still needs major work as the defensive linemen were in the backfield all night long. Itís only a matter of time before Brandon Washington is starting on the offensive line. Heís simply too big and too nasty to not have starting. Once he gets the play book down, heís a starter for at least the next three years. Wide receiver playing time remains wide open. Iím still waiting for guys to make plays there. Kendal Thompkins had a chance to make a big play on a deep ball and dropped it. Leonard Hankerson had a chance on a deep ball and he dropped one.

Other thoughts on Thursday nightís scrimmage:

ē Adewale Ojomo looks possessed on defense. Heís in the backfield a lot. As long as he keeps it straight mentally, he can be a pro.

ē Steven Wesley had three fumble recoveries. Hereís for me hoping that happens when the games matter.

ē Vaughn Telemaque is special on defense. He did something Iíve not seen a Miami safety do in a few years Ė he tackled and he did it well, the way itís supposed to be done.

ē The maturity of Mike James has me thinking Lamar Miller will redshirt this season. Millerís ceiling is higher, but James is going to be so far ahead of Miller by the time he arrives in Coral Gables that there would be no logical reason not to redshirt Miller unless injuries hit the backfield. And letís face it, James or Miller has to redshirt. Thereís no point burning a season for one of them to sit on the bench.

ē If Leonard Hankerson can ever consistently catch the ball, he could be great, but until he does that, heíll never be more than mediocre. Greatness comes from consistency. He made a couple of nice grabs, but then dropped one that would have gone for 50 yards maybe even a touchdown if he broke one tackle.

ē Arthur Brown clearly loves to hit. If he knows his assignments and really gets the playbook down, it will be hard to keep him off the field.


Go to top

| | |
| --- | --- |
| 103 | James and Berry Bring Excitement at Running Back |
Sat Mar 7, 2009
Of all the running backs on the field Saturday morning there were two that stood out among the rest -- freshman Mike James and junior Damien Berry.

What about Javarris James and Graig Cooper? They looked okay, but MJ and Berry stole the show for me.

What was it about them that impressed me? Quite frankly, it was their ability to run with speed, agility and power. MJ has permanently shut me up. The kid can play. He runs hard. He hits the hole well and he runs people over. Any question I had of him playing smaller school football in Central Florida are answered. He's the real deal. And he may set himself far enough ahead of Lamar Miller that the 'Canes could reasonably redshirt Miller because of the learning curve Miller would have to overcome.

MJ had a number of plays that were quite impressive and Cooper and Javarris James have reason to worry about their playing time. MJ is ready to take it.

Berry, who came in as safety, but also played running back at Glades Central High School, was moved to running back as a sophomore, but he struggled picking up the playbook immediately, and also suffered an ankle injury that put him way behind in 2008.

But Berry is now healthy and people got a glimpse Saturday of how good he can be. He's fast, he runs hard and he finds holes or creates them. His ability to cut was a beautiful thing to see because Berry battled a torn ACL his senior year of high school playing ten games with a torn ACL yet managed to run for over 1,000 yards.

It was particularly exciting for senior safety Randy Phillips to see a graduate of his alma mater show what he could do. Phillips said that people will finally see the way Berry can play.

Phillips also said, James and Berry bring an element Miami has not had and that's power at running back. He said you can't tackle them high because they will run you over so you better be ready to go low on them.

What made them more exciting was that most of the runs they had, they created. There weren't any huge holes anywhere on the field. But they took what was there and made plays.

Those two give you reason to be excited.

Go to top

| | |
| --- | --- |
| 102 | What Happened to Dews and Hurdle? |
Mon Feb 16, 2009
The Miami Hurricanes are in a similar predicament to last season needing to win a lot of games down the stretch.

Last year, they were 2-6 in the ACC before finishing 5-1 to end the season at 8-8 in the ACC that was enough to help the ĎCanes make the NCAA Tournament where they advanced to the second round before bowing out to Texas.

With high expectations for this season, the ĎCanes have been nothing short of a disappointment with the exception of one player, Jack McClinton.

Over the past three games against the toughest stretch of teams they will face, Wake Forest, Duke and North Carolina, the ĎCanes went 1-2. Miami started off by blowing out Wake Forest showing the kind of team it can be when it plays to its ability.

It was showing the same thing as it led Duke 38-22 with 17 minutes to play in Durham last week, but the ĎCane collapsed down the stretch losing 78-75 in overtime.

Leading to Sunday night when the ĎCanes trailed 54-40 against UNC only to have four separate chances to take the lead in the final five minutes. In other words, Miami should have won all three games.

Instead, Miami is now a loser in five of its past seven ACC games, all five losses coming by five points or less, all games they not only could have won, but should have won. Miami led Virginia Tech late, lost in overtime. Miami led N.C. State late, lost in overtime. Miami led Duke by 16, lost in overtime. Miami had four chances to take the lead, including one with 44.3 seconds against UNC. Maryland is a team Miami had dominated only to play about as poorly as possible and still only lost by five.

So while the results seem similar to last year, they are so very different. Last yearís team had no expectations other than losing. This yearís team was viewed by many as a team that could make the Sweet 16. Those chances are looking doubtful right now.

And the main reason is two players, James Dews and Lance Hurdle. Dews and Hurdle sometime between March 2008 and the start of the 2009 season simply forgot how to play basketball.

Last year, Dews seemed to have a breakout sophomore year. He was the second leading scorer averaging 10.3 points per game. He shot nearly 43 percent from the field and 37 percent from three-point range. All three numbers have dropped significantly. His scoring average is down to 7.9 points per game. His field goal percentage is down to 39 percent and his three-point shooting is down to 32 percent. He is simply not the same player he was last year. What happened along the way is unknown?

He is coming off the bench as well and at times has seen very little playing time. So something is going on there.

Now, thereís Hurdle. While Hurdleís numbers overall are fairly the same, Hurdle seemed to get better last year as the season progressed. This year, he has appeared to hit a downward slope. His shooting was bad last year at 33 percent. His shooting this year is bad as well, 32 percent, but with more minutes per game, heís actually scoring less.

This doesnít even include Brian Asbury who has seen his scoring average drop a point and a half since last year, his shooting drop five percent and his overall play simply fade since his good sophomore campaign.

About the only player in the rotation last year that has seemed to get better this year is Dwayne Collins and even he is a model of inconsistency. Adrian Thomas has been a great addition to the team. His ability to shoot the ball from the perimeter has actually given Miami another perimeter threat while the remaining guys who used to be a threat are no longer that.

The problem that exists at this point is that without Dews and Hurdle in particular showing some kind of consistency, McClinton faces double and triple teams and still somehow has managed to score over 30 points each of the past three games against three of the best teams in the nation.

The ĎCanes are without a point guard. Hurdle is only version of one, yet he was sitting on the bench in the final five minutes giving way to Dews who is not even close to a point guard. It was Dews decision to pass the ball to Asbury in the corner that led to the charge call in the final minute rather than holding the ball up and waiting for McClinton. A heady point guard would have made the right decision.

Itís time McClintonís teammates join him in the fun, find what made them good last year and get their acts into gear because if they donít, what made for a very promising season is about to go up in smoke.

Go to top

| | |
| --- | --- |
| 101 | Top 5 Impact Freshmen |
Fri Feb 6, 2009
Here is a top five list of freshman I think will make an immediate impact in 2009

1. OL Brandon Washington

It sounds odd to pick an offensive lineman as the top guy in terms of impact as a freshman, but Brandon Washington has to come in ready to play and play a lot. Washington would be a sophomore had he come in last year so technically we are looking at a sophomore and not a freshman. Washington was big in high school. Heís huge now as heís currently listed at 6-foot-4, 354 pounds. If thatís his legit weight and heís able to move like he did at Northwestern, Washington pulling at guard will be frightening for opponents. He could arguably be a starter from the day he steps on the field to the day he leaves for the NFL Draft.

2. OL Jermaine Johnson

This is a similar situation as Washington. Johnson went to Hargrave Military Academy and would be a sophomore had he qualified last year. While Washington is a guard, Johnson will be a tackle at 6-foot-6, 305 pounds. Johnson has faced off with some exceptional competition at Hargrave, numerous players who signed Division I scholarships, so heís ready to play. He probably wonít be expected to start or needed to start, but heíll see plenty of playing time.

3. S Ray Ray Armstrong

With Randy Phillips returning, it will allow Armstrong to learn on the curve a little more since Phillips should start with Vaughn Telemaque. But Armstrong will get plenty of opportunities to see the field and is expected to d evelop into a dynamite safety. However, if he gets much bigger than he already is at 6-foot-4, 215 pounds donít be surprised to see him move to linebacker at some point.

4. CB Brandon McGee

McGee is already on campus and is there for a good reason. He wants to play. He probably wonít start immediately, but if he picks up the corner position quickly, he could see plenty of playing time at corner. He will be ahead of all the incoming corners so McGee will be vital to next yearís success at corner. Soon enough you could see a pair of Brandonís starting at corner, the other being Brandon Harris. That would be a treat as both are incredible students of the game.

5. RB Lamar Miller

I know people will want to see Lamar Miller get a lot of time as a freshman, but letís not go crazy just yet. Miller will see time, but donít expect him to get ten carries a game if Graig Cooper, Javarris James, Lee Chambers and Damien Berry are healthy, but should there be any injuries, Miller will get time and heíll show what heís about quickly as heís already bigger than Cooper and Chambers and faster than every running back currently on the roster.

Go to top

| | |
| --- | --- |
| 100 | Deerfield Beach coach Art Taylor's Firing was Shameful |
Mon Jan 26, 2009
While I know this blog doesnít specifically address topics of discussion involving the University of Miami and/or players who are being recruited to play at the University of Miami, I am totally bothered as to what has transpired over the past week at Deerfield Beach High School.

Coach Arthur Taylor who was 29-9 over three seasons (8-3, 11-3, 10-3) and took his teams to the Class 6A state semifinals in 2007 and the Regional Final this past year was fired last week by Principal Jon Marlow citing philosophical differences. Mr. Marlow should be flat out embarrassed by his actions. In fact, they are a disgrace to his profession as an educator because his firing Taylor is a direct contradiction to the idea of coaches EDUCATING players.

Here is my question, what are those philosophical differences? Taylorís players graduate, they go to college, many on scholarship, and they have done nothing, but win over the past three seasons. If the team had been a .500 team over the past three years, then fine, but this is a team that has won 76% of its games, including two wins over St. Thomas Aquinas.

Only four other schools have put together that kind of record over the past three years in Class 6A football, Northwestern, Central, North Miami Beach and Columbus.

Named the BROWARD COUNTY COACH OF THE YEAR in 2007 and given the honor of coaching the BROWARD COUNTY ALL-STAR TEAM just two Fridayís ago, Taylor was given his pink slip three days after the All-Star Game. Find me a team or school that fires a coach after he coaches his team to the state semifinals and regional finals outside of Deerfield Beach. Odds are is that you canít.

I have come to know Taylor over the past two years and I find this dismissal to be absolutely shameful. The philosophical differences are due to Taylor and the President of the booster club simply not getting along. Itís one thing when boosters are running collegiate football programs because the amount of money they donate is in the thousands to millions. Itís another when a principal dismisses a coach because the coach doesnít get along with the booster club President who does nothing to help the team, rather does things to hurt the team and cause problems.

This is a team that played its entire 2008 schedule on the ROAD because the schoolís football stadium was supposed to be remodeled during a year where the Bucks were supposed to be the favorite to win the Class 6A state title with Denard Robinson and Cassius McDowell returning. Imagine what a home regional final game might have meant to this team against Miramar. Instead, the Bucks had to travel to play a home game.

To date, the stadium that should have been completed by now hasnít been touched. When I went to Deerfield Beach in the Spring to check out the team there was a nice sized TRAILER sitting on the middle of the field DURING SPRING PRACTICE courtesy of the booster club President because of the prom. Mind you, there is a track circling the stadium that could have held the trailer during practice and the next dayís scrimmage.

Mind you, Taylor didnít know there was a trailer on the field until he walked out to practice that day. Where is the respect when you donít even tell the coach of the situation? With college coaches expected the next day for a scrimmage, Taylor had to move it down the road to a park because the principal refused to have the trailer removed. In turn, that hurt the players because many of the coaches who were expected didnít show up because they didnít know where the park was and were unable to get in contact with Deerfield coaches on such short notice.

The fact of the matter is, you donít fire coaches who do the right thing. Thatís all Taylor has done over the past three years at Deerfield Beach. The players have graduated, theyíve gone to college and the team has won. What more can you ask of a coach?

Go to top

| | |
| --- | --- |
| 99 | Don't Go Bill Young |
Mon Jan 19, 2009
Defensive Coordinator Bill Young visited Oklahoma State this past weekend and it's now been reported that it's possible Young may depart for Oklahoma State to become its defensive coordinator.

This is a concern.

Signing day is just over two weeks away and if Miami was to lose its defensive coordinator while currently also being without an offensive coordinator, there is no telling what could happen to this recruiting class because coordinators play a major role in recruiting.

The final month of recruiting is always huge and Miami is already without an OC and down one coach in terms of visiting players across the country. If Bill Young leaves, that's two coordinators and two coaches down in terms of visiting players.

While I wouldn't expect a mass exodus of recruits, it could make a difference for players who are on the fence. It is also a problem in terms of learning the defense.

So many times people said the problem that former quarterback Kyle Wright dealt with was having three offensive coordinators in four years. Well, now we are looking at a defense that could be on its third defensive coordinator in three years if Young departs. That simply is not a good thing when it comes to learning a defense. How does a unit ever get any better if the system is constantly changing?

How do young linebackers ever get truly comfortable with a defense if it keeps on changing? They are essentially the quarterback of the defense. A player like Sean Spence while extremely talented is going to have to learn a second defense in two years if Young leaves.

Colin McCarthy will have to learn a third defense in two years. While calls may be similar, they are not the same when coordinators change, so one can only pray that Young doesn't leave us.

Go to top

| | |
| --- | --- |
| 98 | Happenings at Broward All-Star Practice; Duron Carter Speaks on UM Commitments |
Wed Jan 7, 2009
I was at Broward All-Star practice Tuesday as the Broward All-Stars prepare for the Dade/Broward All-Star Game next Friday, January 16th at Traz Powell Stadium for which InsideTheU.com is the officiail recruiting website for the game.

For more on Eugene Smith and Denard Robinson, check out the most recent articles written on them from practice.

Denard Robinson

Eugene Smith

However, what I found more interesting were the comments made by a couple of Broward All-Stars, Duron Carter and Victor Marc, both who played in the Under Armour Game Sunday night.

Both made some comments on future 'Canes Ray Ray Armstrong and Prince Kent. Click the link below to read them on our premium message board. You must be a subscriber to access the premium message board. If you aren't, subscribe now by clicking here and then go to the message board.

Find out what Duron Carter and Victor Marc said about Miami recruits Ray Ray Armstrong and Prince Kent on our message boards

Go to top

| | |
| --- | --- |
| 97 | How Many Coaches Do You Fire Before Your Look in the Mirror? |
Tue Dec 30, 2008
How many coaches does it take to fire before looking in the mirror at oneself?

The list is now at three. That's 33% of the original staff canned in two years. Last year, defensive coordinator Tim Walton wide receivers coach Marquis Mosley were giving their walking papers following Miami's 5-7.

Walton was clearly out of his league as a first year coordinator and not ready for the position yet Randy Shannon hired him knowing this. Heck, he still stunk at Memphis this year.

Mosley's receivers, nicely put, were below average. So they were replaced with Bill Young and Aubrey Hill. Off the bat, the receivers improved this year, but mostly because they were more talented. It was proven by the fact Kayne Farquharson and Sam Shields rarely saw the field at receiver as the season progressed.

The defense, on the other hand, still got run through plenty of times, namely North Carolina, FSU, Georgia Tech, N.C. State, and California, all losses. Not to mention Florida put up big numbers even though it remains the Gators lowest scoring output of the season and Duke had plenty of success putting up 31 points on the defense.

Statistically, the defense was marginally better giving up 30 yards less (315 from 345) and two points less (24 from 26). The defense only forced 14 turnovers this year in comparison to 25 last year. The 'Canes were -11 in turnovers this year compared to -6 last year.

This year, it's Patrick Nix who has already been shown the door, an offensive coordinator who was out of his league from day one something everyone knew, but still hired even though it was evident that there were always differing opinions as to how to run the offense.

Also rummored to be getting a pink slip are running backs coach Tommie Robinson who has done nothing to warrant keeping his job and defensive backs coach Wesley McGriff whose unit has been passed through, over and around, not to mention the groups overall abysmal tackling for two years. Joe Pannunzio is also rumored to be on the chopping block.

Strength coach Andreu Swasey may also be leaving, not be firing, but by moving on to the NFL which leaves me baffled in itself as the 'Canes have been outmuscled for four years now.

But the whole point is, Shannon hired all of these men to be on his staff. And in two years, if the rumors prove to be true he will have fired 55 percent of his original staff within two years.

That would leave Micheal Barrow, Clint Hurtt and Jeff Stoutland as the only coaches who have survived the first two seasons, not including Graduate Assistants Stephen Field and Dan Shula.

So what does that say about Shannon? Did he have a clue as to who he was hiring when he hired these coaches? If there weren't huge expectations for this season, why are all of these men being shown the door? Maybe someone can explain this to me? Why is it that they are shown the door, but the people that hired Shannon are not showing him the door?

This seems like an all too familiar return to 2006 when Larry Coker fired Don Solindger and Art Kehoe with no real explanation. Since I won't fire myself, I'll fire my staff members to see if it can shake things up. Well, this is Shannon now doing the same thing, firing his staff members because he won't fire himself, he refuses to truly look long and hard in the mirror and acknowledge that maybe, he is the one out of his league in terms of being a head coach.

For all of the evaluation Shannon said he would do in Sunday's press conference it took him all of 24 hours to can Nix. Huh? 24 hours. I guess he watched every game tape in 24 hours and realized that Nix was the problem even though he defended Nix following every game all season while blaming his players for each and every loss.

All the excuses of the budget restraints and so forth have been used for why Nix was hired to begin with, but it never stopped Miami in the past from putting together excellent staffs that won National Championships. Now, that's the excuse that keeps Miami from getting a top flight offensive coordinator.

Those were the same excuses that kept Shannon from putting together a great staff of experienced coaches. Instead, Shannon hired a number of inexperienced coaches who'd accomplished little in their careers, mainly because they are all very young in terms of coaching. It's one thing to give a coach or two a chance to prove something and learn on the job. It's another thing when you hire an entire staff that is out to prove something and learning on the job, not to mention when the head coach himself is learning on the job. That's what high school, JUCO and Division II football is for.

Hey, how much would Dolphins offensive coordinator Dan Henning cost? I know that's a pipe dream, but that's what a great offensive coordinator does, that's what a great coach does. He uses the tools he has and makes them better than what they are and it's a good chunk of the reason the Dolphins are 11-5, AFC East Champs and hosting a playoff game because talent wise there is no logical reason to explain how the Dolphins went from 1-15 to 11-5 in one year.

At the same time, the University of Miami improved its talent base exponentially in one year, yet only improved microscopically, while other teams in the ACC got worse. Yet, Miami lost to at least three teams that talent wise are not even close to the 'Canes (N.C. State, California and North Carolina).

Either way, with 55% of the original staff pretty much likely out the door in two years, how many people does one have to fire before looking in the mirror and realizing he might actually be the the problem?

Go to top

| | |
| --- | --- |
| 96 | Coaching Gaffes Cost Miami |
Sun Dec 28, 2008
The ĎCanes were staring victory in the face. After Cal missed a 34-yard field goal, the ĎCanes had the ball in the final five minutes with a chance to drive down the field for the winning score and finish their season off on a winning note.

Then Jacory Harris fumbled the ball because Reggie Youngblood failed to touch Zack Follett who was rushing around the end allowing a clean shot to the backside and the Golden Bears were leading 24-17 following a fluke touchdown pass by Nate Longshore to Anthony Miller, a pass that didnít appear to be intended for him.

Yes, that hurt the 'Canes a lot, but that didn't cost Miami the game.

But there was still 2:41 remaining in the game and the ĎCanes had one timeout left, only because the ĎCanes continued to burn timeouts while playing defense. There is only one team that seems to call timeout after timeout on defense and thatís Miami. Watch any other team play around the country and there is no way any of them call as many defensive timeouts as the ĎCanes do.

And it came back to haunt them. Not to mention, both defensive timeouts were called on the same California possession which ended up with a field goal that gave them a 17-14 lead.

People may have wanted to blame that on youth earlier this season, but by bowl time, itís the fault of the coaches that this team continues to call timeouts on defense and never seems to be ready on defense.

The ĎCanes called four timeouts in the game, two of them were called on defense, the other two called with four seconds to play in the first half and 12 seconds to play in the game.

But with 2:41 to play, instead of having Harris air it out downfield, offensive coordinator Patrick Nix called a run play. Yes, a running play which in turn burned 30 seconds on a drive that needed to go 68 yards and get in the end zone for the ĎCanes to force overtime.

It was not the first inexplicable running play that Nix called. He did the same thing when the ĎCanes forced a fumble, took possession at the 50 in the first quarter of a scoreless game on the road, and on third and six called a draw to Javarris James who was swarmed for a three-yard loss. Apparently, Cal watched film on Miami because only the ĎCanes run the ball in such obvious and needing a pass downs. Miami punted killing any chance the ĎCanes had to take control of the game and get the lead early.

But going back to that final drive, after the running play, Harris for some reason was only able to find Chris Zellner and Graig Cooper on pass plays, short ones at that. Maybe thatís because Miamiís play calling didnít have any wide receiver running a crossing route with the chance of breaking something long.

However, after Harris scrambled for five yards with approximately 50 seconds left in the game which was a bad decision on his part (he had been better served just throwing it away) his head coach Randy Shannon left him out there to dry. The ĎCanes had one time out left and rather than Shannon signaling for a timeout with between 40 and 50 seconds to play, something that would have given the ĎCanes a chance to march the final 50 yards, Shannon didnít signal timeout as Harris tried to call a play. Unfortunately for Harris, his teammates got back to the line of scrimmage so slowly that by the time he threw the ball away for an incomplete pass the ĎCanes were left with 12 seconds in the game. Then Shannon called timeout. Huh? Time was far more important than having one timeout left. Game over.

Miamiís clock management, for lack of better words, was atrocious as it has been for much of the season which can be directly attributed to Shannon. It happened in the first half as well as the ĎCanes took the ball from their own 37-yard line with 1:18 to play in the first half and all three timeouts. Miami didnít call timeout until there were four seconds to play in the first half and the ĎCanes with a first down and ten as their own 48-yard line. Again, what is the explanation for this absolutely horrendous clock management?

Thatís not Harrisí fault nor was that Robert Marveís fault when he was at the helm. Decisions like that belong to the head coach in time management and the offensive coordinator in terms of play calling.

Why isnít Miami trying to score instead of running the clock out? It remains mind boggling, but itís a continuation of the coaching gaffes that have plagued this team all season.

This doesn't even begin to talk about the fact Miami still can't stop the run. Two weeks of simply preparing for Cal running back Jahvid Best and the 'Canes gave up 9.3 yards per carry (20 carries for 186 yards and two touchdowns) missing tackles all game as usual, so it leaves you asking questions about whether or not this team is ever really prepared by this staff.


Go to top

| | |
| --- | --- |
| 95 | Hunter to Hunted |
Tue Dec 23, 2008
The University of Miami may have struck ligtning in a bottle last year as Jack McClinton truly emerged and made a name for himself nationally. His 38-point performance against St. Mary's was a thing of beauty. And while it resulted in the 'Canes falling just three points short of advancing to te Sweet 16, the 'Canes have yet to find that fire this year, that hunter's mentality.

But this year, opponents know from the outside how important McClinton is to the success of the team. He's no early season mystery like he was last year. Defenders are trying to force him to pass up the three and go to the basket and he's done a good job doing that.

The problem remains that McClinton has no one to look to when his game isn't perfect. If his shot isn't dropping who is going to pick up the slack? As of right now, there isn't anyone who is picking up the slack, not even close.

Somewhere between March and now Lance Hurdle and James Dews left their games in the NCAA Tournament because they look nothing like the players they were last year.

Brian Asbury has still failed to step up to be the player that everyone always expected of him and Dwayne Collins remains inconsistent.

Freshman Dequan Jones has still not produced one double digit scoring game so the team remains completely reliant on McClinton. Unlike last season when the 'Canes had a great start after being projected to be dreadful, while Miami has beaten the teams it's supposed to beat, they have lost their only three games this year against teams with a pulse. Those teams, UConn, Ohio State and Clemson has beaten Miami by an average of 12.3 points per game. Tp their credit, those three teams are a combined 30-0, but all three of those games were winnable, even Sunday night's 19-point loss.

Frank Haith said following Miami's latest loss a 91-72 whupping by Clemson Sunday night that the 'Canes have to be tougher, they were out toughed.

That's the difference of being the hunter to the hunted. When you are the hunter, that toughness and determination come a lot easier because you are doubted rather than when you are the hunted and you have to the match that hunter's toughness and determination.

Somehow, Haith and his players have to regain that hunter's mentality or it could turn into a long and disappointing season.

Go to top

| | |
| --- | --- |
| 94 | Marve Suspension; Surprised, Shocked, Do You Care? |
Fri Dec 19, 2008
So Robert Marve got suspended? I have two statements for that, who cares and big surprise.

Notice the incredible sarcasm attached to those two sentence fragments. The fact is Jacory Harris is better and he should be the starter. He should have been the starter all season. He should have been the starter after saving the ĎCanes season again Duke and Virginia. Flat, he should have been the starter.

Hopefully, this suspension will be enough for Randy Shannon to finally stick to Jacory as his guy when the Spring begins and not have the quarterback carousel start up again if Robert Marve decides against transferring.

Leaders donít get suspended TWICE in one season, let alone for the bowl game. And thatís the difference between Harris and Marve. Harris is a leader. Marve is not. And the actions show it.

Why exactly was Marve suspended? Itís been reported that it was because he missed a class a couple of times which was the limit and then was 15 minutes late on the final day of class because he was talking to another professor. Common sense would dictate that you talk to the professor AFTER you are done with classes so that you are not late to the next class. Thatís common sense. Then there is the fact that he apparently flunked a class and that heís academically ineligible. So itís one of the two or a combination of both.

But Marve is supposed to be looked at as a leader on this team. Newsflash, leaders lead by example, by what they do, not by what they say. And Marve does not lead by what he does. His actions are those of an immature kid who still hasnít figured out the responsibility that he had to this team.

By the way, Iíd be stunned at this point if Marve doesnít transfer. A source close to the program told me late in the season that the coaches still started Marve late in the season when it became obvious that Harris was better because they wanted to keep both quarterbacks. Well, this doesnít seem like a staff that wants much more of Marve. In fact, they might as well be packing his bags for him.

If heís academically ineligible though and unable to practice now what does that mean for Spring practice? Newsflash, itís the same semester as now. That would mean Marve cannot practice then either. If he canít practice in the Spring, the job is Jacoryís for good as long as he remains healthy.

So what does this mean for Marve? Does he transfer? Does he stick around and fight? His father has already been quoted that heíll be back in Miami, but for what exactly? To pack his bags to return home or to get his academic situation back in order so that he can regain his eligibility and fight for the starting quarterback position?

Weíll soon find out if Marve is a man or still an immature little kid who was told no when the ice cream truck drove through the neighborhood.

Regardless of what he decides, itís time for Randy Shannon to name Harris his permanent starter and call it a day because at this point who really cares that Marve was suspended and is it really a big surprise?

Go to top

| | |
| --- | --- |
| 93 | Bowl Game Is Huge |
Wed Dec 17, 2008
A road game in the Emerald Bowl will be a tough game for Miami to come away with a win in, but it's a huge game. 8-5 surely looks a lot more attractive and appealing than 7-6.

It not only looks good on paper, it looks good to recruits and it looks good in terms of team confidence.

Finishing the season with a three-game losing streak after being 7-3 would have to be incredibly disappointing to this team so winning this final game against California would be a massive confidence booster.

And the fact it's a road game would make it even bigger.

So what are your thoughts? Comment on the message board to let it be known your thoughts on this game and the impact it will have on this program.

Go to top

| | |
| --- | --- |
| 92 | Rios Suspension Comical |
Fri Dec 5, 2008
It's amazing that the day after I blogged about how the 'Canes need Eddie Rios this year and that his indefinite suspension would be detrimental to the success of the 'Canes this year, UM coach Frank Haith lifted the ban and welcomed his back up point guard back to the team.

I am not saying my blog had anything to do with it, but winning surely did no matter what Rios may have done to be suspended to begin with.

The suspension lasted to the tune of one game. One whole game. Why not just say, Eddie Rios is suspended for one game? The word indefinite just makes it sound so much worse and the original plan was probably to keep him out of action for at least three, but...there goes that word again...win.

Not to sound like a smart ass, but when someone gets suspended indefinitely generally an indefinite suspension lasts more than one game, generally lasts more than two. It would be at least three games and sometimes more.

Over the past few years there are things that have been done within the University of Miami men's basketball program that have baffled me, but the thing that always has me scratching my head are the suspensions.

They simply make no sense in the way they are handled, especially with the media. From Denis Clemente to Ray Hicks and now to Rios the secrecy in which suspensions are handled force you to speculate.

We have no choice, but to speculate when losing a player like Rios can only hurt the team. If Miami had another point guard on its roster, then who cares and good riddens Rios, but it doesn't so he has to be available.

Had Miami not struggled the way it did after Jack McClinton was ejected from the Ohio State game there is no doubt in my mind that Rios would still be suspended right now.

But with the 'Canes having a huge game tomorrow at Kentucky, in my opinion it became obvious to Haith that he needed Rios back on the bench ready to play. For one reason and for one reason only. Haith wants to win and he knows that if he's going to win a lot, this is his year to break 25 wins and get Miami into the Sweet 16 or further.

People can't forget that UM started 12-0 last year and lost only one non-conference game. That played a major difference down the stretch. Had they been 8-4, the 'Canes probably would have gone to the NIT.

However, this year the 'Canes have already lost two non-conference games and a third would be crippling especially since it's the three non-conference games where the opponent has a pulse...meaning had we beaten UConn and Ohio State it would be like winning double because it would be a quality win. FAU, FIU, North Florida, N.C. Central and Robert Morris don't exactly give goose bumps.

No matter what Haith conveys to the media the season is in peril right now. Yes, seven games in this is a MUST win game. Miami has to pick up a good non-conference win before ACC play begins where going 10-6 in the ACC is what it might take this year to get into the NCAA Tournament with the conference being much stronger than last year and the competition being that much stiffer.

The 'Canes have to finish 11-2 in non-conference games especially since there is only one good non-conference opponent left when they travel to St. John's.

But when it comes down to it, the Rios suspension is something I consider comical because the next time I hear the word indefinite come from the men's basketball program, I'll assume it's one game.

It's simply all about winning and nothing else matters. I am perfectly fine with that.

Go to top

| | |
| --- | --- |
| 91 | 'Canes Need Eddie Rios |
Thu Dec 4, 2008
What was Eddie Rios suspended for? It was announced yesterday that Rios was suspended indefinitely.

For what exactly? What do you have to do to be suspended indefinitely? Of course there are rumors that are circulating around, but I won't even go into the potential rumors.

And Frank Haith definitely won't tell us.

His comments last night following the 'Canes 73-68 loss to Ohio State pretty much indicated that.

At the same time, this is a team that deathly needs Rios on the floor, in at least a back up capacity.

Lance Hurdle, try while he may, cannot run 40 minutes on the floor. Heís the lone point guard on this roster without Rios forcing players like Jack McClinton and James Dews to step into a point guard role of sorts at times even though neither handles the ball very well.

Hurdle played 37 minutes against Ohio State and it showed in Miamiís loss. Losing McClinton was essentially what cost Miami this game, but had Rios been available it might have also made a difference simply because Hurdle was completely gassed over the final eight minutes of the game.

It also would have allowed Hurdle to shift over to shooting guard at points in the game since McClinton was in the locker room.

Point being, Miami needs Rios in some capacity because the ĎCanes donít have another point guard this year.

I donít know what Rios did or what happened; however, if Rios is suspended for any lengthy period of time, it will definitely hurt Miami in the long run.

And the last thing that needs to happen to this team in a year that has so much promise is crippling yourself at a position where there is simply no depth.



Go to top

| | |
| --- | --- |
| 90 | Thank You All! |
Thu Nov 27, 2008
It's been approximately 16 months since Chris Stock, David Lake and myself started InsideTheU.com.

We are only here 16 months later because of you, our subscribers and readers. Without you, this site doesn't exist.

For that, I thank you for your support of this website. I am glad that we are able to bring you content, information and reports that meet a standard worthy of your subscriptions.

As you see, we are constantly coming up with new ideas for you to enjoy. I certianly hope you continue to enjoy our special features and everything else that we bring to you.

I send you my sincerest thanks for your support of InsideTheU.com. Wishing you all a Happy Thanksgiving!

Go to top

| | |
| --- | --- |
| 89 | Is there any doubt? |
Tue Nov 25, 2008
I am guessing by this point youíve watched pretty much every game the University of Miami has played this year if you are reading my blog.

So I ask the question, ďIs there any doubt?Ē to a bevy of topics that I will also answer. Surely, your replies and your feedback are welcome as well. If you agree, cool, shoot me an email and let me know. If you donít agree, cool, shoot me an email and let me know. Start up a thread on our message board if you like.

Either way, I dare to go where no man has gone before.

Is there any doubt that Jacory Harris is better than Robert Marve?

Everyone had this love affair with Marveís arm coming into the season except me, but Harris week in and week out has shown that he is not just a better quarterback, heís a MUCH better quarterback. Harris understands the game far better. Heís more mature. Heís poised. He's a leader. He utilizes the talent around him and flat out, he gets the job done. His stats show it. His performances against Charleston Southern, Duke, Virginia and Georgia Tech (yes, Jacory played well against Ga. Tech) were no accident. They were simply a matter of playing time, something that Marve has gotten plenty of and done absolutely nothing with. Sans the game against Texas A&M, a horrendous excuse of a football team, Marve has been below mediocre. His cannon-arm is extremely inaccurate. He constantly rolls out of the pocket even when itís not called for and throws missile-like passes to receivers seven yards away from him.

The first mistake Randy Shannon made in the Fall was pigeonhole himself into naming Marve the starter. Heíd have been better off just leaving it open and playing it on a week-to-week basis rather than the garbage weíve had to witness this season. Instead, Shannon, the stubborn man he is to show the media how stupid we are, stuck with his plan to always have Marve as the starter no matter how bad he played and how well Jacory played. There is not one game this year other than Texas A&M where you can look at Marve's final stat line and say, wow, he had a good game. Not one. Had Shannon done it on a week-to-week basis, Harris would have started against Florida no questions asked and the ĎCanes probably would not have lost 26-3. In fact, Iíd venture to say, Miamiís offense would have looked far better and we might have won the game. Instead of being 7-4 right now, the ĎCanes would be 9-2 at worst and possibly 10-1. Losing to Ga. Tech was just as much the defense's fault as it was Marve's whose pick six crippled the team. Do people find it funny that Harris seems to come in the game a lot when the ĎCanes have the ball inside their own TEN yard line? I believe thatís a script, i.e. if Miami gets the ball inside the ten, put Jacory in cause he wonít turn it over. Whereas, Marve has been a turnover waiting to happen all season long. Whether it was the ridiculous pass made against Georgia Tech that hit the defensive lineman on the CHEST to the other forced throws heís made for interceptions, Marve turns the ball over. You hate to say it this way, but when you watch the two play on the field and listen to the two speak, itís night and day. Harris is a ďteamĒ guy. Marve portrays a ďmeĒ guy. Harris puts his teammates in a position to make plays, i.e. the pass to LaRon Byrd against Virginia. Marve wants to make the play himself, i.e. the numerous uncalled quarterback draws. Maybe itís not something heís thinking about, but itís something he does. Maybe itís from the way he played in high school and something heís carried over to college. Maybe it can be attributed to a lack of maturity, but the reality is, when Harris is on the field for more than two seriesí he gets things done, he makes plays and the team moves the ball far more efficiently than when Marve is on the field. At this point, I am simply convinced that Harris has been told in private by Shannon that heís the starter in 2009 because the stubborn Shannon doesnít want to admit to the media and the public that he was wrong.

All that being said, I still want Marve on this team. I don't want him to transfer. Every team needs a good back up QB. And if Harris was to get hurt Marve could step in. However, right now, it's clear as day that Jacory Harris is better.

Is there any doubt that the University of Miami needs to work on tackling?

Have you ever seen a team that tackles so poorly? Each and every week, the UM defense misses tackles. Itís happened every game. Some games, itís been worse than others. Itís unreal that this team is 7-4 with the substandard level of tackling on this team. The worst part is, a freshman, Sean Spence is the best tackler on the team and itís not even close. It's great that Spence can tackle. It's shameful that he is better at it than a senior. As good as Glenn Cook looked early on this year, heís slowly reverting back to the old Glenn Cook who couldnít make a play, who always seemed to be so close to making a play, but could never actually make the play. Romeo Davis looked great one week and since then heís looking like the old Romeo Davis who is never where heís supposed to be and misses tackles night and day. Anthony Reddick needs to zip his pie hole and not speak about his teammates to the media until he starts making plays himself. He didnít single out any player in his comments and he acknowledged he didnít play well, but his comments following the Georgia Tech loss turned my stomach. To state that he saw a lack of focus in the hotel prior to the game, last I checked, Reddick was a senior. Act like it and do something about it. Donít let it ride. Either way, Reddick was run through all game against Georgia Tech. The fact is, this team doesnít tackle. I figure at this point UM keeps Micheal Barrow in the press box to keep from strangling some of his linebackers during a game because one thing Barrow could do was put a ball carrier on his keester. However, it might be time to bring him onto the field level so he can kick the stuffing out of some of his guys because they thoroughly need it, if just for these final two games. Whatever it takes, this team has to learn how to tackle. Thursday night was simply a capper as to whatís gone on all season long. It just happened to be more exposed because we got creamed.

Is there any doubt that this team was completely and unequivocally unprepared for the game against Georgia Tech?

Everyone saw it. This team wasnít ready to play. The motto coming in this year was ďNo ExcusesĒ. Every time Miami has lost a game, excuses have been the common element permeating the post game press conference. And every game they have lost, Shannon has thrown his young players under the bus. In Week 11, he blamed youth on the loss. I am sorry, but blaming youth in Week 11 is WEAK! These guys have played an entire football season. They aren't freshmen anymore. He blamed missed assignments. He blamed the players. The one group of people he did not blame was his staff and himself. Really? One thing Iíve noticed about this team all season is that they listen to their coaches. Being a young group makes you listen to your coaches even more than when the team is veteran loaded. People may say these guys donít listen. Thatís nonsense because it seemed like they did exactly what he said to the media he taught them to do. Shannon was quoted as saying that the team worked on tackling high because Georgia Tech carried the ball high and that made it easier to strip the ball and cause turnovers. As I just ripped on Reddick above, he got run through time and time again because he was tackling HIGH. Problem is Jonathan Dwyer is a monster tailback and there is no safety in the country who is going to bring that guy down around his chest not when he has all his momentum going forward. Heíll run through that all day and thatís what he did. I played football. I know plenty of former football players. No football player is EVER taught to tackle high. That's not fundamental football. You are taught to look at the waist. Donít look at the feet. Look at the waist because the waist will always be right in front of you. And you wrap the waist and drive. Instead, the coaches taught these guys to do something that was completely lacking in fundamentals in tackling high. Miamiís defense got run through all game attempting to tackle high. How about just making the tackle? Turnovers happen by simply being fundamentally sound and this team wasnít fundamentally sound. During the game, Shannon ripped into numerous players, Davis, Cook, Reddick, Spence, Marcus Robinson, etc. Maybe he should have ripped into himself or some his coaches. The triple-option is not hard to stop. Itís simple assignment football. Maybe they failed at their assignments at times, but did they really even know them? DE Steven Wesleyís job is to drill the QB on the option. He didnít hit him once all game. The outside linebacker is supposed to take the tailback. The middle linebacker is supposed to meet the fullback in the hole. That is simple, not complicated. But it never happened. So how about putting some blame on the coaches as well who simply didnít have this team prepared? The players stunk up the joint and they deserve plenty of blame, but the coaches stunk it up too.

So letís get some replies to my ďIs there any doubt?Ē blog. What do you guys think?

Go to top

| | |
| --- | --- |
| 88 | All is not lost |
Fri Nov 21, 2008
So the 'Canes got their butts handed to them last night? Big deal. Stuff happens.

Before people go off the handle and say the season is over, it's not. Far from it. When the season started no one expected this team to be competing for an ACC Championship anyhow so losing to Georgia Tech shouldn't sting that much.

Sure, it stings because of what was at stake and the way the 'Canes lost, getting absolutely drilled and embarrassed on national television, but the season is not lost.

The 'Canes still have a game to play at N.C. State. If they can find a way to pick themselves off the ground and win in Raleigh next Saturday for which they have ten days to prepare, they will end up in a very good bowl game, either the Peach or Gator Bowl by my estimation. Other projections have Miami heading to the Emerald Bowl, but with a win over N.C. State and an 8-4 finish I can't see that happening.

However, it's still possible, albeit very confusing in terms of tiebreakers, that Miami can still somehow get in the ACC Championship Game and a potential Orange Bowl bid. A lot of teams have to lose and a lot have to win.

However, let's say Miami beats N.C. State and goes to the Gator or Peach Bowl. Would that really bother you? It wouldn't for me. The thought of a bowl game of that level when this season began seemed almost unreal, somewhat of a dream. If it happens, successful is all you can say about this season. And for that, you have to tip your hat at this team no matter what happened last night.

Go to top

| | |
| --- | --- |
| 87 | The Coaches are Jacked! |
Tue Nov 18, 2008
Winning brings excitement. And the kind of excitement that was on the field last Thursday against Virginia Tech following the game is something that Iíve not seen in years following a win.

Beating FSU was nice last year. The team was excited. Players were really happy following that win, but the excitement didnít funnel all the way to the top.

At least not the way it did last Thursday against Virginia Tech. And thereís a good reason for that. So much is riding on each game now.

The ĎCanes win over Va. Tech put them in the position to control their own destiny with one North Carolina loss. The ĎCanes got that early Christmas present from Maryland when the Terps beat UNC 17-15 on Saturday.

As much as was riding on the win over Va. Tech, even more will be riding on this Thursdayís game against Georgia Tech and the season finale at N.C. State.

However, what I saw Thursday was a breath of fresh air. So often, you see Randy Shannon with a stoic look on his face, one that doesnít give you any indication if heís happy, sad or completely oblivious as to whatís going on around him at times. Itís like heís in a permanent zone.

That wasnít the case following Miamiís win over Va. Tech. I saw excitement. I saw elation. I saw joy. I saw guys having fun happy to win a big game, something that hadnít been done in Miami in three years.

Point being, the excitement funneled all the way to the top. The players were excited. The fans were excited, but more importantly, to me at least, Randy Shannon and his staff were unbelievably excited. They were hugging. They were chest bumping. The smiles were ear to ear. They were jacked. And when you see the coaches jacked, showing emotion like that, it gets me excited. And itís something that was so nice to see.


Go to top

| | |
| --- | --- |
| 86 | Get out and VOTE! |
Sun Nov 2, 2008
We are real excited about the ĎCanes winning another game, but I am here to talk about something else.

ELECTION DAY!

Election Day is tomorrow, November 4th. If you havenít voted, make sure you get out and vote. You will wait in some long lines. I surely did Sunday, a ridiculous six hours and six minutes later, I finally voted and had a nice sunburn to show for it. I got there at 10 a.m. and didnít leave until 4:06 p.m. Unreal, but I got it done.

And if you havenít voted yet, make sure you get the job done.

Who you vote for is your prerogative. It doesnít matter to me who you vote for. Just get out there and exercise your duty.

Itís what makes our country what it is.

Rock the vote!

And watch the ĎCanes rock the Hokies next Thursday too!


Go to top

| | |
| --- | --- |
| 85 | Time to Start Recognizing Brandon Gainer |
Tue Oct 21, 2008
When people talk about the Class of 2010 running backs, they refer to Jakhari Gore and Eduardo Clements. Itís always Gore and Clements.

While Gore rushed for over 1,100 yards last year as a sophomore and helped Columbus go 11-1 last year, Clements has not had the same kind of success on the field. He won a Class 4A state championship as a sophomore and rushed for 961 yards and 19 touchdowns last year, a very good year with the weapons that were on the field, but the success he had a sophomore has not translated to his junior campaign as the main offensive weapon on the team.

Currently, Gore has rushed 68 times for 491 yards and seven touchdowns, averaging 7.2 yards per carry. Clements season has been far less impressive rushing 69 times for 334 yards and five touchdowns, 4.8 yards per carry. While there are plenty of reasons to go after Gore because of his blazing speed, his vision and balance, and of course his family lineage (Frank Gore is his cousin), Clements is not in his class. Clements has all the physical attributes that are attractive, but he remains hype and potential.

Yet, both currently have offers from Miami.

Maybe the attention given Clements should start being focused on Brandon Gainer, another Class of 2010 running back who is actually producing awesome numbers on the field and averages double what Clements averages per carry.

The Central running back is finally starting to get the ball and the Rockets are making a point to block and the result has been on the field in terms of wins. The Rockets started off 0-3 for one big reason. Gainer wasnít getting any help from his team. They were pass happy. When they ran the ball, it was just to change the pace.

Now, the Rockets are focusing on Gainer first and itís showed on the field. The first three games, Gainer rushed 38 times for 212 yards and no touchdowns. All were Central losses. The past four, all Central wins, Gainer has rushed 52 times for 671 yards and eight touchdowns.

In all, Gainer has rushed 90 times for 883 yards and eight touchdowns, an average of 9.8 yards per game. Only one player has rushed for more yards than Gainer in Miami-Dade. His name is Lamar Miller and heís only leading Gainer by nine yards.

Now, the Rockets are 4-3 and playing like the team everyone expected to see this year. So, while having the conversation about the top running backs in the Class of 2010 in Miami-Dade County, itís time to start talking about Gainer because the numbers tell the story and the story has resulted in wins. Hopefully, the ĎCanes will take a look at him also.

Go to top

| | |
| --- | --- |
| 84 | Jacory Harris Should Start |
Sat Oct 18, 2008
There is something to be said for poise in the pocket, poise under pressure and the poise to make the right decision.

Itís something that Jacory Harris has. Itís something Robert Marve is trying to develop which should have made the decision to start Harris following the Charleston Southern win and easy call in Gainesville.

Instead, Randy Shannon named Marve the starter, even though some teammates told me that the two players were virtually even throughout Fall camp, that there was no clear cut favorite and they believed Shannon knew who he was going to start all along.

So instead of rolling with Harris and more than likely sitting at 6-1 right now, the ĎCanes are now 4-3 because Shannon finally decided to stick with Harris for more than a series or two. Had Marve re-entered the game Saturday afternoon against Duke, thereís not a doubt in my mind that the ĎCanes lose that game.

Thatís not a knock on Marve. Itís the reality that while Marve may become a great quarterback in the future, heís not ready right now. Harris is ready. He showed it Saturday.

People may say, well Harris didnít look that great when he was out there in earlier games. Itís true. He didnít. But itís hard to develop anything if you know in the back of your head that you are going to get one, maybe two series, and thatís it.

Thatís been the story of Harrisí season until Saturday at Duke.

After a three and out on his first series which wasnít helped by the play calling, Harris got another crack with 1:33 to play in the first half which may have saved the Hurricanes season as they trailed 17-7. Harris proceeded to drive the ĎCanes right down the field on an eight-play, 68-yard drive and hit Chris Zellner with a nine-yard touchdown pass cutting the lead to 17-14 going into the break.

Surprisingly enough, Harris came out to start the second half, something that hasnít happened in the past. And after he threw an interception on his first pass of the second half which resulted in a Duke touchdown for a 24-14 lead, it was even more surprising that Shannon didnít yank Harris at that point just based on what has been done in the past.

Instead, Shannon showed faith in Harris and let him go back out there. And that is when people saw the real Jacory Harris, the Jacory Harris that drove Northwestern 99 yards to beat Deerfield Beach last year in the state semifinals.

Harris led FIVE touchdown drives in the second half, throwing for three of them and running for one. He finished the game completing 64 percent (18 for 28) of his passes and found his high school buddy Aldarius Johnson eight times.

And with that performance, Harris should become the starter. There is not a doubt about it. His poise is what separates him from Marve. His decisions are excellent and heís extremely accurate. Watching the ĎCanes play Duke, our receivers were hit in stride and able to make plays after the catch.

Following the game I listened to the radio with Don Bailey interviewing Harris in the locker room. Bailey made a point to say that Harris loves Marve, something Harris said. Anyone that knows Harris knows that while he may love Marve to death, he is still competing with Marve and he still wants to play. He wants to be the guy on the field. Thatís what makes him a winner. He doesnít want to rotate. He doesnít want to come off the bench. He wants to be the guy.

And right now, at least for next Saturday against Wake Forest, he should be the guy for sixty minutes. Flat out, he gives Miami the best chance to win.

Go to top

| | |
| --- | --- |
| 83 | The Future - What does the Class of 2009 Bring? |
Wed Oct 15, 2008
The University of Miami is currently 3-3 and struggling, but whatís the future have in store for this team?

Will it return to prominence and dominate the way it used or will it be a process? More than likely in this day and age, it will be a process that will take time, but the future is bright based on the Class of 2008 alone.

At the same time, the only way the Class of 2008 will matter is if the Class of 2009 is ready to make the same kind of impact this yearís freshmen are making.

Currently, Sean Spence, Travis Benjamin, Aldarius Johnson, Marcus Forston, Brandon Harris, Marcus Robinson and Thearon Collier are all seeing a lot of playing while others like Jacory Harris, Andrew Smith, Davon Johnson, Jordan Futch, Arthur Brown and Ramon Buchanon have seen some action.

However, they canít do it alone. They canít bring the program back to prominence without help. Thatís where the Class of 2009 comes into play.

So what does each current commitment bring to the table:

RB Bryce Brown Ė He provides a big time playmaker, someone who can take it the distance while also providing a big hulking back to barrel through defenses when the ĎCanes need some short yardage gains, something thatís been sorely missing over the past few years.

RB Lamar Miller Ė Miller is a blazer who is can fly. Running a 4.32 once heís in the open field it is history. No one will catch him from behind. Miller is also a big and strong back who has great balance. He brings the ĎCanes another option next year at running back.

RB Mike James Ė I see Mike James moving to fullback at some point because it may be hard for him to crack the line up past Miller and Brown. But he can also be a player who can make a difference in short yardage situations.

OL Brandon Washington Ė He is a must for this class as he could find himself starting at right tackle next year if he does what heís supposed to. With Reggie Youngblood and Chris Rutledge on the way out, Washington will have the chance to walk in and start. Heís blocked for Jacory Harris before and he might be called upon to do so again.

OL Stephen Plein Ė This is a tricky situation. Plein says he wants to play tight end. The ĎCanes seem to want him as an offensive tackle. Either way, I expect him to redshirt.

OL Cory White Ė Heís another tight end who is supposed to move to tackle. Another redshirt.

TE Billy Sanders Ė Is he a tight end of a tackle? Remains to be see. Redshirt.

CB Brandon McGee Ė McGee is still learning the position, but he has the physical tools to become an excellent corner. I just donít know if heíll be ready next year. But weíll see how the rest of his high school season goes.

CB Jamal Reid Ė Heís more of a natural corner with playing experience and could find himself stepping in early. The ĎCanes need help at the position and heíd be someone that could probably get some early playing time.

CB Prince Kent Ė Who knows where he will play. He can play corner and safety, but is projected as a corner. What he brings immediately I canít really gauge yet.

CB Kayvon Webster Ė He could find himself on the field early because heís actually a corner. Heís thicker than DVD was as a freshman.

DE Olivier Vernon Ė Vernon has the skills to play immediately, but what made the ĎCanes so great in the past was redshirting players like Vernon. With Marcus Robinson, Andrew Smith and Adewale Ojomo returning next year along with Gavin Hardin joining the fray, the defensive end position could be pretty strong giving Vernon the chance to sit out a year and learn.

DT Luther Robinson Ė This seems like an obvious redshirt with so many defensive tackles returning.

DT Curtis Porter Ė He could also redshirt, but he seems more ready to play early than Robinson.

LB Zach Kane Ė There are rumors that he wonít be in Miami. When he gets here, then Iíll believe it, but I donít see him ending up here either.

LB Antonio Harper Ė I doubt Harper will end up at Miami. If he does, he redshirts.

QB A.J. Highsmith Ė Whatís his position? Thatís the question. Could he redshirt? Yes. It all depends on what position Highsmith plays.

Go to top

| | |
| --- | --- |
| 82 | Offense No Better than 2007 |
Mon Oct 13, 2008
Last year, people thought the University of Miami offense was terrible.

So what can folks possibly think about this yearís offense at the mid point of the 2008 season?

While the team is averaging more points overall (29.8 to 25.3) at this point which includes defensive scores and Special Teams as well, the offense has remained stagnant and in a sense it appears itís regressed from the beginning of this season to Week 6.

Some say the offense is better. Some say itís worse. Some say itís Patrick Nixís fault. Some say itís the playersí fault.

No matter what it is or whose fault it may be the stats are staggering and give a complete indication of how bad the offense remains no matter who is on the field.

Through six games in 2007, the ĎCanes had 11 scoring drives (touchdowns or field goals) that went for 50 yards or more.

Through six games this season, the ĎCanes have 12 scoring drives that have gone for 50 yards or more.

The one constant is that the ĎCanes had plenty of success against Texas A&M in 2007 and 2008. Too bad the ĎCanes donít play them 12 times a year.

The other constant remains, the ĎCanes have a hard time sustaining any kind of drive so what will it take for this team to become decent on offense? Not good, simply decent.

Who knows, but the three problems below that have become glaringly apparent would have to be the first three things that have to change in order for this offense to start becoming decent.

Problem No. 1 Ė This team lives in 3rd and long. Iíve never seen a team that faces more 3rd and longs than this team. Stay out of 3rd and long. Have the ĎCanes converted a 3rd and 15 or more this year yet? While a team doesnít generally get a first down on 3rd and 15 or more, most teams can convert those once in a while, if just by accident.

Problem No. 2 Ė Robert Marve and Jacory Harris are not looking any better right now than Kyle Wright and Kirby Freeman looked last year. They arenít looking worse, but Marveís performance against UCF brought back nightmares of Kirby Freeman against N.C. State. Three interceptions thrown on decisions that simply left you wondering what he was thinking. That might sound insane, but the stats confirm that they arenít more productive than last yearís tandem no matter how much you hated them (202.3 yards per game in 2007 to 162.8 yards per game in 2008 at this same point). It might be time to start giving Jacory more playing time than Marve and see what he can do because Marve isnít getting the job done right now.

Problem No. 3 Ė Play calling. This offense is scary predictable. Based on the personnel on the field and where they are lined up, most defensive coordinators know exactly what play the ĎCanes are running. Notice, the screens are no longer working unless the receiver breaks a tackle. The draw plays are being stuffed. The quick passes to the flat are dead. The result is 216 total yards against UCF.

So my advice to fans for the final six games of this season Ė keep your expectations low so that you donít find yourself disappointed and/or shocked if the ĎCanes offensive performances don't get any better and the losses continue to mount.

Go to top

| | |
| --- | --- |
| 81 | A Loss to UCF Would be Catastrophic |
Fri Oct 10, 2008
The Miami Heraldís Armando Salguero asked the question on the radio a few nights ago to former University of Miami wide receiver Lamar Thomas.

Well, he tried to, not once, not twice, not three times, but four times before Thomas let him finish the question.

The question, ďWhat ifÖwhat ifÖwhat ifÖwhat if UM loses to UCF?Ē That was the question. After Thomas did a lot of defending of head coach Randy Shannon, Thomas went on record after saying ďit wonít happenĒ that if the unthinkable happens Saturday afternoon at Dolphin Stadium, meaning UCF beats Miami, then ďall bets are offĒ according to Thomas.

Iíll go one better. If the most unthinkable thing happens Saturday afternoon, an actual loss to UCF, someone will be out of a job Sunday morning. It wonít be Shannon, but someone will be unemployed come Sunday morning.

The ĎCanes are riding a two game losing streak and have gained a bit of a reprieve in facing UCF at this juncture of the season, hopefully providing the ĎCanes a much needed spark that only a win can give them. And with a win comes a bit of confidence, especially if itís done in impressive fashion. A 23-17 win isnít impressive. Sure itís a win, but itís a win that leaves you walking away shaking your head wondering how far the program has fallen.

A 45-14 win will make you feel better about this team and the direction itís going.

True confidence is completely missing from this team at the present time. In close games, they donít know how to win so if this game is close it could turn into a scary proposition. This is the time they better find it that confidence needed to win a game. Facing a UCF team that is 2-3 that has lost to UTEP 58-13 and 34-7 to Boston College on the road, itís clear the Golden Knights have troubles once they leave the friendly confines of Orlando.

They battled USF to a 31-24 overtime loss, but that was at home. Traveling to Miami will be intimidating simply because itís Miami, but if the Golden Knights find a way to stick around early and donít let the ĎCanes jump out in front, it could give them confidence and turn it into a game.

The ĎCanes cannot allow that to happen. This isnít North Carolina which didnít quit even though it fell behind early. If Miami is able to jump on top 14-0 early, the game will be over. UCF will quit. That has to be the way the ĎCanes approach this one.

Because like Thomas said, a loss and all bets are off. At the same time, a loss to UCF would be catastrophic for recruiting as well. While the ĎCanes will probably keep their local South Florida commitments even if they lose, their national reputation will be completely and unequivocally tarnished and the recruits that are committed from out of state or outside of South Florida might start rethinking their commitments.

The ĎCanes canít let that happen. Like Thomas also said, it canít happen because if it does, all bets are off.

Rudy Rodriguez-Chomat is in his fifth year covering University of Miami athletics and tenth year covering Miami-Dade High School Sports. He is a freelancer for The Miami Herald and has contributed to numerous other newspapers in the Southeast. He can be reached at rudyrc@insidetheu.com.

Go to top

| | |
| --- | --- |
| 80 | Are you Happy with Moral Victories? |
Sun Oct 5, 2008
Losing is contagious.

Itís become acceptable among the older players at the University of Miami. They are used to it.

They must be as the juniors and seniors on the team right now have gone 14-16 over the past two and a half years.

They are also the players, for the most part, that shouldnít even sniff the field anymore.

I just hope the losing doesnít become catchy for this freshman class which seems to be the only heart left on the football field. The heart that encompasses winning.

Before we delude ourselves and try to convince ourselves that we actually deserved to win this game, please ignore the fact that the scoreboard final reads FSU 41, Miami 39 which would indicate a close game and recognize that we scored 13 real points of offense.

Down 24-3 in the third, FSU handed us the ball on a fumbled handoff inside our 20. Then Travis Benjamin scored on a reverse making it 24-10. That was a one play, 18-yard drive.

Down 31-13, FSU botched a punt snap which was kicked out of the back of the end zone giving us two points cutting the deficit to 31-15. Pretty easy.

Following the safety, Graig Cooper hit Benjamin with a trick play cutting the deficit to 31-22. Nice call for once.

Down 34-22, Sean Spence intercepted a Christian Ponder pass and scored on a four yard interception return for touchdown cutting the lead to 34-29. That happened to be set up by Leonard Hankerson dropping, or should I say allowing the ball to be ripped from his hands at the two yard line for an FSU interception.

Then FSU botched another punt snap and we got the ball at the FSU FOUR and proceeded to commit a 12-man on the field penalty pushing us back to the nine. How does a team come off the sideline with 12 players? Please, please explain that to me.

But guess, what, we canít punch it in and only get a field goal cutting the lead to 34-32. Over and over again, FSU tried to give it to us and just kept giving it back.

But hereís what drives me crazy beyond the fact we lost. It happened in the post game press conference. The players WERE NOT upset, not upset like they should be, not upset the way a team that is watching itís season go down the drain should be upset.

They are happy with moral victories, that they continued to fight, that they didnít give up, blah, blah, blah. Thatís all moral victories are worth. They are blah, blah, blah. Moral victories equate to one thing, losing.

It didnít matter who the player was because it was practically every player in the post game press conference that wasnít THAT upset in losing, with the exception of one, Brandon Harris. He was disgusted, disgusted that his team lost, disgusted that he played as bad a football game as heís played in his life. Two pass interferences and a holding penalty will do that to you. Quite frankly, Brandon was embarrassed.

But so should the continuation of being inept on offense. Robert Marve should be sick to his stomach that Miami lost, not pleased that Travis Benjamin played well the way he was. Who cares if Benjamin played well? We still lost. Jason Fox celebrating a completely meaningless touchdown catch with 14 seconds left, for what? Why? At that point, it didnít matter. The game was over.

And the season is about to be that if this team doesnít figure it out quickly, figure out that losing sucks, that losing should make you feel sick, not have you happy at that fact that the you didnít quit, not happy at the fact that you didnít get blown out, not happy at the fact that you had more fans in the stands, not happy period.

Thatís what disgusted me the most. And for any real Hurricanes fan, thatís what should drive you mad. These guys simply donít seem to care the way you (the fans) and I (a fan) do.

If Ed Reed was in that locker room right now, heíd be embarrassed and ashamed that smiles following a loss have become an acceptable and normal part of being at the 'U'.


Go to top

| | |
| --- | --- |
| 79 | Feeling Heartbroken is Becoming Normal at The U |
Sat Sep 27, 2008
You want to feel like the University of Miami is back. You really do. The ĎCanes blast through Texas A&M 41-23 and then get a home game against North Carolina, a team it should want to beat so badly after getting embarrassed in Chapel Hill last year 33-27 who also happens to be playing a third string quarterback after falling behind 14-0 in the first quarter.

You want that feeling so badly. You feel like itís there and that these ĎCanes might actually have a shot at winning the ACC in what is clearly a really bad year for the conference.

You look up and down the schedule and say to yourself, this team could arguably win every single game and finish the regular season at 11-1. The talent is there. Itís evident. Itís obvious.

And when you see a 14-0 lead, a 17-7 lead and a 24-14 lead with nine minutes to go in the game, you think, man they really could win this conference.

Then they break your heart again as they have done so many times over the past three seasons.

Then reality sets in as the defensive secondary gets smoked, not once, not twice, but three times over the final nine minutes of the game.

Reality sets in as the defensive line fails to get any push or pressure on third string quarterback Cameron Sexton, who until Saturday afternoon at Dolphin Stadium, had completed ONE pass since the Tar Heels season opener of 2007.

Saturday afternoon, Sexton entered the game trailing 14-0 and immediately led the Tar Heels right down the field cutting the lead in half. He finished 11 for 19 for 242 yards and two touchdowns. Imagine what UNC starter T.J. Yates could have done to this Hurricanes team if he had been in the line up.

But what really angers you as a Hurricanes fan is that at one point Robert Marve had completely 16 of 21 passes for 100 yards. Thatís right, 100 yards. Itís only 100 yards because offensive coordinator Patrick Nix simply refuses to call any plays downfield because he clearly doesnít trust Marve. The ĎCanes donít even try to throw the ball deep while UNCís offensive coordinator John Shoop trusts his third string quarterback to throw it deep even though the kid has only thrown one freaking pass under Butch Davis.

And then you watch Marve drive the ĎCanes straight down the field in the final 46 seconds with a chance to actually win the game for no other reason than because Nix has no choice but to call vertical routes to have a chance to win. And guess what? He does it. He drives the offense right down the field. Although his final pass slipped through Kayne Farquharsonís hands in the end zone, the ball was there. Albeit, it would have been a great catch, itís a catch Kayne has made in the past and itís a catch Kayne will make in the future.

It leaves you wondering how this could happen, why does this happen. It leaves you looking at the personnel decisions that are made throughout the game. It leaves you asking why Marve is taken out of the game in the second quarter for Jacory Harris (who I love as a QB, but you don't keep switching QB's) following two touchdown drives only to see UNC cut the lead in half. Yes, Harris led Miami to a field goal, but the result was that it killed Marveís groove no matter what Randy Shannon said in his post game press conference.

It leaves you wondering how there are continuous missed assignments in the secondary and how the same blown punt blocking in the final three minutes that happened at Florida could happen again in such a crucial situation.

The fact of the matter is you try so hard to feel good about this team because you know the talent is there to win. You really want to feel good about it, but when it comes down to it, what you have is a team that is staring down the barrel of another 6-6 season if it doesnít start finishing games.

And that starts at the top with coaching. And itís the reason we lost at Florida and the exact same reason we lost today. How about this one, Florida lost 31-30 at home to Ole Miss today. We scored 3 points against that same Gators defense.

But yet again, our hearts are left broken because our coaches donít trust the players they put on the field.

Hereís a question Ė Do you think Butch Davis would have lost a 14-0, 17-7 and 24-14 lead if Cannon Smith had been our quarterback today? Even better, do you think he would have lost a 14-0, 17-7 and 24-14 if he had been our coach facing North Carolina's third string quarterback?

Rudy Rodriguez-Chomat is in his fifth year covering University of Miami athletics and tenth year covering Miami-Dade High School Sports. He is a freelancer for The Miami Herald and has contributed to numerous other newspapers in the Southeast. He can be reached at rudyrc@insidetheu.com.

Go to top

| | |
| --- | --- |
| 78 | Miami-Dade High School Football is One Big Mess |
Sun Sep 14, 2008
Is this for real?

Central is 0-2.

Booker T. is 1-1.

North Miami Beach is 1-1.

Yet, Northwestern is 2-0 and has run its winning streak to 32 straight (The Spring and Fall classics do not count).

Columbus is also 2-0.

But here's the kicker, Killian is 2-0 also.

What the heck has happened to Miami-Dade football? One sentence -- It's back to normal.

High School football in Miami-Dade has long been known for having some of the best teams around. It's the reason that Northwestern's 32 straight wins are the most in Miami-Dade history.

Whereas, De La Salle in California won like 150 straight games covering like ten seasons and Independence in North Carolina won like 110 straight or so.

Those types of streaks have never and will never exist in Miami-Dade because there is simply so much parity.

A team or two can be dominating for a year or two, but their time will eventually come to an end. It's just a matter of time before th Bulls lose this year because they will not go 15-0 again. It could come as soon as next weekend against Booker T. Washington.

But Central being 0-2 is shocking. The Rockets were expected to be the best in Miami this year. But if you watch their defense that's definitely not the case. Not to mention, their coaching needs some work.

How so? Running back Brandon Gainer needs to get the ball 20-25 times a game. If he does, they could run off eight straight starting with Killian, but the Cougars are also not the team they were last year. They planted NMB on Thursday and Lamar Miller looked absolutely ridiculous.

Then there is Booker T. that got Torrance Moise back in the line up as he saved them against Central, but their defense has stunk also.

And NMB is not the same NMB. They are relying on the pass rather than the run so if Nico Flores doesn't get time, it could be tough on them as well.

Either way, this one is wide open. It's simply back to normal.

Rudy Rodriguez-Chomat is in his fifth year covering University of Miami athletics and tenth year covering Miami-Dade High School Sports. He is a freelancer for The Miami Herald and has contributed to numerous other newspapers in the Southeast. He is also the co-host of the Miami Dolphins High School Sports Show which can be seen every Saturday at 10:30 p.m. on My33. He can be reached at rudyrc@insidetheu.com.

Go to top

| | |
| --- | --- |
| 77 | Play Calling Plagues Offense |
Mon Sep 8, 2008
For three quarters the University of Miami looked like it might have a chance to pull off what would have to be considered a ďmiraculousĒ upset in The Swamp Saturday night.

But those hopes ended when Percy Harvin scored at the start of the fourth quarter giving the Gators a 16-3 lead that was simply too much for the ĎCanes offense that spent much its time going nowhere.

While there are a number of positive things to take from Miamiís performance Saturday night, including Matt Bosherís 50-yard field that he kicked with great confidence to the fact that Bosher was not afraid to make some powerful tackles against Florida speed demons.

Other positives included the following:

ē Defensive coordinator Bill Young was ready. He put together a plan to stop Florida and it worked for three quarters. If anyone told me that the ĎCanes defense would have held Florida to seven points for three quarters, Iíd say they were crazy. And I am sure most ĎCanes would have been stunned. Even better, the only reason they gave up the seven is because the Gators got the ball at the 35-yard line to start the passion.

ē Sean Spence is clearly of the best defensive players on the University of Miami defense right now, if not the best. There isnít any doubt he should be starting with Glenn Cook and Colin McCarthy. He was in on play after play after play. He laid a vicious hit in the fourth quarter and picked up Miamiís only sack of Tim Tebow rag dolling the quarterback that outweighs him by 40-50 pounds.

ē Glenn Cook looks like a different player. He wonít be losing the starting middle linebacker spot any time soon. He looked very good against Florida and made a lot of plays. My opinion has changed of him. He really looks like a leader out there.

ē Brandon Harris is another one who should be in the starting line up. Heís the best cover corner Miami has right now. Chavez Grant bit up on the first touchdown pass for some inexplicable reason with Tebow rolling out facing major pressure. If he stays home, he knocks the ball away and the Gators have to kick a field goal. Harris just has that swagger and he needs to be on the field covering the opponentís best receiver.

ē The defensive line, for the most part, played very well. They got good pressure on Tebow sans the first series where the defensive ends failed miserably in containment as they got pinned inside allowing Tebow to roll out freely. But most of the game, the defensive line did a very good job.

Now to what drove me nuts, and I am not the only one because as I walked back to my car Saturday night, I ran into Sam Shields' mother and father as well as Jacory Harrisí father, not to mention a number of other Hurricanes fans who were crying for the same thing I and a number of other media members were bemoaning:

ē Play calling, play calling, play calling Ė on offense. If what offensive coordinator Patrick Nix called for a game is the best he can come up with, he will be out of a job at the end of the season. You pray for his success, but he has to do a better job of mixing it up. He is the absolute antithesis of Bill Young right now. While Young looked like he knew what he was doing, Nix's play calling made him look confused and clueless? While I understand the ĎCanes were trying to play it conservative to stay in the game and keep the Gators offense off the field, to win against a top five team on the road, you have to take chances. While itís okay to play it somewhat close to the vest for a portion of the game, how does Robert Marve get any better if you donít let him throw the ball? The ĎCanes threw the ball 22 times and only twice did the ball go downfield. More than half of the passes Marve and Jacory Harris threw were dump offs in the flat or screens that never worked. Players told me early in the week they saw weaknesses in Floridaís secondary and that they were going to downfield. Nix never tested them. There was not one crossing route thrown, not one post pattern thrown, nothing over the middle, no trick plays (remember you are a 22 Ĺ point underdog), nothing out of the ordinary. The ĎCanes essentially ran five offensive plays in different variations over a 60 minute football game. Wide receiver screen left and right, running back draw play, quarterback draw and a quarterback sweep. It was brutal and painful to watch. With the score 9-3, the chatter on the sideline was, the ĎCanes were one play from making it 10-9 (offensive or defensive) and having a lead in the second half. Had that happened, the mood of The Swamp would have changed. With that being the case, why did Nix not take one chance? Instead, it was screen, draw, screen, punt. It almost makes me wonder aloud if Nix ever saw film of Marve in high school. While I am sure he did, he needs to refresh himself on it and watch how Marve threw 48 touchdown passes and over 4,300 yards. That means he can throw the ball. Give him a chance to do that. When you are such a big underdog, if you lose, who cares, you were supposed to lose. But a couple of big plays and you have a shocking win. But weíll never know now because Nix refused to take a chance.

ē Itís time to play a certain amount of receivers. It was cute against Charleston Southern, but the ĎCanes played nine receivers against Florida, too many. Aldarius Johnson is probably Miamiís best receiver, but this constant in and out doesnít work. He caught almost 200 passes from his sophomore to senior year in high school. Heís got two catches in two games at UM. You canít be a game changer or playmaker if you are never getting the ball thrown your way. And the constant change in receivers affects the quarterback-receiver chemistry. Leonard Hankerson is currently listed as the starter. That needs to change. He dropped three passes including the first pass of the game. Sam Shields is barely getting on the field. He was expected to be one of the main targets. There is simply massive confusion at the receiver position and it needs to get figured out quickly. Five, maybe six receivers should play in a game, not 9 or 10. And thatís with Davon Johnson not traveling and with Jermaine McKenzie still injured.

ē Damien Berry was considered the ĎCanes best Special Teams players last year. He was a demon. He was suspended last week against Charleston Southern. Does that mean you donít play him on Special Teams? If there was a glaring weakness Saturday night, it was Special Teams. Matt Bosher should not have to make tackles on kick offs or punts and he had to do that three times. Berry would make a difference there. Get him back on Special Teams immediately.

ē Play one quarterback. I am one of Jacory Harrisí biggest supporters, but if Marve is the starter, make him the starter and play him as the starter throughout the entire game, i.e. the back up does not play unless the starter is completely terrible or gets hurt. Marve had just led a 16-play drive that led to Miamiís only points of the game. The defense then produced a three and out. And the next possession Harris was in the game. Just because Randy Shannon said he was going to play Harris doesnít mean he had to do it. He has the right, as head coach, to change his mind. And that was not the time to mess with the QB situation when Marve was finally getting his feet wet.

Visit our Message Boards to Comment on this Blog

Rudy Rodriguez-Chomat is in his fifth year covering University of Miami athletics and tenth year covering Miami-Dade High School Sports. He is a freelancer for The Miami Herald and has contributed to numerous other newspapers in the Southeast. He is also the co-host of the Miami Dolphins High School Sports Show which can be seen every Saturday at 10:30 p.m. on My33. He can be reached at rudyrc@insidetheu.com.

Go to top

| | |
| --- | --- |
| 76 | Hurricane Hanna Could Cancel Game |
Tue Sep 2, 2008
I know everyone is getting jacked up for the Miami-Florida game that is scheduled for this Saturday.

If you are, try to relax yourselves a bit because you might need to hold off the excitement for another week. With Hurricane Hanna looming out there in the Atlantic and a projected course skirting the state of Florida during the travel days, Thursday and Friday, itís quite possible and more than likely that the game will be cancelled.

Past history has shown that when a hurricane is anywhere around the state of Florida, games have been cancelled. Itís happened numerous times over the past ten years when there has been simply a threat of a hurricane.

Currently, Hanna is expected to skirt the state on Thursday and Friday, but the game wouldnít be cancelled then. If it was to be cancelled, that would be done by Wednesday allowing people to cancel hotel reservations so they donít get billed and before travel begins for fans.

Driving through tropical storm or hurricane winds is not something that should be done and schools have shown in the past that they care about the safety of their traveling fans.

Fear not ĎCanes fans. If the game is cancelled, it will probably be rescheduled a week later to September 13 as both teams have a bye week that week.

At the same time, rescheduling the game to a week later wouldn't be a bad thing for the 'Canes. It would give them another week of preparation for the Gators. It would also give the 'Canes time to be completely healthy. Allen Bailey and Eric Moncur would get another week or work making it more likely that they would play in the game, something the 'Canes need.

Weíll be sure to keep you updated as to what decision is made as soon as we find out.

Rudy Rodriguez-Chomat is in his fifth year covering University of Miami athletics and tenth year covering Miami-Dade High School Sports. He is a freelancer for The Miami Herald and has contributed to numerous other newspapers in the Southeast. He is also the co-host of the Miami Dolphins High School Sports Show which can be seen every Saturday at 10:30 p.m. on My33. He can be reached at rudyrc@insidetheu.com.

Go to top

| | |
| --- | --- |
| 75 | Brandon McGee and More |
Sat Aug 30, 2008
Friday night I got a chance to catch Plantation's Brandon McGee in game action. I expected to see him play quarterback, but it was my lucky night.

A teammate went down with a freakish injury, but nothing serious, forcing McGee into the line up on defense.

Coach Steve Davis inserted McGee at corner and it was lights out on half the field. McGee swallowed up the Ely receiver's and came up with a big interception that saved a touchdown.

He also threw a 62-yard touchdown pass on a screen.

There is no doubt that McGee will get a lot of time at corner this year because he is simply the goods. For someone who hasn't played a lot of corner, he's got a good back pedal and is able to break on the ball very well. He has excellent ball skills and instincts.

One thing Plantation is healthy and has McGee playing safety is a scary good Secondary.

Starting saftey Vlad Emelien is on the sideline right now with a torn ACL. He should return by the end of September. Once he's in the line up, the Colonels will have McGee, Emilien, senior corner Eric Jones and junior safety Devon Drane.

Drane is a special player who will be talking about a lot in the coming months.

But for Hurricanes fans, they should feel comfortable with McGee at corner because he's the total package.

Speed Kills

There is a team in Miami that has some scary speed this year and that's Monsignor Pace. When I say speed, I mean SPEED. Between Kayvon Webster and Derrick Hopkins, they can flat out burn. Add in Ronnie Dickens and you have a trio that can flat out fly. Watch out for Monsignor Pace this year.

Booker T. Suffers Injury

It was not Booker T. Washington's night last night as they got blown out by Hamilton High School out of Chandler, Arizona, 37-19. But don't let the scoreboard fool you. They played the game without the starting quarterback throughout the second half and it was evident. Torrance Moise injured his ankle in the first half and missed the entire second half. The game was 17-12 in the second half and turned into a blowout. The Tornadoes defense was gutted up the middle by a much bigger Hamilton team, but the fact is, this team is young. However, it is talented. It could have also been over confident. Hamilton killed that over confidence. Expect a much better performance next Saturday in Georgia against Warner Robbins Northside.

Northwestern v. Long Beach Poly Tonight

Northwestern plays host for UM safey Vaughn Telemaque's alam mater Long Beach Poly at Traz Powell Stadium in the finale of this weekend's Nike Fall Classic.

But don't expect much in this game. The Bulls lost a lot of talent and the Jackrabbits are flat out fantastic. I'd be surprised if Northwestern is able to keep this game close, but I also thought Booker T. would beat Hamilton so who knows what will happen.

However, if you go, the game is at 7:00 p.m. Traz Powell is located on N.W. 27th Avenue and 111th Street in Miami.

Rudy Rodriguez-Chomat is in his fifth year covering University of Miami athletics and tenth year covering Miami-Dade High School Sports. He is a freelancer for The Miami Herald and has contributed to numerous other newspapers in the Southeast. He is also the co-host of the Miami Dolphins High School Sports Show which can be seen every Saturday at 10:30 p.m. on My33. He can be reached at rudyrc@insidetheu.com.

Visit our Message Boards to comment on this blog




Go to top

| | |
| --- | --- |
| 74 | Fall Observations |
Sat Aug 23, 2008
The season begins in just six days and here are a few things I have noticed throughout Fall practice. Give me your thoughts on each point by visiting our message boards.

ē Coach Randy Shannon has constantly said that Eric Moncur and Allen Bailey will be ready to go against Charleston Southern. I would say thatís wishful thinking because neither has practiced one down yet as of the culmination of Fridayís morning practice. You simply donít play if you havenít practiced. And even if they do start practicing Sunday, is three days of real practice enough to put them on the field in the opener? At the same time, is it logical to risk further injury to either of them against a substandard Charleston Southern team? I would say no because Miami sure as hell needs both of them against Florida. Moncur and Bailey will probably not play against Charleston Southern in my opinion, but hopefully they will be ready for the Florida game. That being said, I wouldnít expect either of them to walk in and start even against Florida simply because they canít possibly be in any kind of real shape right now, certainly not in the kind of shape their teammates are in following three weeks of Fall practice. To comment on this visit our message board

ē The quarterback battle is going to be decided on Sunday according to Shannon. So who is it, Robert Marve or Jacory Harris? Yes, Shannon has also said that Cannon Smith is in the battle, but thatís not reality. If Smith was to be named the starter over Marve and Harris, it would be a P.R. nightmare for Shannon. So what should happen if Marve is named the starter? The immediate answer would be that Harris is his back up, right? I have a differing opinion on that one because the overall bigger picture of the program is more important than one single season. If Marve is named the starter, Harris should redshirt to put some separation between the two of them. Harris should still dress in the event that Marve gets injured and enter a game only in that event and be the quarterback if Marve has to miss extensive time, but that would be the only reason to use Harris. Blow outs and mop up duty should go to Smith. You donít burn Harrisí freshman year playing him as a back up. This is a kid who was named Mr. Football last year and was 30-0 as a starter at Northwestern. The ideal situation is that Marve doesnít get hurt and Harris doesnít have to enter a game so he can redshirt. The reason I say redshirt Harris is because if Marve wins the job and doesnít do anything to lose it, there should not be a quarterback battle in the Spring or Fall which would make Harris a permanent back up at that point. And if that happens, logically Harris would probably transfer at some point. You hate to say it, but what other option would he be left with? To comment on this visit our message board

ē Graig Cooper looks jacked in comparison to last year. Heís cut up and confident and confidence is as important, if not more important than having skills. If Cooper is confident enough to bang inside the tackles, coupled with the fact that Javarris James got a lot of reps in the Spring playing in the slot, why not utilize that more this season. That would seem to be something that could confuse opponents as itís my feeling we need to get our playmakers the ball and keep them on the field at all times. To comment on this visit our message board

Rudy Rodriguez-Chomat is in his fifth year covering University of Miami athletics and tenth year covering Miami-Dade High School Sports. He is a freelancer for The Miami Herald and has contributed to numerous other newspapers in the Southeast. He can be reached at rudyrc@insidetheu.com.


Go to top

| | |
| --- | --- |
| 73 | Position Breakdown: Quick Glance |
Tue Aug 5, 2008
Here's a quick glance at the position breakdowns right now:

QB - It's the battle of Robert Marve and Jacory Harris. Marve has a year up on Harris, but neither has taken a snap. Harris is the more accurate and probably a bit more pockey savvy whereas Marve is more likely to take chances and try to squeeze balls into tight coverage because of his arm strength.

RB - Javarris James and Graig Cooper are both going to get a lot of playing time and it would not be surprising to see James get a lot of slot action because he proved in the Spring he could catch the ball. Cooper is bigger and stronger, but does that mean he can take the pounded inside the tackles?

OL - The offensive line consisting of Chris Rutledge, Jason Fox, Reggie Youngblood, Joel Figueroa, Xavier Shannon and Orlando Franklin is the most sturdy and experienced of the positions on the field. But beyond the first six linemen, there isn't a lot of experienced depth. Chris Barney is getting reps with the first unit ahead of Franklin, but don't expect Barney to start ahead of Franklin when the season begins. However, if he can be a realiable backup, it will mean a lot for the offensive line.

TE - Dedrick Epps has the inside track to winning the starting position. His pass catching ability is better than that of Chris Zellner and Richard Gordon. Epps can make plays offensively. As long as his blocking continues to improve, he could be a very important piece to our puzzle this year.

DE - The defensive end is one of major concern. Allen Bailey is still out. Eric Moncur hasn't practiced yet. Courtney Harris is out for the year. The 'Canes are down to four healthy defensive ends right now in Steven Wesley and three who have never played a down in college in redshirt freshman Adewale Ojomo and true freshmen Andrew Smith and Marcus Robinson, who was actually recruited to play outside linebacker.

DT - This position is as questionable as DE. Antonio Dixon and Dwayne Hendricks are the loan seniors. Joe Joseph was visibly broken by the heat on Saturday. Josh Holmes and Chaz Washington are out for the Fall. Freshmen Marcus Forston and Micanor Regis can expect to get a lot of playing time with Forston in the mix to start.

LB - Linebacker seems to be a deeper position this year because of incoming freshmen Sean Spence and Arthur Brown who clearly bring the knack of making plays. Their ability to step into the starting lineup almost immediately adds serious depth to this team. Glenn Cook, Colin McCarthy and Daryl Sharpton are the starters, but how long can they keep Brown and Spence out of the lineup?

CB - One spot is solid in DeMarcus Van Dyke. The other one is wide open. Can Brandon Harris take the position the way Van Dyke did last year? Bruce Johnson and Carlos Armour are in their final hurrahs. Chavez Grant has never made the impact he was expected to. If Harris shows he can play right now, it's his spot to win.

S - Another position that remains up in the air with three seniors battling for the position in Randy Phillips, Lovon Ponder and Anthony Reddick. Freshmen Vaughn Telemaque and C.J. Holton (if he clears) will be on their heels. Ryan Hill has been moved back to defense and is now a safety. I don't know how much of an impact he'll have.

K/P - Matt Bosher is the kicker until he screws it up. Hopefully, he doesn't because a realiable kicker is always a key.

Rudy Rodriguez-Chomat is in his fifth year covering University of Miami athletics and tenth year covering Miami-Dade High School Sports. He is a freelancer for The Miami Herald and has contributed to numerous other newspapers in the Southeast. He can be reached at rudyrc@insidetheu.com.

Visit our Message Board to discuss Rudy's Rant



Go to top

| | |
| --- | --- |
| 72 | Shannon: Decisions, Decisions! |
Mon Jul 28, 2008
Fall practice starts on Saturday and people are very excited to see what the new look 2008 University of Miami football team will bring to the table, but everyone is already thinking about some of the key position battles and the tough decisions that Randy Shannon will be forced to make before August 28th when the 'Canes face Charleston Southern in their season opener.

The decisions that Shannon makes for this season could very well outline the Hurricanes future and it all starts with the position battles. These are not decisions to be taken lightly, not decisions that can wavered upon like a seesaw. Whatever choices Shannon makes starting this season have to be made with conviction and certainty because every spot is just so critical this year. While people look at the quarterback battle as the main battle, which of course is the most important position on the field, there is competition all over the field.

There are few positions on this team that are not up for grabs right now so Shannon's job this Fall will be very challenging. Mistakes are not an option as the 'Canes are looking to rebound from a 5-7. One mistake could mean another disaster season because football is such a team game (one missed assignment generally means a big play, possibly a touchdown) so what the are some of the main position battles that Shannon has to make prior to the season opener?

QB Robert Marve v. Jacory Harris - So who does Shannon go with? The redshirt freshman or the true freshman. There is really no right answer here. It has to be a decision made from the gut. The decision would have been so much easier if Marve had not gotten into a late Summer car accident last year. Had that not happened, it's likely Marve would have been starting by midseason and solidified the spot already. My Pick: Marve

WR Aldarius Johnson, Sam Shields, Jermaine McKenzie, Kayne Farquharson, Leonard Hankerson, Khalil Jones - This battle goes more towards who is in the top four as the 'Canes are expected to use a lot more shotgun this year and three-wide sets. There are rumors floating around about Shields' acadmic status that have not been confirmed by Shannon yet as he did not answer the question at ACC Media Day, but it's rumored Shields will miss a few games to start the season. If that happens to be true, it makes things a bit more interesting at the position. My Picks: Johnson, McKenzie, Shields, Farquharson

CB Brandon Harris, Bruce Johnson, Carlos Armour, Chavez Grant - Can the freshman take the spot? That's the question. If DeMarcus Van Dyke's ability to win a starting CB spot last year is any indication, Harris should be able to win the spot opposite of Van Dyke. Harris is a far more acclaimed corner than Van Dyke was entering last year, but it naturally has to be proven on the field. Johnson, Armour and Grant have not been able to get the job done over the past few years. If Harris shows the potential that Van Dyke did last year, it's his spot as long as he shows he deserves it. My Pick: Harris

LB Glenn Cook, Colin McCarthy, Daryl Sharpton, Sean Spence, Arthur Brown, Spencer Adkins, Romeo Davis - There are huge questions surrounding the linebacker positions because poor linebacker play essentially means poor defensive play and linebacker was a huge problem last year for the 'Canes. McCarthy missed the Spring allowing Spence to take his spot with Sharpton starting opposite with Cook in the middle. Cook is looked at as a leader, but at the same time, when he got playing time a couple of years ago, he was one of the more heavily criticized Hurricanes because of his lack of playmaking. He was the starter in the middle during the Spring. Brown came on late in the Spring after getting acclimated to the speed of the game. Davis is coming off an injury. It's a spot that's up for grabs. This may be the toughest decision for Shannon and linebackers coach Micheal Barrow. Does he roll with his youth and get Spence and Brown on the field surrounding Cook or McCarthy in the middle? Does he run with his upperclassmen? This may be the most important decision outside of quarterback. It's a decision I am glad I don't have to make. But I would go young looking at the future. My Picks: Spence, Brown and McCarthy

Regardless of what Shannon decides, they are the decisions that must be made and they are the decisions that will either get him praised or get him crucified. Tough position to be in.

Rudy Rodriguez-Chomat is in his fifth year covering University of Miami athletics and tenth year covering Miami-Dade High School Sports. He is a freelancer for The Miami Herald and has contributed to numerous other newspapers in the Southeast. He can be reached at rudyrc@insidetheu.com.

Go to top

| | |
| --- | --- |
| 71 | Academic Casualties |
Thu Jul 24, 2008
Over the past few months, we have heard all the rumblings on grades in reference to Class of 2009 running backs Lamar Miller and Jaamal Berry. That's been the main criteria that fans have based their opinions on why Miller has been left behind after Mike James committed and why Berry was never given an offer by Miami.

Fans never suggested on posts that coaches might simply think that Berry wasn't good enough to deserve an offer from UM. Fans never suggested that coaches might simply feel that Miller wasn't good enough to wait around for and not on the level of Brandon Harris who they waited for until signing day this past February. God forbid the coaches talent analysis be proven wrong and Miller and Berry go on to their respective schools and have phenomenal college careers, the same fans would crucify the coaches if Bryce Brown and Mike James don't have the same kind of phenomenal careers.

But rather than suggest that they don't think they are good enough, it has always been on different blogs and message boards, "I heard their grades were suspect." My question to those people is, "Who did you hear that from?" It remains my question to people who constantly post that Miller and Berry have bad grades, as if they've personally seen their transcripts or have personal relationships with Randy Shannon, with him in turn divulging information to them.

The moral of this blog is, if you are one of those people that makes comments about a kid's grades and if you had a son who was a football star, would you want people posting comments like that about your 16 or 17-year old son when they have no facts to base it on? I can assume the answer would be no.

Making comments about playing ability if you have actually seen the kid play is one thing because that's the right of the fan to say "I don't think he's any good," "he looks slow," "he's got poor vision," etc., but when you get into personal information about a 16 or 17-year old boy, it starts to cross the line. You can say, "he's not Miami material" or anything above but when I read comments on boards about "academics, character, morals and personal issues," it crosses the line because 99% percent of the time it is not based on fact. It's based on something you read by some other poster, blogger or fan, and then passed on as your own information as if it was fact. There have been plenty of football players at Miami who have barely made it into school after having horrendous grades in high school and gone on to do fine in college, namely because the school work isn't really that hard when a kid has to be in study hall 2-3 hours a day with tutors and have professors who like watching the football team win. So as long as kid show up to class, it's hard to fail no matter how slow of a student the kid might be.

The only reason I write this blog is after what happened earlier this week with three Class of 2008 signees heading to prep school in Brandon Washington, Antonio Harper and C.J. Odom while others have still not cleared the Clearinghouse and another is facing aggravated assault charges for breaking a bottle over someone's head.

While Miller's and Berry's grades are not the best in the world, they are no different than any other recruiting class that Miami has had over the years. There will always be academic casualties that don't qualify. It's the reason coaches are supposed to prepare themselves with back up plans. With commitments from Bryce Brown and Mike James, the 'Canes may be set at running back for this class, but why not keep Miller's offer on the table and extend one to Berry even if they think they will not qualify? At that point, they can do exactly what is being done with Washington, Harper and Odom and send them to prep school.

I read comments on Class of 2010 running backs Jakhari Gore and Eduardo Clements like they are coming to Miami already. What happens if they get badly hurt during their senior seasons? Then what? At the same time, while Gore seems to be a lock to come to Miami, he doesn't weigh more than 160 pounds, and Clements likes FSU more than Miami at the present time. Regardless of that, Miller and Berry are arguably better overall backs than both Gore and Clements.

By sending Miller and Berry to prep school if they don't qualify, then Miami has a backup plan already in place for 2010 if Gore and/or Clements don't end up siging here. And even if Gore and Clements did sign with Miami, wouldn't it be better to have a log jam of stud running backs rather than not having any? On top of that, once Miller and Berry did go off to prep school, they would be under no obligation to re-sign with Miami anyhow.

Naturally, you don't want to have academic casualties in a recruiting class, but it happens. It happened with Arlington Highsmith, who ended up going to LSU, not because he didn't qualify by NCAA standards, but because he didn't qualify at UM. It happened with Darnell Jenkins who ended up enrolling at UM in the Spring. It happened with Graig Cooper and Antonio Dixon who were both sent off to prep school. So this is not something new to college football or the University of Miami.

But at the same time, I never read any blogs or posts written with the same kind of vigor and vitriol, and what seems like borderline hatred, about the academic standing of Washington, Harper or Odom the way people have spoken about Miller and Berry. Why is that?

Rudy Rodriguez-Chomat is in his fifth year covering University of Miami athletics and tenth year covering Miami-Dade High School Sports. He is a freelancer for The Miami Herald and has contributed to numerous other newspapers in the Southeast. He can be reached at rudyrc@insidetheu.com.

Go to top

| | |
| --- | --- |
| 70 | Udofia: A Future Star |
Tue Jul 15, 2008
Sunday, I spent my entire day at the Breakdown Hoops Festival and caught a glimpse of the future talent that could be heading to Coral Gables to lace up the sneakers for the University of Miami.

There was some top notch talent in the building: Derrick Favors (who didn't play either game Sunday), Ari Stewart, Patrick Young, Kenny Boynton, Brandon Knight, Keith Clanton, Richard Howell, C.J. Leslie, Charlie Reddick, Wally Judge, Rodney McGruder, Dexter Fields, Terrance Beasley and more.

But one player stood out above the rest.

While current UM freshman Dequan Jones was the star of the WorldWide Renegades last year, point guard Mfon Udofia is clearly the team leader this year and he does it by example.

He's rough and rugged. He's only 6-foot-2, but he's an intimidating presence for someone that size.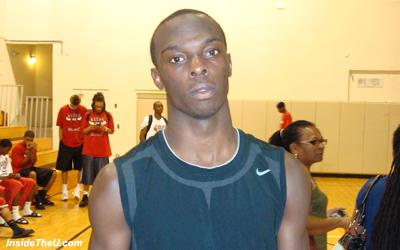 He's aggressive and he attacks the hole. He finds his teammates open for easy buckets. He sees the court exceptionally. He's fast. He plays defense. He can shoot. Flat out, Udofia is the "total package."

Watching him on the court gave me goose bumps not just because he's definitely a top priority on Frank Haith's wish list, but moreso because he controls the game effortlessly.

Udofia averaged 15.5 points per game in two games Sunday, both wins. But he's got that "it" factor that Jack McClinton has. He's got that winner's mentality. You can see it in him.

Best of all, he likes Miami too. Hopefully, enough to sign here and play alongside Jones.

Rudy Rodriguez-Chomat is in his fifth year covering University of Miami athletics and tenth year covering Miami-Dade High School Sports. He is a freelancer for The Miami Herald and has contributed to numerous other newspapers in the Southeast. He can be reached at rudyrc@insidetheu.com.



Go to top

| | |
| --- | --- |
| 69 | Breakdown Hoops Festival |
Wed Jul 2, 2008
July 13-15, 2008, at LaSalle High School in Miami, the Breakdown Hoops Festival returns after a one-year hiatus.

For those that are not familiar with travel team basketball, July is the biggest month of the Summer. Itís the period where college coaches flock to basketball tournaments across the country, from Miami to Los Angeles, Las Vegas to Orlando, Houston to North Augusta to see the best and brightest future stars of the game.

It's at these events where Roy Williams, Coach K, Lute Olsen, Frank Haith, Rick Barnes, Paul Hewitt, Gary Williams and more will line the court watching intently as they analyze which players best fit their respective programs.

Ten years ago, if you wanted to play in an exposure event that got national recognition, there was a short list of places to play. It was Las Vegas, North Augusta or Orlando.

However, times have changed and the market has grown incredibly which has led to the Breakdown Hoops Festival.

Three years ago, Team Breakdown, one of the elite travel teams in the nation brought the Breakdown Hoops Festival to Miami. It produced some top-notch basketball that featured the likes of Greg Oden, Daequan Cook, Eric Gordon, Mike Conley, J.J. Hickson, Dwayne Collins, Corey Fisher and Chris Allen. Some of those names may ring a bell as five of them are now in the NBA, taken in the 2007 and 2008 NBA Drafts.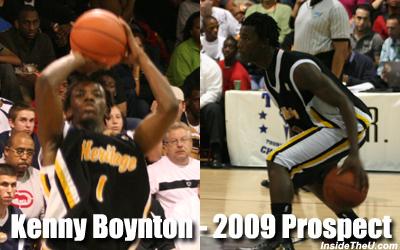 That was just the beginning. In 2006, the tournament returned. Hickson, Allen and Fisher returned to Miami to compete. Joining them was a couple of current Hurricanes, Dequan Jones and Julian Gamble (it was at the 2006 Breakdown Hoops Festival where Haith first saw Jones and Gamble) as well as Dominique Sutton, Kenny Boynton, Brandon Knight, David Blackwell, Mareese Speights, Fred Brown and Justin Burrell.

The tournament tips off on Sunday, July 13th at 9:00 a.m. as games will be played all day until 9:00 p.m. The event resumes the 14th for another exciting day of basketball, culminating with championship day on the 15th.

You can expect some big time talent in the house in the 2008 version of this talent-laden event, including Boynton, Knight, Ed Waite, Keith Clanton, Lance Stephenson, Lorenzo Brown and Ari Stewart. The list is sure to keep on growing.

So if you are a big time basketball fan and want to see the stars of the future on the hardwood make sure you attend the Breakdown Hoops Festival.

Rudy Rodriguez-Chomat is in his fourth year covering University of Miami athletics and tenth year covering Miami-Dade High School Sports. He is a freelancer for The Miami Herald and has contributed to numerous other newspapers in the Southeast. He can be reached at rudyrc@insidetheu.com.


Go to top

| | |
| --- | --- |
| 68 | My Apologies |
Mon Jun 30, 2008
When I wrote the blog that I wrote last week I became the dartboard for everyone. While I can take being drilled by fans that disagree with me about some of the things that I say, please do not take what I write in a blog as an indicator of what InsideTheU.com is all about.

My blogs are from me. They are not from Chris Stock. They are not from David Lake. They are from me. So if you want to drill me, drill me, but donít drill the site, donít drill my partners, because since August 2007 I donít think there is any doubt that this site as a whole has done far more than any other that covers UM.

Whether itís been camp attendance, high school game attendance, practices, UM football, basketball and baseball games, track meets, soccer games, and more, InsideTheU.com is usually there whether itís one of us, two of us, or all three of us.

No other site can stake claim to traveling with Booker T. Washington to South Carolina last year. No other site can stake claim to a Spring Tour of many of the high schools in Dade, Broward and Palm Beach Counties.

So if you are mad at me, blast me (which youíve done a good job of), but donít blast the site because just like any radio station makes a disclaimer prior to any radio show, ďthe views of the host are not those of the station.Ē That goes the same for InsideTheU.com. My views that I write about in a blog are not those of the website as a whole.

Do I make mistakes with some of the things that I say? Yes. Do I write passionately? Yes. Am I blinded by my passion at times? Yes. Am I perfect? Far from it.

Let it be known though that I am not someone who dislikes the Miami Hurricanes. Iíve been a Hurricanes fan since I came out of the womb. I was six years old sitting in the Orange Bowl (R.I.P.) on January 2nd, 1984, watching Miami win its first National Championship. I bleed Hurricanes. Hurricanes gear covers my car; itís in my room; itís all over the place in my house. Up until I started covering the different teams, I would literally cry when we lost a football game, and God forbid we lost to Florida State, the rest of the year until we played them again would suck. And if we lost to Notre Dame, 31-30 in 1988, I wanted to commit suicide.

Unfortunately, now I have to take off the blinders. I have to try to watch games with a more realistic perspective because now I have the chance to see whatís really there right now. I canít watch Miami with blinders and while many people want me to praise the team, praise the program and praise anything that is done in Coral Gables, I will do it when itís warranted, but itís not always warranted, not when you go 7-6 followed by 5-7.

I read a post where someone said that Miami could go 5-6 starting a freshmen team alone. Thatís the way I used to think. But thatís simply not reality. As good as this group of freshmen is, there are some freshmen that are ready to play now (i.e. Sean Spence, Aldarius Johnson, Marcus Forston, Jacory Harris, Brandon Harris, Vaughn Telemaque, Arthur Brown), but there are a number of them who arenít for a number of reasons, but the main one would be not being physically strong enough. In the Sun Belt, maybe they could go 5-6 as a freshmen team, but not in the ACC.

Keeping my blinders off, if Miami goes 8-4 in the regular season in 2008, it would be a major turnaround from last year and definitely show plenty of progress. And the possibility of 9-4 with a bowl win would have to be considered an extremely successful year.

But like I said, I was not trying to offend any individual player and I definitely didnít call out any individual coach or coaches and I never mentioned Randy Shannonís name anywhere in my blog.

Will I question moves on all fronts? Yes. Whether itís play calling, which player is playing, situational decisions and recruiting, I will question something if I donít agree with it. It doesnít make me love the ĎCanes any less.

And if the ĎCanes are successful, I will praise the heck out of them too. Believe me, Iíd much rather be praising Miami 24/7 rather than ever questioning anything.

On Mike James

Certainly I was not trying to offend Mike James. I didnít write a negative word about him. Maybe it came off negatively to readers and for that I am sorry to Mike James and anyone else who was offended by my statements, but I do not think negatively about James or any other player that Miami has a commitment from.

I donít know them personally as human beings so for me to say anything negatively about them would be incorrect.

I have not seen Mike James play a down of football in person and I believe that is the way you judge a talent. I have seen his highlight film and itís very impressive. But highlight film does not tell an entire story. Highlight film is nothing more than your best runs. While it may show five carries from a particular game, which are all great runs it doesnít show everything. Either way, he does look good.

James looks like a bruiser on the field. He runs people over. I didnít see one guy tackle him alone in any of the carries on the highlight film and I saw the ability to break tackles very well. Heís got a good base and low gravity that makes him tough to bring down. He churns out some serious power from his legs.

All in all, he seems to be a very good prospect and a nice pick up for Miami. But if the ĎCanes were looking for a game breaker in terms of speed, James is not the guy. Heís not as fast as Lamar Miller, Bryce Brown or Jaamal Berry. And some of those runs he broke off for touchdowns in those highlights would not happen down in South Florida because guys would more than likely catch him from behind. Heck, Iíve seen Miller caught from behind in person down here and he runs a 4.32 in the 40.

However, it should be noted that James has been quoted by David Lake that Miami is looking to bring in only two running backs, him and Bryce Brown. My question to the fans that have been blasting me is, does that make you happy that Miami is stopping at two running backs? If it does, great, but I donít see Brown coming in here and starting as a freshman. Nor do I see that from James. And I really canít see either of them getting any kind of significant playing time in situations that matter as freshmen. Not that I would expect Miller to get any significant playing time either as a freshman.

Miami will have Javarris James as a senior and Graig Cooper as a junior at that point. And letís not forget about the fact that Damien Berry moved over from safety to running back. Berry played running back 70 percent of his senior year with a torn ACL so toughness, grit and determination are surely not a problem for him. So essentially, the ĎCanes will now have three running backs that are similar build and style runners in Berry, James and Brown, not to mention Shawnbrey McNeal and Lee Chambers. Could Brown and James both redshirt? I think there is a good possibility of that happening.

Offensive Line

I made a comment about the tight ends that are being recruited to play offensive tackle. My issue with that is that when you recruit a tight end to play offensive tackle, thatís not someone that is being recruited to be ready to play now. The three tight ends that Miami has commitments from all weigh between 230-240. It would take each one of them at least one year, probably two years to get up to the necessary weight (290-310) to be successful on the offensive line at tackle, of course, assuming you want the weight to be muscle weight, not jelly roll weight that could be added by simply living in the cafeteria.

Over the past four years, Miamiís offensive line has been a huge issue. Thereís been little depth and a propensity to give up sacks. After giving up four sacks the year Miami won the National Championship in 2001, the ĎCanes have given up 15 sacks, 17 sacks, 25 sacks, 36 sacks, 22 sacks and 25 sacks. Not to mention how often quarterbacks were chased out of the pocket because they had no time to throw or the numerous times running backs got flattened in the backfield because the line failed to pick up a blitz or just simply missed a block. Quite often an interception is as much the offensive lineís fault as it is the quarterbackís fault.

Our rushing totals have dipped drastically since Willis McGahee rushed for 1,753 yards. While our running backs have not been on McGaheeís level, they also havenít been so terrible that none of them has eclipsed 1,000 yards in a season. Thatís directly attributable to an offensive line that hasnít been close to being as good as the lines Miami had from 2000-2002.

Miami needs some maulers on the offensive line now, not in two or three years.

But anyhow, thatís about all I am going to say on this blog. Itís long enough as it is. However, hopefully this blog clarifies some of my comments in my previous blog that ruffled so many feathers last week. Of course, if you want to contact me directly, you can reach me at rudyrc@insidetheu.com.

Rudy Rodriguez-Chomat is in his fourth year covering University of Miami athletics and tenth year covering Miami-Dade High School Sports. He is a freelancer for The Miami Herald and has contributed to numerous other newspapers in the Southeast. He can be reached at rudyrc@insidetheu.com.

Go to top

| | |
| --- | --- |
| 67 | Classless Move! |
Tue Jun 17, 2008
Before I talk about the UM baseball team, I just had to say a few words about former New York Mets manager Willie Randolph. I've been a baseball fan my entire life and grew up watching Randolph play for the Yankees with the likes of Rickey Henderson and Don Mattingly as I am a die hard Yankees fan.

While Randolph's teams clearly underachieved, it's unreal that a professional franchise would do what the Mets did this morning firing their manager at 3:15 a.m. If that is not a complete lack of class and professional respect, I don't know what is.

Randolph boarded a plan for a road trip that started Monday. He won the game, the Mets third win in four games. His reward, being fired after the game. The Mets could have taken care of this Friday, Saturday, even Sunday (Father's Day), but the classless Mets organization had him fly across the country for one day to fire him out West where the New York media could not assasinate the front office. If that is not the biggest act of cowardice I've ever seen in baseball, I don't know what is.

Hopefully, the Mets will go like 60-102 just so the Wilpon's get screwed just like they did to Randolph.
*******************************************************************

Now that I got that out of way, what a day it was yesterday. The hearts were pounding watching Carlos Gutierrez nearly blow it again. I know mine was.

As bad of a situation as Monday could have been, the 'Canes came away in a pretty good spot. They play Stanford Wednesday and get to throw starter Enrique Garcia who is surely confident after his performance against Arizona.

They didn't really have to go into their bullpen Monday night so all the guys who basically haven't pitched for a month still haven't pitched. So they should be REAL fresh.

And if Miami is able to beat Stanford, which I think they will do, the 'Canes can send Chris Hernandez to the mound on Friday and Eric Erickson to the mound Saturday and actually have the rotation intact.

What Miami needs is solid starting pitching. Morris has to let these guys go at least seven innings if they are doing the job. Snatching them out for the purpose of snatching them out is pointless.

Next Monday we would send Garcia, followed by Hernandez Tuesday and Erickson Wednesday, if necessary. So the pitching situation isn't all that bad becuase we have three quality starters.

Either way, the first hurdle was cleared by beating FSU, the toughest match up we had in the bracket.

However, regarding what Morris said following the game that he still has confidence in Gutierrez, I pray that was just coach speak because if he goes with anyone other than Bellamy in the ninth inning, I'll be at a loss for words. If we are in a 3-2 game in the ninth and he puts in Gutierrez again, I will simply turn the television off because I won't be able to take the agony. Maybe he's not watching the games that closely, but Gutierrez is done. Mentally, he's cooked. The slider isn't sliding. The fast ball is straight and dead center making it easy to hit and it's just of matter of accepting it. All you had to do yesterday was look in his eyes and you knew it. This isn't 3,000 Hurricanes fans in Coral Gables. This is 25,000 in Omaha. Different settings sometimes shrivel you up and right now, the atmosphere has eaten Gutierrez alive.

Of course, I feel terrible for the kid, but the reality is, he clearly doesn't have it right now, and he really hasn't had it for the past few weeks. If Morris does stick to that, I pray Gutierrez finds whatever it is he had earlier this year or it will be an ultra long summer for him.

Rudy Rodriguez-Chomat is in his fourth year covering University of Miami athletics and tenth year covering Miami-Dade High School Sports. He is a freelancer for The Miami Herald and has contributed to numerous other newspapers in the Southeast. He can be reached at rudyrc@insidetheu.com.

Go to top

| | |
| --- | --- |
| 66 | Questionable Move? |
Mon Jun 16, 2008
I am frustrated. Why you may ask? Look no further than a ninth inning catastophre Saturday night against Georgia. I think I've summed up the way I feel for the most part in my report card following the game, but the reality is, Miami is on life support following a complete an utter choke on Saturday night. And it wasn't just a one player choke. It was a team choke.

From back-to-back strike outs by Mark Sobolewski and Dennis Raben in the third inning with two on and none out in a 3-1 game to an inexcusable miscue by Yasmani Grandal in the ninth to Carlos Gutierrez's throw that nearly sailed into the stands, the 'Canes choked. There is no other way to slice it. At some point everyone chokes, but following a 52-9 season and a number one national ranking and a number one overall seed, you wouldn't expect this from this team. Too often they were the ones coming back late in games to pull off big wins.

But for the first time this season, the 'Canes blew a lead after eight innings breaking a 45-0 mark this year when leading after eight.

By the way, has anyone seen Sobolewski or Dave DiNatale at the plate? Did these two go on vacation because their hitting stroke surely has. DiNatale's batting average has dropped over 60 points since April and he's become almost an automatic strike out and Sobo has seemingly forgotten how to hit as well. For as much line up shifting as Jim Morris has done this year, Sobo should drop at least two spots in the order and DiNatale quite possibly should be moved to the bench and Jason Hagerty should be at DH.

Do the 'Canes have a chance to win the championship? Of course. They are not eliminated yet so they naturally still have a chance, but losing the opener to Georgia the way they did doesn't bode well for their chances. Let's just say I wouldn't go to Las Vegas and put my bank roll on it happening.

Not only do they have to shut down the best hitting team in the country today in Florida State, they have to also score some runs. Luckily for them, as well as the 'Noles hit, they pitch just as badly. Beyond that, they have to beat both Stanford and Georgia once or twice just to make the championship series.

If they are able to do that, then I would go back to my first prediction that Miami is going to win the championship, something I said months ago when they were sitting at 26-2. At that point, all bets are off and the 'Canes will have just as good a chance as their opponents, sans the fact their pitching staff will be exhausted.

Their pitching staff will be that way because (1) they blew game one so now you throw any and everyone on the mound in order to win; (2) the starters are never allowed to go deep into games, usually exiting by the sixth or seventh inning even if they aren't in any kind of trouble and controlling the game (a walk or base hit does not mean you are in trouble); (3) the bullpen has been widdled down to two pitchers, Kyle Bellamy, whose arm is rubber by now and Carlos Gutierrez, whose confidence has to be close to shot following his blunder against Georgia.

Both of them, however, make me think of John Wetteland every time they take the mound, give me a heart attack after walking a couple guys or giving up some hits and then finding a way to get out of the inning usually.

Which leads me to the biggest question I have and it's a move I will surely put on blast if it fails because I am ready to put it on blast right now. With Eric Erickson and Enrique Garcia available to pitch today (Miami's No. 2 and No. 3 starters all season long), Morris has chosen to go with seldom-used starter David Gutierrez today against the best offense on the planet in Florida State. With an ERA hovering five, this is not the move to make. Maybe Gutierrez pitches great and the 'Canes win, but do you really want to stake your season against the best offense in the country with an arm you use once in a while?

Erickson and Garcia are full time starters. Garcia pitched a masterful game against Arizona in the clincher last week. To me, he'd be the obvious choice. Erickson, at one point this year, was simply unhittable, but Gutierrez, even with a 5-0 record is a very questionable move to start the most important game of the season.

Quite frankly, Gutierrez shouldn't be starting unless it was in an emergency move and this is not an emergency. He should be the guy that comes out of the bullpen in middle relief if the 'Canes starter failed to do the job. Now, who do you bring out to try to fix things if Gutierrez gets shelled by the third inning which is quite possible? Anthony Nalepa who Morris has shown zero confidence in? Iden Nazario who has barely pitched. Alex Koronis who hasn't seen action in a while? P.J. Fisher who hasn't pitched in weeks? I mean seriously, how do these guys go out to the mound with any confidence whatsoever when their coach hasn't pitched them for the most part in over a month?

These are the choices that Miami is now left with other than bringing in Erickson or Garcia who truthfully, can't pitch today because we have to assume that Miami wins because we need starters for Wednesday and Friday.

Gutierrez won the ACC Championship game over Virginia, but Virginia didn't exactly have the line up FSU has. Gutierrez has pitched all of one inning against the 'Noles and gave up four runs. That's a 36.00 ERA against the 'Noles. Not exactly numbers that would have me sizing championship rings.

Simply stated though, the way Miami cures all this nonsense is by hitting the ball. It's as simple as that. The 'Canes have scored more than seven runs only twice in their past seven games, scoring 11 against Ole Miss in the Coral Gables Regional and 14 in game two of the Coral Gables Super Regional.

Other than that, Miami has scored seven against Bethune Cookman, six against Missouri, three against Arizona, four against Arizona and four against Georgia. This coming from a team that averaged over nine runs a game this season.

What makes it frustrating is that it's not like Miami hasn't proven it can hit against great teams. The 'Canes had seven game stretch earlier this year that was as good an offensive hitting display as I've seen based on the level of competition. They scored 10, 15 and 9 runs in a three-game sweep of Georgia Tech in Atlanta, then scored 12 runs at FAU and then went to Tallahassee scoring 11, 5 and 12 runs taking two of three from the 'Noles. So this team can hit.

It's simply a matter of getting back to what they did when they were doing that. Making the right play, not trying to hit a home run on every swing. Playing small ball. These are the things that win championships. Not getting a couple on and swinging for the fences. If they can do that, the 'Canes win the championship, but if they keep approaching the plate the way have been lately, it could make for a very short stay in Omaha. Let's hope the change happens today.

Rudy Rodriguez-Chomat is in his fourth year covering University of Miami athletics and tenth year covering Miami-Dade High School Sports. He is a freelancer for The Miami Herald and has contributed to numerous other newspapers in the Southeast. He can be reached at rudyrc@insidetheu.com.

Go to top

| | |
| --- | --- |
| 65 | Stick to my Day Job |
Mon Jun 9, 2008
I'll be the first one to say that when it comes to picking baseball games, I really don't know poop.

My picks for the Super Regionals have simply gone up in smoke. I don't claim to be some kind of prognosticator, but man, I could have flipped a coin and done better than what has transpired thus far.

Where do we begin?

No. 1 Miami v. Arizona - After blowing Game 1, our 'Canes came back and took care of business, but there were plenty of tense moments this weekend in Coral Gables. Thank goodness Arizona had Dwight "Muscle Milk" Childs in its line up so we had a pretty much guaranteed out every time he came to the plate. But the reality is, Miami has got to pitch in order to bring home a fifth National Championship. Miami 2-1

No. 2 North Carolina v. Coastal Carolina - I learned that the Big South really can't compete in a big game against an ACC opponent, or at least that Coastal Carolina was no match for UNC. While I picked the Tar Heels to win in three games, I didn't think they'd destroy CCU the way the did. UNC 2-0

No. 3 Arizona State v. Fresno State - As of right now, the No. 4 seed in the Long Beach Regional could end up being the shocker of the Tournament overall. They shouldn't have made it out of their Region and now they forced a third game against Arizona State. If they win tonight, it has to be one of the biggest upsets in history.

No. 4 Florida State v. Wichita State - I didn't pick Wichita because I hate Florida State. I picked the Shockers because I actually expected them to win. FSU chokes all the time so how stunning would it be for them to choke again. They got beat down in Game 1, but like they did in the Tallahassee Regional, they battled back to win the final two rather easily to advance to their first CWS in eight years. FSU 2-0

No. 5 Cal State Fullerton v. Stanford - The Cardinal travled to CSF and bullied the Titans winning the first two games to win the series 2-0. So much for that pick. Stanford 2-0

No. 6 Rioe v. Texas A&M - This one was staring down the barrell of a third game as the Aggies led 5-2 late, but a home run in the eighth put this one to rest as well as my pick of Texas A&M. Rice 2-0

No. 7 LSU v. UC Irvine - A five run ninth inning was the difference in me being wrong with another pick as LSU saved its season with a five run rally in the top of the ninth yesterday to force a third game after losing the opener at home. Maybe I'll be this one right, but again, I thought LSU would finish this in two.

No. 8 Georgia v. N.C. State - The Wolfpack forced a third game, but as soon as they did that, Georgia started scoring. The Bulldogs put up nine runs in the first inning taking a 9-0 lead en route to a 17-8 win in the third game to win the series. The guy I thought would dominate, Clayton Schunick, got roasted in Game 1 on Friday. That set the tone for the weekend. The Wolfpack were one win away from making the CWS 50% ACC. Georgia 2-1

My beef with the Super Regionals

I have a major beef with the rules of the Super Regional. Similar to the NBA or any other pro sport, what purpose does it serve to have the best record in college baseball? Clearly none.

Miami earned a No. 1 national seed by being the best team all year. For what reason exactly?

The 'Canes got to a host the Coral Gables Regional and the Coral Gables Super Regional. So what! All that was worth was playing at home, but not actually being the home team.

How does it make any sense that the No. 1 seed in the entire tournament is playing as the ROAD team in the third game of the Super Regional that is being played on its home field? Never is a No. 1 seed traveling to begin with and if you noticed, the top eight seeds in the tournament all hosted a Super Regional.

NCAA logic dictates that a coin flip determine who is host to the final game of the three game series, so Arizona won that coin flip and got to be the home team. So why play an entire season if it doesn't mean anything?

In college basketball, North Carolina played every game until the Final Four less than an hour from its home in Chapel Hill. Being the best team in the country earned them that right.

I just don't get how the higher seed gets essentially penalized by this absurd system. It happened in Tallahassee too as FSU was the road team Sunday against Wichita State in the third game.

The NCAA lacks logic in a lot of things, especially the ridiculous BCS system, but NOTHING is worse than being a higher seed, playing at home only to be the road team. It's just stupid and erases all advantage of playing at home to begin with.

Rudy Rodriguez-Chomat is in his fourth year covering University of Miami athletics and tenth year covering Miami-Dade High School Sports. He is a freelancer for The Miami Herald and has contributed to numerous other newspapers in the Southeast. He can be reached at rudyrc@insidetheu.com.



Go to top

| | |
| --- | --- |
| 64 | Ugly Baseball on Friday |
Sat Jun 7, 2008
Was that really the No. 1 team in the country? It certainly wasnít the team that Iíve seen play all season. Miami entered Friday nightís Super Regional Game 1 in Coral Gables as the best team on the planet. The ĎCanes were 50-8 entering the game.

As good as Miami has been this year, the ĎCanes find themselves one game from seeing their season end as they face elimination Saturday at Mark Light Field following a 6-3 loss in 11 innings.

In the eight losses the ĎCanes had this season prior to tonight, not one loss looked at bad as this one. Not because they lost, but because they created ways to lose that a top-ranked team should never ever be able to do.

For a team that dominated opponents with its hitting, Friday night was far from a thing of beauty at the plate for Miami. Other than Dennis Raben, the Hurricanes bats were nonexistent. And intelligent and quality play other than 16 whiffs by an Arizona batting line up that looked as dazed and confused as it gets simply didnít happen.

Bad base running, the inability to square up on a sacrifice bunt, a questionable pitching move, lousy defense behind the plate and a complete lack of patience at the plate plagued Miami throughout.

Freshman lefty Chris Hernandez continued to be absolutely dominating. After giving up a two-run home run in the second, he retired the next 14 Arizona hitters making them look silly much of time.

Even in giving up the home run, it should have only been a solo shot if not for a lousy throw from Ryan Jackson to Yonder Alonso on an easy double play ball. Jackson fielded the grounder, stepped on second and uncorked a throw in the dirt that hit Alonso in the face off the bounce as he was unable to handle the throw.

Itís a throw that Jackson has made all year and a throw he would be the first one to say he should have made. The only reason it wasnít ruled an error is because double plays are not assumed, and it was simply ruled a fielderís choice. But in Jacksonís book, it was an error and a costly one.

Not until Brad Glenn hit a nubber to third reaching on an infield single in the top of the seventh did the Wildcats record their third hit. Coach Jim Morris followed a script heís used all season pulling Hernandez even though the freshman was in complete control following a strike out leaving Glenn at second only because catcher Yasmani Grandal couldnít handle a breaking ball, a pitch he called, something thatís becoming all too familiar when Grandal is behind the plate.

Instead of leaving Hernandez in, Morris pulled him in favor of Kyle Bellamy who has struggled a great deal since the ACC Tournament.

After inducing a first pitch pop up to left by C.J. Ziegler, T.J. Steele laced a single to left following another wild pitch on another ball that Grandal failed to handle even though he called for the pitch.

Frustratingly enough, if Ziegler had still been at first, Steeleís single wouldnít have scored him and probably wouldnít have scored from second either because of the throwing arm of Adan Severino in left field who has gunned down numerous base runners at the plate.

But Grandalís continuous inability to field balls in the dirt when Arizona catcher Dwight Childs is blocking everything in the dirt, which was about every other pitch with the Wildcats pitchers throwing a plethora of curve balls five feet short of Childs, makes any Hurricane fan frustrated. It also have to resonate in Morris' mind to get Jason Hagerty back in the line up because Grandal has simply struggled behind the plate catching.

Grandal tried to make amends for his mistakes after Bellamy started taking care of business. In the bottom of the ninth, Grandal drilled a double to center field that would have been a home run on any other day except for the fact that a ridiculous wind that was destroying balls in the air hit the right and center field all night knocked it down just short.

Blake Tekotte had one job. Drop down a bunt to third. Instead, Tekotte attempted to bunt a head high fastball on the first pitch that he bunted foul. On the next pitch, for some reason he was swinging away and fouled a pitch off. Then he struck out.

At the same time, Grandal was pinch run for by Jonathan Weislow who has good speed, but his good speed did not include good judgment as he made a brutal base running blunder.

Jemile Weeks was hit by a pitch on his toe and Alonso was finally given a chance to hit after being intentionally walked in his previous two at bats. Alonso smoked a ball to the gap which looked like it would fall to give Miami the win, but that wicked wind knocked the ball down and Steele was able to make a spectacular catch in the gap.

Even though it looked like it would fall, Weislowís first responsibility as a base runner was to make sure it fell, not sprint towards home like their were two outs in the inning. His awful base running mistake cost the ĎCanes a chance to win the game in the ninth with Mark Sobolewski left standing on deck. Not saying Sobolewski would have singled him home, but Weislow may actually have scored from second on the fly ball by simply tagging because of where the ball was caught and how week Steele's throw into the infield

Overall, the ĎCanes were 1 for 13 with runners in scoring position which certainly attributed to the loss as well.

But with all of that happening, the way Miami lost the game in the 11th inning has to make your stomach turn. Carlos Gutierrez had a chance to end the inning after striking out the first two hitters he faced in the 11th, but with Colt Sedbrook praying that Gutierrez wouldnít throw another slider, Gutierrez granted that prayer and plunked Sedbrook right in the middle of the back with a fastball.

Why a fastball when the Wildcats were looking puzzled at plate with the slider? But a hanger was drilled to left by Glenn to put runners at first and second and Jon Gaston finishes the ĎCanes off blasting a hanger over the middle to over the right field wall for the win.

A night of questionable decisions, bad play, lousy hitting now has the Hurricanes on the brink of elimination. If there is a team that can come back and win this series itís these Hurricanes, but they need to wake up and get back to playing Miami baseball because what was displayed on the baseball field Friday night simply wasnít that.

Rudy Rodriguez-Chomat is in his fourth year covering University of Miami athletics and tenth year covering Miami-Dade High School Sports. He is a freelancer for The Miami Herald and has contributed to numerous other newspapers in the Southeast. He can be reached at rudyrc@insidetheu.com.

Go to top

| | |
| --- | --- |
| 63 | Rudy's NCAA Picks |
Fri Jun 6, 2008
The Super Regionals open today all over the country including in Coral Gables as the ĎCanes host Arizona in a best of three series. The winner advances to the College World Series in Omaha starting next week.

That being said, here are my predictions on each series and which teams I expect to advance to the CWS.

No. 1 Miami v. Arizona - The ĎCanes bats are simply too good. Even when they are not hitting, they still hit better than most other teams. The Wildcats have some big lumber (metal) at the plate, but the ĎCanes simply have the best line up in the country from No. 1 to No. 9. Itís a home series making it even tougher on the road ĎCats. The ĎCanes are a ridiculous 46-4 at home in the postseason since Jim Morris became the skipper. Never has Miami lost a Regional or Super Regional under Morris at home.Rudyís Pick: Miami 2-0.

No. 2 North Carolina v. Coastal Carolina - Call it a hunch, but this will be a tough series for North Carolina. CCU is 50-12 for a reason. They are darn good, but UNCís pitching will be too much. The best rotation in the country along with the best ERA, the Tar Heels will win this series, but it will be tougher than many people might think. Rudyís Pick: UNC 2-1.

No. 3 Arizona State v. Fresno State - The Sun Devils should roll through this one and get to the CWS as they have been one of the best teams in the country throughout the season. Rudyís Pick: ASU 2-0.

No. 4 Florida State v. Wichita State - The Shockers always seem to be good and the Seminoles have a penchant for choking in big games, i.e. losing in the Tallahassee Regional to Mississippi State last year, losing to Texas at home in the Super Regional in the 2002-2003 season, losing as the No. 1 overall seed in 2001-2002 to Notre Dame at home. In fact, the ĎNoles havenít tasted Omaha since the 1999-2000 season, a long eight years of disappointment. Make it nine. Rudyís Pick: Wichita State 2-1.

No. 5 Cal State Fullerton v. Stanford - The Titans always seem to put out some great clubs. They live in the CWS, but so does Stanford. Home field prevails in this one. Rudyís Pick: Cal State Fullerton 2-1.

No. 6 Rice v. Texas A&M - A battle of Texas teams, the Aggies travel to Rice where they will get the best of the Owls who make a habit of getting to Omaha. This time, the Aggies will get a shot at the trophy. Rudyís Pick: Texas A&M 2-1.

No. 7 LSU v. UC Irvine - LSU is a year in and year out participant in the College World Series. Irvine is traveling across the country to play in Baton Rouge. It doesnít make for a successful trip usually. It will be no different this year. Rudyís Pick: LSU 2-0

No. 8 Georiga v. N.C. State - Georgia got by the Athens Regional by the skin of their teeth. Yes, they throttled Georgia Tech twice to advance, but losing early made it a tough road back. The Bulldogs will not be as lucky against another ACC team. The Wolfpack is good and has one of the best pitchers in the country in Clayton Schunick who is flat out dominated. Heíll pitch game one and probably win putting the Bulldogs in a hole they wonít be able to climb back out of. Rudyís Pick: N.C. State 2-1.

Rudy Rodriguez-Chomat is in his fourth year covering University of Miami athletics and tenth year covering Miami-Dade High School Sports. He is a freelancer for The Miami Herald and has contributed to numerous other newspapers in the Southeast. He can be reached at rudyrc@insidetheu.com.

Go to top

| | |
| --- | --- |
| 62 | Big Things Poppin'! |
Mon Jun 2, 2008
So many things going on, so little time.

The ĎCanes just took care of business this weekend in the Coral Gables Regional and will host Arizona in the Super Regional in Coral Gables this weekend as well.

At one point early this season, Arizona was ranked No. 1 in the country so the Wildcats are by no means a team to overlook. But if Miami does what itís been doing all season, there is no reason to believe the ĎCanes wonít finish this off in two games behind the arms of Chris Hernandez and Eric Erickson.

How good is Miami? The question has been asked many of times. Iíve been watching ĎCanes baseball for the better part of my life and this team, for what itís worth, is the best team Iíve ever seen at UM. Anything less than a fifth National Championship would be a major disappointment for everyone, players, coaches, fans, students, everyone.

The ĎCanes have simply dominated this season and their bats officially came alive again Sunday when they slugged Ole Miss right out of the stadium.

Now, itís the Wildcats turn to see just how good this Miami line up is.

**********************************************************************

Spring football is now complete and InsideTheU.com has come out with its Top 50 for the Class of 2009. This class surely doesnít sniff the level of talent that the 2008 class had, but there are some players in this list who could make a mark this year and climb up the charts.

One of them is North Miami Beachís Kemal Ishmael. He was unreal against Northwestern and is certainly a receiver to watch in the Fall.

Right next to Ishmael has to be quarterback Nico Flores. He has the size, he has good speed and now heís really showing the arm. He picked apart Northwestern and showed the cannon he has down the field. Flores is definitely a quarterback prospect and not an athlete as has been so common at North Miami Beach.

Other players on my list to watch include Ed Stinson. The reason to watch Stinson will be to see if heís improved. As such a raw talent, the question is there on if he can get better. If he doesnít, his stock could plummet. But if he does get better, he could scoot up some more in the rankings, although thereís not much more room to grow in the rankings.

Northwesternís Daquan Hargrett is also someone to watch. If he gets the carries he needs, he could prove to be a 1,500-yard back and that would get him a ton of offers.

In terms of the prospects that I got a chance to personally watch in action this Spring whether in practice or Spring Game, Booker T. Washington's sophomore defensive end Lyden Trail I am definitely interested in seeing his progression having never played the position before the Spring Game. Also, his wide receiver teammates Andre Edwards and Quinton Dunbar. They are definitely extremely talented, but how will they fill the positions left behind by Davon Johnson and Thearon Collier.

Dillard's Trabis Ward is one I will definitely keep my eye on. He was a 1st Team All-Broward back as a junior. If his offensive line can do a little blocking, he's going to have a big year.

Plantation wide receiver Reggie Washington is a player than intrigues me a great deal. He's 6-foot-4, 200-pounds, real strong, can get up, attacks the ball and is definitely a threat in the red zone. People will focuse on Josh Robinson, but Washington is a tough big bodied receiver who will show people he's a player.

Ely corner Michael Carter is someone I think would be a huge pick up for Miami. He's long, lanky and has plenty of range. He needs to put on weight without a doubt, but he has muscle tone which is a good sign that he will get bigger.

**********************************************************************

Lastly, I want to say congratulations to Chris and David for doing a marvelous job on the Spring Tour. I know I did a part of it, but they spearheaded the effort to bring you, the readers, the most up to date coverage on high school talent in South Florida over the past three weeks.

Bigger and better things are in store for high school recruiting coverage in the Fall so stay tuned.

But for now, make sure you are at Mark Light this weekend and have your televisions on when the ĎCanes are in Omaha as we bring home a fifth National Championship.

Rudy Rodriguez-Chomat is in his fourth year covering University of Miami athletics and tenth year covering Miami-Dade High School Sports. He is a freelancer for The Miami Herald and has contributed to numerous other newspapers in the Southeast. He can be reached at rudyrc@insidetheu.com.

Go to top

| | |
| --- | --- |
| 61 | Call Me Sensei Rudy |
Fri May 16, 2008
So Game 1 of the biggest series of the year is in the books and the 'Canes came away with a 12-2 win. Call me Miss Cleo, but in my preview I called it Big Arms vs. Big Bats and the way that Miami had to approach the plate against North Carolina was to be patient and make the UNC pitchers earn it.

With Game 1 in the book, the 'Canes did just that. They were more than patient. They were like someone waiting for a bus in Broward County on a SUNDAY...I am talking you sit there for a good hour AT LEAST!

The 'Canes were so patient at the plate it turned into 11 walks. Yes, ELEVEN WALKS!

That happened against a team that came in with a 2.28 team ERA which led the country and had only given up more than THREE runs in a game eight times this year. Make that nine after the 'Canes dropped a 12 spot on them.

Now, that doesn't mean Miami will win Games 2 and 3 of the series this weekend, but if Friday was any indication of what the 'Canes game plan is, the Tar Heels better start throwing some first pitch fastballs down the middle of the plate hoping to get ahead in the count.

However, if that happens, the 'Canes could start truly hacking and then it could really get ugly.
**********************************************************************

While the 'Canes are in the middle of a huge, huge series, I wanted to give you a little update on myself.

Some of you may know I was hovering 270 pounds after my cruise to the Caribbean. Well, my goal of 230 by February was FAR from achieved. I guess the McDonald's and Burger King and Taco Bell diets are not conducive to losing weight. Why did someone tell me this?

But now I am READY!

I am ready to drop this poundage. And I am starting to do just that. Last week I started Jiu-Jitsu classes as the Brazilian Jiu-Jitsu Center in Fort Lauderdale on Commercial Blvd.

The Master of the school is Pablo Popovitch. Now, when I tell you this dude is a straight bad a** I am not kidding. His uncle is Renzo Gracie of the famed Gracie family. He beat his uncle in a Jiu-Jitsu competition. He holds numerous titles and is one dangerous guy.

For those of you who follow the UFC, one of its champions B.J. Penn is fighting next weekend against Sean Sherk. Well, Popovitch trains B.J. Penn. Just a couple of weeks ago, Popovitch was in Hawaii for two weeks training Penn because Popovitch is considered one of the best Jiu-Jitsu grapplers in the world.

Anyhow, I've gone through three classes and I am feeling good. I earned my White Belt. Yeah, I know I didn't earn it. They give it to you when you start. But I've learned how to break someone's shoulder, the arm bar and the choke hold. It's some crazy stuff for those that don't really know Jiu-Jitsu.

Yesterday, I had a choke hold done on me a few times. How those guys in the UFC can be stuck in that for 30 seconds or more to me is UNREAL. Within three seconds I was starting to black out. If you do that the proper way to someone in the street for 10 seconds they would be out cold. Anything more, they'd probably be dead.

My throat literally hurts on the INSIDE. But I was told, that happens to everyone when they first start. Either way, it's real exciting and maybe sometime soon, you'll be seeing InsideTheU.com's Rudy on the UFC.

YEAH RIGHT!

Call me Sensei Rudy!

Rudy Rodriguez-Chomat is in his fourth year covering University of Miami athletics and tenth year covering Miami-Dade High School Sports. He is a freelancer for The Miami Herald and has contributed to numerous other newspapers in the Southeast. He can be reached at rudyrc@insidetheu.com.

Go to top

| | |
| --- | --- |
| 60 | Sights and Sounds! |
Mon May 12, 2008
Over the last week during the Spring Tour, I've checked out a couple of schools in Broward County, namely Dillard and Deerfield Beach.

But something happened at Dillard that was classic on Thursday.

Dillard is clerly motivated for its match up against Booker T. Washington at the end of the month at Curtis Park in Miami. The Panthers were trounced by Booker T. last year in the Spring Game.

They look to turn it around, but one of the first things they need to do as a team, not so much coaches, but players, is demand respect or punch someone in the mouth in order to get it.

While they practiced on Thursday, a player from St. Thomas Aquinas, namely St. Thomas star receiver Dwayne Difton, a Dillard district rival decided to pop up at Dillard and actually walked right on to the Dillard field to watch Dillard practice.

What made this unreal is that the Dillard players didn't say anything. They actually welcomed him and said hello from a distance. However, coach Keith Franklin wasn't happy that his team thought that behavior was accepted because he noted to his team that there is no way in the world that St. Thomas coaches or players would let any rival player on its field to watch them practice.

The message Franklin conveyed to his team is that they (St. Thomas) don't respect you. So commanding, demanding and taking respect is certainly one thing that Dillard's players must work on over the next couple of weeks.

**********************************************************************

At the same time that Spring football is taking place, the University of Miami continues to destroy teams, however, something happened this weekend that has rarely happened this year.

The 'Canes lost a game. Call the National Guard because it marked only the second loss by Miami outside of the state of Florida.

The 'Canes did win the series over Virginia Tech this weekend though 2-1 and improved to 41-6 and a ridiculous 21-3 in ACC play. Four of Miami's previous five losses on the season came to Florida State, Florida, Florida Atlantic and Florida International. The only other loss this year for Miami came 11-10 at North Carolina State.

With the final series of the season taking place this week at Mark Light Field, the 'Canes will get a serious test as it's another battle of No. 1 vs. No. 2 starting Thursday against North Carolina.

Following that is a trip to the ACC Tournament in Jacksonville. Things are just starting to heat up so stay with InsideTheU.com as we bring you the best UM baseball coverage around.

Rudy Rodriguez-Chomat is in his fourth year covering University of Miami athletics and tenth year covering Miami-Dade High School Sports. He is a freelancer for The Miami Herald and has contributed to numerous other newspapers in the Southeast. He can be reached at rudyrc@insidetheu.com.

Go to top

| | |
| --- | --- |
| 59 | My Top 10 Juniors |
Wed May 7, 2008
Spring football started last week. So who is the top dog entering the Spring? We came out with our original Top 10 Juniors in November. Here is my updated list following the camps and combines this Spring. There has definitely been a big shake up in the rankings.

1. Jaamal Berry, RB, Palmetto Ė How can one deny the fact that Berry (pictured) has had the most incredible surge from the end of his junior season to the beginning of the Spring? Berry has competed in virtually every camp, shown the workerís mentality of a warrior. There arenít many players with his attitude, work ethic, desire and passion. Heís picked up a truckload of offers since the end of the Spring and is showing that heís among the best runner backs in the country. He still doesnít have an offer from Miami.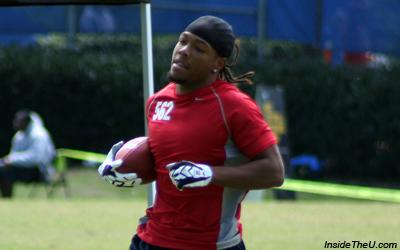 2. Frankie Telfort, LB, Gulliver Ė Not often are players from Gulliver Prep as highly recruited and sought out as Telfort is, but after being rated very highly by national scouts, Telfort has shown on the field against high level competition that he is as good as they had been saying. Telfort is extremely well built and very fast. He would be the prototypical utside linebacker at the University of Miami, but even though heís got a ton of offers from schools all over the country, the ĎCanes have still not pulled the trigger with an offer.

3. Olivier Vernon, DE, American Ė Vernon is tenacious off the edge was already a very well built defensive end. Heís got a quick burst off the line and gets to the quarterback with ease. Vernon has an offer from Miami and has already given a verbal commitment, but still plans on taking his visits.

4. Quan Fletcher, LB, Krop Ė Fletcher has done his best to become a more athletic linebacker. It hasnít stopped him from getting a number of offers, but as a middle linebacker, Fletcher is flat out dangerous. He hits like a horse and was quite arguably better than teammate Etienne Sabino last year. Fletcher has lost at least ten pounds since the football season ended and is looking real slim and much faster, but as strong as ever.

5. Rodney Smith, WR, Archbishop Carroll Ė Smithís stock has soared through the roof this Spring. At 6-foot-5, 215 pounds, Smith (pictured: below left) has the body of a pro right now. Heís built like chisel and catches just about everything thrown his way. He knows how to use his big body on smaller corners and has an excellent vertical leap catching the ball at its highest point. The fact he goes to Archbishop Carroll has probably stunted his recruitment a little, but his Spring has seen him become a much bigger name and itís going to be interesting to see how schools really take notice this Spring, in the Summer and next Fall.

6. Lamar Miller, RB, Killian Ė After dislocating his shoulder in the second to last game of the football season, Miller was out for three months rehabbing. Unfortunately, Miller chose to skip all the camps and combines this Spring causing his stock to drop. While other big time recruits in Miami have been competing at the highest levels, Miller has been watching. He has offers from a number of schools in Miami, but has not made any commitment. Questions of his passion and desire have started to surface because he was healthy enough to compete in the Nike Camp in April and chose not to, although he was there.

7. Ed Stinson, DE, South Dade Ė Who is Ed Stinson? Thatís what college coaches asked last year, but Stinson surged late in the season and itís paid off as heís received offers from Miami, Florida State, Auburn and more. Stinson has already made a verbal commitment to Florida State, but will still take his visits. Stinson is a raw talent, but with continued coaching he could very well be one of the top three players in this class, maybe the best when all is said and done.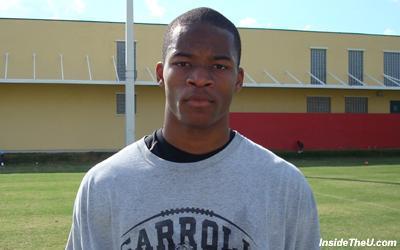 8. Xavier Rhodes, WR, Norland Ė The situation on Rhodes is interesting. As talented as he is, he didnít run as fast a 40 time as people would have expected in the Nike Combine in February. His football speed is clearly way faster than his 40 time. Rhodes has been rather quiet in the Spring, but is considered one of the best receivers in this class out of South Florida.

9. Antwan Lowery, DT, Columbus Ė Lowery is considered the top defensive tackle prospect in Miami-Dade County. The 6-foot-3, 320-pounder is good at shedding blocks, has quick feet and good explosion off the ball. Lowery is still losing weight and wants to be at 300 pounds when the Fall begins. He currently has a number of offers including Miami and USC. He has not made a commitment anywhere, but Miami seems like the likely place for him to end up.

10. Dontravious Floyd, WR, South Dade Ė If there was ever a receiver who had all the tools to be great, itís Dontravious Floyd. At 6-foot-3, 210 pounds, heís very similar to Smith in that heís got a great body, but Floydís biggest issue remains his concentration and focus during games, something heís said wants to work on. Floyd can be a great receiver and heís had some spurts of brilliance in games only to follow it up with some dropped passes. However, the brilliance is what Auburn has liked about him and why the Tigers have offered him.

Rudy Rodriguez-Chomat is in his fourth year covering University of Miami athletics and tenth year covering Miami-Dade High School Sports. He is a freelancer for The Miami Herald and has contributed to numerous other newspapers in the Southeast. He can be reached at rudyrc@insidetheu.com.


Go to top

| | |
| --- | --- |
| 58 | And What...FSU! |
Mon Apr 21, 2008
Did Miami leave any doubt this weekend in Tallahassee, Florida?

Not only did Miami travel to hostile territory and win its 10th straight series this seson as it improved to 33-4 and 17-2 in the ACC, but it did so in a fashion that had the 'Noles so riled up that they didn't want to shake hands, and instead resorted to the only thing they could come up with, and that's a potential fist fight.

Which of course, had it actually resulted in a free for all brawl, the 'Canes would have pummelled them in that too.

Miami showed the kind of bats it has. And so did FSU. Both teams are excellent squads, but it's clear as day that Miami is simply better than FSU.

Here is why...

1. Miami plays better defense than FSU. Period. Miami was able to put up a ten spot Friday night for a number of reasons. One of course, is the bats, but another key ingredient to Miami winning game one 11-4 was that FSU committed three errors. Miami took advantage of the mistakes. Just as Miami took advantage of the FSU mistakes, in game two, FSU took advantage of Miami blunders in the field. But overall, the 'Canes are a better defensive team and the stats back that up.

2. Miami has a better starting rotation. Eric Erickson pitched four innings in his first work in a month and still managed to keep the 'Noles under the control giving up only three runs. It wasn't Erickson's fault that his bullpen got blasted over the next three innings in Miami's 11-10 win Sunday. Chris Hernandez out pitched Matt Fairel in the opener. Fairel was 8-0 with a 2.38 ERA entering. The 'Canes peppered him for eight runs.

3. The 'Canes are clutch. The 'Canes came up with big hits throughout the weekend with two outs which led to them winning the series 2-1.

4. The 'Canes were on the road in front of FSU-record crowds and still came away with two wins in three games. How many teams can walk into Dick Howser Stadium and say they won 2 of 3 from the 'Noles this year? Only Miami. In fact, one better, the 'Noles had lost only ONE game all year at home coming into the series. The 'Canes doubled that in a weekend.

5. The 'Noles were quoted calling Miami the No. 1 team in the country even though, they themselves, are ranked No. 1 in one of the four major polls coming into the weekend set. If that's not respect I don't know what is.

Does this mean that Miami is going to win the College World Series? Of course not as it takes as much luck as it does skill to win the National Championship. Teams get hot at certain times and sometimes a team gets cold in the most inopportune time. However, Miami is the clear cut favorite as of right now to win the CWS and showed why this weekend in Tallahassee.

GO CANES!

Rudy Rodriguez-Chomat is in his fourth year covering University of Miami athletics and tenth year covering Miami-Dade High School Sports. He is a freelancer for The Miami Herald and has contributed to numerous other newspapers in the Southeast. He can be reached at rudyrc@insidetheu.com.


Go to top

| | |
| --- | --- |
| 57 | Miami v. FSU Awaits! |
Sun Apr 13, 2008
How good is the University of Miami baseball team? Ask Georgia Tech. The Yellow Jackets came in ranked No. 19 in the country with a 26-7 overall record. Georgia Tech thought it had a good team. Maybe it actually does.

Miami traveled to Atlanta to take them on and didnít just leave with a three-game sweep of Georgia Tech, but took their will away from them. The ĎCanes made a so-called good team look sorry. They simply beat them down.

The Yellow Jackets had a tragedy happen Friday when pitcher Michael Hutts was found dead forcing the postponement of Fridayís game. I am sure that affected the players, but at the same time, it could have inspired them to win one for their fallen teammate.

But Miami simply didnít let it happen. From Saturday to Sunday the ĎCanes belted 47 hits scoring 34 runs in the three-game set. Everyone hit the ball, even back up catcher Ben Vasquez who picked up a hit Sunday afternoon.

Miami will lose a game every now and again and show that itís human, i.e. losing to FAU last Wednesday which broke its 14-game winning streak, but the ĎCanes responded quickly. The three games in Atlanta werenít close. Miamiís bats came out hitting so hard that the Yellow Jackets blinked and the game was essentially over.

It simply has been proven time and time again this year that it doesnít matter who is pitching. Miamiís bats are simply sickening good. They are patient. They take pitches and when they swing, they take great cuts.

More than anything, the Hurricanes are confident. They believe in each other. Each player knows that if he doesnít get the job done the guy following him will get it done. There is simply so little pressure.

Look down the line up. Blake Tekotte is hitting .390. Then Jemile Weeks at .403. Then Yonder Alonso at .358. Dennis Raben is the only regular not hitting over .300 and that could be attributed to his early season injury as heís hitting .264, but at the same time, he replaced a hitter who was mashing the ball in Adan Severino who is hitting .322. Then Mark Sobolewski at .354. Then Ryan Jackson .368. Then Dave DiNatale at .352. How about Jason Hagerty .333. Does this paint a picture thatís easy to see? This team can hit, hit, hit. Even Yasmani Grandal has raised his average to .327 after not hitting .200 the first month and change of the season. If you include Joey Terdoslavich who plays a lot, heís at .319. As a team, the ĎCanes are hitting a collective sickening .343 while averaging 9.5 runs per game.

Combine that with a pitching staff that has a 3.59 team ERA and hasnít had its top starter pitch a game in a month in Eric Erickson and it gives you an idea of how scary this team is.

This weekend though, it will truly get interesting. As good as the ĎCanes have been this year, there is one team that is comparable to them, and truthfully, itís the only team with better numbers than the ĎCanes have and thatís rival Florida State.

The ĎNoles are hitting .352 as a team, are averaging 9.8 runs per game and have a team ERA of 3.62. That is what makes the series that is coming up this weekend in Tallahassee so big. These are not just the two best teams in the country. They are by far the two best teams in the country. They donít just win. They destroy their opponents. But that is where Miami and Florida State do differ a bit and where Miami has FSUís number. Miami has played only two one-run games. They won them both. FSU has nine one-run wins.

While the ĎNoles have their share of big time scoring games, they have had their share of low scoring games. They have played games when they scored 21, 19, 18, 17 twice, 16, 15 twice, 14, 12, 11 three times and 10 five times. At the same time, they have scored five runs or less eight times.

While itís fun to compare stats of two sensational teams, the game is played on the field, not in the stats prior to the games. These two will battle in what may go down as the biggest baseball series in the country this year short of the College World Series.

Rudy Rodriguez-Chomat is in his fourth year covering University of Miami athletics and tenth year covering Miami-Dade High School Sports. He is a freelancer for The Miami Herald and has contributed to numerous other newspapers in the Southeast. He can be reached at rudy@insidetheu.com.



Go to top

| | |
| --- | --- |
| 56 | Argghh...Stock was Right! |
Tue Apr 8, 2008
I am nauseated at what I am about to say. While it pains me to say it, I simply have to just because this time, just this onceÖhere it goesÖ

CHRIS STOCK WAS RIGHT!

Did I actually say that? I canít believe I just said that, but I have to. I picked North Carolina to win the National Championship. He picked Kansas. I am eating crow nowÖand in pitiful fashion as the Jayhawks not only blitzed the Tar Heels, they smothered the Memphis Tigers tonight over the final two minutes of regulation and five minutes of overtime to capture their first National Championship since I was ten years old.

But let me take a moment to talk about that debacle on Saturday because I still donít get why people worship Roy Williams like he is some spectacular coach. Hand Frank Haith Williamsí players and he looks just as good as Williams. For what Haith had on his team this year in comparison to what Williams had on his, I'd take what Haith accomplished every time over what Williams did with his cast of McDonald's All-Americans.

I donít know what I saw Saturday, but I saw Williams sit on his hands on the bench while Kansas turned a 15-10 lead into a 38-12 lead BEFORE he finally called a timeout. He treated that first half like it was a Tuesday night against Virginia, not like it was a Final Four game.

So why is Williams so great? Because he gets great players? I know he can recruit. Heís proven it with his track record of great recruits. He also has a track record of losing the big game even when he has the superior talent. I guess thatís why heís had so many failures in the Final Four even though he had some of the best teamís in the country each and every year at Kansas and now at UNC. The fact is, as much as Kansas won that game Saturday, Williams lost it with his coaching in the first half? And he was clearly outcoached by Bill Self. He clearly failed to prepare him team because in that first 15 minutes, the Tar Heels simply werenít ready.

Yes, the Tar Heels won the title a few years ago, but letís be real, that wasnít something that was surprising. Everyone expected it. Ray Felton, Sean May, Rashad McCants, Marvin Williams, etc. That team was loaded. And yet, they still nearly lost in the Sweet 16 to Villanova that year and struggled to beat Illinois in the title game.

In contrast to Williams not calling timeouts, when North Carolina made their charge and cut the lead to four, Self called not one, not two, but three timeouts to try to allow his team to regain its composure. He called one when the Tar Heels cut the lead to 42-27 in the first half, then he called one when UNC cut it to 54-42, then he called another one at 54-46 which was just enough for the Jayhawks to get it back together and finish the Tar Heels off.

But how about this one too. On Monday night, Williams was seen wearing a Kansas badge at the National Championship game. For my blood, if I am a Tar Heel to the death living in Chapel Hill, North Carolina, he better not come back. Seeing that, I was left dumbfounded that a coach that just lost to one team would be wearing that teamís gear in the next game.

Anyhow, I am doneÖbut again, Chris was right. Congrats Kansas!

Rudy Rodriguez-Chomat is in his fourth year covering University of Miami athletics and tenth year covering Miami-Dade High School Sports. He is a freelancer for The Miami Herald and has contributed to numerous other newspapers in the Southeast. He can be reached at rudy@insidetheu.com.





Go to top

| | |
| --- | --- |
| 55 | Weekend in Vegas |
Mon Mar 24, 2008
I spent this past weekend in Las Vegas checking out the first and second round of the NCAA Tournament. What a weekend it was!

So many televisions, so many games, itís the way every man should watch the NCAA Tournament.

Unfortunately for the Miami Hurricanes menís basketball team, the Cinderella run in the tournament ended in dramatic fashion to Texas as the ĎCanes nearly came back from 16 points down in the final 4:15.

A team that was projected to finish last in the ACC at the beginning of the season was the second to last team left from the ACC remaining. Clemson was thumped in the first round. Duke was sent packing by West Virginia in the second round. Only North Carolina remains. I expect the Tar Heels to win the National Championship.

But it was rather amusing to watch the ĎCanes play Sunday and see all the people who had wagers on Texas with a -6.5 or -7 point spread go crazy and start cheering for Miami to win after the ĎCanes cut the 16-point deficit to 74-72 with 1.8 seconds left because they were ticked off that Texas had cost them money is a four-minute span.

The truth of the matter is, the ĎCanes battled. The ĎCanes could have quit when they were down 16 with 4:15 to play. And for what they accomplished this season, it was a sensational year. If someone had told Frank Haith at the beginning of the season, his team would go 23-11 and advance to the Round of 32, heíd have taken it. As would have any fan.

Miamiís performance showed the nation the program is on the rise. You can bet that the ĎCanes will not be picked to finish last in the ACC next year. In fact, expect the ĎCanes to be picked among the top five in the conference at worst with Jack McClinton, Dwayne Collins, Lance Hurdle, James Dews, Jimmy Graham and Brian Asbury returning, along with Julian Gamble, Cyrus McGown, Dequan Jones and Reggie Johnson joining the squad.

This team should be really good next year and the expectations will surely be high, but for the time being I just want to personally congratulate Haith and his team for a great season. We couldnít have asked for much more.

But now itís time to focus more on baseball, as the ĎCanes are 17-2 and ranked No. 2 in the nation.

Rudy Rodriguez-Chomat is in his fourth year covering University of Miami athletics and tenth year covering Miami-Dade High School Sports. He is a freelancer for The Miami Herald and has contributed to numerous other newspapers in the Southeast. He can be reached at rudy@insidetheu.com.


Go to top

| | |
| --- | --- |
| 54 | Hoo Rah Hurricanes! |
Mon Mar 10, 2008
What a time to be a Hurricanes fan!

Spring football in effect! It looks like we have two legitimate starting quarterbacks this year in Robert Marve and Jacory Harris and a crew of wide receivers who can make plays and a future star at defensive end and defensive tackle.

The menís basketball team is sniffing an NCAA Tournament berth and riding its best record since the days of John Salmons.

The baseball team is off to a 9-1 start and just finished a sweep of Boston College this weekend.

What a time!

Spring Football

The mid-Spring scrimmage last Thursday at Traz Powell had to have everyone excited. The first two drives, Robert Marve and Jacory Harris were a combined 9 for 10. The one incomplete pass was a tough drop by Ryan Hill, a ball I am positive heíd say he should have caught.

The team ran its offense out of the spread for most of the scrimmage. Itís apparent that Patrick Nix has to be excited about the weapons he has now that heís opening it up early and often. Marve threw it deep five times. None of them were completed, although two were dropped, but itís exciting to see that happen.

This team looks like it has some confidence out there, and although itís going to be a young squad that plays a lot of freshman, this team will be better than 5-7. Iíd be looking for eight wins from this squad and something serious in 2009. While everyone always expects 12-0 and a National Championship because we are Miami, an eight win regular season would be great in comparison to what happened in 2007. So that means potentially nine wins with a bowl win. A nine win season would be eighty percent increase from one season to the next. Thatís an awesome increase when you put it into perspective.

What Thursdayís mid-Spring scrimmage showed me was the thing that we all want to see and thatís the attitude of the team is changing. Thatís the first key to being National Championship team.

March Madness

Finally, the ĎCanes basketball team is in the midst of March Madness and it is happening because the team started 13-1 in non-conference play. That was the key. 8-8 in the ACC is a decent record, but when you start 12-0 and win 13 of 14 out of conference games.

Of course, the ĎCanes finishing the ACC season with a 6-2 record surely helped as the team appeared to be falling apart after a 2-6 ACC start had people thinking NIT all over again, but they regrouped, got back on course and picked up wins against Duke, Maryland, along with road wins at Georgia Tech and Virginia Tech.

Led by Jack McClinton, who by all accounts should be a 1st Team All-ACC selection if the writers that cover ACC basketball have half a brain and have actually watched basketball this year, the ĎCanes resemble a team. They win with teamwork and hard work and itís shown with results this season.

The ĎCanes have wins of Mississippi State, VCU, Alabama State, Clemson, Duke, Maryland, Morgan State, all teams that are definitely going to make the Big Dance or who will make it as long as they win their conference tournaments. VCU, Morgan State and Alabama State all won their regular season conference crowns.

Point being, the ĎCanes can play with anyone when they play well and play as a team. Hopefully, their best basketball has yet to come.

Baseball with a Big Start

Itís hard to believe that Miamiís 9-1 start is its best start since 1996, Jim Morrisí third year as Manager of the team, but it is. Even when the ĎCanes won the National Championship in 1999 and 2001, they didnít start 9-1.

But this team is really looking special.

To begin with, they really look like they are having a lot of fun playing the game. Secondly, they are starting to knock the cover off the ball. They scored 25 runs over the three game series this weekend against Boston College and hit eight home runs doubling their season total prior to the start of the series. And most importantly, this team can flat out pitch.

Itís been quite some time since the ĎCanes could say they have three legitimate starters. They have that this year, in large part because of freshman lefty Chris Hernandez. The Miami-native is 2-0 with 0.95 ERA through his first three starts and heís flat out dominating.

Even on a bad day as he called it, he gave up one run on four hits in seven innings in Miamiís 7-1 win over Boston College Sunday.

The bullpen has also been excellent. It starts and ends with pitching, and if the ĎCanes can get that consistently from their top three starters, itís going to make for a special season so be sure to check this team out.

Once again, what a time to be a Hurricanes fan!


Go to top

| | |
| --- | --- |
| 53 | Back on the Scene |
Thu Mar 6, 2008
Over the past two weeks, I was sick as dog bed ridden for four days and more recently had two wisdom teeth pulled on Monday. I didn't know how much it hurt until after they were pulled. It wasn't that bad when they were pulled, but the pain after that had me curled in the fetal position and I am finally starting to recover from it.

Needless to say, I was on the injured reserve for much of the past ten days, but most certainly glad to be back and somewhat healthy.

With the scrimmage looming this even, I am excited to see how the young players are coming along. Having spoken to Clint Hurtt yesterday, he seemed very excited with the progress of defensive end Allen Bailey and the play of freshman defensive tackle Marcus Forston. Those are two players to watch.

Another one to watch is Xavier Shannon. He's expected to be Miami's starting center in the Fall and hopefully will provide good leadership to an overall young offensive line that doesn't have tremendous experience on the interior guard, center, guard gaps. At the same time, Shannon is making the adjustment from playing FIU speed football to Miami speed football, but Hurtt was also very complimentary of him stating that if he was a couple of inches taller, everyone in the country would have wanted him out of high school.

The battles at wide receiver should be something to take in with freshman Aldarius Johnson ready to show the fans how far he's come in just a couple of months since graduating from Northwestern. Jermaine McKenzie is not expected to play which is very disappointing as everyone wants to see him in action, but we'll get heavy doses of Johnson, Sam Shields, Leonard Hankerson, Ryan Hill and Kayne Farquharson.

However, nothing is more intriguing than the progression of Miami's freshmen quarterbacks. Robert Marve, Jacory Harris and Cannon Smith will all take equal snaps according to Randy Shannon. We shall see what happens.

Go to top

| | |
| --- | --- |
| 52 | Two More Championships |
Tue Mar 4, 2008
Over the weekend, I was in Lakeland covering the boy's basketball state championships.

I must say it was a great weekend that featured some incredible and exciting games, but the games that featured teams from South Florida took the cake.

Friday in Lakeland belonged to Broward as Pine Crest won the Class 3A state championship with an easy 69-50 win over Gainesville's P.K. Yonge.

Friday night though it was a different story as Dillard had to overcome a seven point deficit in the 4th quarter to beat St. Petersburg Lakewood 61-55.

The Panthers were reeling as they fell behind 45-38, but Ridgewood fell apart down the stretch and Bo Reliford took over the game en route to being named Tournament MVP.

Saturday though, it was a Dade affair.

University of Florida commitment Ray Shipman led Pace to an 80-76 win over Lakeland Kathleen, the second straight year that Pace has defeated Kathleen to capture the state title.

But this one was a bit different. After leading by as man as 20, Pace battled serious foul trouble. They lost Terrance Saintil and Rakeem Buckles to foul outs with a lot of time left in the fourth as Kathleen was making a big run.

Then it hit rock bottom when Shipman fouled out on a charging call with just under three minutes left. The call was brutal just like many throughout that game.

It left Shipman wondering if the state title would slip through the Spartans' fingers as the lead shrunk. A 17-point lead to start the fourth was down to 79-76 with less than 20 seconds to play with Reggie Chambers shooting free throws, but the Red Devils couldn't grab the rebound and Pace picked up the offensive board. It allowed them to sneak away with the win.

The nightcap though was the game everyone was waiting for as Norland knocked off Boyd Anderson 59-54 to capture the Class 6A state crown.

The Vikings, who were at least a ten point underdog in the eyes of many, had what most of B.A.'s opponents didn't have all year. They were confident and they were not afraid of big bag B.A.

Known for its rough and tough physical play, the Vikings looked the complete opposite in the fisrt quarter as B.A. raced out to a 21-8 lead and led by as many as 14 points in the first half.

But after a stirring halftime speech by coach Lawton Williams III, the Vikings played Vikings basketball. They punched B.A. in the mouth and shooting guard Amir Celestin caught fire scoring 13 straight points as the Vikings outscored B.A. 21-7 in the third quarter taking a 41-38 into the fourth.

Norland would never let the lead go as they made 9 of 10 free throws in the final two minutes to hold off the Cobras and give Boyd Anderson its second loss of the year and break its 26-game winning streak.

The championship is Norland's second in three years and earned them a No. 25 ranking in Monday's USA Today Boy's Basketball National Top 25.

Here are the overall results of the championship games:

Class 1A - Orlando Christian Prep 49 Boca Raton Grandview Prep 33
Class 2A - Jackonsville Arlington Country Day 54 Weston Sagemont 53
Class 3A - Fort Lauderdale Pine Crest 69 Gainesville P.K. Yonge 50
Class 4A - Miami Monsignor Pace 80 Lakeland Kathleen 76
Class 5A - Fort Lauderdale Dillard 61 St. Petersburg Lakewood 55
Class 6A - Miami Norland 59 Lauderdale Lakes Boyd Anderson 54

Go to top

| | |
| --- | --- |
| 51 | Under the Weather |
Fri Feb 29, 2008
From Sunday to Wednesday I was sick beyond belief, totally and completely bed ridden. I want to give my guys Chris Stock and David Lake a ton of props for holding down the fort for the past week while I have been away.

Right now though I am in Lakeland, Florida, covering the boyís basketball Final Four and checking out the best basketball players in the state including Pine Crest star Brandon Knight, Paceís Ray Shipman and Rakeem Buckles, Orlando Christian Prepís Keith Clanton, Boyd Andersonís Ivan Aska and Norlandís Amir Celestin and Antonio Hester.

In the state semifinals yesterday, Ray Shipman put on a clinic scoring 33 points on 12 of 24 shooting to lead Pace to a 69-54 win over Pensacola Washington.

Norlandís Antonio Hester scored 26 points and grabbed 12 rebounds to lead Norland to a 62-61 win over Winter Springs in the semifinals.

In another semifinal Ivan Aska led Boyd Anderson to a demolition of Orlando Evans 78-45.

Moments from now Brandon Knight will be leading the Panthers in the Class 3A state championship game against Gainesvilleís P.K. Yonge. I will bring you up to the minute coverage on Knight following the game.

Glad to be back and kind of healthy now.

**********************************************************************

Champion's Heart

One of the more heart filled stories of Lakeland this week is that of Grandview Prep shooting guard Isaac Sosa who didn't play in either of the Pride's games this week.

Saturday against Choice Learning Academy in the Regional Final, Sosa caught a hard knee to the groin. As most men feel that initial pain it subsides. The knee that Sosa took was unlike most.

Although he didn't leave the game and eventually hit the game winning shot on a three-point to send Grandview Prep to Lakeland, he went to the hospital because of the pain and learned he had a fractured testicle.

He had surgery this past weekend removing part of the testicle and he may need to have the entire testicle removed.

Needless to say, Sosa showed tremendous heart and courage to continue playing in the regional final game, nonetheless win the game for the Pride. The Pride won in the state semifinals, but unfortunately, without Sosa, they lost 49-33 in the Class 1A state championship game today.

Moral of this story is, whenever player whines about an ankle sprain, think about what it would feel like to go through what Sosa did as he continued to play.


Go to top

| | |
| --- | --- |
| 50 | Program Changing Win |
Thu Feb 21, 2008
You canít put into words what Miami beating Duke equates to. Quite frankly, you canít put it into words because beating Duke is like nothing else on earth, especially when you have never done it.

Well the ĎCanes had done it in 1962, but that wasnít exactly during a time where the Blue Devils were great, so when a team comes up with a win like this in front of a packed home crowd, itís a program changer.

It was David stoning Goliath. It was the picked on kid beating up the bully. It was the kind of win the ĎCanes simply hadnít had since joining the ACC even though they beat North Carolina on the road two years ago. This was DUKE!

The ĎCanes have finally done it. While coach Frank Haith refused to call it a signature win, beating the No. 4-ranked Duke Blue Devils in the fashion they did is unreal.

The ĎCanes may have only won this game by one point, but the game truly wasnít that close. The ĎCanes led by 20 in the second half going on an 18-3 run to open the second half after leading by five at the break.

Only when Duke finally put on a full court press did the game start to become a game again, but even with that and a ridiculous barrage of threes (9) over the final ten minutes, the Blue Devils could not overcome a 20-point deficit. Not on the road. Not in Coral Gables. Not on this night. And the final margin was one point because of a meaningless buzzer beating three-pointer that cut it to one.

After Duke went up 5-2 on a three-pointer by Greg Paulus, UM sharp shooter Jack McClinton hit a three to tie it at five. A pair of free throws gave the ĎCanes the lead and they never trailed again. Duke tied it twice, at 26 and 28. Then Asbury hit a three and Duke never tied it again.

This was Dwayne Collinsí night. This was McClintonís night. The two combined for 48 points and were integral down the stretch.

This win made the Hurricanes 18-7 and 5-6 in the ACC. Sure, this game means nothing if the ĎCanes donít win Saturday and donít win after that and donít finish with at least 21 wins including the ACC Tournament. But there is nothing that indicates Miami wonít come out ready to play at home against Maryland Saturday. There is nothing that indicates this team wonít win three of its final six games.

But after losing 6 of 7 ACC games, the ĎCanes have won three ACC games in a row and now are riding on Cloud Nine with tons of confidence as well. They are rolling.

This isnít an NCAA Championship team. Thatís clear. But for a night, the ĎCanes outplayed the big dog, they beat the big dog, they handled the business on their home court.

And when it comes down to it, even though Haith wonít call it a signature win, looking at the big picture of everything, itís the kind of win that will only help him in recruiting wars. He can now say, heís beaten Coach K. He can now say his team of no names beat Coach Kís crew of McDonaldís All-Americans. He can now say that Miami is a program truly on the rise. And it happened on a night when senior center Anthony King did not score and had only one rebound.

The fact is, tonightís win over Duke was a program changer.


Go to top

| | |
| --- | --- |
| 49 | Looking to 2009 |
Sat Feb 16, 2008
The University of Miami had the best recruiting class in the nation and possibly the best in school history, but with that said, InsideTheU.com doesnít stop working.

We are already hard at work on top of the Class of 2009. While Miami-Dade County doesnít have the same kind of talent it had this past year, Broward County will be one to watch and we are doing that.

We have already done stories numerous stories on 2009 recruits including WR Marlon Brown, ATH Victor Marc, RBs Lamar Miller, Jaamal Berry and Trabis Ward, DE Olivier Vernon, LBs Shane Gordon, Quan Fletcher and Phil Walker and more.

Go to our Junior Watch List to see them all.

Keep checking the list for new features that are added daily.

**********************************************************************

The University of Miami menís basketball team is coming off a big 74-71 win at Virginia Tech. After losing a tough game at home to Florida State, the ĎCanes rebounded for a much needed win improving to 16-7 and 3-6 in the ACC. The ĎCanes travel to Georgia Tech Sunday for a huge ACC game Sunday at 1:00 p.m. Miami beat Georgia Tech at home 78-66 earlier this season and need to win at least five of its final seven games, including at home versus Duke next Wednesday, to assure itself of an NCAA Tournament berth. That would make Miami 21-9 going into the ACC Tournament.

**********************************************************************

Be sure to check out the Marcus Robinson Signing Day video. Itís a classic. Watch it, youíll see why. Just pay attention. You donít see too many people do what he and his dad did after picking Miami.

Signing Day Video: Marcus Robinson

Rudy Rodriguez-Chomat is in his fourth year covering University of Miami athletics and tenth year covering Miami-Dade High School Sports. He is a freelancer for The Miami Herald and has contributed to numerous other newspapers in the Southeast. He can be reached at rudy@insidetheu.com.


Go to top

| | |
| --- | --- |
| 48 | What a Day! |
Thu Feb 7, 2008
You can't ask for much more than what Miami got yesterday. The 'Canes picked up a handful of recruits who were debating whether or not they would sign with Miami or other schools.

Who we got!

Brandon Harris - The prize gem of this recruiting class, Harris is the best corner in the nation. The national recruitniks have opinions. I have mine. I've seen Haris in action. I've seen his personality. I've seen his leadership. I've seen his attitude. He has it all. He's smaller than Patrick Johnson, but he's tougher. He might not be as fast as T.J. Bryant, but receivers don't get open against him. Harris is the total package and Miami will not need to both looking at one side of the field for at least the next three years because Harris will have one-half of the field locked down. Believe it or not though, Harris' debate was between Miami and UCF, not Ohio State and not LSU. It was UCF that had him thinking really hard. If UCF had been in a BCS conference, he probably would have ended up there. But Harris wants to win a National Championship.

Ramon Buchanan - After all the speculation, Buchanan came back to Miami. Late last week, sources told us Buchanan would sign with Miami, but he made it official yesterday. Buchanan can play linebacker and he can probably play safety. He has the speed the size and he hits. Buchanan will be in a battle though because Randy Shannon recruited the heck out the linebacker position. All the freshmen linebackers will be in a battle for playing time.

Marcus Robinson - Similar to Buchanan, Robinson will have to work for playing time, but if the 'Canes use Robinson properly they may end up putting him on the line as a defensive end, the position he played his entire high school career. Robinson is going to get much bigger and he's very quick off the ball. Wednesday he made it a show though picking Miami over USC, LSU and FSU. There were questions as to who he would pick before he chose Miami. His UM commitment held true though as he and his dad tore up the papers from the other schools and signed with Miami.

Tommy Streeter - This was the stunner for all of us at InsideTheU.com. There is no way I expected Streeter to come to Miami, but now the 'Canes have a trio of big receivers in Streeter, Aldarius Johnson and LaRon Byrd. Streeter can stretch the field with his long stride and take it the distance. He is injured at the moment with a broken arm, but if he is healthy, it will be hard to keep him off the field as a freshman.

Ben Jones - The offensive tackle coming on certainly helps the 'Canes on the front and he could develop into one heck of a blocker for Miami. Brandon Washington got his wish and has his roommate now, but the reality is, Jones was coming to Miami as of Monday. Clemson made the decision easy for him when they told him they were full pretty much forcing him to pick Miami. But we'll gladly take him.

Kendal Thompkins - Thompkins wanted to clear his mind going to Nebraska according to what he said. He wasn't really interested in Nebraska though. He fooled a lot of people though. I have a feeling though that Thompkins will end up being redshirted, but that doesn't mean he won't be a quality receiver for Miami in the future. The 'Canes signed 7 wide receivers and Martavious Odoms will probably sign with Miami on a track scholarship next week, making it 8. Four of the eight will have to be redshirted so we shall see who it will be.

For Hurricanes fans this is an exciting time as Shannon has laid the foundation officially. This is a sick class, probably the best ever at UM. Spring ball is only three weeks ago so get ready for some winning next year.

Go to top

| | |
| --- | --- |
| 47 | One More Day |
Tue Feb 5, 2008
One more day and we'll know everything. All the games will be over. The ballers will sign and we'll know what the University of Miami will be getting.

Will it be Brandon Harris, Corey Liuget, Ben Jones, Jamie Harper, Tommy Streeter? We'll know soon, but there are definitely things floating through my mind that have me a little worried.

I've talked to Brandon Harris for quite some time now and really thought he was playing the recruiting game really well, but after talking to him about his UCF visit, I really wouldn't be totally shocked if Harris picked UCF over Miami and Ohio State. I saw him Monday tonight which further confirmed that feeling at the Sparq camp at Northwestern and he was fully decked out in UCF gear, t-shirt and shorts and it made me leary. So I am left wondering. Of course, I am a Hurricanes fan and he's exactly what the 'Canes need, but UCF would be getting the biggest steal in the 2008 class if they could lure him from Miami and Ohio State, and it simply wouldn't shock me anymore.

I talked to LaRon Byrd Monday night as well and he gave InsideTheU.com breaking news on his commitment to Randy Shannon. He raved about his visit and is really excited about Miami. We were the first site to have this breaking news. Be sure to check out the story. WR Byrd Commmits to the "U"

Kendal Thompkins took his official visit to Nebraska and now it's floating around that he might be shying away from the potential competition at wide receiver. Even his teammate Brandon Washington was quoted as saying it and said he saw Thompkins with a Nebraska hat on at school Monday. My gut says Thompkins is Nebraska-bound.

Be sure to check back here at InsideTheU.com for the best recruiting coverage.

Go to top

| | |
| --- | --- |
| 46 | Brandon Harris and Family |
Mon Jan 21, 2008
On Sunday night, InsideTheU.com had the privilege of presenting two awards at the Miami-Dade/Broward All-Star Game at Lockhart Stadium.

One was the Miami-Dade County Scholar Player of the Year and the other was the Miami-Dade County Coach of the Year.

It was a family affair as Brandon Harris won the Scholar Player of the Year Award and his father, Tim ďIceĒ Harris, was named Coach of the Year. It was a fitting culmination to a four year quest to win the state championship.

Tim ďIceĒ Harrisí son, Tim, Jr, now a track star at UM was the beginning of the quest to the state title. Tim, Jr., was the starting quarterback as a senior at Booker T. Washington when the Tornadoes made the state semifinals for the first time getting blasted by Armwood 44-14.

Each year, Booker T. got closer. Brandon was a freshman the year after Tim graduated. The next year, it was Armwood 36-35. The year after, Armwood 37-34. The year after, Tampa Plant, 20-15. But finally, this year, Booker T., led by Brandon, got over the hump. A 34-14 pasting of Armwood was followed by a 23-15 win in the state championship over Nease. And the mission was finally complete.

I must say, itís been more than a pleasure getting to know Brandon Harris. As remarkable of a football player as he is and has been over his high school career, he is quite frankly, a much better young man. Harris is the most respectful recruit I have ever had the pleasure of interviewing in my time covering high school football over the past ten years. He is articulate, intelligent, well-spoken and most importantly, humble.

Thatís a tribute to his mother and father who has done more than remarkable job raising two young gentlemen in Tim, Jr., and Brandon.

Sunday night, both Harrisí received the glory for their hard work over the past four years, and it was an honor for InsideTheU.com to be the sponsor of both awards. It was an honor to honor a wonderful family that epitomizes the statement, ďHard work bears success.Ē Congratulations Harris!Ē


Go to top

| | |
| --- | --- |
| 45 | Frustration Sets In |
Sun Jan 20, 2008
I just finished watching the Miami-North Carolina State basketball game. While I know most people don't care about basketball, if you saw tonight's game you were probably left punching holes in your wall.

The Positives

The 'Canes were down 13 points in the first half and came back to take the lead in the second half. We jumped up five and then it was back and forth over the final three minutes.

Jack McClinton is the wickedest gun slinger I've ever seen. He takes shots that leave you saying, what are you doing, and then they swish through. McClinton is bad boy. I just wish he could improve his ball handling because his future in the NBA would be as a point guard. He definitely can shoot the ball as well as anyone around.

Ray Hicks and Jimmy Graham were straight bad boys for most of the game. They were pounding N.C. State in the post and truly dominated.

Now, the Reality

Anthony King...what can I say about Anthony King? If it's not embarassing enough to get an attempted absolutely stuffed back in your face by a guard, the mistake he made at the end passing the ball to Gavin Grant of N.C. State which cost the game was about the worst mistake I've seen a player make in that situation. I've seen mistakes in the past, but in a situation like that, a fifth year senior should know better. That's just unacceptable.

The foul that Raymond Hicks committed in the final 33 seconds on Grant when he fouled him on a breakaway lay up with the 'Canes leading by three points just made no sense. After Hicks took a bad jumper, he basically handed the Wolfpack a gift. If you are going to foul, take the man's head off. Make him earn it at the line, or simply let him go. The 'Canes would still have been up one. Instead, he fouled him and Grant converted a three-point play.

The 'Canes then had the ball with 17 seconds and couldn't even hold for a final shot. McClinton took an ill-advised shot with 9 seconds left giving N.C. State one more chance. I don't know what play was called, but Edwin Rios has to be in the game. He has to be handling the ball up top and getting the ball to McClinton off a screen. McClinton can't be forced to create his own shot. It's just not his game.

And so because of these types of mistakes, instead of being 15-2 and 2-1 in the ACC, the 'Canes are 14-3, 1-2 in the ACC and blew a game that they should have never ever ever ever ever lost.





Go to top

| | |
| --- | --- |
| 44 | Word on the Street |
Tue Jan 15, 2008
I am sure many of you know about the big high school basketball game tonight between Plantation American Heritage and Monsignor Pace at Nova Southestern at 9:00 p.m. that is to be televised on ESPNU.

While the game has been hyped up for some time now, the battle of Pace's Ray Shipman and Heritage's Kenny Boynton, there is a major subplot to this story.

To begin with, the terrific trio of Boynton, point guard Ray Taylor and power forward Eloy Vargas will probably be without two of three making this game very unappealing. Taylor and Vargas, a top 50 senior prospect, will be probably sitting out the game. Taylor won't even be in the building.

Going deeper into the story is pointless because it's long, drawn and truthfully would make most people sick to their stomachs, but the fact is, if those two don't play, this game will be a slaughter. As good as Boynton is, he can't beat Pace by himself. So for those who were excited about this game and match up, you might be better off catching the Hurricanes game against Boston College on television tonight.

*********************************************************************

In other happenings around the way...

*Northwestern WR Tommy Streeter broke his arm the first day of practice on the Miami-Dade All-Star Team. Expect him to be out of action for at least two months. What he decides in terms of a school is still a mystery.

*InsideTheU.com will be presenting on Sunday at the Dade/Broward All-Star Game Sunday night at Lockhart Stadium the Dade Academic Athlete of the Year and the Dade Coach of the Year. It's an honor for our organization to be the sponsors and presenters of these awards. We'll have more on this later in the week.

*The men's basketball team is 14-1 after a win over Georgia Tech and plays Boston College and N.C. State on the road before hosting North Carolina on January 23rd. At 16-1 and facing the top-ranked Tar Heels, the BankUnited Center should be at a boiling overflow for the first time since play Duke a few years ago.

*Having spoken to Zebrie Sanders, the offensive tackle from Ohio, he is highly interested in Miami even though the 'Canes just got back in touch with him. We just did a story on him. Check it out by clicking here.

*Having lost out on Patrick Johnson, the 'Canes are going after a number of corners to fill the spot. One of them, is Delray American Heritage quarterback/cornerback Justin Feagin who was the Class 1A Player of the Year for Florida. Find out his thoughts on Miami by clicking here.


Go to top

| | |
| --- | --- |
| 43 | RB Kevin Smith's Story |
Thu Jan 10, 2008
Over the years, there have been some super prospects from Miami-Dade that have not ended up as Hurricanes. For one reason or another, they chose a different route. The one that people talk about now especially, is the story of UCF running back Kevin Smith who recently declared for the NFL Draft after having an unreal year rushing for 2,567 yards and 29 touchdowns finishing just short of Barry Sandersí all-time NCAA rushing record.

People wonder aloud: who is Kevin Smith? Where did he come from? How did he become so good? What did coaches miss on when he was in high school?

A few weeks ago, Smith made the announcement that he would be returning for his senior season as Central Florida. Many people were wondering if that was the right decision because it would be hard, if not, impossible to duplicate a season like the one he had this year. The fact is, teamís would stack the box, put eight or nine guys in there expecting Smith to get the ball, so the only way he could go was down.

So what happened to Smith in terms of the University of Miami? What made him choose Central Florida? Did UM recruit him? Hereís the breakdown of Smith and itís an interesting one.

Smith played his high school football at Miami Southridge. As a junior he was the teamís starting running back on a squad that went 11-2 and advanced to the Regional Championship in 2003.

Apparently 11-2 wasnít good enough for his head coach at the time, Stu Rodgers to be retained. Rodgers was fired and in came a former Southridge coach under Don Solindger, Rodeny Hunter. Hunter was a coach at Southridge when former FSU great Lamont Green starred there. Hunter also played at Southridge in his earlier years.

Hunterís entry into the program while bringing true discipline back to Southridge didnít help Smith. The irony of it all is that Hunter is also Southridge's running backs coach. How he didn't see the talent in Smith to keep him as runnig back is astounding. As a high school running back, Smith was the real deal and everyone saw it this past season at Central Florida. But the Spartans were in desperate need of help in the defensive secondary and needed a leader on the defense.

So Smith moved to safety where he happened to be a beast on a Southridge team that struggled mightily because with Smith on defense, the offense had no weapons. The fact is, Smith is a football player. He could probably play just about any skill position and be successful. As a safety, Smith was recruited by numerous Division I programs, but Smith wanted to play running back. With no carries as a senior, it was nearly impossible to catch the attention of UM or any major Division I program.

One of the knocks on Smith though was that he was not incredibly fast. He wasn't a Noel Devine missile-type running back, a 4.3, 4.4 back. Smith is more in the range of 4.6 so that clearly hurt him. But what Smith has is that innate ability to break tackles with his 215-pound frame and exceptional vision that gives him the patience to wait for the hole to develop. What he also has is football speed. You don't rush for 2,500+ yards being slow.

As good as he was in high school, no one could have foreseen what was in store this year. Smith had an excellent freshman year rushing for 1,178 yards setting a UCF record for most rushing yards by a true freshman. He followed that up with 934 yards as a sophomore missing the final two games of the season with an injury.

But what it simply came down to for Smith was the passion to play running back. Thatís why he ended up at UCF. The Golden Knights gave him a chance. Others didnít or wouldnít. And UCF benefitted greatly for giving Smith that opportunity.

Go to top

| | |
| --- | --- |
| 42 | Under Armour Game |
Sat Jan 5, 2008
I am here at the Under Armour All-American Game at the Disney Wide World of Sports Complex just outside Orlando, Florida.

I will be bringing you a live blog of the happenings of the gam.

Miami has five commitments in this game, although one is injured. Northwestern's Sean Spence, Aldarius Johnson and Brandon Washington as well as Palm Bay's Ramon Buchanan and Rice Consolidated (Tx.) Taylor Cook (injured) are here.

Booker T. Washington corner Brandon Harris is also in the house. All of the Dade guys and Miami commits are STARTING, except Washington, in the game. It's kickoff time.

Spence is a Captain of Team Undeniable.

FIRST HALF

Team Undeniable has taken a 7-3 lead into the first half. After Team Click-Clack missed an early field goal, Team Undeniable marched down the field and took a 7-0 when quarterback Mike Glennon scored on a short run.

Team Undeniable cut the lead to 7-3 on a field late in the second quarter and that's where we stand.

There was some hard hitting at times, but overall it was a somewhat sloppily played first half. No big plays down the field and nothing that would make you jump out of your seat yet.

HALFTIME ANNOUNCEMENT

Wide receiver Josh Jarboe just announced he will be attending Oklahoma. Miami had been in the running for the 6-foot-3, 195 pound receiver from Georgia, but fell out of the running late. Jarboe just made his commitment at halftime of the Under Armour All-American Game. Jarboe is on Team Undeniable.

SECOND HALF

The Click-Clackers clacked on Team Undeniable in the second half taking a 10-7 lead on a touchdown catch by D.J. Grant who skied above defenders for a great catch to give the Click-Clack squad the lead.

But a 33-yard interception return by Charles Whitlock gave Undeniable a 14-10 lead early in the fourth. It looked like things had turned...

But...

The Click-Clack squad laid the hammer down in the final minutes when Jamie Harper took a short pass in the flat for a six-yard touchdown that he culminated with a flip.

Harper is the protoype running back and has Miami in mind. More on that to come later in our stories.

Brandon Harris clinched the game when he knocked away a pass from Josh Jarboe on fourth down sealing the win for Team Click-Clack, 17-14. Harris showed he may be the best cover corner in the country. He locked down Jarboe throughout and had four pass defenses as well as one that was batted in the air for an interception.

It was Sean Spence's first loss in 31 games. Teammate Aldarius Johnson was sure to let him know that following the game because he was on the winning team and finished his high school career 31-0 over the last two years.

Go to top

| | |
| --- | --- |
| 41 | Early Enrollees Loom Large |
Fri Jan 4, 2008
The time for early enrollees is around the corner. There are a number of players that are expected to enroll early including Jacory Harris, Marcus Forston, Sean Spence and Aldarius Johnson.

Add in Cannon Smith, Arthur Brown and Jordan Futch and the 'Canes will have a host of new talent practicing in the Spring.

The battle for QB will be fierce as three of the four quarterbacks will be here. It should be interesting.

"D" (Johnson) is expected to come in and start. That's the main reason he's coming early.

Spence is getting bigger and bigger and his game study and ability to knock a ball carrier out has him right on the cusp of potentially getting real playing time as a freshman. Coming early will certainly help his cause.

Brown is expected to be a beast. Simple as that.

Forston, is well, flat out dominating. He should fill a plug the 'Canes need filled real bad.

Be sure to tune in at 2:00 p.m. Saturday and watch the Under Armour All-American Game where "D", Spence and Brandon Harris will be in action. I am heading up there tomorrow morning to meet up with Chris Stock and David Lake who have been up there all week bringing up to the minute coverage at Disney.

And tonight, I'll be at the Offense-Defense All-American Game at the Orange Bowl. Pahokee's Micanor Regis will be competing in that game as well as Hialeah's Corey Liuget, who the 'Canes are pushing hard for.

It's an exciting time for the 'Canes, and InsideTheU.com will bring you everything you want as a 'Canes fan, so be sure you get your subscription today.

*********************************************************************

*The men's basketball team is 13-1 heading into ACC play. They blasted Penn 88-62 after losing their first game of the year to Winthrop. The ACC opener is at home Jan. 12 at 2:00 p.m. against Georgia Tech.

*For you hoops fans, Dwayne Collins is becoming scary good. He scores with ease and is simply impossible to stop when it comes to putting the ball in the hole. His rebounding has improved a lot, but his free throw shooting must improve as it is currently Shaq-like at 45%.

*Anthony King pulled a groin muscle against Penn. His status is day-to-day, but with ten days rest he should be ready for Georgia Tech.

*A high school rivalry will be renewed against Georgia Tech when Collins does battle with former Norland power forward Zachery Peacock, a sophomore power forward at Georgia Tech. With both of them getting major minutes, it will be like old times watching the two lock horns. The last time they matched up in high school, Peacock outplayed Collins and Norland beat Miami High. Collins has come a long way since then. Should be fun to see them go at it.

*Brian Asbury is getting better and better. His shot has improved incredibly and he is becoming the "go to" guy after Jack McClinton.

*T.Y. Hilton of Miami Springs recently led the Golden Hawks to a 57-43 win over previously unbeaten Krop in the championship game of the Junior Orange Bowl Classic at Miami-Dade Kendall. He had 14 points, 11 assists and 7 rebounds in the championship game as he earned MVP honors. Hilton is being heavily recruited by Florida to play football, but there is not a doubt in my mind, if the 'Canes offered him in football, he could walk-on to Miami's basketball team and get heavy minutes. He fits Frank Haith's style, is ultra-fast, pushes the ball up the floor, loves to dish the rock and plays with passion few have. He is an excellent ball handler, the kind player that Miami needs and is missing.

*Back to football -- Did Mike Goodman REALLY go home because he was struggling in one day of practice at the Under Armour All-American Game week? I can't imagine a school keeping a scholarship offer to a kid who went home because things weren't going his way at an All-American Game practice.

Go to top

| | |
| --- | --- |
| 40 | Hoops in High Gear |
Thu Dec 27, 2007
While most fans are becoming entrenched in football recruiting, the men's basketball team has continued to have a spectacular season.

Now 12-0, the 'Canes have two more out of conference games before ACC play begins on January 12th when they host Georgia Tech at the BankUnited Center.

After that, the 'Canes travel to Boston College and North Carolina State before welcoming the top ranked North Carolina Tar Heels on January 23rd.

It's time to get in that arena and give these guys your support. They are doing what the football team failed to do this year, win. And they are doing it as a team.

Only two players are averaging more than ten points per game, so get out there and support this team starting Saturday at the Orange Bowl Classic in Sunrise when they play Winthrop and then head to the BankUnited Center on January 2nd when they host Penn.

*********************************************************************

*Over the past week, we've had our Holiday Special for the great price of $59.95. The promotion ends on December 31st so get it before our prices go up to $9.95 per month or $99.95 per year. If you get the $59.95 rate, it's locked in for good as long as you a subscriber.

*The football team is closing strong in recruiting. Regardless of what Ely's Patrick Johnson decides, if the 'Canes can get a commitment from Brandon Harris, it could very well be regarded as the best class in school history.

*C.J. Holton's change of heart on Florida State was no surprise at all. After talking to him, there wasn't a doubt that he was going to come to Miami. And guess what, he did.

*The Miami Heat's Earl Barron and Dorrell Wright were at Miami's win over N.C. A&T Sunday. Wright went to South Kent Prep with Jack McClinton.

*Superstar junior guard Kenny Boynton was also in attendance. He has been to a number of games over the past two yeas. However, coming off a 61-point performance in the City of Palms where he hit 22 of 33 shots, including 11 of 18 from three-point range, start picturing him wearing orange and green.

Go to top

| | |
| --- | --- |
| 39 | Canes 10-0 and Rolling |
Tue Dec 18, 2007
Let me start off my newest blog by saying, yes, I had a great vacation and I definitely needed it, but itís time to go on a diet because I literally gained five pounds on my vacation. I didnít stop eating over the four days of my cruise.

Well 4.6 pounds to be exact and I actually cracked the 270 mark. I must be the skinniest looking 270 pounder on earth. But thatís going to change. I am going to get down to 230 by the end of February and be looking svelte and sexy again.

Now to my thoughts at the present time.

ē Congratulations to Northwestern and Booker T. Washington, the No. 1 and No. 4 teamís in the country on winning their respective state championships. Northwestern showed the state once again that teams from Orlando simply arenít on the same level as teams from Miami. Booker T. finally finished the deal and brought home its first state title. I am incredibly proud of both programs.

ē Northwestern QB Jacory Harris finished his senior year with 49 touchdowns and only 6 interceptions. He did break Robert Marveís record of 48, but Marveís former back up Aaron Murry broke Marveís mark with 51 touchdowns this year. Harris had a chance to break the mark in the fourth quarter, but sprained his MCL and ACL the second play of the fourth quarter.

ē I must say I am quite happy with the recent success that Miami is having with recruits. Arthur Brownís commitment is beyond huge, but the key will be coaching him up. Weíve secured a number of highly rated players in the past who have not panned out because they werenít coached properly. This job is Micheal Barrowís to make Brown a star.

ē Coach Walton has been dismissed from the staff. Itís a cruel world when a coach can be in Orlando recruiting at the state championship games Saturday and be fired on Monday. But when your defense gives up 51 points, 44 points and 48 points in one season, fired is generally what happens.

ē The menís basketball team is 10-0 and ranked No. 22 in the nation. Support this team. They are most likely going to be 14-0 heading into ACC play. January 23rd against North Carolina in the BankUnited Center will be massive. If the ĎCanes donít make the NCAA Tournament, Iíd be beyond shocked.

ē Jack McClinton came up big with 29 points in Miamiís win over Mississippi State. McClinton has clearly put himself up with the upper echelon on players in the ACC.

ē Jonathan Stratton hit a three-pointer against Stetson. It surely is refreshing to see a player that works so hard get a chance to play and put the ball in the hole.

ē Raymond Hicks is definitely focused this season. Last year he struggled with off the court troubles, but he got a chance to start against Stetson Monday night in place of an injured Jimmy Graham and put in 15 points.

ē The ĎCanes had five players in double digits in their 89-53 win over Stetson.

Last, but not least, but most importantly, I want to wish all of you a Merry Christmas. Once again, we thank you for your support of InsideTheU.com and are happy you have given us the opportunity to provide you with the best coverage on the University of Miami.


Go to top

| | |
| --- | --- |
| 38 | It's My Birthday! |
Sun Dec 9, 2007
Well, it's December 9th, my 30th birthday. Man I feel old. I have a crick in my neck right now sleeping awkwardly last night and I can barely turn my head to the right or left. It's pretty bad.

But enough of that. Yeah, I am old. Officially, near death. But if I died today, I will have at least one of the most remarkable drives in the history of high school football.

It's one thing to hit for a big play, but what Northwestern QB Jacory Harris did Friday night in Northwestern's 19-14 win over Deerfield Beach in the Class 6A state semifinals was absolutely unbelievable.

He took his team 99 yards in 12 plays over the final 2:31 to save the Bulls perfect season, a chance at a state championship, national championship, and the opportunity to break the consecutive wins record in Miami-Dade County history. A win over Orlando Boone next Saturday gives the Bulls 30 straight wins eclipsing the mark set by Southridge in 1993-1994 and Carol City 1997-1998.

It's one thing to see an NFL quarterback drive his team 99 yards, but to see a 17-year old do it and the way he commanded his team and led them, just unreal. Harris is a champion. Flat out. No denying it. From Glengary Glen Ross, "It takes brass balls to sell real estate." Well, it takes brass balls to drive a team 99 yards with your season on the line too. Harris has them and everyone saw that Friday night.

He told me after the drive, "Man, I've never done that before." He was kind of numb when he said it. Well, you've done it now. That's what champions are made of.
*********************************************************************

Well what's going on in hoops land:

*The 'Canes men's basketball team is balling (8-0). You know the 'Canes are doing well when Frank Haith is mad because his team didn't play well enough and only won 67-53 at FIU Saturday night, a game it actually led 54-29 and jumped out 12-0 to start the game.

*There were 4,121 fans at the FIU-Miami game Saturday at Pharmed Arena and the place was jumping. It was the second largest crowd in FIU history. Unfortunately for Miami, it's also the largest crowd they've played in front of in Miami as well. I.E. Start supporting this team 'Canes fans. I will say this though, about half the fans there were 'Canes fans and the students in the upper deck were very loud and boisterous. It was a great college basketball atmosphere.

*After talking to coach Haith the other day, this year's recruiting class has the chance to be a big time class. Haith singled out Georgia's DeQuan Jones. The Marietta, Ga., native played travel ball with the Worldwide Renegades alongside N.C. State power forward J.J. Hickson and Michigan State shooting guard Chris Allen. Haith says the boy is bad and is a flat out stud. Look out for this 6'5, 190-pound fire plug next year.

*Freshman PF Julian Gamble will likely be redshirted with Anthony King coming back with his medical redshirt season. Haith says that Gamble can play right now and is going to be a beast, but he'd prefer to not blow a year of eligibility on Gamble with King, Dwayne Collins, Jimmy Graham and Raymond Hicks. With King and Hicks graduating, Gamble will be expected to step right in and play big minutes next year. However, if any of the bigs gets hurt, Gamble could be thrust into the rotation.

Around the nation:

*Florida QB Tim Tebow won the Heisman Trophy. Let me the first to say that was absolutely ridiculous. So he rushed for 22 touchdowns. Big freaking deal. Most colleges have a running back. Unfortunately, Florida doesn't so it makes it look like Tebow is some boy wonder out there. If he has a running back, he hands it off and only has 5 to 8 rushing TDs this year. That makes Darren McFadden the Heisman Trophy winner. Votes miss the big picture too often with this award.

*UCF RB Kevin Smith needs 180 yards to break Barry Sanders NCAA rushing record. The kid is out of control. A native of Miami, Fla., a graduate of Southridge High School, Smith played safety as a senior. He was a running back as a junior. But get this, Smith wasn't a finalist for the Doak Walker Award and wasn't among the top four vote getters for the Heisman and not invited to New York for the award presentation. Do people not watch football? Spare me the Conference USA crap. 284 yards in the conference championship is a monster game.

Off topic:

*Finally, Floyd Mayweather fought. He knocked out Ricky Hatton in the tenth round of their championship bout giving Hatton his first loss of his career. I am not a fan of Mayweather nor will I ever claim to be, but finally, the kid FOUGHT. He ran for a period of the fight and ducking to the point where he is knee high on an opponent is ridiculous, but in the end, the man fought and knocked Hatton out. Much respect "Pretty Boy" Floyd.

*Can the Dolphins win a game today? They play the Bills at 1:00 p.m. I am a Dolphins fan. Die hard in fact. I hope this team goes 0-16 so they can get rid of Cam Cameron. He is TERRIBLE! I am trying to avoid negativity, but after he refused to go for a 43-yard field goal in Pittsburgh in a scoreless game I nearly lost it. You are 0-10 at the time. What the hell do you have to lose? Jay Feely might be the best kicker in the league and we don't kick a 43-yard field goal? Goodness. A few weeks earlier he didn't let Feely kick a 54-yard field goal. Instead, he punts and the Houston kicker nails a 54-yard field goal to beat us. Cam, you have to give your players a chance to make plays.

Well, I am out. Let me celebrate the old man birthday. From December 13th to 17th, I will be out of commission. My boys will manning the fort. I will be on a cruise enjoying the Caribbean. Bon Voyage!


Go to top

| | |
| --- | --- |
| 37 | Big Weekend Ahead! |
Wed Dec 5, 2007
It's a big weekend coming up in Miami-Dade County football.

Friday night at the Orange Bowl Miami Northwestern will put it's 28-game winning streak on the line when it plays Deerfield Beach in the Class 6A state semifinals.

In August, Northwestern beat Deerfield Beach 50-41 in their preseason clasic. The Bulls led that game 31-7 in the second quarter and looked like they were on their way to a rout of Deerfield Beach.

But the Bucks battled back and actually got within three points in the fourth quarter at 44-41 with just over five minutes to play.

The result of that game had people wondering if Northwestern had a kink in its armor, namely its secondary which got eaten up by Deerfield Beach.

Rest assured, Northwestern wanted this rematch real bad to the point the players actually celebrated when they heard at Traz Powell last Friday that Deerfield had beaten North Miami Beach.

Deerfield Beach will be a confident bunch and will probably look to do the same things it did in the first game. Roll out quarterback Denard Robinson and try to hit receivers deep.

However, talking to Bulls players, they expect nothing less than to whip up on Deerfield, the last team that beat them. Northwestern's last loss was in 2005 at Traz Powell to Deerfield Beach when the Bucks beat Northwestern 17-14 in the state semis.

A win by Northwestern and they have a 29-game winning streak which will tie Southridge and Carol City for the longest winning streak in Dade County history.

UM commitments: Jacory Harris, Aldarius Johnson, Sean Spence, Marcus Forston, Brandon Washington, Kendal Thompkins

UM recruits: Tommy Streeter, Benjamin Jones

*********************************************************************

Down the road at Traz Powell, Booker T. Washington is back in the state semis and will be trying to overcome some demons.

The Tornadoes have lost in the state semis the past four years. The first three times, the losses came to Armwood. Last year, it was to Robert Marve led Plant. Armwood is back again.

Booker T. is coming off probably its worst game of the season in a 7-6 win over Dwyer. The Tornadoes are battling injuries and will surely need to play a lot better Friday if they are to get past the Armwood hurdle.

It goes no further than the Booker T. defense and Brandon Harris, Davon Johsnon and Thearon Collier. They have to make plays and a lot of them.

Also, if you want to see Matt Patchan in action, this is time to do it as he is the star lineman at Armwood.

Booker T. is ranked No. 4 by ESPN and Armwood is ranked No. 10 by the National Prep Poll so this game should be a war.

UM commitments: Davon Johnson, Thearon Collier

UM recruits: Brandon Harris, Matt Patchan

*********************************************************************

On the recruiting front:

*Don't expect Northwestern linebacker Quavon Taylor to get a scholarship offer. Although Taylor is the leading tackler at Northwestern, sources tell me the 'Canes don't want another 5'9, 185 pound linebacker. They are looking for guys with more size.

*Miami isn't looking for athletes with potential. The 'Canes are looking for football players that fit into their system.

*Don't expect to see a bunch of high grade athletes being recruited by Miami over the next two months. The grades by recruiting sites don't matter. What matters is what the player brings to the program. I.E. Will he run through a wall for the team? Is he a leader on and off the field?

*The vibe from Northwestern wide receiver Tommy Streeter is that he won't be a Hurricane.

*Krop cornerback Gary Grant recently committed to N.C. State.

*Krop quarterback Victor Marc recently transferred to Hallandale. Expect Krop LB Quan Fletcher to transfer as well, possibly to his home school, Norland. The only big time prospect expected to stay at Krop is DT Brandon Taylor.

*Krop DL Jorge Wright is expected to commit to UCF in the near future.

*Dillard tight end Bo Reliford, who is now playing basketball, recently spoke with InsideTheU.com about his thoughts.

Go to top

| | |
| --- | --- |
| 36 | Karnell Hatcher and More |
Tue Dec 4, 2007
If the University of Miami wonders why it's been struggling on the football field, look no further than the story behind Karnell Hatcher.

InsideTheU.com's David Lake reported today that Miami is no longer recruiting Delray Beach Atlantic safety Karnell Hatcher because he had given a "verbal" commitment to LSU. Hatcher said it was not a commitment, but a "soft verbal" (I still don't know what that means). Apparently, UM coaches read somewhere on some website and didn't follow up on it with Hatcher himself.

If they had read InsideTheU.com, they would have seen that Hatcher was still open. We did a story on that almost immediately after Hatcher's visit to LSU.

To hear that UM stopped recruiting Hatcher based on that is ridiculous. UM recruited LB Brandon Marti and he had been a firm commitment (you see how firm it really was) to Wisconsin for months. Within a week, he had changed his mind and was a Miami commit. Go figure.

Isn't C.J. Holton a ďsoft verbalĒ Florida State commitment? Has that stopped Miami from continuing to recruit him and lure him away from the Seminoles? Has Miami stopped recruiting Frankie Hammond who gave one of those ďsoft verbalsĒ to Florida? Nope.

So what the heck is the deal with Hatcher? Something is quite fishy here.

Hatcher is one of the best safeties in the country and the 'Canes stopped recruiting him because he gave a commitment to someone else. That's weak. It's because of things like that Miami has gone 7-6 and 5-7 over the past two years. While other schools close on guys, we stop recruiting them. Hatcher would make UM's secondary sick within two years and is a guy you canít stop trying to get until signing day when he decides to sign with someone else.

Why Hatcher gave that silly "soft verbal" commitment to LSU I'll never know. "Soft verbals" are the dumbest thing I've ever heard of in my life anyhow. Why he couldn't borrow a cell phone from anyone of his friends or relatives for five minutes to call UM and actually let them know this as well is rather ridiculous to boot. Hatcher said his cell phone was broken and he couldn't call for a week. That's nonsense. He could have e-mailed, called, sent a telegram by Pony Express, sent a letter via U.S. Mail, anything and it would have taken less than a week. So yes, I put some of the blame on him, but Hatcher is the recruit. Itís not his job to call Miami. Itís Miamiís job to call him.

Either way, for Miami to tell him that they got a commitment from someone else is rather hard to believe. Miami has two commitments at safety, C.J. Odom and Joe Wylie. So who is the third one that they told Hatcher about? My guess is, there is likely no other commitment and it's quite possible that Miami coaches were just pissed about what they read and heard and said to heck with it.

I am purely speculating at what the thought might be, but whatever the thought is, Hatcher is too darn good of a player to stop recruiting just because he gave a "soft verbal" commitment to LSU and it's the exact reason why Miami has fallen on hard times lately.

ANOTHER RANT

I am dumbfounded. Northwestern linebacker Quavon Taylor still doesnít have an offer. Miami just got a commitment from a linebacker in Toms River, New Jersey, Zach Kane. I wonít even pretend to say I know anything about Kane, but I do know this, Taylor should get an offer.

Kane led his high school to a 12-0 record and the state championship this year. Congratulations to him on that.

Taylor is the leading tackler on the No. 1 in the NATION! He is a two-year starter on a team that was won 28 straight games. Northwestern is 13-0 and playing in the state semifinals on Friday against Deerfield Beach. Maybe Miami coaches should take a ride to the Orange Bowl and watch one kid play, Taylor. The ĎCanes need to take notice of that and stop screwing around with this kid and give him a freaking offer. Itís unbelievable that Taylor has not gotten an offer from Miami.

With all due respect to Kane, football in New Jersey does not sniff football in Miami-Dade County. Itís not like Taylor plays at Barbara Goleman. He plays for the best in the land. What does he have to do to get an offer?

I know where Taylorís heart is. He wants to be a Hurricane real bad. Itís the reason he hasnít committed somewhere else, but if I was Taylor, Iíd give Miami a deadline and let them know, if I donít have an offer by such and such date, forget it, keep your offer and stuff it up your you know where. Iíd make a point to commit to a school (maybe USF) that has Miami on its schedule in the near future and be sure to knock someoneís head off when I played Miami because Taylor is flat out being done wrong by UM.

Whatís killing me is that while the ĎCanes started off this recruiting class exceptionally with commitments from Jacory Harris, Marcus Forston, Sean Spence, Aldarius Johnson, Davon Johnson, Patrick Johnson, Jordan Futch and more, it seems like the momentum is fading. They are throwing out offers to players who are really not on anyoneís board. They offered Marti (who is not better than Taylor). They offered Kane (who I doubt is better than Taylor). They offered John Calhoun (they claim at fulback, but he is also a linebacker). Itís becoming rather ridiculous.

It begs the question for me, have Miami coaches ever seen Taylor play? I would just hate to have to have the ĎCanes play against Taylor in a couple of years because you know heíll have something to prove.

Go to top

| | |
| --- | --- |
| 35 | I am Turning Soft |
Mon Dec 3, 2007
I must be turning soft by writing this blog and officially lose my title as the psycho on InsideTheU.com (I just made that one up by the way), but after conversation with my partners last night, it has been declared that I have been overly critical of some people and probably a little unfair to others.

Because of my articles in the past, I got in bad graces with some coaches and SID's apparently over the past year and some people are clearly upset with me. What kills me is they don't actually call me to tell me. I hear about it from partners. In fact, I just heard about one seven months after the fact. So to them, if you have a beef with me about something, let me know. We can always talk about it. But how can I know you are mad at me if you don't tell me.

People not liking me or being upset with me doesn't really bother me because I am used to that. I have a mouth and I run it. Maybe sometimes too much, but it's funny that other people in the media run their mouthes more than I do and don't get halfway as ripped as I do nor are people ever really mad at them. And if they are, they get over it. For me, it seems like folks get mad at me and never get over it.

I have been criticized about everything in my life on message boards, from my hair, to my clothes, to my writing, to my glasses (when I wore them), to my shoes, to my weight, to the point of talking about my parents in a disparaging way, to everything you can possibly think of.

If people said the things about athletes that have been said about me, I can't imagine how they might react. I'd swear I was a celebrity based on the amount of people that talk about me. Can you imagine how any athlete would have reacted if a writer talked about his mother or father the way mine have been talked about on message boards at one time or another when they have nothing to do with anything I do?

As a writer, I have developed a calous over myself based on the things that people have said about me. That's probably why I have said the things I have said in the past about athletes and coaches and not truly understood why it bothered the person who was subject of my criticism.

It was the the way I saw it, and from living life the only thing that generally hurts people is the truth. If it's not true, then it shouldn't bother you which makes the response I've gotten from some confirmation that what I was saying was actually true.

Whether it was or it wasn't though at this point irrelevant. What is true though is that I am sorry to the people who I have offended in my past stories, commentaries and blogs. Can I soften some of the things I say? Definitely. Do I want to? Not really. Will I do so? I'll certainly try.

The fact is, I do not write for a Public Relations firm. I am not a butt kisser. I am not going to talk about how great an basketball player played when he has three points, one rebound and goes one for six from the line, or speak of how great a receiver was whe he had two catches for 20 yards and three dropped passes or find a way to sugar coat a 1 for 14 night for a quarterback. That will never be me.

Our site is no different than any major newspaper or website. We are attached to ESPN which makes us a news site. We cover the Hurricanes, but we are not a P.R. site for Miami.

What baffles me is the fact writers from other mediums can say whatever they want in their columns, are ultra critical, say things that are just downright foul, but no one says anything about it. Try reading any column during the week in any local newspaper. It's perfectly okay for them to critique. But for me, when I write something remotely critical, it's a travesty.

Regardless of all of that, for those who I have offended, I am sorry. I am not trying to offend, just tell it the way I see it. I have never been one of those fans in the stands who cusses players and coaches as they leave the field or the court and I will never be, but I still have my opinions and I will continue to write them. I will, however, try to soften them and not make them sound so critical.

Go to top

| | |
| --- | --- |
| 34 | A Tragic Day |
Tue Nov 27, 2007
The events of the shooting and eventual death of former UM safety Sean Taylor should put things into perspective for fans that bemoan losses and get mad over coaching decisions. It's just a game.

Taylor, only 24 years old, died this morning as a result of the gun shot wound he endured at 1:30 a.m. Monday morning at his home, the result of an alleged burglary.

It's another tragedy in a list of tragedies that the University of Miami has had to endure over the past ten years, most recently the murder of Bryan Pata just a year ago in his apartment.

Can any school deal with so much?

From Marlin Barnes to Al Blades to Cris Campbell to Pata and now this. It doesn't seem to stop when it comes to current or former Hurricanes. The worst part of it all. Barnes, Pata and now Taylor were killed in their HOMES. They weren't out looking for a problem. They were at home where it is supposed to be safe.

While everyone has worried about the next recruiting class and if Miami can rebound from a 5-7 season, I say this. Who cares! It's just a game. Whether Miami is 5-7 or 12-0 next year, Miami lost another member of its family in a horrible way. These young men are gone and it pains my soul as it should yours.

Rather than read about all the things that Taylor may have done wrong in his life which is what almost every news story has mentioned since yesterday talking about something as ridiculous as the hit he put on the punter in the Pro Bowl, I prefer to look at the man.

He was a father. He was a brother. He was a son. He was a cousin. He was a boyfriend. He was a provider for many in his family. He was a beloved person amony his family and friends, those who matter. And he will be sorely missed in the hearts of former and current University of Miami players, administration, family, friends and fans alike.

InsideTheU.com was trying to avoid having to put the story up on our site when it first happened in prayer that Taylor would make it through, but tragically he didn't, and we find this to be far more important than any recruiting story, any report card, anything else involving football, baskeball or any sport because when it comes down to, sports really doesn't matter at a time like this.

My heart cries for Taylor and his family. Finally turning his life around, he was snuffed out at such a young age. I can only hope and pray that the person or people who did this are caught and brought to justice. There is no doubt in my mind this wasn't a burglarly because of all the houses on Old Cutler Road in a lavish area, Taylor's was picked twice in eight days?

Someone knows something, come forward, give his family and friends some closure because tragedies like these are becomming all too common down here.

May God Bless Sean Taylor and his family.

Go to top

| | |
| --- | --- |
| 33 | A New Attitude |
Mon Nov 26, 2007
Last year, Miami would have lost to Morgan State. Trailing by seven with seven minutes to go, there is no way that the men's basketball team would have won a game faced with that situation last year.

You can see it in their eyes on the floor that this group of guys not only believes it's going to win, but expects to win.

Morgan State is not the same old MEAC doormat. Morgan State has some good basketball players, has a transfer from Cal who is darn good and is experienced. The Bears will beat plenty of people this year and will probably win their conference.

More importantly, Miami won this game without leading scorer Jack McClinton and with Brian Asbury doing essentially nothing on offense for 37 minutes until his steal and break away dunk gave Miami its first lead since midway through the first half.

Starting at 5-0 for the first time since the 2001-2002 season, the last time Miami made the NCAA Tournament, the 'Canes look like a team that is going to get off to a great start. As proven in past years, a great start increases the likelihood of making the NCAA Tournament at the end of the year.

The 'Canes return to the floor Wednesday at the BankUnited Center against Alabama State. There is no reason not to expect them to be at least 6-0, and if they beat St. John's at home next week, FIU is on tap next and we could be looking at an 8-0 start.

You see it. You can feel it. This team expects to win. It could make for a special year.




Go to top

| | |
| --- | --- |
| 32 | Happy Thanksgiving! |
Thu Nov 22, 2007
While we should give thanks everyday for simply being alive, on this special day I want to thank our readers for having given us the opportunity to bring you University of Miami coverage right to your fingertips.

When we launched InsideTheU.com on August 4th, we didn't know what to expect. We didn't know if people would accept or like a new UM website. While we knew how hard we would work, there were so many questions, first on the design of the site, how we should run the site, what we thought you would want to read. But it's all been worth it because our passion runs deep and we bring it to you on InsideTheU.com.

But questions we had were answered quickly because of you, our readers. It makes our daily routine well worth it. You have shown your faith in us by subscribing to InsideTheU.com and we thank you for that.

Each and everyday we try to think of new things to bring you, our loyal readers, so that you never leave our site.

InsideTheU.com exists because of you and for that I thank you all. I hope you and your families have a wonderful Thanksgiving.


Go to top

| | |
| --- | --- |
| 31 | Thank God for Basketball! |
Sat Nov 17, 2007
The basketball season just started the Frank Haith has his team sitting at 3-0 going into the championship game tomorrow in San Juan. At least someone is winning because it's surely not this football team that continues to trudge it's way into the anals of being the worst and most embarrassing football team over the past 27 years.

After Kyle Wright led the 'Canes to a touchdown midway through the third quarter cutting the team's deficit to 20-14 which appeared to give Miami a lot of momentum, as it has done all season, the 'Canes defense disappeared.

What was supposed to be the strength of this team, the defense, is just a joke of a unit. You hate to be negative, but what else is left. This defense just gave up 44 points, a week after it gave up 48 points. This team has now given up in different games, 51 points against Oklahoma, 33 against North Carolina, 29 against Florida State, 48 to Virginia and 44 against Virginia Tech.

To put it simply, this team stinks. From top to bottom, it's garbage. It's what Dan LeBatard would call SEWEY.

Offensively, it's inept and challenged. The offensive line can no longer block. The receivers drop passes that hit them in the hands. The running backs don't make assertive runs, simply dancing too much. The tight ends are a non-factor and the play calling is brutal. Let's not even get into the quarterback play. Wright was actually pretty good today with not much help from his butterfinger receivers, but as pretty good as he was, Wright turned it over three times (what's new) with an interception that ended any comeback hope and two fumbles.

Defensively, it's slow. It can't tackle. It doesn't keep simple assignments and it doesn't make any plays. Since winning at Florida State in what appeared to be a season changing win (that feels like a long time ago), the defense has forced or created just ONE turnover!

So when I say top to bottom, I mean top to bottom, from the coaches to the final player on the roster, it's a sad case at UM right now.

Let's not think about the RECRUITS next year because this is about right now and right now this team is awful. 5-6 only because it's played three patsies in Marshall, Duke and FIU. The sad part is Miami has become one of the patsies for other teams.

An example of how sad this team is was the four plays that were called when Miami was down 17-0 in the second quarter. Can Patrick Nix come up with anything better than trying to jam Javarris James up the middle when it's 6 offensive lineman against 9 defensive players? The first play, a set that I've never seen Miami run for a one yard gain, then another run, then another run, then that same retarded first down formation for one foot and the 'Canes are stopped at the goal line running a play they've probably never run all season.

The fact is, this team does not belong in a bowl game. It doesn't deserve to play in a bowl game and it would be a complete fraud if it somehow pulled out a miracle at Boston College next Saturday.

It's a bad football team. Period. From top to bottom, it's bad. There is no other way around it. You can sugarcoat all you want. There is nothing good about this team. Absolutely nothing.

People hated Brock Berlin when he was the starting quarterback, but man, Berlin led the 'Canes to a 22-5 record in his two years. Between Ken Dorsey and Berlin, the 'Canes were 60-7. Over the past two seasons, Miami is now 12-12. That alone speaks volumes of how far this program has fallen.

So for now, thank God basketball season has started.

Go to top

| | |
| --- | --- |
| 30 | I'm a Retard |
Wed Nov 14, 2007
Ok, I am a bit lost here. I read on another message board that I look like a retard. How do I look like a retard? Please explain. So I sound like one and I look like one.

I have no problem with people ripping me. Really, I don't. In fact, I like it. If you didn't figure it out, I wrote that blog for a purpose. It got 35 posts on another message board. It turned my blog into a topic of discussion.

All I ask is that you discuss my blog on the message board on InsideTheU.com, not other message boards. That doesn't make any sense to me.

But now, let me defend myself.

I lose credibility for saying that Glenn Cook will start. He'd be like a sixth year senior. He's getting the medical redshirt year more than likely. He'd be a leader. I am not saying he'd start all year. But to start the season, quite possibly he would. How much would you love to have Cook right now playing linebacker? I know I wish he was out there.

I read someone state that the starting linebackers would be Cook or Davis, McCarthy and Sharpton. Well, unfortunately, McCarthy and Sharpton are both too slow to play outside. That's the problem we had against Virginia. The tight ends abused us because we can't run. Simple as that. We need speed on the edges.

The problem you have with Sharpton, McCarthy, Cook and Davis is they are ALL middle linebackers.

What other positions are there? Defensive back. Ok, DVD. Yeah. I read that. Brandon Harris and Patrick Johnson are both probably stronger than DVD right now and better tacklers. I am not saying DVD won't play, but I think both of them are better. That's my opinion. I am entitled. Aren't I?

I've watched most of these guys play for years. I've been watching Harris since he was a freshman at Booker T. I've watched him grow. I've watched him become one of the best corners in the country.

I believe if the coaches felt Chavez Grant was good enough, he'd be a starter right now. But he's not.

Whoever starts, the point I was making about everything is that the players that should be on the field should be YOUNG! They should be freshman and sophomores. Whether they start or not. I don't want to see any seniors out there for most part unless it's an absolute need.

There was one in particular I mentioned in particular in Allen Bailey being a defensive end. Let me remind you that Bailey is RIGHT NOW between 270-280 pounds. What are we going to have a nearly 300-pound linebacker?

Bailey is a freak. He's a monster right now. If you've seen this guy in person, he's a tank with zero fat. His skull looks like a muscle. And he's only going to get bigger. There is no way he can really lose any weight because he's all muscle. He is going to have to move to the defensive line.

There was one post I saw that stated Kirby Freeman will be Robert Marve's back up. I can tell you right now, that won't happen. Freeman will not stick around to be anyone's back up. Expect him to transfer. I wouldn't even have him as the back up. Marve's back up would be one of the other freshman.

Well I am done for now. I've blown enough smoke. The retard has spoken. All I ask is if you are going to call me a retard, click on the message board link at the top of our page and call me a moron right here. Thanks!

Go to top

| | |
| --- | --- |
| 29 | Freshman Impact! |
Mon Nov 12, 2007
Losing 48-0 to Virginia at home does a lot of things to a coach, to a team, to fans and everyone who was a part of it.

To say it's time to re-evaluate the state of the program is an understatement. The 'Canes have now lost games 51-13 and 48-0 in one season. If we thought this team was bad last year, no one came close to beating them like this last year.

While people sit and talk about the how the offense can't score, can't move the ball, etc., let's take a look at a defense that was shreaded by a mediocre Virginia team. Don't the 9-2 record now fool you. Virginia is mediocre just like every other team in the ACC.

It's a conference full of mediocrity. That a sorry FSU team can travel to Boston College and dominate the Eagles is a joke. That the same B.C. team can travel to Virginia Tech and win playing the game for all of three minutes shows the same. That the same B.C. team then travels to Maryland and gets beat 42-35 shows what this conference is about. Virginia Tech also got splattered by LSU 48-7 earlier this year.

Flat out, the 'Canes would have been better served staying in the Big East in terms of the football because for lack of better words, the ACC sucks (West Virginia, Louisville, Rutgers and USF could probably roll over anyone in the ACC right now) and the 'Canes are nothing more than a middle of the pack team in a crap football conference. In fact, the 'Canes are closer to the bottom than they are to the top at this point.

UM football has not gotten better since joining the ACC. It's gotten worse, way worse. Not just by record, but by talent. Why this happened obviously can correlate to the fact that Larry Coker recruited players that had no business being on this team. It could also be viewed as a situation where everyone around Miami has gotten better while the 'Canes have stayed the same or regressed.

What remains painfully obvious is that this program is in a rebuilding stage. I actually hope that Miami does not win either of the final two games. For what! To go back to Boise, Idaho. I'd prefer not make a bowl that see Miami play on that blue turf again. It would be a fraud that Miami actually beats Va. Tech or B.C. on the road and then gets invited even though it's clear this team does not deserve to go to a bowl game.

Maybe losing the final two games will force Randy Shannon to make the decisions that need to be made, i.e. gut the whole freaking team.

Next year's team should see at least 10 FRESHMAN starting. Period. If you are a junior or senior, expect to rest on the bench a lot next year because you simply haven't gotten the job done.

To go out there Saturday and lay such a big egg. It was embarrassing, but it also exposed clear weaknesses. Miami is slow defensively. Believe it. The 'Canes speed is comparable to FIU's now. Notice, the 'Canes only beat FIU 23-9 while every other team not in the Sun Belt slaughtered them, sans Maryland, another podunk ACC team.

Let's take a look at who I think should be a starter next year.

QB - Robert Marve (Fr.)
RB - Graig Cooper (So.)
FB - Jerrell Mabry (Jr.)
WR - Aldarius Johnson (Fr.)
WR - Jermaine McKenzie (Fr.)
TE - Richard Gordon (Jr.)
OL - Matt Patchan (I believe he comes to Miami) (Fr.)
OL - Orlando Franklin (So.)
OL - Chris Rutledge (Sr.)
OL - Jason Fox (Jr.)
OL - Joel Figueroa (So.)

One of these guys will learn to play center.

DE - Allen Bailey (So.)
DT - Marcus Forston (Fr.)
DT - Chris Perry (Fr.)
DE - Eric Moncur (Sr.)
OLB - Sean Spence (Fr.)
MLB - Glen Cook or Colin McCarthy (Sr. or Jr.)
OLB - Lerentee McCray (Fr.)
CB - Patrick Johnson (Fr.)
S - Damien Berry (So.)
S - JoJo Nicolas (So.)
CB - Brandon Harris (if he comes to Miami) (Fr.)

There could be changes in that list too, but at least 10 freshman should start with a number of them getting a lot of playing time as well off the bench.

It's the only way this losing attitude that has become contagious will be done away with on this team and in this program. The new blood plays. The new blood does it's job and soon enough the new blood will be leading the 'Canes back to the top where we belong.

Go to top

| | |
| --- | --- |
| 28 | It's About Time! |
Wed Nov 7, 2007
It's about time!

That's the first thing I needed to say. Northwestern wide receiver Kendal Thompkins finally got his scholarship offer from Miami and he accepted it on the spot.

Thompkins had been telling the world how he wanted to go to Miami, how he wanted to play with his high school teammates who had alread committed there, how he grew up loving the "U". Miami was finally convinced and made his dream come true.

As he said to me on the phone Wednesday night, "I'm speechless."

That's how big this was to him. Randy Shannon will not regret it.

Thompkins is a playmaker. He's a gamer. He has 26 catches for 491 yards this season and a plethora of big plays.

He'll do the same at Miami. Thompkins had gone from the unknown to the star. He's not the top receiver at Northwestern. That honor goes to Aldarius Johnson, but there's not a doubt in my mind he is equal to or better than Tommy Streeter. Without a doubt, he's more experienced and more polished than Streeter.

I'll go one better. Thompkins is the second best receiver Miami has a commmitment from. Yes, he's better than Davon Johnson and Thearon Collier.

For those that don't know or disagree for that matter I say got watch Northwestern play and keep an eye on No. 1. That's Thompkins. The odds are before you leave the stadium that night you'll be left with your mouth open on some ridiculous play he makes.

Miami finally saw it too and now agrees.

Go to top

| | |
| --- | --- |
| 27 | Too Many Quarterbacks! |
Tue Nov 6, 2007
Ok...let's see now. We have THREE quarterback commitments for the 2008 class.

THREE!

In the past few years where the 'Canes have been left jilted at the altar by every major quarterback recruit they've had until last year and didn't have a backup plan, now we have the complete opposite end of the spectrum.

Next year, we are looking at redshirt freshman Robert Marve and three true freshmen Taylor Cook, Jacory Harris and Cannon Smith. I have to wonder and wonder aloud. Is this a good idea?

It's one thing to have a quarterback carousel with two quarterbacks. This is potentially four quarterbacks in that carousel.

This doesn't even include Kirby Freeman if he returns to Miami for his senior year, although I think he'll transfer. But if Freeman does come back, now you've got FIVE scholarship quarterbacks.

I really don't get it. It doesn't even begin to make sense. Everyone assumes Marve will be the starter assuming he doesn't break anymore rear view mirrors in Coconut Grove. As the starter, who is his back up?

It's going to be a true freshman. I'll say Jacory Harris.

So which of the other two do you redshirt? You have to redshirt one, and if Freeman returns, I'd consider redshirting them both.

But at the same time, while we burn a third quarterback scholarship let's remember our need positions outside of corner. Yes, we have like five linebackers coming in and four wide receivers coming in, but do we have a tight end who is going to catch some passes or a defensive end that's going to hammer the quarterback, or some young offensive linemen who are going to block? Remember, Derrick Morse is heading out and some of the other starters are heading into their junior and senior years. We have to start breeding offensive lineman for the future.

I just wonder aloud and I am sure other people wonder it too...is this now too many quarterbacks?

Go to top

| | |
| --- | --- |
| 26 | The Worst Ever! |
Sat Nov 3, 2007
Anyone who ever says Frank Costa or Ryan Clement needs to redo his vocabulary.

Today, we saw the absolute worst performance at quarterback in the history of the University of Miami by Kirby Freeman as Miami lost any chance at the ACC Championship with its 19-16 overtime loss to N.C. State.

You hate to be negative, but Freeman leaves you no choice. There is nothing positive about his performance. NOTHING!

If not for one lucky toss down the field to Darnell Jenkins for an 84-yard touchdown pass, one that Jenkins had to wait for, Freeman was 0 for 13 for ZERO YARDS and THREE INTERCEPTIONS.

Yes, Freeman completed more passes to Wolfpack defenders than he did to his own receivers. The sad part, nothing had a chance.

Going into Miami's last minute drive against Florida State, Freeman was 1 for 8 at that point. If not for that gave saving drive, Freeman could be looking at two of the worst performances from a Miami quarterback ever. He is now 5 for 25 in his last two games.

Kyle Wright was hurt so he didn't play, but if he was that hurt, he should have been wearing a sweat suit. It's almost painful to watch him on the sideline while Freeman makes the quarterback position look like an abomination. There was no reason for Wright to dress if he couldn't play. Simple as that.

Why not try Graig Cooper at QB? Darnell Jenkins took a crack, but the two calls for him resulted in almost -20 yards. Why not try the hot dog vendor? My dead grandmother could complete as many passes as Freeman did today.

Did anyone else notice that every single time Freeman rolled out to his right, sans the touchdown to Jenkins, bad things happened? Bad things just kept on happening. The game plan in terms of passing the ball was brutal. How many multiple receiver packages did Miami play with today? I can't remember, but very few.

0 for 13 is bad enough, but when you add those three interceptions where Freeman is trying to thread a needle in between four defenders, it makes it even worse and it's why Miami lost. 0 for 13, no picks. Miami wins. Add the three picks and the result is a loss.

It's almost unfathomable that Miami could rush for 314 yards and LOSE. But that's exactly what happened Saturday as fans saw the absolute worst quarterback performance in the history of Miami football.



Go to top

| | |
| --- | --- |
| 25 | Central was Ready! |
Sun Oct 28, 2007
Saturday night at the Orange Bowl, Central was ready for Northwestern, the nation's No. 1 team. This was defeinitely not the same Central team that looked dreadful against HML last week and the same Central team that nearly lost to both American and Hialeah.

This wasnt't the same Central team that got slaughtered by Northwestern twice last year.

This Central was ready to play and even in defeat it showed they can play with the best in the country. It showed the Rockets that if they get another shot at Northwestern in the Regional Final, they have a legitimate chance.

But they can't make mistakes. Mistakes are what cost them this game. Whether it was the silly penalties in the first half or the interception that was returned for a touchdown, that was a difference. As good as Northwestern is, and they are darn good, Central had its chances.

The Rockets OUTGAINED Northwestern's juggernaut offense 306 to 255. The Bulls had one sustained drive which gave them a 24-6 lead in the fourth. It was the most misleading 24-6 lead one could see because the Bulls did not dominate this game.

Other than that, it was a 59-yard interception return by Charles Thompkins who did a great job filling in for injured starter Keith Richburt, a 32-yard touchdown pass to Aldarius Johnson and an 83-yard touchdown pass that Kendal Thompkins created on a short little out route that he took the distance.

If not for the big plays, Northwestern was outplayed by Central Saturday night.

And it's something the Bulls will have to figure out before they play Central again in the playoffs. Their former coach Alex Snipes clearly qued the Central players of the checkoffs, hand signals and all. He was Northwestern's OC last year. This year he is Central's. It made a difference.

Jacory Harris said so. Kendal Thompkins said so. Harris said "they knew all our checkouts and knew what we were running". That's something the Bulls staff will have to adjust to whether it's by changing their hand signals or using dummy calls. If the don't and the Rockets can avoid the bad penalties and costly turnovers, the result could be different in late November.

Go to top

| | |
| --- | --- |
| 24 | One Word: Amazing! |
Mon Oct 22, 2007
We all saw what happened Saturday and still now, Monday morning, I can't believe what I saw. It was amazing.

Down five, we get stuffed at the one-yard line. The gloom and doom of this season seemed to be continuing and after the stuffing at the one it was hitting its apex. It couldn't get any worse than that. How do we not score in that position? The game had been gift wrapped and we forgot to tear off the paper.

But at a time where the defense could have tanked and given up it simply didn't quit. It made one last stop.

Our offense got one last shot. The offense that had as many completions by Francisco Zampogna as it did by Kirby Freeman at that point was going to have to march 83 yards in less than 2:45 to find a way to finally get a road win, at Florida State no less.

Freeman to Darnell Jenkins for 16 yards started the drive. How that pass wasn't picked off I still don't know. It was certainly the best pass Freeman had thrown all game. Then it was Cooper time. After that, a perfect pass to Jenkins (again the best pass he threw all game) and culminated by a perfect pass to Dedrick Epps (the bestest of the best passes he threw all game) and the 'Canes led 30-29.

To see the reactions of the players, it was just awesome. You could see the jubilation on their faces. You could feel it. It was something that indescribable. It just gave a goose bumps rush through your body. ABC couldn't capture on television what I saw field level. The hugging, the high fiving, the smiles, the excitement, the players climbing the walls at Florida State to be with fans in the stands. It hit a crescendo.

Lamar Thomas jumping for joy sprinting 30 yards following the Colin McCarthy fumble return for touchdown and chest bumping the Ibis numerous times in the South end zone in front of the UM fan contingent was good indication of how big of a win this was for the program.

Let me break it down a little more for people to really feel me on this one.

When I arrived in Tallahassee at 2:35 a.m. Friday night/Saturday morning after a 2 hour drive from Jacksonville after my flight from Fort Lauderdale was delayed 2 hours, the city was buzzing. I went to my favorite eating spot, Guthrie's, the greatest chicken fingers and most fattening dipping sauce you could ever eat. But I literally stood in line for 35 minutes. This is fast food you know, but it was that ridiculously packed. I did enjoy my Gut Box though. The streets were jam packed. It didn't matter that Tallahassee closes at 2 a.m., that the place literally goes to sleep at that time, FSU fans were jacked.

24 hours later, just hours after Miami broke Florida State's heart 37-29 at Doak Campbell Stadium, the place was a ghost town. That same 35-minute wait in line at Guthrie's was essentially 35 seconds in comparison 24 hours later.

That's how big this win was. That's how much this game hurt FSU and maybe, just maybe sparked Miami to something that could amount to a very good season.

This win struck a cord with everyone in orange and green. It doesn't necessarily indicate that Miami is back as it has three very tough games remaining (Virginia, Virginia Tech and Boston College) as well as a home game with N.C. State, but for at least one night, the 'Canes players, coaches and fans felt like they were on top of the world.

And in simply amazing fashion!

Go to top

| | |
| --- | --- |
| 23 | Brighter Days Ahead |
Tue Oct 16, 2007
Clearly, the "Big Game" this Saturday in Tallahassee does not have as much meaning as 'Canes fans would have hoped for with neither team being ranked and both coming off a loss.

This game has lost so much importance that I was able to get a hotel room on Sunday. Just five years ago, I would have had to reserve the room a six months to a year in advance.

But there are brighter days ahead for Miami.

It's clear as day this team is not a National Champion contender, but Randy Shannon's first recruiting class has the making of a beauty.

More so, expect to see many of them starting when the team kicks off next season.

The main players who will probably be thrust right into the spotlight include Northwestern's Aldarius Johnson, Marcus Forston and Sean Spence, Ely's Patrick Johnson, Palm Bay's Ramon Buchanan, Booker T. Washington's Davon Johnson and Thearon Collier and more.

That doesn't include Robert Marve who will likely be the starter next year. He would probably be the starting quarterback now if not for his car accident in August.

It also doesn't include Jermaine McKenzie who was also expected to start this year after a dazzling summer.

Picture it now:

QB - Robert Marve, Jacory Harris and Taylor Cook.

RB - Graig Cooper, Shawnbrey McNeal and Javarris James.

WR - Sam Shields, Aldarius Johnson, Jermaine McKenzie, Davon Johnson, Thearon Collier, Kayne Farquharson, Leonard Hankerson and Ryan Hill. That doesn't include Travis Benjamin who I expect to be at the "U" next year as well.

TE - Richard Gordon.

DT - Marcus Forston and Jeremy Lewis.

LB - Sean Spence, Marcus Robinson, Colin McCarthy, Ramon Buchanan, Lerentee McCray.

DB - Patrick Johnson, Damien Berry, Joseph Nicolas, Demarcus Van Dyke, Joe Wylie, Bruce Johnson, Jared Campbell.

You'll notice that most of these players will either be freshmen, redshirt freshmen or sophomores and this, rest assured will be guys who are playing most of the minutes.

This is what it will take as Shannon brings in his guys, coaches his guys and turns this program around to what it's supposed to be.

It might not be next year, but in 2009, this team will be sick. Mark it down! There are brighter days ahead.

Go to top

| | |
| --- | --- |
| 22 | Excuses, Excuses, Excuses |
Fri Oct 12, 2007
When I pledged my fraternity Phi Beta Sigma, one of the sayings I learned was the following:

Excuses are the tools of the incompetent and those who specialize using them are seldom good at anything but.

The University of Miami football players need to take heed of that and quit making excuses for their piss poor play in the first half of the game against North Carolina.

Just man up!

Every player keeps saying communication, accountability, deciding they want to win etc, etc, etc.

Quite frankly, I don't want to hear it anymore. I want to see it. There is no need to name players. For the most part, they are all saying it.

There is one problem. None of them are actually doing it.

I've never heard a player say, we decided we wanted to win before in my life. It actually took a half worth of a whipping by a bad Tar Heels team to make that decision?

Once they decided they wanted to win they kicked the snot out of North Carolina, but it was too little too late. Imagine if they actually played four quarters, it could have been a 45-14 game.

But the fact is outside of Darnell Jenkins, the coach speak has gotten tired. Jenkins is the only one with the cojones to speak reality.

The fact is, the team looked like complete crap in the first half against North Carolina, and then made a bunch of excuses as to why. The truth is, I've not heard one player say, we freaking sucked. We were embarrassing. We should be ashamed of ourselves, etc, etc.

Instead it's blah, blah, blah. We were flat, we were this, we were that...such and such and such and such. Just admit, you stunk for a half. That's it.

The reality is, through six games, the 'Canes have looked great at times (Texas A&M for three quarters and UNC second half, minus the turnovers), looked awful at times (Oklahoma and UNC 1st half) and looked quite mediocre most of the time (FIU, Duke, Marshall).

This team simply isn't good enough to not play hard all the time and not leave it on the field all the time.

But the time is now. The ACC is still winnable. The results around the nation have proven that no one is beyond reproach and beyond getting an L put on its record.

There is no better time than Saturday to get it back on track, but the only way for that to happen is for the excuses to end because they are the tools of the incompetent and those who specialize in using them will essentially amount to nothing. That's not what this "U" is about!

Go to top

| | |
| --- | --- |
| 21 | Dade Football is Pretty Even |
Wed Oct 3, 2007
Outside of Northwestern and Booker T. with a healthy Sancho McDonald, this year there is a lot of parity in Dade County High School football.

This week is a prime example as American plays Central in a huge district game, Norland plays North Miami Beach in a huge district game and Carol City plays Krop in a huge district game.

And that's just up North.

Down South, Southridge faces off with Killian while Miami Springs plays Coral Gables.

You could throw all those games into a bag and you could make an argument for why every team has a chance to win.

Let's go down the list -

Central v. American - Central has a potent offense and is coming off a 42-27 pasting of Norland. Jeffrey Godfrey was big time. At the same time, American also beat Norland 16-0. American is a senior laden team while Central is prone to bad mistakes. It wouldn't be a surprise if either team won.

North Miami Beach v. Norland - The Vikings have a good defense, but struggled mightily against Central. The last time they struggled the week after they crushed Krop. NMB is rolling. Could they be up for a slip? Mistakes will determin the winner.

Carol City v. Krop - A week ago, I'd say Carol City didn't stand chance. I still think Krop will win, but with Carol City nearly shocking Booker T., anything is possible.

Miami Springs v. Coral Gables - The loser will probably not make the playoffs. Springs and Gables both have a potent QB/WR tandem and a solid running back. This could be a shootout.

Killian v. Southridge - Ten years ago, that was the match up of the year all the time. It's lost some luster, but Killian already had a loss against Homestead, yet somehow, the Cougars led 13-7 in Lakeland last weekend. They lost 24-13, but it had to give them some confidence to hang with the three-time defending 5A champs. Southridge was routed by Northwestern, but isn't everyone. The winner will likely find a way into the playoffs. If Killian loses, the season is likely over cause they'll be 1-5 with three games (Homestead, Lakeland and Central) that they realistically could have won.

Either way, football is starting to get exciting so if you need your fix of high school football, this is the weekend to get out to the stadiums.

Go to top

| | |
| --- | --- |
| 20 | Bobby Bowden is a Joke! |
Thu Sep 27, 2007
Bobby Bowden, I am calling you out and I am coming hard with this one!

It's about time someone does it.

Starting linebacker Geno Hayes gets arrested (charged with three misdemeanors) and TASERED by the Tallahssee Police Department and his punishment, via Bowden Rules, is extra running. IF A UM PLAYER GOT IN THE SAME TROUBLE AND RANDY SHANNON'S PUNISHMENT WAS EQUIVALENT TO BOBBYíS...he'd be castrated by the media, local and national. There would be front page covers on Sports Illustrated how the UM program should be dissolved and lead story material on every sports program around.

The way things work in Tallahassee are comical and embarrassing.

"There's more than one way to skin a cat," Bowden said. "A lot of papers mentioned him (Hayes) this morning. They forgot to mention we run him every day. That's the punishment."

Are you kidding me!

Oh, I am sorry, Hayes won't start which means he'll miss the first play of the game. After that, all bets are off. One can be assured thay Hayes might miss the first few plays and be on the field if Alabama is making any kind of drive on its first possession.

If FSU was playing the Little Sisters of the Poor, Hayes might actually be suspended (Bowden has a history of disciplining players when the opponent is below average), but God forbid Bowden actually take action against a team with a pulse in Alabama.

Sam Shields and Ryan Hill miss a class, they are suspended by Shannon. Hayes gets arrested and he gets a cookie and a few extra laps. UM players have to run extra sprints, laps etc, on a daily basis because they jump offsides in practice. Miss a class or study hall they get suspended. Imagine if ANYONE on the Miami football team was arrested under Shannon. They would find a pink slip on their dorm room pillow telling them to bring their playbook and pack their bags cause they're going home.

Somehow, somewhere, Bobby Bowden forgot that there is more to college football than winning, that he is an elder statesmen in the game, and even though he doesn't coach a lick anymore, he still has the obligation, the duty to enforce rules and discipline players the way they should be disciplined, not with a kiss and a hug and a don't do it again lecture.

Maybe it happened during all the Wide Rights Miami put him through. Maybe that's when he lost site of reality.

But the fraud that is Bobby Bowden is up. It's time for him to cut the nonsense and actually take action against the players who act like idiots on his teams. This has been an ongoing thing throughout his tenure as a coach. That, or step down, which he should have done already because the game has flat out passed him by.

Only in Tallahassee can a player live in a jail and go to practice daily. That happened while I was at Florida State with starting defensive tackle Julian Pittman. And that was 1996. Only in Tallahassee can A.J. Nicholson be a repeat offender and always somehow just a get a few extra wind sprints.

Notice that A.J. never got taught a lesson so he brought his immature behavior with him to the NFL, only now he's learning through suspensions and losing a lot of money. Maybe if you had disciplined him the way you were supposed to he might not be acting like a complete fool at the next level.

But acting like a fool and being forgiven at Florida State has become the norm, it's become accepted and it's why it's time for Papa Bowden to go because he acts like a grandfather more than a coach and it's flat out becoming sickening to see.

And truthfully, his lack of action has become an embarrassment to college football and what it's supposed to stand for.

Comment on my blog.

Go to top

| | |
| --- | --- |
| 19 | Big Year for Dade Recruits |
Mon Sep 24, 2007
I've been covering Miami-Dade County High School for almost ten years. Believe it or not, I even played high school football my junior and senior years (93-94). I was one of those kids who followed high school sports religiously. Call me a sports fanatic, sports junkie, I remember reading the sports section to find out about what Southridge did, what Miami High in its basketball glory days (Doug, Steve and Allen Edwards) etc

More than 15 years later, I am the same way I was then. I still read the sports section daily. Fact is, I care more about high school sports than any other level. I love college. I like the pros, but high school sports, especially football, is where it's at.

In that time, I've never seen such a ridiculous amount of talent in one county in my lifetime. Not to say I am an expert of California or Texas football and the talent-rich counties they have there, but the talent this year in Miami-Dade County is flat out unbelievable.

The Class of 2008 will go down as the best class in the history of the county. There are numerous players that could end up taking snaps on Sunday's in the NFL.

It's one year where one could make an argument for any one of five players being ranked No. 1 in the county.

InsideTheU.com has Northwestern wide receiver Aldarius Johnson ranked at No. 1. Arguably, he's the best wide receiver to ever play in Miami-Dade County High Schools. His numbers are staggering and he could very well break 100 catches this year and 1,500 yards receiving.

But he might not even be the best play on his team. QB Jacory Harris is on pace for a record setting season, but not in Miami-Dade. At his current pace, Harris will break the state touchdowns record set by UM quarterback Robert Marve just last year. He will break Marve's record of completions and finish just short of him in yards. At this current pace, Harris will not only win every major high school football player of the year award in Florida, but he'll win them easily. He's flat out the most important piece to the Northwestern National Championship team puzzle.

Marcus Forston is regarding as the No. 2 defensive tackle in the country but there are those in Miami that think linebacker Sean Spence is the best player on the defense.

The arguments go on and on.

Then you have Booker T. Washington's Brandon Harris, Davon Johnson, Thearon Collier, Sancho McDonald, Winston Fraser, Jonathan Jackson, Kenny Smith and Franklin Brown Northwestern's Tommy Streeter, Brandon Washington, Ben Jones, Quavon Taylor, Levonte David, Robert Demps and Kendal Thompkins.

The names can flow like water: North Miami Beach's Aaron Winchester, Hialeah's Paris Cotton and Corey Liuget, Southridge's Eric Adeyemi, South Miami's Drayquan Crawford, Pace's Greg Shaw, Central's Ben Kearse, Paul Moore, John Williams, Lamar Vernon and Matt Sims-Darden (I am running out of breath), Norland's Sean Ferguson, Emmanuel Sourin and Kazemble Archer, Coral Reef's Malcolm Munroe, Gulliver Prep's Brandon Martin and Donovan Varner, Columbus' Mike Goodman, Derrick Crumpton, Dan Parker, Jaren Jones and Carlos Reyna, American's Marquise Law, Brandon Baker, Demetrius Stone, Marlon Smith and Columbus Bryant, Carol City's Robert Sands, Krop's Etienne Sabino and Travis Howard, Carroll's George Baker, Coral Gables Chris Gordon, Curtis Johnson and Alton Curry, Homestead's Marcus Robinson and John Brown, Dade Christian's Shawn Abuhoff, Kenny McKenzie, Maurice White and Chris Cunningham, Edison's Judah Linder, Killian's Chris Armstrong and Drew Arnold, Miami Beach's Hairol Rosa and Rashard King, Palmetto's Andrell Smith and Jaamal Berry, South Dade's Chris Byrd and Josh Brinson.

I am sure there are a number of kids I didn't even mention.

But right there, that's 68 players who will sign Division I scholarships in February 2008.

And the list I am sure will hit 100 by the time signing day comes around, and that doesn't even include the numerous Division I-AA athletes and Division II and III athletes.

Go to top

| | |
| --- | --- |
| 18 | One word: Wow! |
Thu Sep 20, 2007
There is one word to describe tonight's performance against Texas A&M.

Wow!

The University of Miami finally came back and showed what its about. It showed the talent that was recruited to come play here over the past five years.

Too often there has been criticism over the talent at UM. People have said, the 'Canes don't have the talent they used to have. Maybe so, but the talent has always been there. It simply hasn't performed to expectations. Many of the players were nationally ranked players when they signed with Miami. Tonight, the talent performed and performed well.

From Kyle Wright having a remarkable game to Sam Shields, Miami played the way it can play.

This same 'Canes team which only beat FIU last week 23-9 actually led 31-0 against the No. 20 Aggies which came in averaging 46.3 points per game.

The final score wasn't indicative of the total thrashing Miami put on Texas A&M tonight.

But even in domination, Miami can play better. Three turnovers must be eliminated, but for now, it doesn't get any sweeter than this.

Now the 'Canes are a confident 3-1 with Duke next Saturday. This could be a spring board to a nice winning streak and one that could have the 'Canes as a legitimate contender for the ACC Title.

Goodness, what a difference a week makes.

LET'S GO CANES!!!

Go to top

| | |
| --- | --- |
| 17 | Northwestern's Just Better |
Sun Sep 16, 2007
For those of you who saw the game, it's obvious, Northwestern is just better.

Better than Southlake Carroll in Dallas, Texas. Better than Southlake Carroll in Miami. They'd be better than them in Alaska. Flat out, no matter where they played this game, Northwestern would be better. And that's why Northwestern will be ranked No. 1 in the country in every national poll next week. (Can they surpass Booker T. in the InsideTheU.com poll? That remains the question :-)

Northwestern showed the country what Miami-Dade County football is all about and the crazy thing is, that was far from the best game that Northwestern could have played. They showed that speed kills. Flat out, unequivocally. It doesn't matter how many penalties you commit, doesn't matter how many turnovers you commit, within reason. Three turnovers in Texas and they still won the game.

Tommy Streeter's 75-yard touchdown reception in the third quarter showed what speed does. The Dragons defenders had the angle and still couldn't catch Streeter and Streeter is not even the fastest guy on his team.

If that game was played at "The Mecca" Traz Powell Stadium, the Bulls would beat Carroll by three touchdowns. It's not even a game.

Everyone questioned if Northwestern had the discipline to win this game, if they could avoid the mistakes. People said, if Northwestern's commits penalties and turns it over, Southlake Carroll will capitalize. Didn't happen.

The Bulls outgained Carroll. The Bulls shut down Carroll in the second half (ZERO POINTS) and the Bulls made a so-called disciplined team looked totally undisciplined (FIVE TURNOVERS). When was the last time the Dragons turned the ball over five times? I have no clue, but I am sure it's been quite some time since that's happened.

Heck, let's take another look at this game. Southlake Carroll only scored 14 points on offense. Seven points came on a fumble recovery that was returned for a touchdown. The vaunted Dragons offense and their $15 million dollar stadium and $4 million dollar practice facility found out what Northwestern was all about. All that money was worth 14 points. Can someone tell me the last time they only scored 14 points on offense? This team scored over 700 points last year.

I think of the University of Miami when I think of that. Other schools tell recruits that Miami's facilities suck. Ask the 46 current NFL players from UM about facilities. It's not about facilities. It's about hard work, grit, determination and heart. Northwestern's got it.

The reality is, Northwestern felt insulted. The USA Today article about kids receiving free lunches was not needed. Most of those kids come from nothing. 67% of the students get free lunches. It's a sad fact, but a true fact. But the fact was, that wasn't the nation's business. This was about football and people seemed to forget that.

This game turned into a Rich vs. Poor, Black v. White, etc. It wasn't about that. It was about football, on the gridiron. The fact is these were two excellent football teams, but Northwestern showed that it was the better team.

The Bulls proved you don't need a four million dollar bubble facility, proved you don't need a coaching staff that is paid more than a half million dollars.

The Northwestern coaches get paid less than $50,000 to coach as a staff (everyone said they'd get outcoached right), yet they found a way to put together a game plan to end a 49-game winning streak, focus a group of young men on a trip out of town and come away with a win that will go down in the anals of Miami-Dade County High School football history.

Congratulations NORTHWESTERN BULLS! That's what 3-0-5 football is all about.

Comment on my blog.

Go to top

| | |
| --- | --- |
| 16 | Miami Looked Slow |
Sat Sep 8, 2007
******IN MY OPINION*******

At least we aren't Michigan fans watching them get slaughtered again.

The game is over. It was blowout city. There is one thing Miami can take from it's 51-13 loss to Oklahoma today: The 'Canes have a long way to go to get back to what they were and where they want to be.

At quarterback, it's simply a position in disarray right now. Who starts against FIU next week? At the end of the fall I said Kirby Freeman. Well call me the fence rider now because I feel it should be Kyle Wright now. Freeman looked confused and was benched. He couldn't move the team seven yards in the first quarter following a bad snap on a punt that gave Miami possession at the OU 7. Wright replaced him and looked a lot more confident driving the 'Canes down the field on their only touchdown drive of the game. Then, for some reason, Wright was replaced by Freeman in the third quarter.

Question for Patrick Nix: Why are we calling option pitch plays from the one yard line to the short side of the field? Not once, but twice in that touchdown drive. That still has me puzzled.

At running back, it was just brutal. We did not run the ball. Instead of being down 14-10 at the half, it was 21-10 following Javarris James' fumble which was rather crippling. Running the ball out of the gun makes no sense. Graig Cooper looked like a freshman today. He did far too much dancing in the backfield and not enough running north/south.

At wide receiver, this unit simply drops TOO many balls. Darnell Jenkins alone dropped three that hit him on the chest. There don't seem to be any game breakers in this unit, but again, today, Miami went deep only two-three times. The first time was on the first play. It was clearly pass interefence that went uncalled, but that should have been the play of choice all game long.

The tight ends were meaningless today in the passing attack. I can't remember the last time Miami's tight ends were completely irrelevant in an offensive attack.

On the defense, the defensive line did not get the necessary pressure needed to make like miserable for Oklahoma's quarterback. They weren't bad, but they weren't the same unit they were against Marshall.

The linebackers were okay, not great, not bad, just okay. But the penalty on Tavares Gooden was complete bogus. The man was still inbounds. Officials cannot expect players to hold up when the ball carrier is stil inbounds. It was an awful call and was potentially the difference between 24-13 and 28-13.

The secondary was flat out abused. Randy Phillips got burned. Demarcus Van Dyke got burned. Everyone got burned. Miscommunication was commomplace in the secondary today and it showed. 51 points tells the story.

The real bright spot was Francisco Zampogna. He kicked a 45-yard field goal that cut it to 21-13 in the third quarter giving Miami fans hope that a comeback was in store.

But the most glaring thing to me today was that Miami looked slow today. Oklahoma looked blazing fast and Miami couldn't keep up. The wide receivers were flying by our defensive backs. The running backs were eating up 7 yards a pop before they were touched. And their defense made moving the ball impossible, especially when the unit does not execute the most basic fundamentals such. The Sooners defenders were everywhere. Cooper is supposed to be fast and got tracked down by a linebacker. That play stood out for me. The speed that the Sooners' linebacker has to catch Cooper shows the difference of what Miami was in 2001 and what it is today.

But be patient, it's only a matter of time.

Go to top

| | |
| --- | --- |
| 15 | OU Scared? |
Thu Sep 6, 2007
*****IN MY OPINION*****

Is Oklahoma scared of Miami?

Last night I was on the radio in Oklahoma on the team's flagship station talking OU-Miami and I got the distinct impression that Oklahomans are really nervous about this game, more nervous than I ever thought they could or would be.

While I hear Miami fans read to chomp at the bit and hear the Miami players ready to rumble with many expecting Miami to roll through OU, the Sooner Nation just doesn't seem as confident as I expected them to be.

Their Sooners put up 79 points last week, yet they seem to be worried about what we have on offense. Our offense essentially put up 10 points while our defense was responsible for 21, yet they are concerned with our wide receivers. It was kind of surprising to me.

One of the questions of that was asked of me was if the players now had an understanding of what happened between 1986 and 1988 when Miami beat Oklahoma three times during a time when OU was simply untouchable except when it played on Miami?

To me, the answer is no because many of these players weren't even born the last time Miami played Oklahoma in the 1987 National Championship Game. The one's who were born were nothing but babies. Unfortunately, in this day and age young people are not as historically versed as people in the past were.

But it's quite evident that Sooner fans remember that game as if it were played just yesterday. With that remebrance seems to come some fear of Miami's speed and athleticism and the fact that OU expects Miami to come at it hard.

So while the players might not be scared, the fans who remember 1987 clearly seem to be.

What do you think?

Go to top

| | |
| --- | --- |
| 14 | Throw it Downfield |
Tue Sep 4, 2007
*****IN MY OPINION*****

If there is one thing I want to see Saturday against Oklahoma, it's for Miami to throw the ball downfield.

That's it.

It doesn't matter what the score is. What I want to see is that ball go down the field in the air. It's what the 'Canes have to do to become a better offense.

There is no doubt that Miami has two bad boys in the backfrield in Javarris James and Graig Cooper. They are an excellent combo and there is no doubt, they will have plenty of steam in their legs all game because they they are essentially interchangable.

But the doubt lingers in the minds of many as the 'Canes only went deep two or three times against Marshall, and none of the deep balls was completed.

While Kirby Freeman's numbers were far from spectacular going 9 for 21 for 81 yards, they could have been better with four dropped passes. But even with those passes being caught, they were still dinks and dunks and nothing going deep.

It's what has been missing from UM's offense for quite some time. It's what will make the UM offense truly dynamic again. And no matter what the score is Saturday, it's something that we need to see plenty of because in order for James and Cooper to be the gamers they can, there still must be the deep passing threat and it should start on the first play of the game.

Go to top

| | |
| --- | --- |
| 13 | Defense Is Impressive |
Mon Sep 3, 2007
You can't take anything away from the defense. There were numerous questions surrounding this defense. How good would it or could it be?

Linebacker questions. Tavares Gooden now playing middle?

Starting a freshman at cornerback?

No steady play at defensive tackle?

There were only two guarantees: Calais Campbell and Kenny Phillips.

Everything else was up in the air.

Ok, it was only Marshall, right. Wrong. Marshall is a formidable enough opponent for us to recognize that this defense is going to be good. I didn't see Miami's defense fly to the football at any point last year the way it did Saturday.

They were hyped. They were inspired. They were hungry. It was clearly missing last year.

Answers to the questions were pretty resounding.

Tavares Gooden had maybe the best game of his career at Miami with nine tackles and an interception.

Colin McCarthy had six tackles and a sack and was all over the field and said he could have played another game immediately after Miami finished off Marshall 31-3.

Spencer Adkins had an interception.

Demarcus Van Dyke played very well in the first half and Phillips said, he was solid. Van Dyke didn't play much in the second half though. Why he didn't I really don't know. Chavez Grant, Randy Phillips and Carlos Armour seemed to be the rotation more in the second half.

The defensive line flat out dominated the game up front. Including Teraz McCray, Dwayne Hendricks, Antonio Dixon and Courtney Harris. Not to mention, Campbell and Eric Moncur were phenomenal.

But even with all those answers to the questions, the true question is this: Can the defense shut down OU?

Now Oklahoma is on tap and the Sooners just put up a ridiculous 79 points on North Texas. Granted, we are not North Texas and the possibility of the Sooners scoring even half of 79 points is practically unfathomable.

But no matter how good Marshall was or wasn't Saturday and no matter how good the Miami defense was Saturday, the 'Canes will really learn about themselves next week. Stay Tuned!

Go to top

| | |
| --- | --- |
| 12 | Shannon Kept it REAL Quiet |
Tue Aug 28, 2007
They really kept it quiet. The coaches did. The cat REALLY hadnít been let out of the bag when Randy Shannon came to the podium this afternoon to announce who the starting quarterback would be.

Announced Ė Kirby Freeman is the starting quarterback.

So Javarris James, how do you feel about Freeman being named the starting quarterback? Huh?

The coaches really kept it quiet, so quiet that Shannon announced it to the media BEFORE it was announced to his team.

James had no clue when he was asked the question and his answer was as generic as it comes. They both had a great camp, blah, blah, blahÖYeah, yeah J.J. If you say so. Didnít it suck that your coaches couldnít let you know in advance so you could have had your answer prepared?

Itís one thing to keep things quiet from the fans and the media, but when you have the ability to keep something totally quiet from the players themselves, much respect. To not tell ONE player, that takes some serious will power.

Thatís what the coaches did as Shannon announced the starters today. But yet, there are still some unnamed starters.

James himself, is not a solid starter. Itís him or freshman Graig Cooper.

Jason Fox, thought by many to be the best offensive lineman is not locked in. Heís still battling Chris Rutledge. And so is Reggie Youngblood.

Lovon Ponder thought to be the starting safety is in a dead heat with Willie Cooper. Was it that ankle injury thatís been the difference? Could be. Maybe thatís all it took to really give Cooper a chance.

But of all the surprises on the day, the ĎCanes will start Demarcus Van Dyke at corner. What happened to Chavez Grant? What happened to Carlos Armour? What happened to Randy Phillips? How about Bruce Johnson? The wet-behind-the-ears freshman somehow has shown that he is the best corner on the team.

One can look at Van Dyke being the considered the best corner on the team in two ways:

1. The UM corners are so bad (no offense guys) that a true freshman is the only one who is a locked in starter, which I personally find stunning. Makes me wish we really could have watched practices Van Dyke to see what he did to convince the coaches because if he gets burned Saturday afternoon, fans will automatically begin questioning that decision, or;

2. Van Dyke was flat out balling and left the coaches no choice. But that always brings you back to No. 1. When a freshman beats everyone out for a position, it makes you really wonder.

At the same time, on the other side Armour and Phillips are battling. Who will it be? Who knows really?

The one thing it proves is that Shannon simply doesnít care. He doesnít care if you are a senior or a freshman. He doesnít care if you starter for two years and now are relegate to the bench. The best players will play. And on Tuesday, he proved that, along with the fact that if you have a secret and you want to tell someone, you can tell Shannon cause it sure as hell is safe with him.


Go to top

| | |
| --- | --- |
| 11 | Speed Kills |
Sat Aug 25, 2007
FINAL SCORE - Booker T. Washington 36 Summerville 3

Note - I wrote this blog at halftime.

If you are watching Booker T. Washington in action right now on ESPN, it is halftime and the Tornadoes are whipping Summerville 22-3 in a game that is looking like it might end up 40-3 before it's done.

The Tornadoes are simply too fast for Summerville which is the point that I was making about Northwestern High School when they travel to Dallas next month.

Fact is, the Bulls are probably faster than Booker T. Washington, and they are deeper. The one area that Booker T. is markedly betterthan Northwestern is in the secondary.

Truth be told, I saw Northwestern last night. If Booker T. played Northwestern tomorrow, the Tornadoes might beat the Bulls.

Right now, Booker T. looks awfully solid in all facets except that its kicker can't make an extra point. But he can make a 41-yard field so go figure.

At the same time, Northwestern's secondary got torched by Deerfield Beach last night in their 50-41 shootout win.

But like Booker T., Northwestern's offense is a machine. In fact, the Bulls are better on offense. They racked up 602 yards with Jacory Harris being a ridiculous 23 for 28 for 321 yards. They are simply too fast and they committed 16 penalties for 128 yards and had three touchdowns called back by penalty and two touchdowns dropped.

Now, I don't know how much better Southlake Carroll is than Summerville, but speed is speed and teams from Miami have speed. They have speed all over the field, speed that teams from other states simply don't see for the most part.

At the same time, they have speed and are big. They aren't just fast, but can maul through opponents as well.

The Bulls need to shore up that secondary that looked, quite frankly awful last night, but no one is going to stop Northwestern from scoring points, absolutely no one.

Don't think Deerfield Beach is sorry. The Bucks have a proud tradition themselves and played with incredible pride.

But when it comes down to it, the speed kills and Dade County is showing that is has plenty of it right now as th Tornadoes are laying that F-5 over the winning program in the history of South Carolina.

Note - By the way, Booker T. Washington is a 4A school, not a 3A school as ESPN indicated. And Summerville is more than twice the size as Booker T. Washington.


Go to top

| | |
| --- | --- |
| 10 | Marshall Game - It's Huge! |
Mon Aug 20, 2007
When looking at the practice schedule the 'Canes have had over the past three weeks it's clear as day to me that the game against Marshall is not just big, it's HUGE! It's probably the biggest and most important home opener in years. I'd go one better and say it's bigger than the FSU-UM games that kicked off the season the last three years for a number of reasons.

But the main one is to keep the players believing.

Most schools do not practice as early as Miami practices at. I have been blasted on by some people for my question of Randy Shannon pushing too hard and that's fine. And yes, I have played football. And yes, I do know from experience that players do need a day off at some point just to mend their wounds. Call me a sissy. Call me whatever you like.

But at the same time, those weren't just my questions. Those are the questions that numerous people had. I am just the one with cojones to state them. That's what makes me different from most people. I say what's on my mind. I don't hold my opinions back. Simple as that. That's the entire purpose of my blog. If you don't like it, well, then don't read it.

People forget, these football players are students as well. They are in college. Everyone is quick to point that out when they get ripped for poor play, but quick to forget that when we are talking about lack of rest and needing a day off. They aren't robots. They are not paid professionals. Paid professional get days off. Does it make them soft? Of course not. Heck, most of us work for a living. Do we all work 7 days straight? Most of us don't actually. That's why we have Saturday and Sunday off, to rest, to get ourselves back together and I can guarantee that our jobs are not in the same hemisphere of physical demands as what these 18-22 year olds are going through.

Do you truly believe that practice ends when they leave the field? If you do, then you don't know anything about what preparation for the season entails. When they are not on the field practicing that doesn't mean the day is over for these players. They have weight training, they have film study, they have playbook study. It's an up at dawn job starting at 5:00 a.m. with most of them not getting back to their dorms/homes until dark, 9:00 to 10:00 p.m. on average according to one player I've spoken to. That's essentially a 17-hour work day. Their entire day is spent at the Hecht Center. Try that day on for size and see if you need some rest. Just one day. Most of you would collapse. I know I would.

I definitely agree with the fact that Shannon makes practices difficult. They should be difficult. It's what makes your team tough. It's what makes your team prepared. We need to have juice in the fourth quarter, something I felt we didn't have any of last year. I will never question the difficulty of practice. NEVER! If every player on that teams needs to vomit during practice so be it, but what I will question is that going into the Marshall game, the team will have had one day off, one day to rest, and that is the first day of school, Wednesday.

But that's not really a day off. The first day of school can be a mentally stressful day whether you are a freshman or a senior because you are learning where all your classes are, meeting new professors, etc. It's not the same as having the ability to sleep til noon which I am sure a lot these players miss and be a vegetable, if just for one day.

How many 18-22 year olds that you know who don't play football wake up at 5:00 a.m. on a daily basis? I don't know any except the ones that salute officers in the morning. I.E. Marines, Army, Navy and Air Force.

So while people may rip me for asking the question if Shannon might be pushing too hard, then rip me. I am not criticizing Shannon. I am asking the question. The fact is, he is a first year head coach. This is what he knows. This is how he was raised in terms of football. He clearly saw last year that Coker didn't push hard enough and that's why the team was 7-6 and lost a bunch of games in the fourth quarter, something un-Hurricane like. But he may also be crossing the line of not pushing hard enough to pushing too hard. It's something that is learned with experience and none of us actually know the answer to it yet, but we'll find out if he pushed too hard by mid-season.

But when you tell people that the reason you are practicing early, is No. 1 - to be prepared for early games such as the noon game against Marshall and the 11:00 a.m. game at Oklahoma and No. 2 - to avoid the rainstorms of Miami, I say this, Miami better kick the crap out of Marshall because if the 'Canes don't throttle the Thundering Herd, players may question all the early morning practices and question the extra hard labor they went through preparing for the season.

I am not saying they will do that, but it's possible. It's human nature. It's no different than taking tons of batting practice prior to a baseball game facing 95 mile per hour fastballs and then getting into the game and striking out four times on a 95 mile per hour fastball. You question yourself, you question your work. It's normal.

So when I say Marshall is a huge game, it's huge because you don't want to have any doubt creeping in the minds of this team, a pretty young team for the most part, when they have to travel to Oklahoma just a week later. You want them believing.

Comment on my blog.

Go to top

| | |
| --- | --- |
| 9 | Shannon Pushing Too Hard? |
Sat Aug 18, 2007
Sometimes a team can work too hard.

Does that sound stupid?

As stupid as it may sound, when it comes to football, that can definitely be a reality.

Those who have played football can understand what it means to be overworked and burnt out. Those questions are beginning to permeate the press room. Letís just hope this team isnít spent by Week 4 or 5.

The ĎCanes final 7:50 a.m. practice will be tomorrow, Sunday, but will this team be too tired come the season opener?

They will have practiced 21 straight days before finally having a day off Wednesday, the first day of school. But is that really a day off! They are starting school for heavenís sakes. Thatís not what I would call a day off.

A true day off would be one where the players can lay in bed all day and get some rest and just relax. That wonít happen now that school is starting.

But the proof is in the pudding that this team is in need of some rest. At least 12 players have been out with ďnicksĒ as Randy Shannon calls them. The list includes Colin McCarthy, Randy Phillips, Teraz McCray, Glenn Sharpe, Daryl Sharpton, Charlie Jones, A.J. Trump and more.

Well, I was taught two things when playing football. You are either ďhurtĒ or ďinjuredĒ. If you are ďhurtĒ you can play. If you are ďinjuredĒ you canít. So basically, Miami has a load of players who are injured at present and the nicks are becoming a bit much.

That doesnít even include Glenn Cook who is out for the year with ligament damage in his foot.

So while itís good for Shannon to bring his paddle across the rear ends of these players and the team as a whole to instill some discipline in a team that was sorely lacking it last year, itís time for him to put the paddle down and give the team a break. Whatever happened to that day at the pool the ĎCanes used to have instead of practice?

The list of injuries is enough to prove that they need it even if itís just one day.

With Marshall looming in just two weeks, if the ĎCanes donít put on a special performance, could it be possible the players will start questioning themselves and all the work they put in?

Would it be so far fetched for them to wonder, dang, we just killed ourselves for four weeks and all we got to show for it is a 24-17 win over a mid-major school.

The early wake up calls to practice at 7:50 a.m. With a high noon game against Marshall, the entire point of the early morning practices was to prepare them for early games.

Which begs the question, if Miami doesnít smoke Marshall, how will the team respond with a trip to Oklahoma a week later when they have to play at 11:00 a.m.? Will there have been a point to all the hard mornings and the excessive work outs?

Itís one thing to prove a point that you are the man in charge and you are the one who is running the ship, but when one says that the players were up-tempo and flying around the field during practice, and then have a half dozen or more doing bear crawls, wind sprints and up-downs, maybe I am missing something.

If they are so up-tempo, why are so many being disciplined after practice? I just hope that this team isnít walking on dead legs by mid-season because of the lack of a chance to breathe.

Comment on my blog.

Go to top

| | |
| --- | --- |
| 8 | Calais - All American Right? |
Wed Aug 15, 2007
Are national writers for real? Today, an All-American team came out that left my scratching my head.

How was Calais Campbell not on it? If I told you where it came from you might boycott the source, so I'll keep that to myself. I'll let you figure it out.

Miami safety Kenny Phillips was on the list, but somehow, someway, the best player on Miamiís defense, the heart of Miamiís defense, Campbell, was no where to be found.

You want a rant. Hereís a TRUE RUDY RANT.

Today, I am officially losing my freaking mind.

Miami only had the best rush defense itís ever had last year giving up less than 70 yards per game. Campbell was a dominating end, not just a good end. Heís comparable to the best ends to ever play at Miami. Yes, I said it. I am talking the likes of Jerome McDougle, Daniel Stubbs, Kevin Patrick, Rusty Medearis, etc. etc. At 6-foot-8, some ridiculously long arms, and 260 pounds, Campbell was thought to be a first round pick LAST YEAR. He finished with 10 Ĺ sacks facing constant double teams.

He stuck around for his junior year. Heís a definite first round pick next year, probably top ten because there isnít an end in the country better than him.

Instead, USCís Lawrence Jackson and TCUís Tommy Blake are listed as the Preseason All-Americans.

Ok, letís break those two down. Jackson had a nagging groin injury last year and didnít have as good a year as he did as a sophomore. Arenít All-American teams about what you did last year? I could have sworn thatís how those teams are picked.

Well, I went through the USC media guide and the TCU media guide and neither of these players even compare to Campbell.

In 2006, Jackson had 43 tackles, 11 tackles for loss, 4 sacks, 3 pass break ups, 2 blocked field goals, one forced fumble and fumble recovery. USC didnít have a stat for quarterback pressures.

Those are nice stats for a good player. Nothing wrong with them.

Blakeís stat line was a bit better. He finished with 54 tackles, 16.5 tackles for loss, 7 sacks, two forced fumbles, two fumble recoveries and on pass break up. He also only had one quarterback pressure. So basically, if he didnít sack the QB, he didnít get near him.

Now, letís look at Campbell.

Campbell had 84 tackles, nearly double what the other two had, 10 Ĺ sacks, more than the other almost combined, 1 fumble recovery, 3 forced fumbles, 4 pass break ups, more than the other two combined and I saved the best for last, 20 Ĺ tackles for loss. That doesnít include his 17 quarterback pressures.

Now I know I donít need to ask my readers who the All-American is of these three. We all know the answer. We are knowledge football fans.

But at the same time, I am just at a loss for words after reading this and doing a little research. I mean seriously, if a guy with 13 to 15 sacks is ahead of Campbell, then I say ok, but combined, these two had 11 TOTAL, just a Ĺ sack better than Campbell.

Now, I won't even get into the level of competition that Blake plays. I mean, come on, IT'S TCU. They play a weak sister schedule. Are those schleppers the same as Campbell lines up against when the 'Canes play Florida State, Virginia Tech, Georgia Tech and Louisville?

One more thing, if you listened to our podcast today, we talked about linebackers. Remember, I mentioned imagine Willie Williams and James Bryant were here still. Well, hereís another one. LSUís Arlington Highsmith. Heís a Pre-Season All-American too. Our linebacking trio could be the best in the country. Instead, we are moving fulbacks over to play linebacker because the desperation level is kind of hitting now at the position. I will officially kill myself now dreaming of the linebackers we could have had (if they didn't have a 14-page rap sheet, didn't start brawls and could get an 820 on the SAT).

Well I am done ranting for now....So what do you wall think?

Go to top

| | |
| --- | --- |
| 7 | Heat Builds Character |
Sun Aug 12, 2007
Maybe I am old, maybe I am fat, maybe I am lazy, maybe I am just a combination of all three.

Yes, that has to be it. But even in being all three of those things, lord almighty, it is beyond hot out there at Hurricanes practices. I am talking blistering hot.

When I played football in high school from 1993 to 1995, it was NEVER that hot. At least it didn't feel this hot.

The 'Canes are practicing in some blistering temperatures that feel well in excess of 100 degrees everyday. While it's painful to practice more than likely, it can only help the team as they prepare for this season and hopefully find themselves in better condition than their opponents in the fourth quarter.

That's what Miami football is supposed to be about, winning the fourth quarter.

Unfortunately, the 'Canes were clearly not in optimal condition last year and quite often looked tired going into the fourth quarter and it showed in the results.

Holding four fingers up was something the 'Canes started during the Michael Irvin days. It was a sign of pride, a sign that we are going to dominate in the fourth quarter. At the same time, the four fingers became more of a habit than a thing of pride.

Holding four fingers up when your team is down 17 going into the fourth quarter is essentially meaningless.

Last year, in the fourth quarter, Miami lost 13-10 to Florida State (10-0 in the 4th), lost 31-7 (7-0 in the 4th), lost 30-23 to Georgia Tech (17-7 in the 4th), lost 17-10 to Virginia Tech (7-7 in the 4th), lost 14-13 to Maryland (0-3 in the 4th), lost 17-7 to Virginia (3-7 in the 4th).

In four of their six losses, they were outscored in the fourth. In three of those six, the 'Canes lost the game in the fourth. With the exception of the loss at Louisville, each of those games was winnable.

Even in their 20-15 win over Duke, the Blue Devils outscored Miami 13-2 in the fourth and was an interception by Willie Cooper from beating Miami and outscoring the 'Canes 20-2 in the fourth.

So how does Miami get back to holding up those four fingers out of pride and not habit? How does Miami become the team that was down 19-3 at Florida State in 1987 and come back to win 26-25 dominating the fourth quarter and go on to win the National Championship?

It starts here. It starts today. It starts in the blistering heat that gets you in the optimal condition necessary to dominate in the fourth quarter. It's what makes you Miami Hurricanes.

COMMENT ON MY BLOG.

Go to top

| | |
| --- | --- |
| 6 | Keeping Injuries Quiet...Why? |
Fri Aug 10, 2007
Ok, so you are Randy Shannon and the first scrimmage has just ended. Your starting safety and starting outside linebacker get hurt and you tell the media (and the fans) that Lovon Ponder will be back for Marshall, but Glenn Cook is going to be out 3 to 4 GAMES!

But you don't tell us how they got hurt or what got hurt? What is the benefit in keeping that quiet?

We are not talking about guys that are out with a stubbed toe or something like that or a case of dehydration. Both of these players were expected to be key contributors to the team. Both were expected starters and now both are out.

Ok, so Ponder should be back for Marshall? What happens if he isn't? Do we finally get to find out what actually happened? He's already been seen with crutches, so one can assume he hurt his foot or something, but since injured players aren't allowed to speak to the media, we are left to assume what happened.

Cook's injury is clearly much more serious. You told us a little, but you leave us hanging in the air wondering, what happened to keep him out for essentially, the next two months. You lose a starting linebacker from an already thin linebacking core which is something that could hurt the team if one of the young guys doesn't step up immediately. But again, what happened?

Again, I ask, how does withholding the information benefit his program? The answer is, it doesn't. At least, not to me it doesn't. Not injuries like Ponder's and Cook's which are keeping them out an extended period of time.

If a kid gets hurt the week of the FSU game and you withhold the info because you don't want the 'Noles to know that let's say, Kenny Phillips badly sprained his ankle, but he still plans on playing, then it's reasonable because you don't want FSU to be able to gameplan on Phillips and attack him all game whereas they would probably try to go away from him or not challenge him at all because of the ability he has.

But this is totally different, and this is where it's clear to me that Shannon will have to work on a few things. By keeping this information from the media (and the fans), number one, media members are prevented from doing their jobs properly. We can't report what we don't know. Don't make our jobs more difficult than they already are. Don't become Nick Saban. Don't give answers that run us in circles. Saban's consistent vagueness made him a hated man and there is nothing worse than being hated by the media in sports, especially in Miami. And if the media doesn't like you as a coach because you won't divulge the information it needs to do its job, then they will be less likely to support you in tough times.

You become a Barry Bonds-type hitting breaking the most hallowed record in baseball with 756 home runs and most people rooting AGAINST you, not FOR you they way they should.

Comment on my Blog.

Go to top

| | |
| --- | --- |
| 5 | My New Picture! |
Thu Aug 9, 2007
Readers, I am sure you have noticed a change in my photo on my blog.....

Well I did away with the Big Pimpin' Don Dadda, look with my tuxedo and smooth Versace sunglasses looking like the website's bodyguard or Choppa from the A&E show that I was told I look like to the pretty boy you see before you now.

Now, you can see my eyes. They are pretty fly....Hazel man....I know all the fellas wish they had hazel eyes like mine....LOL....Now you know what I really look like and you can and what a beautiful smile I truly have. You love it don't you. So if you see me in the street, feel free to ask me for my autograph. I want to be like Northwestern QB Jacory Harris was at Canesfest. :-) Go as a fan and become the star of the show.

I am in a jovial mood today as you can see. What can I say? Sometimes, I am raving lunatic and rant about crap and other times, I am a pretty damn nice and jovial cat.

I guess you could call me Sybil. Split personalties like crazy, huh.

Well, now that I got that out of the way, let me think of some to whine about for later in the day.

Comment on my blog.


Go to top

| | |
| --- | --- |
| 4 | Why Talk if You Don't Know? |
Thu Aug 9, 2007
Sometimes people ask me questions I don't know the answer to. So what answer do I give? I tell them, I just don't know.

Unfortunately, in the world of recruiting, that's generally not the case. Automatically, people involved in websites similar to ours get asked questions, and they answer them. Ummmm, how?

How does one who lives in Miami answer a question about a player in Tallahassee or one in Georgia or one in California? Ok...I can answer it of course, but doesn't that mean it is not completely BS, the answer I give that is. Nine times out of ten, it would be complete BS, just like the answer you get from any so-called recruiting guru.

I won't name names, but how can one INTELLIGENTLY answer a question about a kid from the 3-0-5 if he lives 300-400 miles away? The answer is he can't and what he tells you is something he has read, most likely on some other website, a message board, or something he heard from someone who heard it from someone else who heard it from someone else. Does that make it credible information? HELL NO!

That's why InsideTheU.com is NOT giving recruiting information about any other location outside of Miami-Dade County. Yes, we will have a commitment list for kids coming to Miami in our Recruiting Buzz feature, but our sole focus in terms of recruiting will be the kids in the 3-0-5.

Why?

Because those are the players we can give expert opinions on. What we say about them will not be made up. It will be based on having seen them play, and IN PERSON, and generally, more than once. Not some film clippings we've seen which doesn't tell you anything or some silly individual camp that tests bench press, 40-time, shuttle run, vertical jump and all these things that mean absolutely nothing when it comes to play football. Word to the wise. Camps, for the most part, are complete and absolute BS, unless they are position camps that focus on actually teaching, but the camps I am talking about are not teaching, they are testing.

Anyone remember Jerry Rice. He was a 4.6-4.7 in the 40 his entire career, but can you remember him ever being caught from behind? I can't. I.E. 40-time doesn't mean squat because rarely does a player ever run a straight 40 yards in any game, not even wide receivers on deep passes.

On a deep go route, it's just as important the receiver get off the jam at the line of scrimmage as anything. If the receiver doesn't get off the cornerback's jam, his 4.2 won't mean squat.

It's no different with a running back. Explosion and vision are more important than a 40-time because there aren't too many 40-yard runs from scrimmage in football unless your name is Reggie Bush.

The point being, how can I speak logically about a kid that I've never seen play a football game in my life? I can't. And I won't sit here and lie you to you, my readers, giving an answer that's full of BS, just to keep you appeased because you think I am an expert.

I am an expert. An expert in Miami-Dade County. I'll let the so-called guys that live 300-400 miles away do their national recruiting and so-called expert analysis on players they've never seen take one snap in a real football game and let you be the judge.

Comment on my blog.

Go to top

| | |
| --- | --- |
| 3 | Is this For Real! |
Wed Aug 8, 2007
I am stunned by our first poll. It's not even close. As of right now, 4:25 p.m. on Wednesday our fifth day of existence, Kyle is routing Kirby in the vote on who should be the starting quarterback.

Right now the vote is Kyle 268 and Kirby 127. This baffles my mind.

Did people watch the two of these guys play last year? Have people not seen Kyle Wright have completely mediocre numbers over the past two years?

Kirby Freeman has been given exactly four games of true starting action in his career and is 2-2, having lost 14-13 at Maryland the week after the Bryan Pata tragedy, 17-7 at Virginia, but then he came back with a monster win over Boston College followed by a bowl game victory. How can we judge him on that?

Kyle is 14-7 and 0-2 vs. average Florida State teams and a 40-3 slaughter job in the Peach Bowl against LSU. Shoot, Jemarcus Russell didn't even play in that game. That doesn't include the other games we have blown with him at QB such as the one against Georgia Tech.

Don't get me wrong. I am not calling Freeman the savior that will bring us to the National Championship. That's the role that my boy Robert Marve would have played, but we'll have to wait til next year for that.

But between these two, Wright has beeng given chance after chance after chance. How many chances are needed? 21 games in...he is the worst quarterback over the past 25 years record wise. No quarterback in Miami history has had a worse record in his first 21 games. (No offense Kyle, but the record is what the record is.) Disclaimer - In no way are the views of Rudy Rodriguez-Chomat those of the University of Miami or www.InsideTheU.com.

I don't care how many offensive coordinators we've had over the past few years. I don't care how many quarterbacks coaches we've had. If you can play, you can play. Simple as that. As bad as Dan Werner was, he wasn't worse than the garbage we had last season. As bad as Werner was, we still won 20 games over his last two years. Who was our offensive coordinator again? I don't even remember. I just don't want to remember.

Guys like Bernie Kosar, Vinny Testaverde, Steve Walsh, Craig Erickson, Gino Torreta, Frank Costa, Ken Dorsey and Brock Berlin didn't have 7 losses in their CAREERS.

Dorsey lost 2 games in four years. I don't think Torreta lost three (FSU and Alabama are in my brain). Walsh lost once or two (31-30 to Notre Dame for sure). Erickson less than five etc, etc.

But we want to give more chances to someone who hasn't won a game of substance in two seasons?

Freeman took over a team last year that was dead in the water. He wasn't given a real chance to be successful last year, yet he found a way to beat the No. 18 team in the county and win in freezing weather in Boise.

He deserves the shot. He's clearly not scared of making a mistake, unlike his predecessor. He comes to play all the time, not saying Wright doesn't always come to play, but sometimes I feel from the outside looking in that Wright is not mentally prepared to play. He seems apprehensive. He seems worried that he is going to screw up.

Word to the wise. When you are worried about screwing up, you usually screw up. When you just let it fly, chances are you will be successful.

And that makes me ask the question, what in the world has everyone been watching if we have a vote that has Wright getting DOUBLE the votes of Freeman?

Truthfully, I thought Wright would win the poll because people simply want to see him succeed and not the Gatorade Player of the Year that simply hasn't cut the mustard, but I didn't think it would be in a landslide. I mean this is just unreal.

I am going to start a post on the board for you, the readers, to answer this blog and help clue me because at this point, I am totally, flat out Alicia SilverstonED here (CLUELESS!).

Comment on Rudy's Latest Blog

Disclaimer - In no way are the views of Rudy Rodriguez-Chomat those of the University of Miami or www.InsideTheU.com.


Go to top

| | |
| --- | --- |
| 2 | What a Great Day! |
Sat Aug 4, 2007
Today was the first day of Fall practice and first day for the fans to see what InsideTheU.com is all about. If you were at practice Saturday morning, you probably had a flyer on your windshield letting you know that we now exist.

We exist and we are here to stay and bring you the best and most in-depth coverage that can possibly be given.

One day and a ton of support from you, the fans. The web stats tell the story and we thank you.

For the most part, my blog will be full of ranting, but for the time being I am in a pretty good mood. I say thank you to those who checked us out today and thank you to those who will check us out tomorrow and thereafter.

I don't think there is any argument that what we have put out in just one day no one can compare to. And that's our goal. We want to be better than every other site, but the only way we know we are doing our job is with your feedback.

So e-mail us with your comments. We do appreciate them a great deal and thank you for the love and support you have shown us today and in the future.

Go to top

| | |
| --- | --- |
| 1 | InsideTheU.com: It's About U! |
Sat Aug 4, 2007
Let me begin by welcoming the Hurricane faithful to the newest and soon to be best site around when it comes to the University of Miami. We are InsideTheU.com and we will bring you INSIDE, just like the name of website says.

As a former writer for CanesTime, let me tell you now, the coverage here will be vastly superior in every facet to that of CanesTime and CaneSport. It won't even be close. You will forget those other sites. Your daily routine will be filled with thoughts of what do those guys have on the site today. It will be that way because content will be updated daily and there will be plenty for you to read up on.

Why? Because we will bring it to you straight. There are no politics involved here. We will bring it from the grassroots because we ARE in Miami-Dade County. We live, eat, breathe and sleep the University of Miami and the surrounding high schools. We are not some 300 miles away from Miami or more claiming we know about the kids from the bottom when the only time we've ever seen them play is at a camp without pads or a fuzzy video tape that doesn't come close to telling the story.

We don't just show up during basketball season when it is finally time for ACC play like our competitors do. We are there for the games when only 1,000 people show up. And why? To bring you the coverage you deserve. Just because the stands are close to empty doesn't mean it shouldn't be covered.

We are there, live and in living color watching the stars of tomorrow. And of course, our stars of today.

From the Friday Night Lights where we will give you the 411 on what's going on in the 3-0-5 in high school football where our future Hurricane superstars are developed (i.e. Aldarius Johnson, Marcus Fortson, Jacory Harris and more) to Saturday afternoons in the historic Orange Bowl to the BankUnited Center to Mark Light Field, etc, etc. we will bring it to you from the Inside.

We will get you behind the walls of the inner circle. You will know what the coaches are thinking in our Coaches Corner. You will know what is going on in the life of Calais Campbell in our Calais Watch. You will know the life of a freshman and his trials and tribulations in getting acclimated to a new lifestyle and you will hear the stories of recruits, their visits, their trips and what it's like to be "THE MAN".

We bring it to you the way it is supposed to be done, the way you like it, the way you want it, have alway wanted it and the way you know it should be.

WE ARE INSIDETHEU.COM! AND AT INSIDETHEU.COM, IT'S ABOUT YOU!

WELCOME ABOARD!

Go to top